6 Helpful Tips for Styling Short Sleeve T-Shirts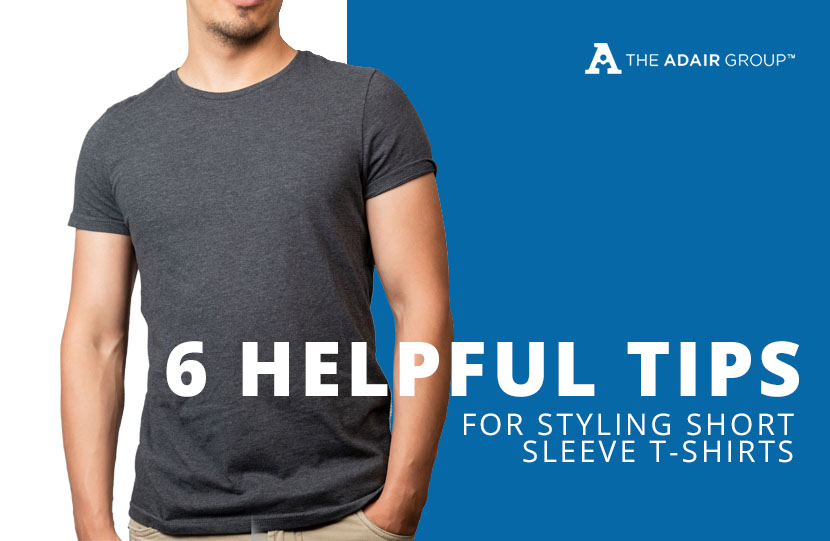 Regardless of what your personal style preferences may be, there is a pretty solid chance that you have a few t-shirts hanging in your closet or folded up in your dresser. The humble short-sleeve tee is a wardrobe staple that has made its way into nearly every American's home – and for good reason!
These simple shirts are comfortable, versatile, and perfect for layering. They can be manufactured using a wide range of fabrics, and they come in any color you can imagine. While there are some exceptions to the rule, short sleeve t-shirts are affordable, too. In fact, buying them in wholesale quantities allows you to fill up your entire closet without draining your bank account.
Some of the features that we love about t-shirts can pose challenges, though. Because they are available in so many different fabrics, it isn't always easy to determine which option best suits your needs. And because these shirts are so simple, figuring out how to style t-shirts for the office or other non-casual occasions can be tricky.
At The Adair Group, we're here to help! In addition to offering wholesale t-shirts for all of your fashion needs, we've put together this guide with several helpful tips for stylish short sleeve t-shirts. Let's dive in!
Understand T-Shirt Fabrics
Cotton may be the first fabric that comes to mind when you think about t-shirts, but it certainly isn't the only option out there. While it is one of the most popular, it isn't the best one in every situation. Cotton is breathable and lightweight, but it does a poor job of wicking moisture away from your body and allowing it to evaporate. For this reason, it can weigh you down and make you feel hotter during the summer or keep you from staying warm during the winter.
Cotton/polyester blend shirts are ideal in a wide range of situations. By combining two popular fabrics, these shirts offer the benefits of both. Shirts made from cotton/poly blends are wrinkle-resistant, soft, and better at wicking away moisture than cotton alone.
There are also performance tees that are made from polyester or other fabrics. These shirts are specially designed to keep you cool and dry during intense physical activity. They come in a wide range of styles and colors, and they are the t-shirt of choice among many athletes.
When selecting a t-shirt to wear, be sure to choose one that is made from a fabric that will suit your needs throughout the day. Check out our full t-shirt fabric guide to learn more about the various options and discover the one that's right for you.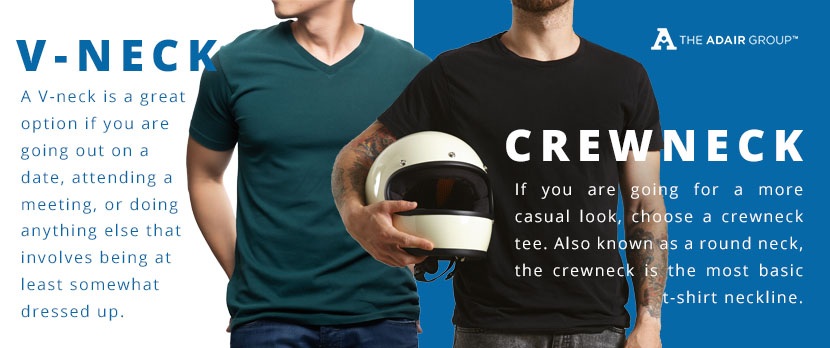 Choose Your Style
You've settled on wearing a t-shirt with short sleeves, but there are still a few other style decisions that need to be made. For starters, you need to choose the right t-shirt neckline. If you are heading to work, keep in mind that it is easier to style v-neck t-shirts for professional environments. A V-neck is a great option if you are going out on a date, attending a meeting, or doing anything else that involves being at least somewhat dressed up. V-neck styles work well for layering underneath sweaters or button-up shirts, too, as they tend to stay neatly hidden away.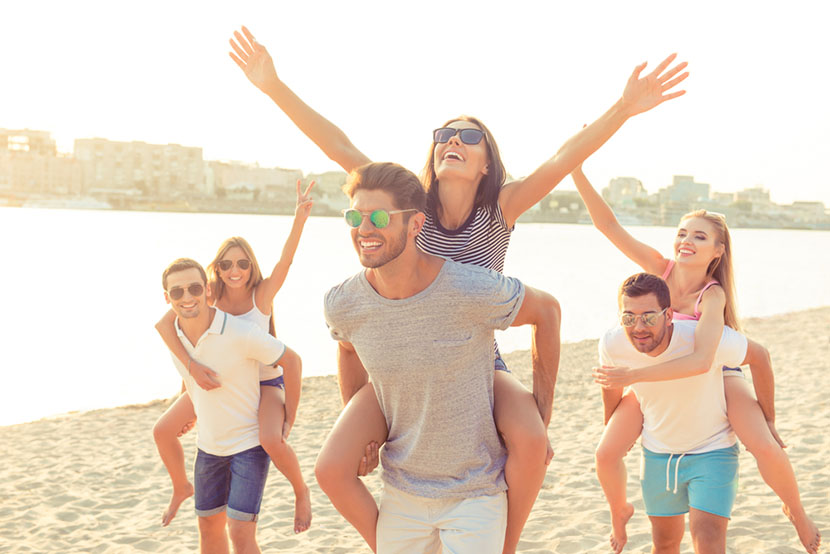 If you are going for a more casual look, choose a crewneck tee. Also known as a round neck, the crewneck is the most basic t-shirt neckline. This type of shirt can be worn on its own or as an undershirt. While V-neck styles are often regarded as a better option for professional and business casual settings, crewneck t-shirts are appropriate when worn underneath a nice blazer, jacket, or cardigan.
V-neck and crewneck tees are the most common options, but there are other necklines out there to choose from. Spend some time familiarizing yourself with the various styles to determine which one will best help you achieve your desired look.
Once you've chosen a neckline, you need to think about the fit. The classic crewneck tee has a boxy unisex fit and is primarily appropriate in casual settings. If you want to look a bit more polished, you may want to choose a fitted or semi-fitted style instead. When looking your best is important, make sure your t-shirt fits close to your body without being tight. The neckline and arm openings should comfortably rest against your skin without cutting in or seeming baggy. The body of the shirt should sit close to your body without being snug.
Find Your Color (or Print)
Now is the time to select a color. You can keep things simple with a black, white, or neutral-colored tee, or you can add a pop of color by choosing one in a more vibrant shade. It's entirely up to you, but be mindful of where you are going and what you are doing. Some colors are more appropriate for certain situations than others.
Chances are, you already know what colors look good on you. If you have darker skin, you can rock a vibrant shade of bright yellow. If you have lighter skin, you may want to stick with more subdued colors to avoid looking washed out. Neutrals tend to work well on just about everyone. If you are having a tough time determining what colors look best on you, ask for advice from a fashion-forward friend. They'll likely be thrilled to offer up their advice to help you improve your look!
If you are more into prints than solids, you may want to proceed with caution. Prints aren't appropriate in all situations, and building outfits around them can be a bit tricky. If you are new to the whole world of styling, you might want to skip prints altogether until you are a bit more comfortable with the basics. If you really want to wear a printed tee, stick to a simple design, like strips or camo, and don't try wearing more than one print at a time. Print matching is tricky business, and it's not the best technique for beginners to attempt to master.
Decide Whether to Tuck (or Not to Tuck)
One of the most controversial aspects of styling a t-shirt – especially for men- is whether or not to tuck it in. Generally speaking, most t-shirts should not be tucked in. They should be worn untucked, and the hem should extend to roughly the top of your hips.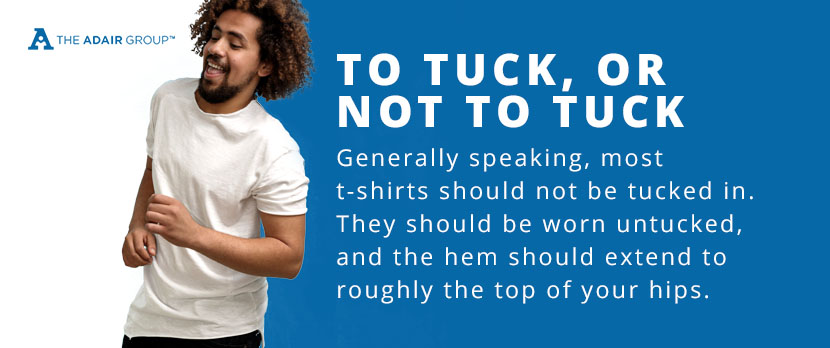 There are only a few instances in which tucking is the way to go. First, if you are wearing a tee as an undershirt, feel free to tuck it in. Second, if a t-shirt is part of your uniform, you probably need to wear it tucked in. If you are wearing short sleeves in a situation or environment where you are expected to tuck in your top, consider opting for a polo shirt instead of a regular tee. Some styles of polos (ones that are longer in the back) are meant to be worn tucked in, and they offer the comfort of a regular t-shirt in a dressier garment.
If you do want to tuck in your regular t-shirt, there are a few rules you should follow to ensure that you look your best. For starters, you'll want to wear a slightly loose shirt instead of a fitted one. You'll also need to be careful when choosing the rest of your outfit to ensure that everything works well together. The shirt you choose should be simple to allow the rest of your outfit to garner attention.
Choose the Right Bottoms
Once you have decided which t-shirt to wear and how to wear it, you need to figure out what you will wear it with. The bottoms you choose will have a huge impact on whether you look dressed up or dressed down. A fitted V-neck t-shirt worn with a pair of crisp khakis or tailored dark-denim jeans, for example, exudes a cool, business casual vibe. If you wear that same tee with a pair of baggy basketball shorts, though, you'll look like you are heading to the gym. When it comes to building outfits, every single piece matters.
For casual wear, jeans are always a solid option. A simple t-shirt can also be paired with shorts when you are going for a casual warm-weather look. If you need to look a bit more dressed up, go with dress slacks or khakis.
If you are a woman, you can wear your favorite tee with any of the options listed above. You could also choose a skirt or a pair of capris. Both of these options are versatile enough to wear both casually and at work, depending on the specific piece you choose. Feel free to get creative and find bottoms that are perfect for every occasion!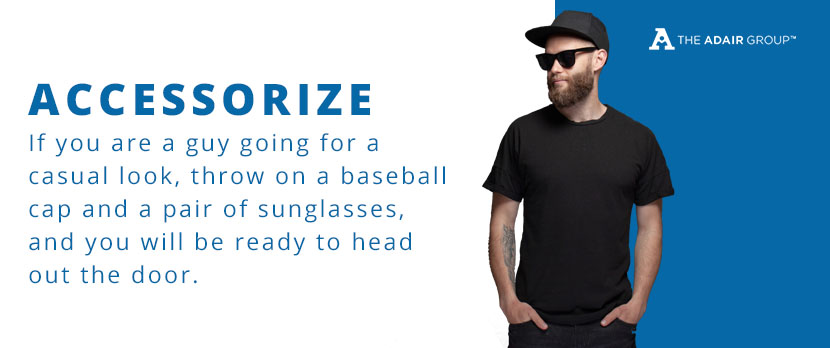 Accessorize
Adding the right accessories is a great way to elevate any look to the next level. And when you are wearing a simple t-shirt, the sky's the limit when it comes to accessory options. If you are a guy going for a casual look, throw on a baseball cap and a pair of sunglasses, and you will be ready to head out the door. For a polished look, carry a leather messenger bag with your favorite t-shirt and tailored jeans. The shoes you choose can totally change your look, too. Wearing a nice pair of dress shoes can instantly elevate an outfit from casual to business casual.
The ladies have way more options when it comes to accessories. If you are wearing a simple crewneck t-shirt, try adding a long necklace with a pendant to create visual interest and elongate your torso. A simple short chain with a dainty pendant works well with V-neck tees and allows you to create a look that is appropriate for the office. When it comes to earrings, keep things simple for workwear styles, but feel free to spice things up with large hoops or dramatic chandelier earrings when you are heading out on the town.
When choosing a bag, make your decision based on the overall look of your outfit. If you are getting ready for work, you might want to carry a simple handbag in a neutral color, a messenger bag, or a laptop bag. When you're going out on the town, a sparkly clutch pairs well with a fitted tee, dark denim jeans, and heels. For casual outings, choose whatever style suits your fancy!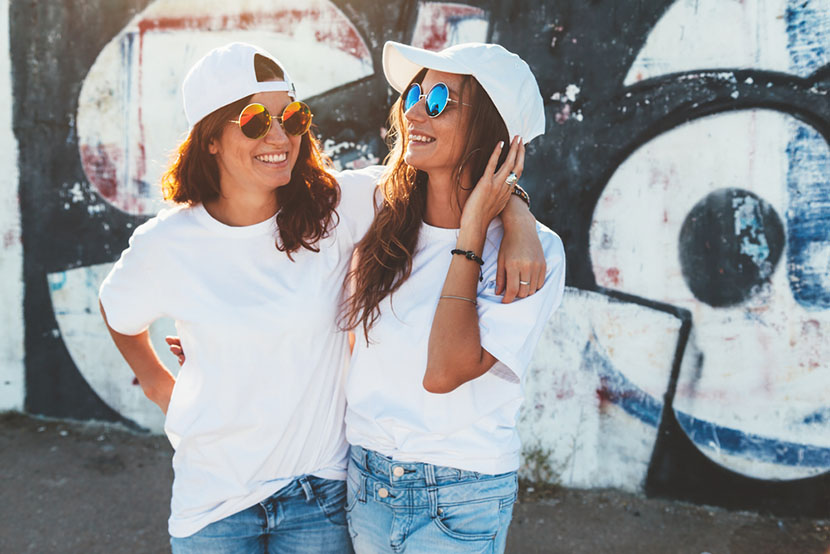 The Bottom Line
Few wardrobe staples are as fashion-forward as the humble short-sleeve t-shirt. These garments have made their way into just about everyone's closets and dressers because they are comfortable, affordable, durable, and look great. They are also extremely versatile and can be dressed up or dressed down for virtually any occasion. Whether you are heading to work, going out on a date, or running errands around town, there are ways to look great doing whatever you need to do when wearing a t-shirt.
Whether you are a man or a woman, styling a t-shirt can be easy – as long as you know the right tricks. You don't need to be a seasoned fashion guru to figure out how to make your outfits look great. By following the tips listed above, you can create outfits that will turn heads for all of the right reasons.
At The Adair Group, we have affordable wholesale short sleeve t-shirts for every occasion. Browse our selection today to fill out your wardrobe in style!