Bulk Kids T-Shirts
Shop our wide variety of wholesale kids t-shirts from leading brands including Gildan, Anvil, and Delta. We carry both short sleeve and long sleeve shirts in all the popular colors. All of our kids tees are sourced in bulk in order to offer you the cheapest prices. We are constantly adding new styles and colors so check back often.
See Our Kids T-Shirts in Action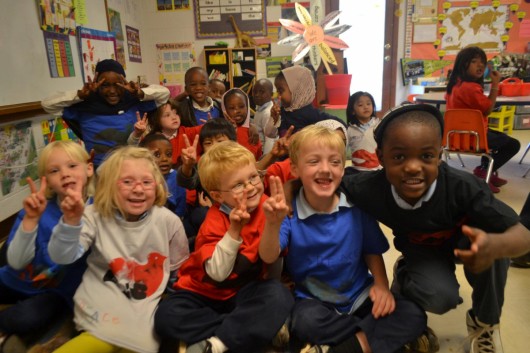 Peace. Love. T-Shirts
These elementary school students deliver a positive message through t-shirts. The message of peace was designed by each kid after the school purchased a bulk lot of our
assorted kids t-shirts
. Each student created his or her own tee and the event was a huge success. And it made us feel good know our tees were being put to such great use. Thanks for sharing the picture with us!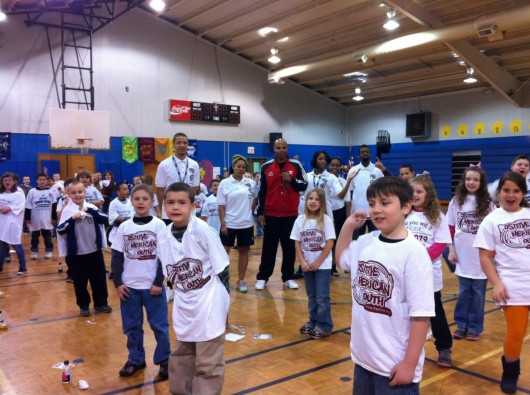 Wholesale Kids Tees for Non-Profits
Positive American Youth, a non profit organization, uses our
wholesale kids t-shirts in white
for one of their many events in the community. PYO has a mission to build a foundation of goals for our youth, followed by revealing proven steps to reach those goals. Like PYO, many non profits source our kids t-shirts blank and then send to a printer to decorate which lowers their landed cost.
Kids Night Out T-Shirts
This fun group opted for our
kids bright t-shirts
assortment. According to their supervisor Joe, these tees were used for a service project called Kids Night Out. With these bright colors, we are certain everyone took notice. Thank you for sharing the picture Joe. It was wonderful to be a part of your evening and to see all those smiling faces.
Kids' Plain T-Shirts
Available in Bulk
There's no reason to spend a fortune when you're looking for
wholesale kids' t-shirts
. Whether you're designing shirts for a family reunion or customizing them for your retail store,
bulk kids' t-shirts
are an inexpensive option. Or you can fill your child's wardrobe without breaking the bank. Kids grow so fast and stain or ruin clothes so easily that it doesn't make sense to spend a fortune on their clothing. Quality
kids' polo shirts
, for example, can be purchased in bulk at wholesale prices so you don't have to worry when they grow out of them in just a year's time. 
Order Tie-Dye Shirts Your Kid Will Love
Looking for
kids' tie-dye shirts
? Ours are made from quality fabric so they won't fade or shrink in the wash. Tie-dyeing shirts can be a fun activity to do at home, but it can be difficult when the kiddos are involved. It can get messy and they might be disappointed with the final outcome, so having professionally done tie-dye shirts on hand is a good call to prevent some tears. Plus, ordering them at wholesale prices makes it affordable.