How to Style Basic V-Neck T-Shirts
There are some wardrobe staples that never go out of style. Basic V-neck t-shirts are a perfect example of this. Available for both men and women in a rainbow of colors, these simple shirts have a place in every closet. They can be worn on their own with a pair of jeans for a simple, comfortable look, or they can be paired with other garments and accessories to create unique looks that reflect your personal style.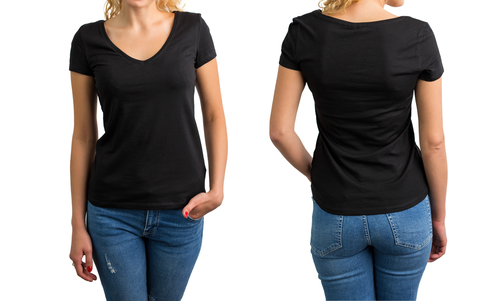 V-neck shirts are simple, but that doesn't mean they have to be boring. Whether you are a burgeoning fashionista or you are just looking for a way to change up your look, keep reading to discover how to style basic V-neck t-shirts.
Keep It Casual
A plain V-neck t-shirt is flattering on anyone, and it is the perfect foundation piece for a casual, relaxed outfit. Pair yours with your favorite straight-leg jeans for an outfit that's great for taking the kids to the park, buying groceries or relaxing with friends. If you have a V-neck shirt that's long enough to cover your backside, pair it with leggings or skinny jeans. Add a pair of knee boots for the perfect casual and comfy look.
Dress Your V-Neck T-Shirt Up with Accessories
The best way to dress up any basic garment is by adding accessories. If you have a plain white tee that is in desperate need of sprucing up, try pairing it with a chunky belt in a bold color or a long statement necklace. This works great for black shirts, too!
Instead of pairing your shirt with a basic pair of pants, try wearing it with a brightly colored skirt or a pair of colorful capris. Choose accessories that complement your bottoms. Not sure what colors to choose? Look to the color wheel for inspiration! Colors on opposite sides of the wheel complement each other, so red looks great with green, blue looks awesome with orange and so on.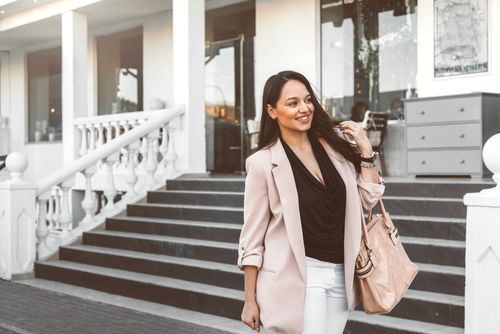 Wear It with a Blazer
When you need to dress up a shirt with a V-neckline, a blazer is a perfect solution. Wear your tee under a fitted blazer to create a look that is appropriate for "dressier" occasions. When worn with dark jeans and heels, this creates a style that is perfect for an evening out. When paired with tailored trousers or a pencil skirt, you have an outfit that is well-suited to professional offices.
Blazer not quite your style? A nice cardigan works well, too.
Go Monochromatic
Shirts with V-necklines are universally flattering because they visually elongate the upper body. This makes you look slimmer regardless of your body shape and type. To really maximize the slimming effect, go with outfits that are monochromatic. Wear your favorite black V-neck with fitted black pants and black boots to make yourself look thinner and taller. You can achieve the monochromatic look with V-neck shirts in any color, but darker colors tend to be the most slimming.
Layer Up
Shirts with V-necklines are great for layering. Wear one under your favorite button-down flannel shirt for a look that is perfect for fall or wear one under a zip-up hoodie if you are going for a casual style. You can even wear a V-neck tee underneath a sundress or a spaghetti-strap top for a bit more modesty. When it's chilly, it even works well to layer a V-neck over a long sleeve shirt.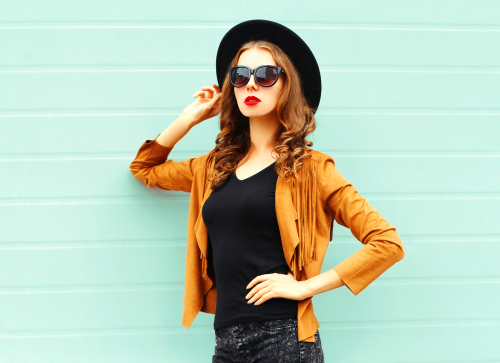 Conclusion
V-neck t-shirts are must-haves in any wardrobe. Having a few in basic colors–including black and white–ensures that you have a nice shirt that can be dressed up or dressed down for virtually any occasion. We also recommend buying a few in some of your favorite colors to create looks that are uniquely "you."
At The Adair Group, we stock a wide range of V-neck t-shirts for men and women. We carry products from leading apparel manufacturers, and we offer competitive wholesale pricing to help you get the best deal on your new clothing. Our shirts come in several different colors and we stand behind every product we sell. Browse our selection today and let us know if you need any assistance finding the perfect shirts for your wardrobe!