Business Casual 101: 4 Ways to Style a Plain T-Shirt for the Office
In most industries, the days of needing to wear a suit and tie or a fancy dress to the office have become a thing of the past. Today, even the most formal workplaces are easing up on their dress code requirements, and many have decided that business casual attire is perfectly acceptable.

When a lot of people hear the term "business casual," though, their mind instantly goes to pleated khakis and tucked-in polo shirts. While this look was the most prominent one back in the '90s, today's business casual attire encompasses a whole lot more. It's true that polo shirts are comfortable and professional and work well in offices with laid-back dress codes, but they certainly are not the only option. In fact, even a simple blank t-shirt can be dressed up for work. Keep reading to discover a few ways to style a plain t-shirt for the office!
Pair It with a Jacket or Blazer
If you have a plain t-shirt and you want to instantly make it appropriate to wear to work, try pairing it with a structured jacket or blazer. A black or white t-shirt is always a good option. If you want to show off a bit more of your own personality, though, try wearing a brightly colored tee under a neutral jacket or blazer.
Depending on just how casual your office is, you may even be able to layer with a zip-up hoodie to keep warm. If you plan on wearing a hoodie instead of a jacket or blazer, however, you should try to find one that is somewhat fitted to create a more professional look. A hoodie that is super baggy usually isn't appropriate.
Dress Up a Polo
Even if the classic polo and khakis look isn't quite your thing, you can still dress up your look a bit by swapping your regular t-shirt for a polo. Jersey polos are made from the same fabric as plain tees, so they're soft, smooth and comfortable. In other words, they're nothing like the more formal pique polos.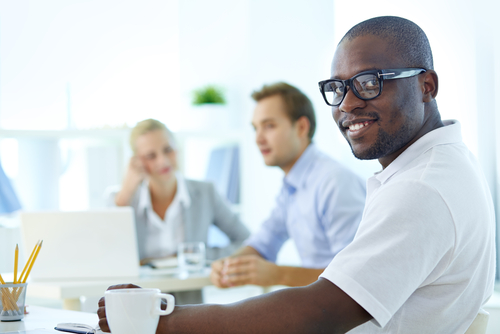 Instead of donning a pair of pleated khakis with your polo, try wearing a pair of tailored jeans. If your office is chilly, wear your polo underneath a nice sweater. Wear the collar outside of the sweater for a polished and professional look.
Ladies, if you would like to give your polo a more interesting look, try pairing it with a nice skirt. A fitted polo in a solid neutral color would like great with some wide leg patterned dress pants, too.
Add a Vest
Vests have made a big comeback over the last couple of years, and they're a great way to elevate a plain t-shirt to business casual status. Try wearing a fitted t-shirt underneath a long vest with a nice pair of slacks and dress shoes. The resulting look is quite impressive!
Long-sleeved t-shirts work well with all types of vests. This look is an ideal option for anyone who wants to add a bit of warmth to their workwear, too.
Choose the Right Shoes
Your shoes can make or break your outfit. If you plan on wearing a t-shirt to work in an office with a business casual dress code, wearing nicer shoes is an easy way to up your outfit's professionalism. Rather than wearing sneakers, guys should consider wearing loafers or dress shoes. Ladies should wear dress shoes or nice boots, depending on their outfit. Keep in mind that, in most offices, closed-toed shoes are preferred over open-toed as they are considered more professional.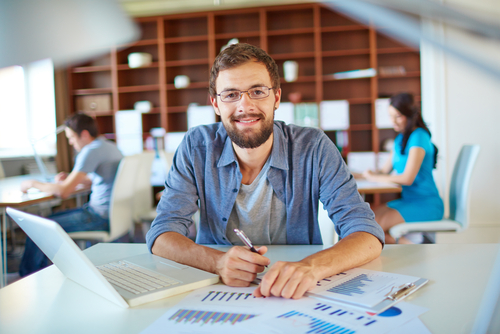 Conclusion
Most offices have ditched formal dress codes in favor of more laid-back, business casual styles. The tricky thing, though, is that "business casual" can mean different things to different people. For this reason, it is always important to check your company's specific policies regarding the dress code before putting together any outfits. If you are unsure about whether something is appropriate to wear to work, consult your employee handbook or talk to someone in the HR department.
If you love wearing t-shirts, there are all sorts of ways to dress them up and make them appropriate to wear to most offices that require business casual attire. By pairing these simple wardrobe staples with pieces that are a bit dressier, you can elevate their status and make them more appropriate for work. At The Adair Group, we have the t-shirts you need to build your business casual wardrobe. Check out our full selection today!