Wholesale Hoodie Sweatshirts
If you are looking for Full Zip Up Hoodies
click here.
For the past decade, if not longer, pullover hoodies and
full zipper hoodies
have been the most popular segment of the "sweatshirt" category. They keep you warm, look great, and are really comfortable. Doesn't everyone have that super broken in hoodie in their closet that they love? At Adair, we have wholesale hoodies for all sizes ranges at cheap prices. Whether you want a single blank hoodie for yourself or need a bulk lot for a wholesale printing job, we've got your covered. We are confident our trusted hoodie brands(including Gildan, Dodger, Fruit of the Loom, and more) as well as our industry leading prices will keep you coming back for more.
See Our Wholesale Hoodies in Action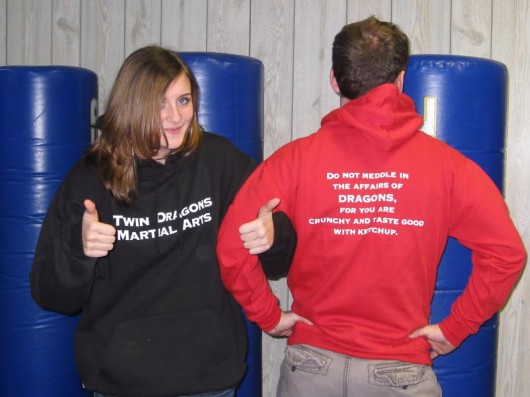 Wholesale Hoodies for a Martial Arts Stuido
The fine folks at Twin Dragons Martial Arts sourced our wholesale hoodies for their martial arts studio. As you can see, our black and red hoodie provided the perfect canvas for their design. And trust us, we will not meddle in the affairs of dragons! Thanks for sharing the picture guysl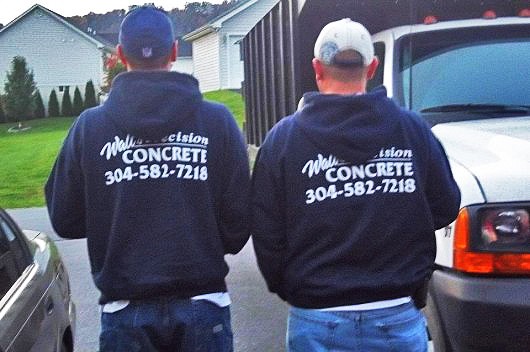 Bulk Hoodies for a Concrete Company
A concrete company based out of West Virginia used a bulk lot of our
navy pullover hoodies
for their employees. The hoodies doubled as work shirts as well as an advertisement for the business. Many companies including landscapers, electricians, and other trades people use our products not only for the quality but the excellent price point. Looking good fellas!
More info on bulk hoodies

The popularity of the hoodie transcends age, gender and profession. Everyone loves them, and for good reason. At The Adair Group, we love hoodies as much as you do, and we want to make sure all of our customers have the hoodies they want and need for themselves, as well as their teams, their employees or students.

This is why you can shop our two main categories of hoodies on our website. First, we have the classic pullover style. This one is perfect for anyone who has to work in a chilled environment, such as a refrigerator truck, a school campus in a cool climate or a cold office. The pullover style makes it a bit bulkier, cozy and soft.

Want something sleeker or lighter? Try our zipper hoodie. Half jacket - half sweatshirt, this style is the updated version of the classic pullover. This design lays flat on the wearer and has a more flattering shape.

We keep our overheads low, so we can charge you as little as possible for your bulk order. Why order hoodies? They're a great giveaway at the office for your new hires. They can show off your student's school spirit. They advertise your non-profit right on your back. They are easy to wear and go great with most outfits. Employees and volunteers love them because they give them a chance to look casual while at work, and hoodies are also a big hit amongst school and college students.

Everyone has their favorite hoodie. Make a hoodie a part of your school, work or sports team's attire. We can help you dress everyone at a low price with one simple bulk order.

Ready to get your order going? We want to see you happy, so please let us know how we can be of service. Don't wait — order your hoodies today.