The Best Neckline for Every Body Type (or for Every Occasion)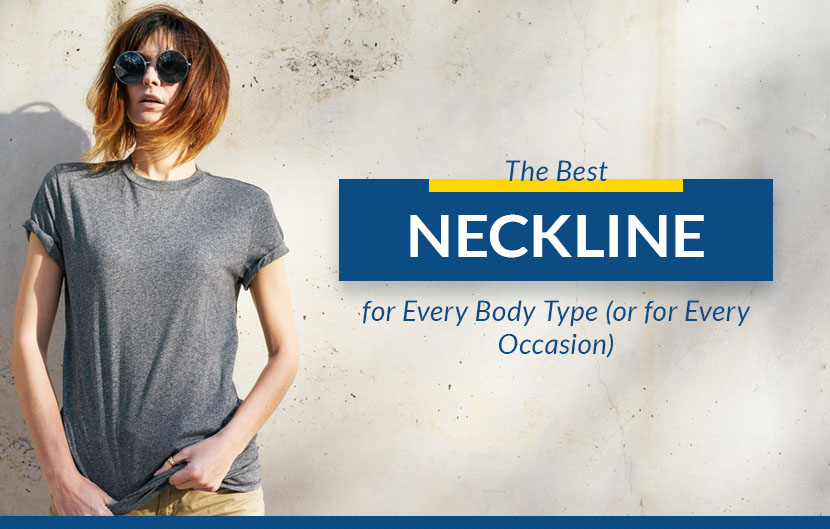 Whether you are shopping for shirts for work, raiding your closet for the perfect top to wear out on a date or trying to find a shirt that's appropriate for a job interview, there are–undeniably–a lot of styles to choose from. From a basic crewneck t-shirt to a formal button-down and everything in between, shirts for both men and women are available with several different necklines.
While you may have your own personal favorite neckline, it is smart to note that some look better on certain body types than others. And, of course, some necklines are perfect for some situations but completely inappropriate for others.
With all of the options to choose from and the "rules" governing what neckline should be worn when and who looks best in which style, figuring out your best option can be tricky. Before you start getting overwhelmed and feeling like you have no idea what to buy or wear, check out this guide to the best necklines for every body type and for every occasion.
CREWNECK
When it comes to shirt necklines, the crewneck is the most basic of basic. Also known as a round neck, this style lacks a collar and lays close to the neck. It doesn't show off much skin, so it is a very modest option. Crewneck t-shirts are commonly worn as undershirts, but they can be worn on their own, too.
Just about every type of top you can imagine is available with a crew neckline. Short-sleeved t-shirts are the most common option, but you can also find crewneck long-sleeved tees, sweaters and sweatshirts.
Styling a Crewneck Shirt
A shirt with a crewneck tends to draw attention to one's face and shoulders. As a result, it is a good choice for people who have broad shoulders and long necks. Crewneck shirts work especially well on slender frames, and they are best for women who have small to medium busts.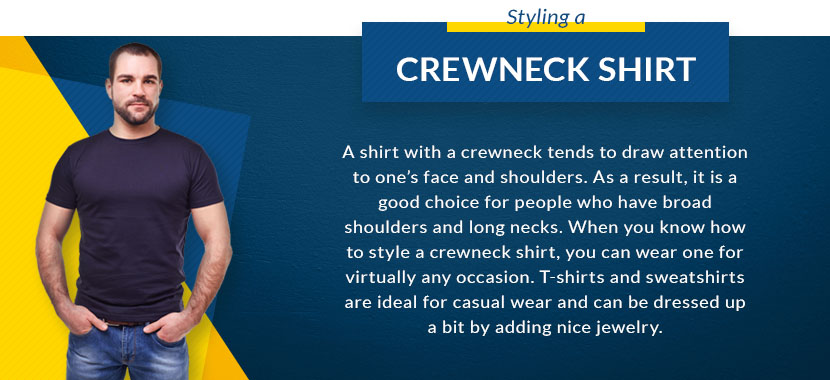 When you know how to style a crewneck shirt, you can wear one for virtually any occasion. T-shirts and sweatshirts are ideal for casual wear and can be dressed up a bit by adding nice jewelry. A plain crewneck t-shirt can also be worn underneath a blazer or a cardigan for a more polished and professional look. Crewneck sweaters are good choices for job interviews and offices with business casual dress codes.
To keep your look simple, pair a crewneck shirt with a pair of stud earrings and a dainty necklace. For a bolder look, try wearing chandelier earrings or a chunky statement necklace. If you are wearing a crewneck sweater, a necklace with a chain that extends midway down your torso is an excellent look.
V-NECK
The V-neck is the second most popular neckline after the crewneck. While it is most often worn by women, it is also available in men's and unisex styles. When you are shopping for a shirt with a V neckline, you will quickly discover that the "V" comes in many different depths. Some shirts have very subtle V necklines that offer more visual interest than a typical crewneck but are still rather conservative. Others have plunging Vs that show off a considerable amount of skin.
Like crewnecks, V-necks are available on many different styles of shirts. From casual tanks, tees and sweatshirts to dressier sweaters and pullover vests, you can find the popular V-neck on just about every type of shirt you can imagine.
Styling a V-Neck Shirt
One of the great things about the V neckline is that it is flattering on nearly everyone. They are especially good for anyone who wants to make their neck look longer or draw attention away from an athletic or curvy build. V-necks do an excellent job of balancing out the body and elongating one's silhouette. For women, they work well with both small and large busts. If you have a smaller bust, a less dramatic V is likely your best bet. Women with larger busts can get away with wearing deeper V necklines to elongate their silhouettes. Just be careful not to choose a V that is too deep if you will be wearing it in a professional environment.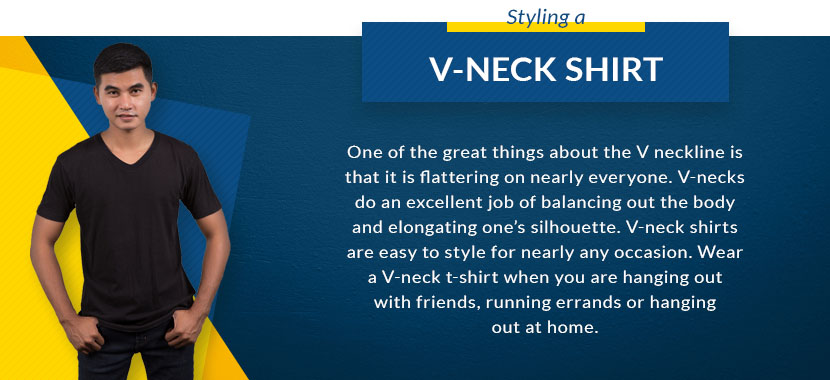 V-neck shirts are easy to style for nearly any occasion. Wear a V-neck t-shirt when you are hanging out with friends, running errands or hanging out at home. Like a crewneck tee, you can also dress up a V-neck shirt by wearing it under a blazer. V-neck sweaters are great for the office, and they look awesome when worn over the top of a collared shirt.
When it comes to accessories, the sky is the limit. You can keep things simple by wearing a delicate necklace with a small pendant that rests just above the V, or you can go bold by wearing a choker or a longer statement necklace.
POLO
Polo shirts have pretty much become synonymous with the business casual style. They're also a popular option for golfers, tennis players and certain other athletes. A high-quality polo offers the comfort of a t-shirt combined with the more formal styling of a dress shirt and is appropriate for a wide range of situations and occasions.
Polos can be made in a few different ways. There are pique, woven and knit varieties to choose from. Pique polos are constructed from the thickest fabric and have the most formal appearance, so they are your best bet for professional situations. If you are going on a date or just like the look of a polo for casual wear, ones made from knit or woven fabric are best. Pique polos should be worn tucked in while knit and woven ones can be left untucked. When you're heading out to the golf or tennis court, choose a performance polo. Made from fabrics that are designed to breathe and wick sweat away from your body, they'll help you stay cool and dry regardless of how intense the game may be. Performance polos are also designed to move with your body without restricting your range of motion.
Styling a Polo Shirt
Just about anyone can wear a polo shirt and look good when doing so. They work on all body types and are appropriate for both men and women. If you want to look your best, though, it's important to know how to style a polo shirt before putting one on and heading out for the day.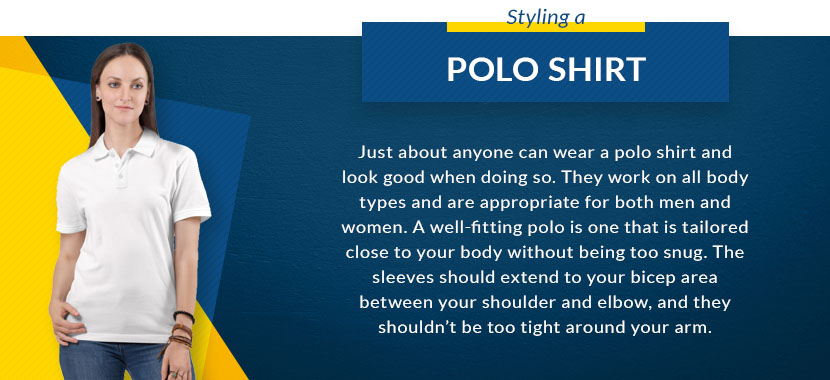 The most important step is choosing one that fits how it should. A well-fitting polo is one that is tailored close to your body without being too snug. The sleeves should extend to your bicep area between your shoulder and elbow, and they shouldn't be too tight around your arm. If you are wearing your shirt untucked, the bottom should extend to just above your hips. If you are wearing it tucked in, it should, of course, be long enough to stay tucked in without coming undone.
Styling a polo is pretty easy as long as you remember one of the most important rules: Don't pop the collar! That's one look that should definitely stay back in the early 2000s where it originated. When it comes to the buttons, most people recommend at least buttoning the bottom button. Leaving them all undone tends to look sloppy, but buttoning all three is stuffy. For most situations, just buttoning the bottom one is appropriate.
If you are wearing a polo for a professional or formal occasion, tuck it in. For casual events, feel free to leave it untucked. Keep in mind, though, that if you have a polo shirt that is longer in the back than in the front, it is designed to be tucked in and should be worn that way.
Keep your accessories simple when wearing a polo. A dainty necklace and a pair of stud earrings is sufficient. Bolder styles of jewelry usually do not work well with this kind of shirt.
PULLOVER HOODIE
When it comes to casual comfort, you can't go wrong with a pullover hoodie. Because of the hood, the neckline tends to fall high up on the neck, which provides extra warmth and is very modest. Hooded sweatshirts come in both fitted and boxy styles, so whether you want to wear something that fits close to your body or you prefer something with a bit of extra breathing room, there is an option that's right for you.
Generally, hoodies are classified as casual clothing or outerwear. The pullover style most often isn't deemed appropriate for professional settings. Because hoodies have become increasingly popular in recent years, however, most people find that they are acceptable for casual dates, hanging out with friends and other laid-back activities.
Styling a Pullover Hoodie
Anyone can wear a hoodie. This type of shirt is appropriate for men and women of all body types and is extremely versatile. Generally speaking, however, boxy men's and unisex styles tend to work best on people with more slender frames while more fitted styles are better for larger people who don't want to add a lot of bulk.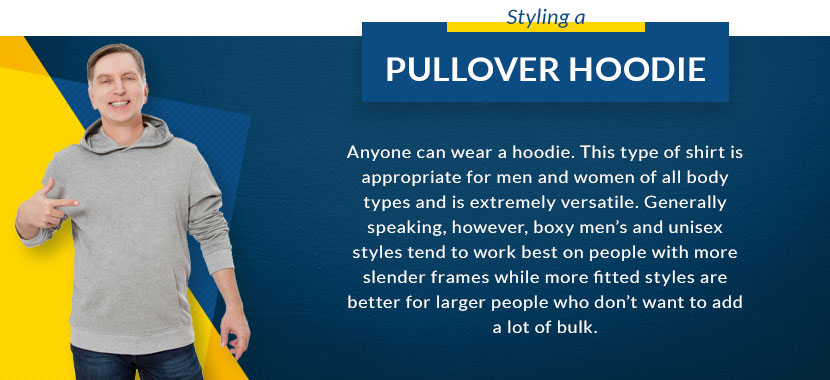 Pullover hoodies have a look that is all their own, and they don't require much in the way of styling. If you are hanging out at home, running errands or spending time with friends or someone special, just pull one on over whatever you are wearing. For the ultimate casual look, pair a boxy hooded sweatshirt with your favorite pair of jeans. You could even channel your inner Ariana Grande and rock a super oversized hoodie with a pair of thigh-high boots. For a more streamlined appearance, go with a shorter, more fitted hoodie.
ZIP-UP HOODIES
If you are longing for the comfort and warmth of a hoodie but want to keep things a bit more professional, consider a zip-up style. Zip-up hoodies provide all of the same perks as pullover styles, but they're much easier to dress up for work and other professional or semi-formal settings. Of course, they're great for casual wear, too!
Zip-up hoodies come in various styles and sizes for men and women. There are boxy, loose-fit styles that are perfect for casual settings as well as tailored and fitted styles that work well when you need something a bit dressier.
Styling a Zip-Up Hoodie
Like pullover hoodies, zip-up hoodies work on all body types. The zipper has an elongating effect on the body, though, making it a great choice for anyone who wants to look taller or thinner.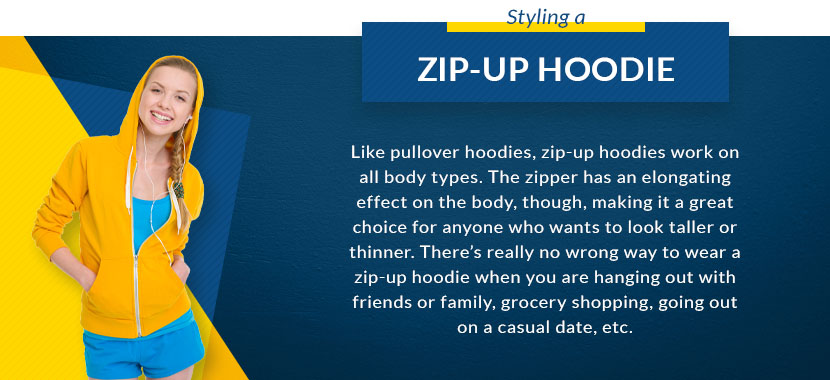 If you plan on wearing your zip-up to work, consider choosing a dark neutral color, like black or brown. Your hoodie should fit close to your body without being overly snug, and it should extend to the top of your hips. Wear it with a dress shirt and khakis, dress pants or dress jeans.
For casual wear, choose whatever color and style you like best. There's really no wrong way to wear a zip-up hoodie when you are hanging out with friends or family, grocery shopping, going out on a casual date, etc.
If you plan on wearing a necklace, it's best to choose one that is short and simple. That way, you won't have to worry about it getting caught in the zipper. Simple earrings are better than dangly chandelier styles, too, as they won't get snagged in the hood.
CONCLUSION
Shirts come in all sorts of different necklines. The ones listed above are just a few of the many options and some of the ones that are available from The Adair Group. Whether you need something to wear to work, out on a date or when you're hanging out on your day off, choose the styles that you feel the most confident in. Take the time to experiment with different shirt necklines to find the one that's perfect for you!