A Fresh Style Guide: How to Wear a Polo Shirt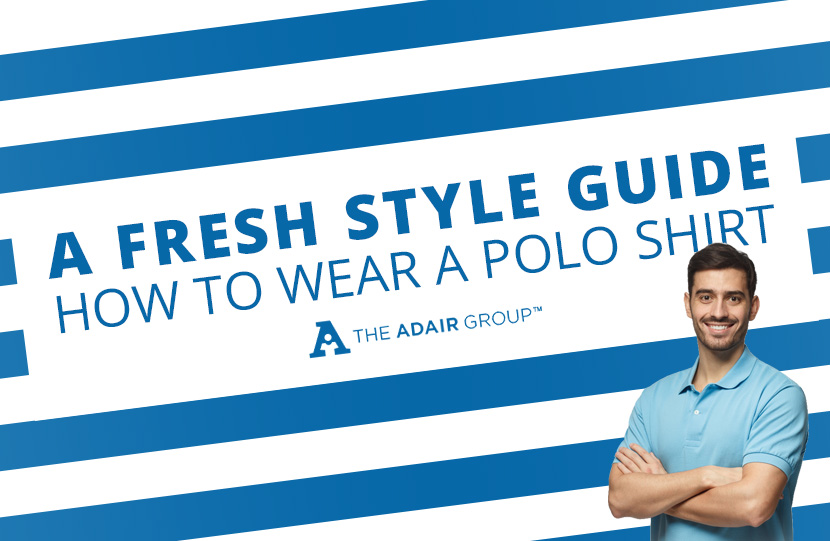 When it comes to style staples, you can't go wrong with a polo shirt. Sure, the classic polo isn't something that most people tend to get excited about, but it is one of those garments that just about everyone owns simply because it's so versatile. Polos often serve as quiet background players that are always there when needed but rarely receive the praise and enthusiasm they truly deserve.
For plenty of folks, the polo shirt has its fair share of negative associations. They make some people think of the uniforms they were forced to wear in elementary school or the ones they wore when delivering pizzas for their first job. Others see them as the go-to look for preppy frat bro types and people who are slaving away as corporate drones. There are also plenty of people who think that polos are for those lazy people who can't even be bothered to button up a "real" dress shirt.
The humble polo deserves more affection than it usually gets, though. This simple garment bridges the gap between t-shirts and dress shirts, and it is a great option in a wide range of situations. Whether it's a laid-back job interview, a first date or just one of those times when you aren't sure exactly what your day will entail, polos are appropriate for a wide range of situations.
If you have been avoiding polo shirts because of the less-than-stellar reputation they've had in recent years, you aren't alone. It's time for this classic garment to make a comeback. Keep scrolling to check out our fresh style guide on how to wear a polo shirt and look great!
A Quick Look at the History of the Polo Shirt
Before we start diving into all the ways in which you can look and feel amazing while wearing a polo, we think it's important to touch on the history of the polo shirt. While some clothing styles are relatively new, polos have been around for decades. In the early 1900s, most people wore long-sleeved button down shirts while participating in sports like tennis, rowing and, of course, polo. Tennis champion Rene Lacoste set out to design a more functional and stylish shirt, which he debuted at the 1926 U.S. Open. His shirt featured short, fitted sleeves, a flat collar and a long tail to prevent it from coming untucked and closely resembled the polo shirts of today.

Demand for Lacoste's new shirt was so extreme that he retired from tennis in 1933 and formed the Lacoste clothing company. The term "polo shirt" was adopted in the mid-1940s and used to describe the similar styles of shirts worn by tennis players, polo teams and golfers.
Lacoste began offering the polo in a wide range of colors and brought the shirt to America in the 1950s. In the 1970s, designer Ralph Lauren launched his casual Polo brand and created stiff competition for the Lacoste brand. By the 1980s, the humble polo shirt had reached peak popularity and became associated with the decade's signature "pretty" style.
In the 1990s, the polo lost some of its "cool" status as it became a common uniform for workers in a wide range of industries. It also became part of the standard outfit for casual Fridays, school uniforms and other less-than-exciting situations.
While the polo shirt has lost some of its "cool factor" in recent years, it still remains a wardrobe staple. Most men (and many women) have a few tucked away in their closets for those times when they are in need of a simple business casual outfit or something that's just a bit dressier than a plain t-shirt. Wearing a polo shirt doesn't have to be boring. In fact, there are plenty of ways to style them to make them look great.
Choose Your Look
While the overall design is relatively similar among all polos, they come in a wide range of fabrics, colors, fits and styles. Choosing the look that's right for you is an important first step in ensuring that your polo looks as great as possible.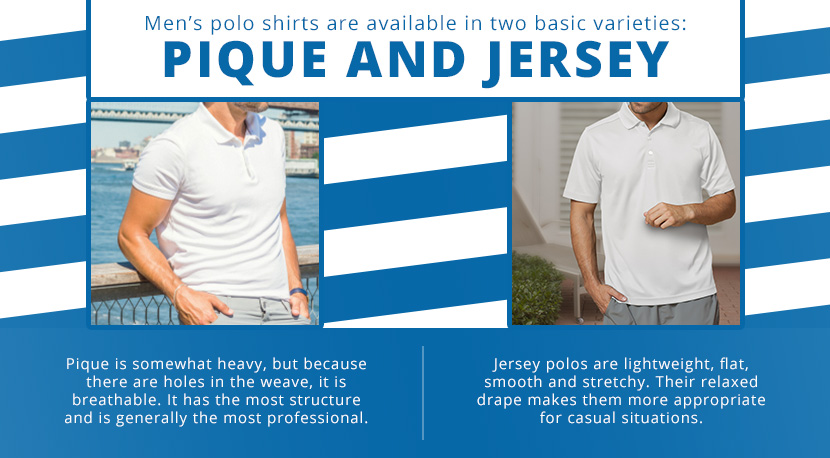 Fabric
Start by considering fabric options. These shirts can be made from a wide range of natural and synthetic materials, some of which are intended for specific uses. If, for example, you are heading out on the links or planning on playing a game of tennis, you'll want an athletic polo shirt made from a synthetic fabric that's designed to wick perspiration away from your skin. Polyester and cotton/poly blend polos tend to be the best options for athletic wear.
If you plan on wearing your polo to the office, out on a date or to another event, one that is made from 100 percent cotton is likely your best option. Men's polo shirts that are made from 100 percent cotton are available in two basic varieties: pique and jersey. Pique is the original type of fabric used to make polos and is knitted in a woven pattern that creates a textured surface. It is somewhat heavy, but because there are holes in the weave, it is breathable. Pique polos typically have sleeves that end in a ribbed cuff or band. This type of polo has the most structure and is generally the most professional option.
Jersey polos are made from the same type of material as your favorite t-shirt. They are lightweight, flat, smooth and stretchy. Rather than featuring a distinct band, jersey polos typically have sleeves that end in simple hems. These shirts are cooler than pique polos, but because the material is so much thinner, they show perspiration more. Their relaxed drape makes them more appropriate for casual situations.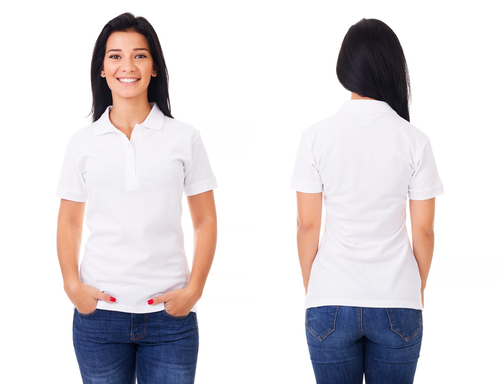 Fit
Getting the fit just right is key when it comes to rocking a polo shirt. Overall, it should fit close to your body without being overly tight. It should be a bit snugger in your arms and chest and taper to your waist. You should never wear one that is skintight, though. Make sure you can fit a few fingers under the sleeves and that you have room to move.
When it comes to the overall length, the bottom hem shouldn't reach more than halfway down your back pockets or your fly. It shouldn't sit higher than your hips, though. A polo that fits properly is long enough to be tucked in but short enough to be worn untucked without looking like a dress.
The length of the sleeves matters, too. They should reach about halfway down your bicep. If the sleeves are too long, you run the risk of looking sloppy. If they're too short, your shirt will look like it is too small.
Styling Your Polo
Once you have a polo that fits great and is appropriate for the situation, you still need to know how to style it. There is a lot of debate surrounding whether polos should be worn tucked or untucked and how many buttons should be buttoned. There is one thing that just about everyone can agree on, though: You should NEVER pop the collar!
When it comes to the tucked vs. untucked debate, it all comes down to the occasion. If you are going for a professional look, tuck it in. For more laid-back situations, untucked is fine. Keep in mind, though, that if your shirt is longer in the back than it is in the front, it was designed to be tucked in.
Button at least one of the three buttons. Leaving all of them undone tends to look sloppy, and buttoning them all can seem a bit stuffy. In most situations, buttoning the bottom button is sufficient and appropriate.
Layering
There's also a bit of debate surrounding whether and how to layer polos. For starters, layering multiple polos is a no-no. The trend of wearing several with their collars popped peaked in the early 2000s and has, thankfully, died down. Unless you are trying to look ridiculous, stick to wearing just one polo.
Don't wear an undershirt with your polo, either. Polos are meant to be worn as a single layer or as a base later that sits close to your body. Wearing an undershirt adds unnecessary bulk. Having your undershirt popping out of your shirt's neckline isn't a good look, either. If you absolutely must wear one, choose an undershirt that has a neckline that won't be visible.
Layering a polo shirt with a crewneck sweatshirt is a great way to dress up your look and stay warm in chilly offices. Wear the polo as a base layer with the collar folded over the outside of your sweatshirt. This is a quick and easy way to dress up a basic sweatshirt and create a look that's appropriate for the office. You can also layer a polo under a sweater for a dressier look.

When you need to look professional, wear your polo with a blazer or jacket. This works especially well if you choose a nice pique polo and a jacket or blazer with some structure. You may be surprised to find just how much this dresses up the humble polo.
Where to Wear Your Polo Shirts
Now that we've told you a few great ways to style your polo, let's talk about the many places where you can wear it. As we previously mentioned, these shirts are extremely versatile. While they are often associated with work uniforms, they can be styled in numerous ways to be appropriate for a wide range of situations. If your workplace allows business casual attire, you can't go wrong with a polo and a pair of khakis. Alternatively, you can dress things up a bit by swapping your khakis for dress pants and putting on a blazer. Polos are also appropriate for meetings, networking events, business luncheons and much, much more.
High-quality athletic polos are the perfect attire for client golf outings. They're also ideal to wear when visiting job sites where you are likely to get hot and sweaty.
Polos are perfect for personal use, too. Wear one on your next date, to a sporting event or even to your child's school event. The options are virtually unlimited. When wearing them in your personal life, jersey polos are ideal because they will keep you looking great without making you feel overly warm or restricted.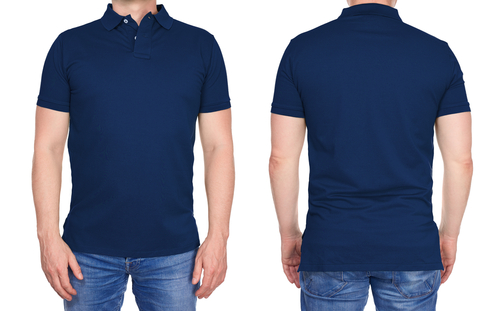 Conclusion
While polos were once simple shirts that were only available in white, they are now available in a vast assortment of colors, styles and fits. Whether you are looking for something with a classic feel or you'd rather find something that puts a modern twist on an old classic, there are polo shirts that are right for everyone. Knowing how to wear a polo shirt means that you will be able to look great for virtually any occasion.
At The Adair Group, we proudly carry a wide range of men's polo shirts as well as high-quality polo shirts for ladies. Our products are of the highest quality and we sell them at prices that are affordable on nearly any budget. Whether you are shopping for a few polos for your own wardrobe or you would like to buy several, we offer competitive wholesale pricing on products from trusted manufacturers. Place your order for polo shirts today and you'll soon see just how many ways there are to wear one!