Wholesale T-Shirt Brands – The Ultimate Guide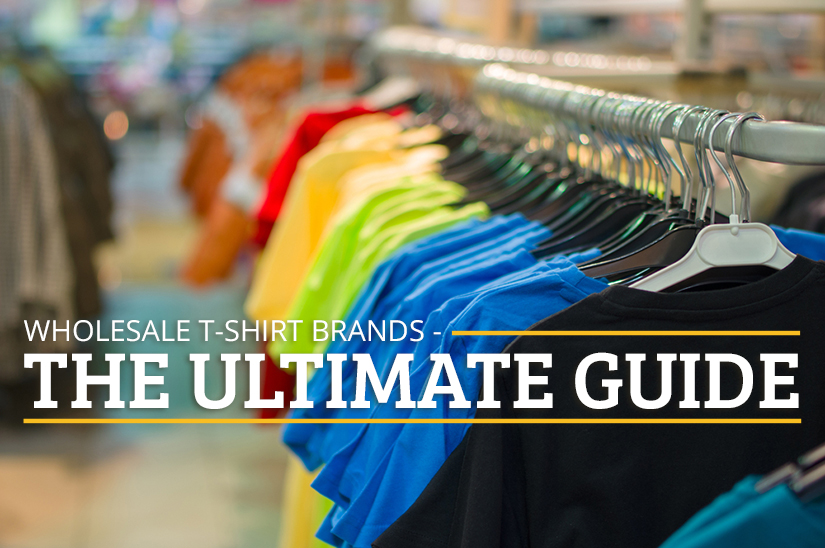 Whether you are starting your own clothing brand, you are promoting sports teams or creating trade show giveaways for a product release, picking the best wholesale t-shirt brands to buy is an important decision. The reason is because no matter what the blank apparel is going to turn into afterward, it is the foundation for the entire experience that its eventual owner will have.

The blank t-shirt determines the main color of the shirt, how that t-shirt fits, the comfort level that its owner will feel and how well the screen printing of graphics and text will appear. The price at which you buy wholesale t-shirts plays a huge role in your production budget and how much money you will need to raise, as well as how much customers must pay to generate a profit.
Gildan, Hanes, Alstyle, Fruit of the Loom, Jerzees, Comfort Colors and Delta are t-shirt brands that have earned their strong positions in the wholesale market. But which company's wholesale bulk t-shirtis going to be right for your particular needs? Now you can make an informed decision that allows you to balance crucial factors like cost, quality and comfort with the assistance of the Wholesale T-Shirt Brands – The Ultimate Guide.

Standard T-Shirt Brands
For an effective blend of high quality and low cost, you are going to be looking for t-shirt brands that fall under the category of standard tees.These brands include companies like Gildan, Alstyle, Hanes, Fruit of the Loom, Jerzees, Comfort Colors and Delta.
Standard t-shirts are ideal for most screen printers and are a cost-effective option for casual customers and clothing companies. They are typically made with 100 percent cotton instead of ringspun cotton with a boxy cut. But many standard t-shirt brands also offer fashionable fitted cuts, along with multiple styles and colors.

Gildan
Gildan is a top wholesale t-shirt brand among its competition in the printable tees' marketplace. This Canadian company from Montreal, Quebec, has been in business since 1984, starting with the acquisition of a knitting mill.
Gildan is a billion-dollar mammoth organization, currently employing over 40,000 employees. Their name is synonymous with tri-blend cotton t-shirts and screen printing needs, along with affordable, low prices. 
Gildan tees offer a flexible range of styles, including adult unisex short sleeve and long-sleeve t-shirts and women's long-sleeve and short-sleeve  t-shirts, as well as tees for toddlers and kids in an array of colors and sizes. You can also find high-performance moisture-wicking polyester t-shirts, ideal for people who love to live an active lifestyle and blank polo shirts for uniforms. Buy Gildan shirts wholesaleand provide customers, friends and family members with a t-shirt they can enjoy the feel of and appreciate its color options.

Hanes
Hanes has been around since 1901, and can easily be regarded as one of the eldest and most easily recognizable t-shirt brands in the United States. These wholesale t-shirts come backed by a history of quality and innovative developments in the industry. Hanes t-shirts can be bought in bulk and are a long-lasting, go-to product to decorate or to be worn as a blank t-shirt.
How many blank t-shirts can claim the same level of celebrity spokesmen that Hanes has achieved? Michael Jordan, Cuba Gooding, Jr. and Charlie Sheen have all represented Hanes throughout the years in popular print and television advertisements. And, of course, Hanes v-neck undershirtsare iconic.
In 1965, the P.H. Hanes Knitting Company and Hanes Hosiery merged, leading to the dominant undergarment giant they have become. You won't have any difficulty finding a flexible mix of colors for your wholesale blank t-shirt orders. Light steel gray and deep royal, as well as traditional staples like white, black and navy blue, are always available. 

Alstyle
Since 1976, Alstyle Apparel has emerged as a prominent wholesale t-shirt brandthat manufactures t-shirts, tank tops and sleeveless t-shirts. There is a generous supply of colors and sizes to make your screen printing efforts a success. The Alstyle aesthetic has a trending, modern edge that appeals to everyone from college students and skateboarding enthusiasts to niche clothing brands and young professionals.
The soft and soothing thread pattern will treat your customers' skin like a smooth massage. Alstyle literally comes in all styles, including comfortable and athletically appropriate adult sleeveless preshrunk muscle t-shirts in heather gray, black and white.

Comfort Colors
With Comfort Colors, you have access to a popular wholesale t-shirt brandthat has a special emphasis placed on garment-dyed t-shirts, hoodies and sweatshirts. The process of garment dyeing means the product is first manufactured before it is dyed, offering softness without shrinkage. This is how Comfort Colors has that purposely weathered look without the t-shirts losing their shape because they are washed 50 times before they are available to customers for purchase.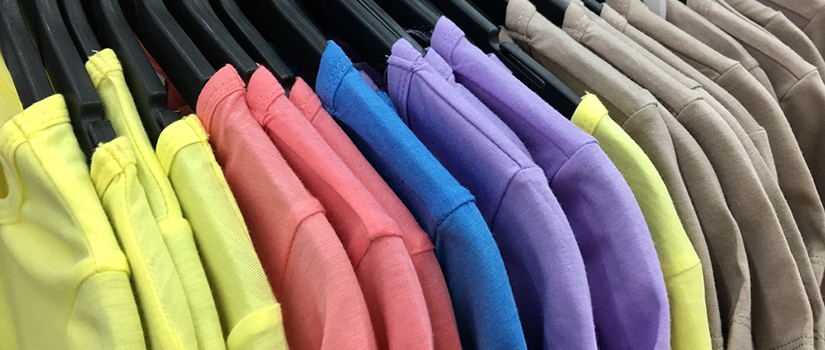 Comfort Colors has existed for over 40 years, but along with their experience, they also benefit from becoming a member of the Gildan family. They have plenty of adult tank tops dyed with eco-friendly pigment colors and 100 percent ring-spun cotton long-sleeve t-shirts.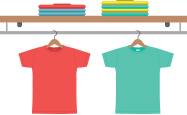 Delta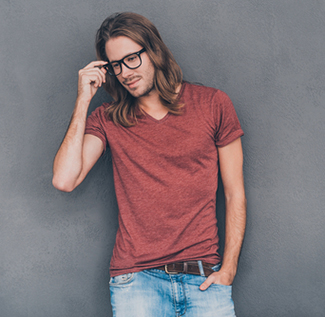 Delta Apparel has made its mark in printable apparel with its edgy, contemporary approach to t-shirt merchandise. When it comes to progressive advancement, Delta lives up to its name, which stands for "change." They take pride in specializing in comfortable fabrics and maintaining fashionable silhouettes in eye-catching color palettes for adults and youth.
You will find a wide variety of styles when it comes to blank Delta brand t-shirts. Choose from adult tank tops, adult long-sleeve t-shirts, women's junior fit cap sleeve t-shirts, kids' long-sleeve t-shirts, adult tank tops and even adorable infant onesies. Find the blank shirts you desire in diverse hues like heather gray, black, white and soft pink to offer a re-wearable product to your customers.
But style isn't the only concern that Delta Apparel has. Global sustainability is also an important priority to Delta. They have taken a strong environmental step forward by making some products with recycled polyester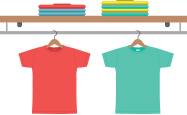 Jerzees
Jerzees Activewear has a sturdy resume as a leader in apparel. When you need an excellent price and incredible value, Jerzees wholesale t-shirts will deliver.
Versatility in styles and sizes has consistently made buying Jerzees t-shirts in bulk a popular pick among screen printers and embroiderers. Jerzees t-shirts have the durability and designthat is ideal for your sports team or corporate organizations.
Available Jerzees products are constantly evolving and growing. They have plenty of classic adult t-shirts in traditional colors like black, navy, royal and white. Jerzees also has resources and business muscle behind it since it was purchased by Russell Athletic in 1992, and Russell Athletic became a part of Fruit of the Loom in 2006.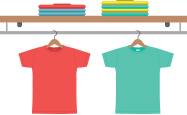 Fruit of the Loom
Fruit of the Loom is a t-shirt brand that enjoys a massive amount of recognition in our society, due to the fact it has over 150 years of history, plus an interesting origin story. It all began with a man by the name of Robert Knight, who owned a textile mill.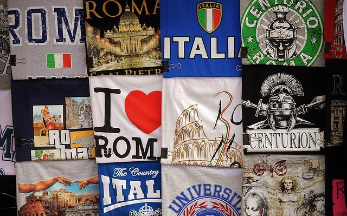 During a visit with his friend, Rufus Skeel, who peddled cloth manufactured in Knight's factory, Mr. Knight was intrigued by the apples that Mr. Skeel's daughter painted onto the cloth. This apple was an unofficial symbol of Mr. Skeel's cloth business, and would soon be adopted by the Fruit of the Loom company, which was named after a version of the biblical phrase "fruit of the womb."
The billionaire businessman and philanthropist Warren Buffett purchased Fruit of the Loom in 2002 to rescue it from bankruptcy, putting it back on its path of success. Fruit of the Loom stands tall on the solid backing of a reputable business figure and a widely respected legacy. This long-lasting t-shirt brand lives up to the expectations of the schools, business organizations and screen printing designers who require a reliable wearable canvas for their creations.
The Fruit of the Loom 5-ounce adult unisex t-shirt, made from 90 percent cotton and 10 percent polyester, is an excellent choice for screen printing needs. The cotton/polyester blend found in this Fruit of the Loom wholesale t-shirtoffers numerous benefits. Polyester costs less than cotton, it has quick-dry properties that make the cotton absorb liquid faster, it doesn't shrink as much in the dryer and it also helps cotton hold color dyes longer, which makes screen printing easier.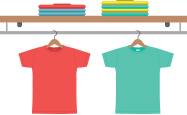 Kajpac
Established in 1996 in North Carolina, Kajpac has quickly become known for its superior quality, buttery-soft t-shirts. The company uses premium 100 percent extra-long staple cotton, trademarked as Supima®. The cotton is grown exclusively in the American West and Southwest, and creates a softer, more luxurious fabric, while also enhancing any fabric dye colors or prints. 
You can find Kajpac t-shirts in a range of styles, from slim-fit crewneck tees to comfortable yet flattering V-necks. Their 5.5 oz. cotton t-shirts are the ideal blank canvas for embroidery. The heavier-duty material can support a cutaway on the back for reinforcement. 
The 4.5 oz. t-shirt is an excellent option for tie-dye crafts. The lighter weight makes the t-shirt easier to handle and manipulate to create intricate patterns, while the pre-shrunk  Supima® cotton offers excellent fabric dye absorption and retention. 

Rabbit Skins
Rabbit Skin has been manufacturing high-quality wholesale blank apparel and accessories for infants and toddlers since 1982. The brand quickly became an industry leader and developed a reputation for clothing that provided comfort, softness and durability. 
Rabbit Skin onesies are made from soft and comfortable materials, such as 100 percent cotton, and are designed to keep babies cozy and comfortable all day long. These  onesies are available in a variety of styles, colors and designs, including heather gray, making it easy for parents to find the perfect onesie for their little ones.
The heather gray onesies is a versatile option and easy to pair with different outfits. It features easy-to-use snap closures, which make changing diapers quick and convenient. 
In addition to basic onesies, Rabbit Skin offers rainbow tie-dye onesies with a fun and colorful design. This groovy option is made from ringspun cotton and has a convenient three-snap closure. 
Rabbit Skin onesies are a reliable choice for parents who want to ensure that their babies are comfortable and stylish.

Purposes for Blank T-Shirts
You should have a reason already in mind for why you need these wholesale t-shirts. Are they for business or for pleasure — or will they be for sale or to be used as giveaways? Does the intended audience for these t-shirts consist of people you know personally, or are they complete strangers?

Churches and Religious Centers
Picking a brand of bulk blank t-shirts is a great idea for churches and religious organizations. Quite often, churches perform voluntary community services, have youth groups who go out for field trip outings or travel on trips as a group. What better way to show unity or promote a church to increase enrollment of its congregation than by providing t-shirts with the church's name printed on them?

Family Reunion Events
Family reunions are popular events that drive the sale of wholesale t-shirts for the further purpose of screen printing. You can personalize the blank t-shirts and create the feeling of solidarity that a family reunion is all about.
With family reunions typically being summer events, a customized cotton or cotton-blend fabric short sleeve t-shirt is the way to go. Cotton keeps you cool and is ideal for screen printing.

Social Club T-Shirts
Bowling teams, book reading groups or ethnic associations are all obvious candidates for t-shirts. The group's name, logo and/or a compelling graphic design can be printed on them to take the t-shirt or pullover to the next level. 
The social club title can also be sewn into the t-shirt with embroidery for a classy, high-quality aesthetic. T-shirts are the perfect product for representing groups and organizations on a local, regional or national level.

Sports Teams
Professional football, baseball, basketball, soccer and hockey teams aren't the only athletic organizations that lend themselves to blank t-shirts to make fan apparel. Children's leagues, middle school, high school and college sports teams also have a need for creating fan wear to be worn at games or to show support with team names, team colors and the team logo displayed.
Customizing blank t-shirts is a popular way to create a sense of unity and team spirit. Whether you're part of a youth soccer league or an adult softball team, custom t-shirts are a great way to showcase your team's identity and build a sense of camaraderie among teammates. 
You can customize t-shirts for sports teams by adding the team's logo or emblem. This can be done using various methods, such as screen printing, heat transfer or embroidery. A team logo can be a simple design or a more complex image, depending on the team's preferences. 
Consider adding individual player names and numbers for a personalized touch. Adding individual names and numbers to t-shirts allows players to feel a sense of ownership and pride in their role on the team and makes it easier for fans and spectators to identify individual players and show support during games.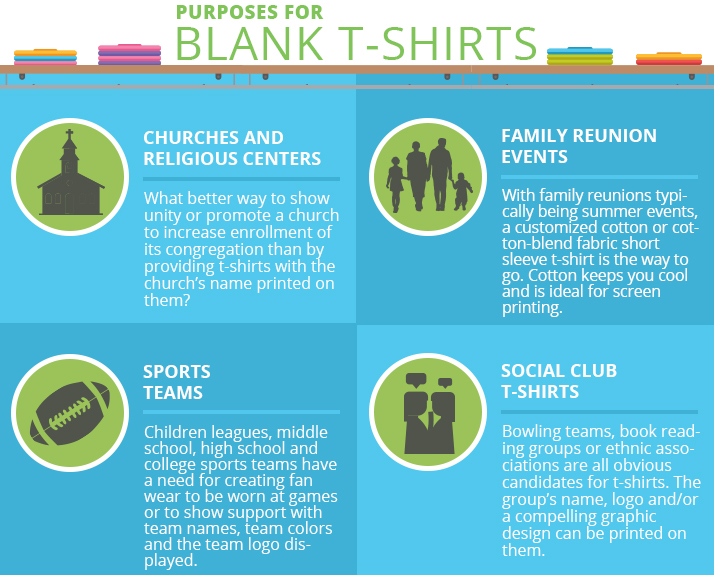 Fashion Brands
What will that final t-shirt look like when it is worn on a human body? Streetwear brands for a younger crowd make a baggy and boxy cut tee the way to go.
Funny t-shirts or tees with trendy slogans that are currently popular lend themselves to tees that are more normal – somewhere between a baggy and a fitted look. Clothing lines focused on customers who wear t-shirts on a regular basis should get fitted tees so they look good out on the street or on a date.

T-Shirt Styles
Knowing which styles you need for your t-shirts is a critical decision to make before you place an order. Are you going to need t-shirts for men, women, kids, babies and toddlers, or unisex adult sizes?
Will the wholesale blank t-shirts you need be the typical short-sleeve style, short-sleeve t-shirts with a pocket on the chest or a more stylish V-neck cut? Temperature and climate are elements to factor in when purchasing bulk t-shirt styles for a specific event. Is a long-sleeve t-shirt style better for colder months, or sleeveless t-shirts or tank top t-shirts that resemble basketball jerseys?
Colors are another necessary consideration to make when choosing t-shirts. The traditional white t-shirt is still a popular choice because of its flexibility and for how nice screen printing looks when it is applied.
Black t-shirts, as well as dark-colored t-shirts in general, demand an extra step for proper screen printing – an added layer of white ink underneath the print design. There are also earth-tone autumn colors, pastel soft tones, tie dye, dark colors and bright colors, as well.

Conclusion
There are legendary wholesale t-shirt brands like Hanes and Fruit of the Loom that most North American households are familiar with. You can pick from large undergarment companies such as Gildan and Jerzees that have penetrated the industry and have plenty of products to choose from. Or you can purchase quality t-shirts from the smaller yet vital brands like Alstyle, Delta and Comfort Colors that offer modern innovations.
The beauty of these t-shirt brands is that they are available for vastly discounted rates when you purchase your bulk orders through a trusted wholesale t-shirt brand manufacturer. Are you hoping to print promotional t-shirts for the grand opening of your new restaurant, or is your start-up technology business preparing to make a memorable marketing impression at an upcoming trade show? These wholesale t-shirt brands are where the magic begins.