The Ultimate Party Guide: 7 Wholesale T-Shirt Ideas for Birthday Parties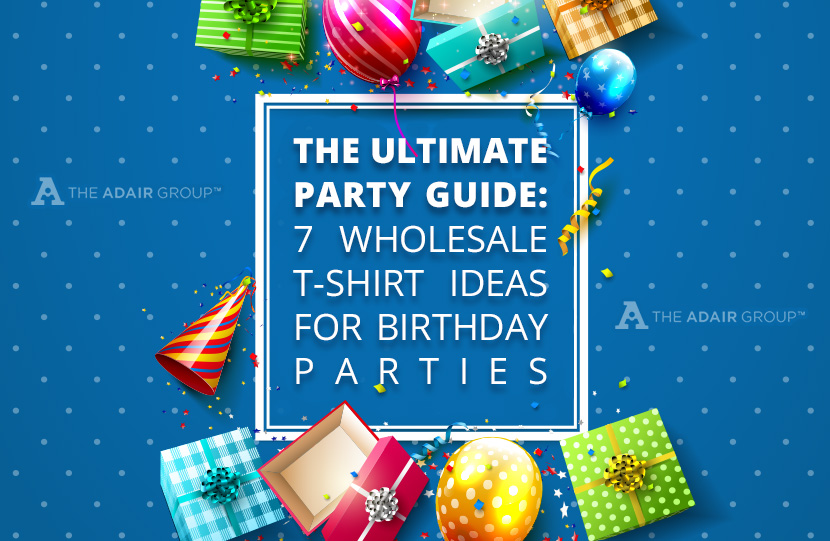 Birthdays are the ultimate reason to party! Life can be hard, and surviving another trip around the sun is something that's certainly worth celebrating. Whether you are planning a party for your little one, putting together a celebration for a loved one's milestone birthday or you are trying to come up with a fun way to commemorate your own special day, wholesale t-shirts are the perfect party accessories. 
The humble t-shirt is one of the few garments that is worn by basically everyone. From tiny tots to senior citizens, just about everyone has at least a few tees in their closet. These tops are versatile and can easily be customized for a wide range of occasions–including birthdays. 
Whether you are organizing a party or you have been invited to someone else's, a customized birthday shirt is a perfect way to make the birthday boy or girl feel special. Wholesale t-shirts can be used for all sorts of activities, too, which makes them especially great for kids' parties. 
Birthdays are special, and they are the perfect opportunity to show someone you love just how much you care. Keep reading to discover a few fun wholesale t-shirt ideas for birthday parties. 
Custom Birthday Shirt for the Special Person
If there is one day of the year when someone should be treated like they are the most important person in the world, it's their birthday. On your loved one's birthday, they should feel special and like the day is all about them. One great way to start the day off on the right foot is by giving that special person their very own customized shirt to wear for the day. 
Wholesale t-shirts can be customized in all sorts of ways. When you buy bulk white t-shirts or plain t-shirts in other colors, the ways in which you can design them are only limited by your imagination. If you are trying to come up with the perfect design for a custom birthday shirt, here are a few suggestions: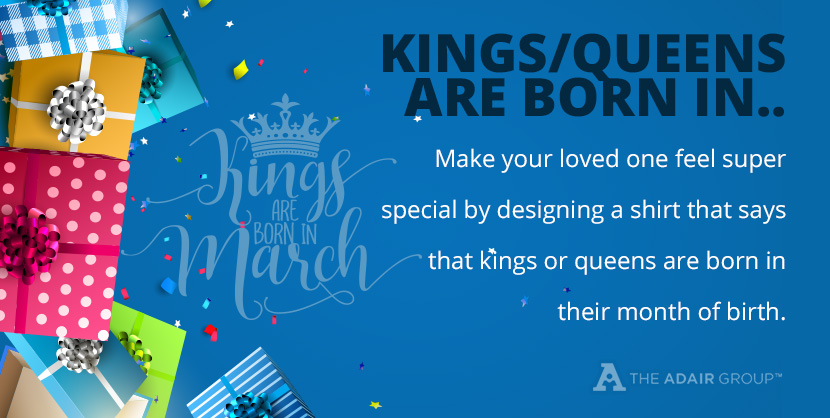 Kings/Queens Are Born In..
Make your loved one feel super special by designing a shirt that says that kings or queens are born in their month of birth. This simple design has become incredibly popular in the last few years. After all, who doesn't want to feel like a king or queen during their birthday month?
Signature Shirt
A plain white tee is the perfect base for a signature shirt that the recipient will surely treasure for years. This option is great for those special milestone birthdays (21, 30, 40, 50, etc.) because it creates an easy way to capture the memory of who was there for the birthday boy's or girl's special day. 
To make a signature shirt, simply add a birthday design to the front and ask friends and loved ones to sign the back. The design doesn't have to be anything in particular. A simple "Today is My Birthday!" works perfectly. If you feel awkward about going up to people and asking them to add their signature, you can design the shirt itself to say something like, "Sign My Birthday Shirt!" 
It Took XX Years to Look This Good
Help the birthday girl or boy feel their best (no matter how old they are!) by giving them a shirt that says, "It Took XX Years to Look This Good." Replace the "XX" with their age and, suddenly, they won't feel so bad about turning 40, 50, 60, etc. 
There are a lot of ways to modify this general idea, too. If you'd rather come up with a design that makes the recipient feel great about something other than their appearance, you could change it up to something like "It Took XX Years to Become this Awesome" or "XX Years of Amazing." A lot of people feel self-conscious about their age as they get older. With a shirt that turns their age into something positive, though, you can make the recipient feel great about themselves no matter how old they are.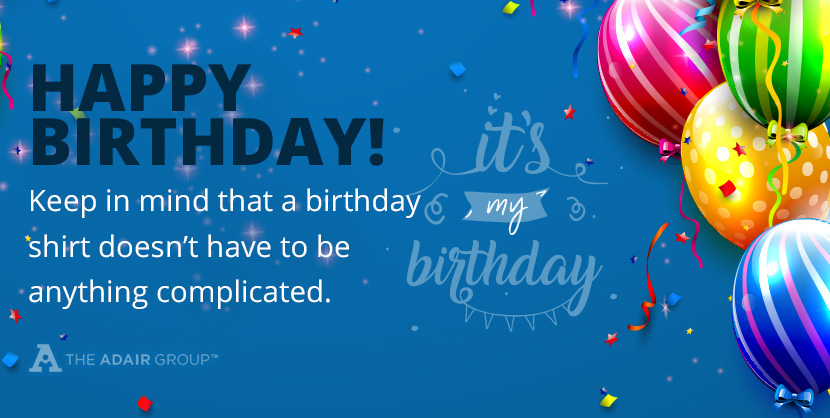 Happy Birthday to Me!
If you are trying to come up with a last-minute gift and you are running short on inspiration, keep in mind that a birthday shirt doesn't have to be anything complicated. Something as simple as a t-shirt emblazoned with "Happy Birthday to Me!" in the recipient's favorite color is sure to be a hit that the birthday girl or boy will love showing off on their big day. A simple "Birthday Girl" or "Birthday Boy" shirt works, too. 
Group Shirts
If you are going out to celebrate someone's birthday, there's no reason why the birthday boy or girl should be the only one wearing an awesome t-shirt! Since wholesale t-shirts are so affordable, you can customize shirts for everyone in your group without breaking the bank. 
Design one shirt especially for the special person and then come up with another design for everyone else. You could go with something simple like "Birthday Squad" or you could create a tee with a heartfelt message like, "Happy Birthday to My Amazing Best Friend." You could also do something like shirts that say "NAME'S Birthday Crew" for an extra personal touch. You could also incorporate your friend's or loved one's interests or likes when designing your shirts. Consider ordering blank shirts in their favorite color and customizing them with a quote from their favorite television show, song or movie. It's all about making the birthday person feel special. Put your thinking cap on and you are sure to come up with something that they will love. 
Shirts as Party Activities
Shirts don't need to be designed ahead of time to wear for the birthday festivities. They can also be used as the foundation of all sorts of fun projects. Customizing blank t-shirts is a great activity for all ages, but it's especially fun for kids, tweens and teens. There's something special about designing your own clothing, so customizing t-shirts is likely to be a way more popular activity than, say, the classic "Pin the Tail on the Donkey" game. 
One of the best things about using t-shirts for party activities is that they are so versatile. Here are just a few of the many options.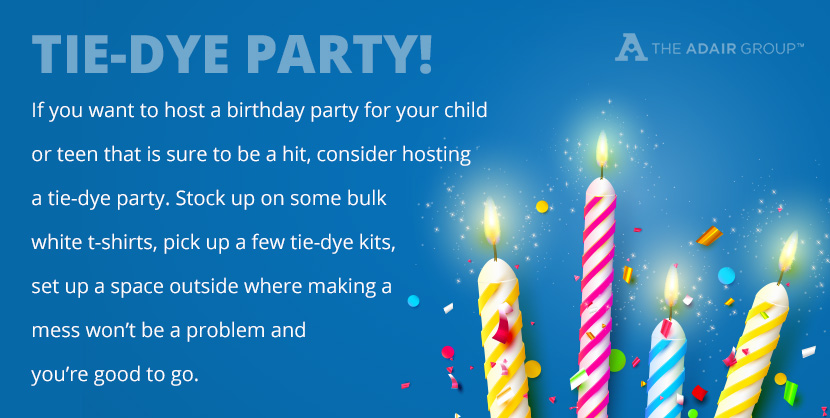 Tie-Dyeing
Tie-dyed shirts are one of those wardrobe staples that never really goes out of style. While they're currently having an especially big moment, they don't ever truly go away for several reasons. For starters, their bright colors and one-of-a-kind nature set them apart from most other styles. Plus, they are super fun (and easy) to make. 
If you want to host a birthday party for your child or teen that is sure to be a hit, consider hosting a tie-dye party. Stock up on some bulk white t-shirts, pick up a few tie-dye kits, set up a space outside where making a mess won't be a problem and you're good to go.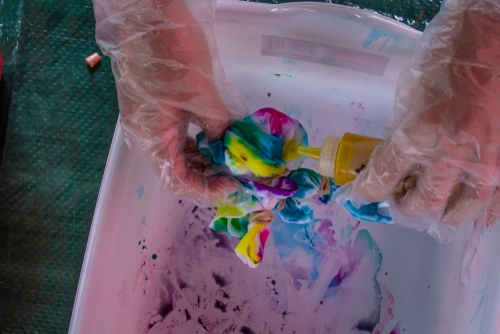 There are countless ways to tie-dye t-shirts. If you're throwing a party with young kids, they will have a blast going crazy with color and seeing what they can come up with. If the party guests will be tweens or teens, though, they may prefer working to create specific designs using various colors and strategically placed rubber bands. Consider printing out a few popular techniques that your young designers can use as guidance for creating their own masterpieces. 
Painting or Drawing
Fabric paints and markers are another way to let party guests unleash their inner fashion designer. These tools are affordable, and you might be surprised at just how many creative ways kids come up with to use them. They can draw or paint their own designs on their shirts, add quotes or sayings…the options are limitless. 
If you are having a party for a toddler or preschooler, consider a shirt coloring activity. Instead of just giving them a blank shirt and letting them go crazy with markers, customize each shirt with an outline of a design in advance of the big day. Look up coloring page designs and then add them to plain tees. The best way to do this is with a vinyl cutter and iron-on vinyl, but if you're feeling extra creative, you can also draw the design on yourself using puffy paint. 
Give each child a shirt and some markers, and allow them to color in the design however they'd like. You can use permanent markers if you want their creations to last. Or, if you prefer, you can have them use washable markers. If you go this route, each little artist will get to redecorate his or her shirt after every washing. Whichever option you choose, each kid will get to take home a shirt as a party favor that they'll actually use more than once.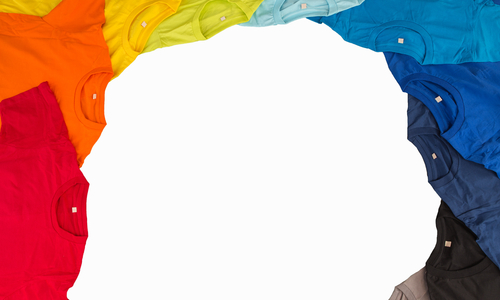 Buying Wholesale T-Shirts for Birthdays
If you want to customize t-shirts for the next party that you are hosting or invited to, it's important to buy the right ones. There are certain things that you need to do in order to avoid mistakes when buying t-shirts in bulk. 
For starters, make sure you are buying from a wholesaler and not paying retail prices.  When buying shirts in bulk, ordering from a wholesaler–such as The Adair Group–will save you a bundle of money. 
Also, pay close attention to fabric composition. What the shirts are made of may not matter in some cases, but in others, it is of vital importance. If you are planning on hosting a tie-dye party, for example, you need shirts that are made from 100 percent cotton. Ones that are made from other fabrics or blends may not take the dye as well, and you'll be left with faded-looking shirts and disappointed party-goers. Fabric composition also matters if you plan on customizing them with iron-on decals. Check the requirements for your decals or transfers prior to ordering your shirts to ensure that you get the right kind. 
Buying wholesale t-shirts for birthdays isn't difficult, and if you pay a bit of attention to what you are doing, getting the right ones is easy, too. Just be sure to consider your exact needs and do your homework ahead of time to ensure that you purchase the right ones. 
Conclusion
Coming up with the perfect gift for a loved one's birthday doesn't have to be difficult. Wholesale t-shirts can be customized in countless ways, and they are sure to be a hit at any party. They are also a great option when you are looking for a party activity that's fun for all ages. 
At The Adair Group, we have the wholesale blank t-shirts you need for your next project. Whether you want to stock up on a few different colors, sizes and styles to have on hand for the next time you are in need of a gift, or you want to order the supplies you need for an amazing tie-dye party, we have you covered! Check out our full selection today to score great deals on blank shirts from top brands like Anvil, Hanes and Fruit of the Loom.