Stay Organized: How to Fold a Long Sleeve T-Shirt
Staying organized is tough. If you are like most people, you have way too much stuff, not enough room to store it and an organizational style that's way more "hoarder" than "Marie Kondo." Having too many clothes is a problem that many of us face, and with limited closet and dresser space, it can be difficult to figure out where to keep everything. When you throw garments that are tricky to fold into the mix–like long sleeve t-shirts–well, it may seem like your best bet is leaving your clean laundry in the basket rather than putting it away.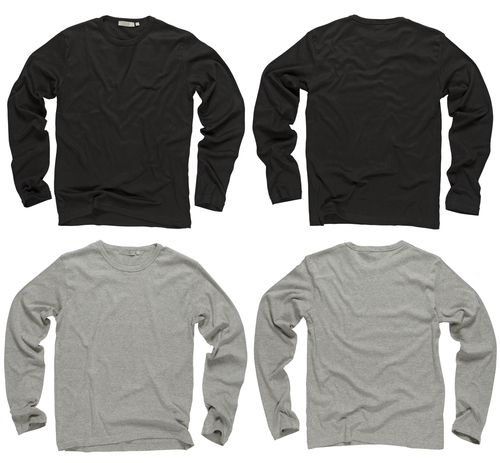 Before you resign to spending your mornings digging through a basket of clean clothes, take some time to read this blog post. In the following paragraphs, you'll discover how to fold a long sleeve t-shirt the right way. Don't worry–it's way easier than folding a fitted sheet!
Step One: Lay the Shirt Out Flat
Lay your long sleeve t-shirt on a flat surface with the front side facing you. Straighten the sleeves and body and gently smooth out any wrinkles or folds. Get it as smooth as possible to ensure that your shirt will be wrinkle-free when you are ready to wear it again.
Step Two: Fold in Half
Fold the shirt in half lengthwise so that the sleeves line up with each other perfectly. You can fold from right to left or from left to right. Go with whichever way feels right to you. What's important is that the two sides mirror each other perfectly after folding. Do some extra straightening, if needed, to make sure everything is perfect.
Step Three: Fold the Sleeves Together to Form a Triangle
Hold the sleeves together and then fold them backward at the shoulder. Then, make a second fold in the opposite direction near the elbow. This should create a triangular shape. The sleeves should both fit on top of the body of the shirt without extending over the sides, and you should have a long, rectangular shape.
Step Four: Fold into Halves or Thirds
Starting at the bottom of the shirt, fold the rectangle up into a smaller rectangle. If you plan on storing the shirt on a shelf, it usually works best to simply fold it in half. If you are storing it standing up in a drawer, though, fold it in thirds.
Styling a Long Sleeve T-Shirt
Now that you have a firm grasp of how to quickly and easily fold a long sleeve t-shirt, you may be feeling more inclined to add a few of them to your wardrobe. Long sleeve t-shirts are perfect for layering, so they are great to stock up on if you live in a cool climate or spend your days working in a frigid office. Invest in a few basic colors (like white and black) to wear as undershirts when you are in need of a little extra warmth.
Long sleeve t-shirts also look great when worn on their own, and they are appropriate for virtually any situation. You can wear one with your favorite pair of jeans or yoga pants when hanging out with friends or running errands, or you can pair one with dress slacks or a skirt to wear to work. Long sleeve tees also work well when worn underneath blazers and cardigans.
You can use accessories to stylize your long sleeve tee, too. If you are wearing one with a V neckline, consider wearing a delicate chain with a small pendant that rests above the neckline for a subtle, professional look. For a night out on the town, try wearing a longer chain with a bold statement pendant. For crewneck long sleeve tees, a princess or choker length chain works well. For a more eye-catching look, consider layering chains of various lengths.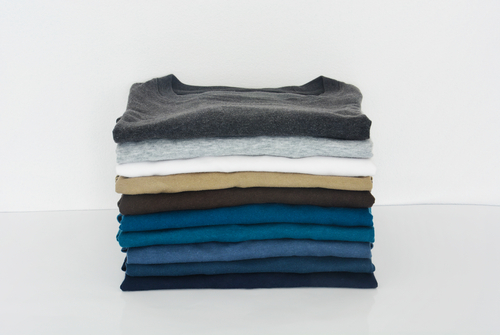 Conclusion
If you have been afraid to add long sleeve t-shirts to your wardrobe because you weren't sure how to fold them, you can now leave that fear in the past and stock up on these versatile garments. At The Adair Group, we offer bulk long sleeve t-shirts that you can purchase to fill up your dresser at a fraction of the cost of shopping at a retail store. Browse our collection of stylish t-shirts today, and you are sure to find some that suit your tastes perfectly!