How to Build a Work Capsule Wardrobe on a Budget
Putting together a wardrobe for work can be a daunting process. And when you don't have a lot of money to spend, it's even more difficult. Whether you recently graduated from college and are embarking on your career journey or you've changed careers after being in the workforce for several years, filling your closet with clothing that is appropriate to wear to your new job can be a pretty big project.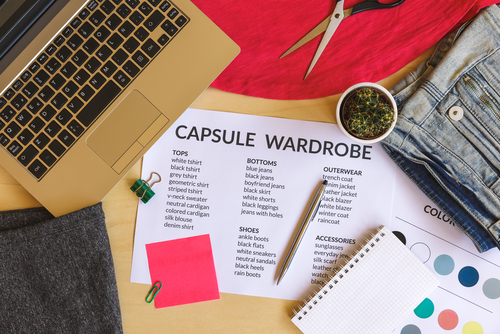 While you may be tempted to go shopping and buy the cheapest items that fit the dress code, you can make your money go a lot further by building a capsule wardrobe. If you're not familiar with the concept of a "capsule wardrobe," creating one basically means purchasing individual clothing items that can all be mixed and matched to create multiple outfits. From a budgetary standpoint, this is much more efficient than purchasing pieces to make specific outfits. When you build a wardrobe capsule, you can wear the same t-shirt, for example, in several different outfits rather than just one.
If the thought of building a work capsule wardrobe sounds great, keep reading to learn how to do it on a budget!
Keep It Simple
When you're trying to fill your closet with garments that you can mix and match to create multiple looks, keeping things simple is key. Start by choosing a color palette and then stock up on timeless staples like t-shirts, dress pants, blazers or cardigans, sweaters, blouses, etc. It works best to stick with a neutral color palette. This way, you can be sure that every garment you own will work with everything else in your closet.
Stick with timeless pieces that you will be able to wear for several seasons. Trends are constantly changing, so if you are trying to be the trendiest person in the office, you'll end up spending a lot more money than necessary. Sticking with timeless classics is much easier on your budget.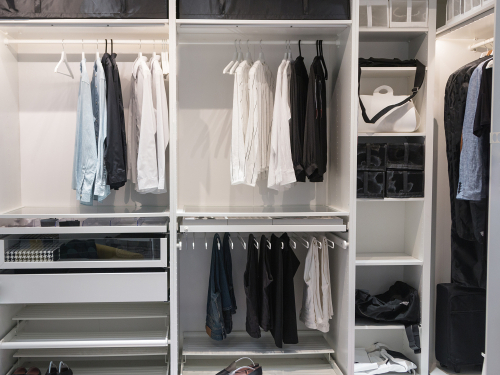 Determine How Much You Actually Need
One of the hard things about building a new wardrobe is figuring how much clothing you actually need. It's easy to go overboard, but with a capsule wardrobe, you don't need as many pieces as you probably think. A good capsule wardrobe for a woman should include three or four blouses and/or t-shirts, two or three pairs of pants, one or two skirts, two or three blazers or cardigans, two or three pairs of shoes and a few pieces of jewelry and handbags to work with various outfits.
Keep in mind, though, that this is just a general guideline. If you never wear skirts, you might want to consider skipping them and adding a few extra pairs of pants to your wardrobe. Always consider your personal tastes and the dress code when determining exactly what you need to add to your wardrobe.
Shop Smart
When shopping for tops, there is no reason to buy them from a department store at full price. For things like blouses, blazers, cardigans and sweaters, check out discount stores like T.J. Maxx and Marshalls. For basics like t-shirts, buy from a wholesaler, such as The Adair Group, rather than a retail store. When you know how to style a t-shirt for the office, you can create all sorts of stylish looks using wholesale tees that cost a fraction of what you could expect to pay at a department store. Whether you're shopping for short-sleeve tees to wear under a blazer or you need long-sleeve t-shirts for layering, buying the basics from a wholesaler is a great way to stretch a tight budget.
There are shopping apps that can help you save money on clothes, too. If you're looking for name-brand goods, try using Poshmark or ThreadUP. Both of these apps allow people to sell their old clothing at prices that are well below retail. If you need some extra cash to build your wardrobe, you can try selling some of your old garments, too! If you plan on shopping online, try using the Honey browser extension, which automatically applies coupons to your shopping cart.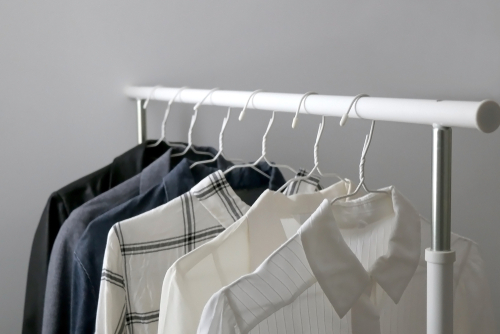 Conclusion
Building a wardrobe for work doesn't have to be difficult. It doesn't have to cost a fortune, either. By building a work capsule wardrobe, you can fill your closet with plenty of options that are appropriate for work without breaking the bank.