A Man's Guide to Wearing Plain White T-Shirts
When it comes to wardrobe staples, few garments are as ubiquitous as the plain white t-shirt. Derived from the union suits that were worn more than 100 years ago, more modern-looking white tees became a part of American culture around the turn of the 20th century. This change occurred when the Navy began issuing t-shirts to sailors as part of their uniform. By the 1950s, plain, white, short-sleeved shirts were a staple in nearly every man's wardrobe.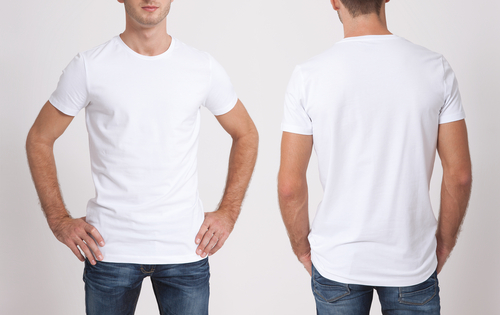 Today, guys wear white tees both as undershirts – as they were originally intended – and on their own. There's no denying that these simple tops do a great job of absorbing perspiration and keeping dress shirts cleaner when worn as a base layer. If you're exclusively wearing your white tees as undershirts, though, you're missing out. There are all sorts of ways to style these simple garments and, in doing so, you can elevate your overall look. Keep scrolling to learn more in our man's guide to wearing plain white t-shirts.
Condition Matters
Before we dive into the many ways in which you can rock a plain white tee, we want to point out that the condition of your shirt matters. If you are planning on wearing a white shirt as an outer garment, you may want to invest in a new white t-shirt (or several of them!) rather than trying to dress up one of your old undershirts.
When you're wearing white, it needs to be stain-free, so yellow armpits are a huge no-no. Your shirt should also be a clean, crisp white and not appear dingy. You can't look your best if you're wearing a shirt that looks like it should have been made into a cleaning rag years ago!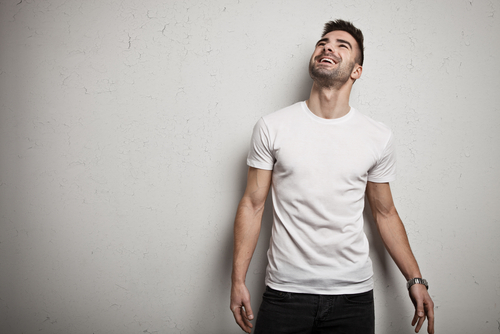 Choose the Right Fit                   
A plain t-shirt is one of the simplest things for any man to wear. It's fairly difficult to mess up a look that's based around a t-shirt. One of the main mistakes that many men make, though, is wearing a tee that doesn't fit appropriately.
In most cases, your t-shirt should fit close to your body without being overly snug. You want to look tailored but not baggy. Essentially, not too small and not too loose. The sleeves should extend to roughly the middle of your bicep and should be loose enough to comfortably slide a finger underneath.
If you're wearing your tee untucked, it should extend about two inches past the waistband of your pants. The bottom hem of your tee should hit around the middle of your fly. Length doesn't matter as much if you plan on tucking it in. Just make sure there is enough fabric that you won't have to worry about the bottom of your shirt popping out.
Making sure your tee fits well ensures that your overall look will be stylish and flattering. Doing so can help you avoid potentially embarrassing moments.
Styling a Plain White Tee
One of the great things about plain white tees is that they go with just about anything. If you're going for a laid-back, comfortable look, you can easily toss one on with a pair of sweatpants or joggers. Of course, this look works equally well for lounging around on the couch or picking up groceries.
Need to create a look that's appropriate for work? Try wearing a well-fitting white t-shirt underneath a suit jacket. For bottoms, choose dark denim or a smart pair of khakis. Keep in mind, though, that this particular look is better for "business casual" situations than occasions where you need to dress formally.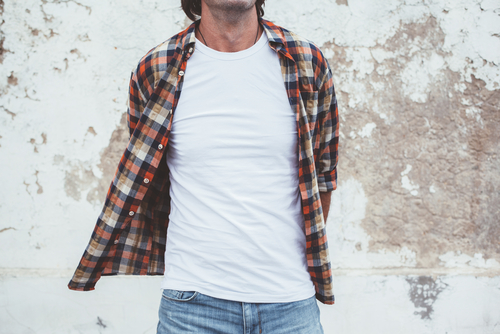 A plain white t-shirt also looks amazing when worn underneath an open button-down shirt. This look works especially well with the plaid shirts that keep coming back into style. You can also rock a plain white tee under a leather (or vegan leather) jacket with boots and your darkest denim jeans. This particular look is one that has withstood the test of time. James Dean himself would be proud!
The Bottom Line
When it comes to styling short sleeve t-shirts, the options are limitless. There are ways to make your simple white shirt appropriate for everything from hanging out at home to attending meetings at work. Once you've realized just how versatile these simple garments are, stocking up on wholesale t-shirts is a great way to build an amazing wardrobe without draining your bank account.