Wholesale vs. Private Label Clothing: 3 Differences You Need to Know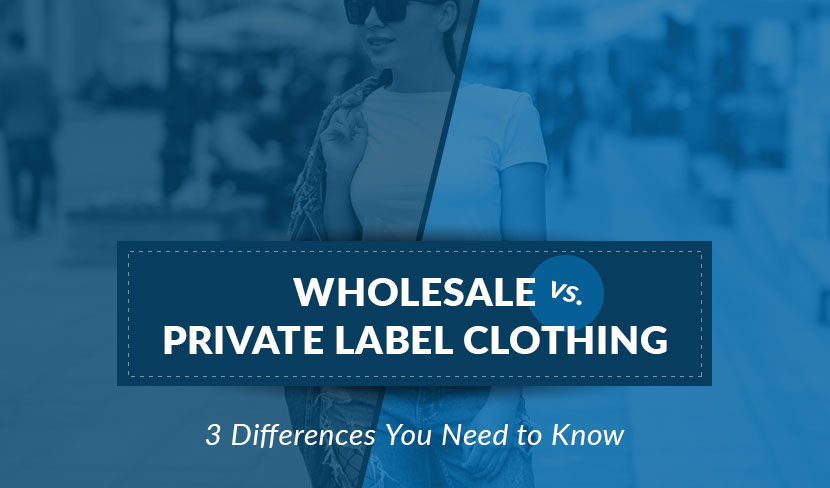 Whether you are an online seller or the owner of a brick-and-mortar clothing boutique, you are up against a lot of competition. There are a lot of heavy hitters in the fashion industry (Amazon is on track to become the top U.S. retailer of apparel by the end of this year) and making a name for yourself and building a sustainable strategy is no easy task. 
When it comes to building a successful fashion business, you need to know how to source your products inexpensively, sell them quickly and build a loyal fanbase of customers who love your brand and the products you sell. In the fashion industry, sourcing inexpensive products typically means purchasing either wholesale or private label clothing. 
If you have spent any time researching how to find clothing to sell in your brick-and-mortar or online store, you've likely wondered what the differences are between wholesale clothing and private label clothing–and which one is best suited to your business. In this post, we will be discussing some key differences that you need to know to help you better assess which option is right for you. Keep reading to learn more! 
What Is Wholesale Clothing? 
Let's start off with the basics. Wholesale clothing is, in short, apparel that is sold in bulk quantities at a cost that is lower than retail pricing. Wholesalers sell bulk clothing to retailers who then resell the items individually at higher prices. For many clothing store owners, buying wholesale is a good way to get the products they need at prices they can afford. 
Benefits of Wholesale Clothing for Retailers
When you choose to stock your online or physical shop with wholesale clothing, you will have access to huge catalogs of products that are already being sold in other businesses. You'll be able to order the best-selling wholesale t-shirts for kids, the most popular plain hooded sweatshirts and the hottest wholesale polos on the market. If you already have a feel for the styles and colors that are selling best, you can order them from a wholesaler to meet your customers' expectations.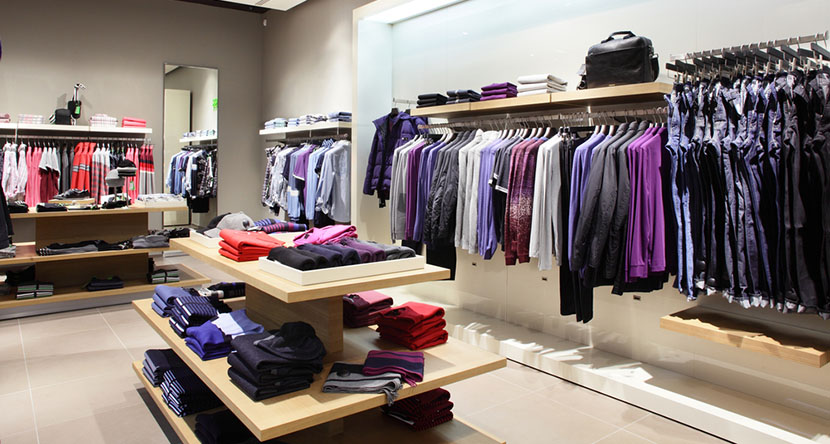 Ordering from a trusted wholesaler is fast, too. Wholesalers like The Adair Group offer fast shipping, so you'll be able to get products on your shelves quickly. All you need to do is place and pay for your order and wait for it to arrive. Since the products have already been manufactured, the wholesaler just needs to box them up and ship them to you. 
The ordering process is also simple. You simply need to go online, fill up your shopping cart and complete the checkout process. You'll be able to choose the styles, colors and sizes you need without worrying about meeting with someone, figuring out measurements or coming up with designs. You can order the products you need in a matter of minutes and know that they will be shipped to your business promptly. 
Finding the right wholesaler does take a bit of time and effort, but once you have partnered with a trusted supplier, you can build a long-term relationship. As a business owner, you are always going to need new apparel for your store. You'll need to replace items that have sold out and keep up with the trends from season to season. Partnering with a trusted supplier means that you will always know exactly where to turn when you are in need of new merchandise for your online or brick-and-mortar store.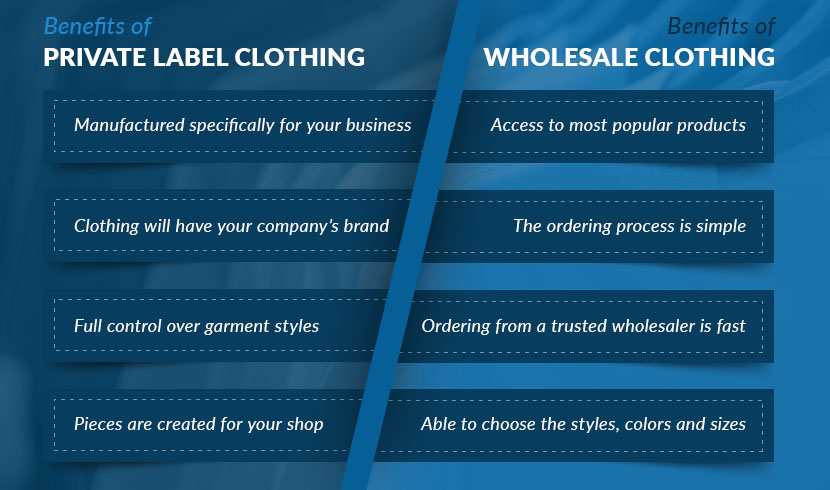 What Is Private Label Clothing? 
When you fill your shop with private label clothing, you are working directly with a manufacturer rather than a wholesaler. The clothing may be produced by a well-known manufacturer, but it will be labeled with your own private label. 
Benefits of Private Label Clothing
The main benefit of private label clothing is that it enables you to stock your fashion boutique or website with clothing that has been designed and manufactured specifically for your business. Rather than having a tag with the logo of another brand, it will have your company's brand. You also have full control over things like garment styles, colors, etc. and have the ability to have pieces created for your shop that buyers will not be able to find anywhere else. 
Key Differences Between Wholesale and Private Label Clothing
As you can see, both wholesale and private label clothing have their own benefits. Understanding their key differences is vital when it comes to deciding which option is right for your business. 
Cost Differences
Both wholesale and private label garments are sold at prices that are lower than retail, so either option is good in terms of buying apparel on a budget. Buying private label clothing may be less expensive upfront in some instances because it involves buying directly from the manufacturer rather than purchasing through a wholesaler. Keep in mind, though, that in order to get a great deal on clothing directly from the manufacturer, you will need to purchase massive quantities. If you just need 20 shirts in a particular style for a single store, it may be cheaper to purchase them from a wholesaler that has low minimum order quantities. 
Also, even if you do save money by purchasing private label clothing, you'll likely have to spend a significant amount to market and spread awareness about your brand. Wholesale clothing from trusted brands tends to sell itself simply because people are already familiar with it. Buying wholesale apparel tends to be a safer investment, especially for newer business owners. And while buying private label clothing may look more cost-effective at first glance, doing so will likely end up costing you more in the long run. 
Quality Differences
When you buy wholesale clothing from a well-known brand, you already know what type of quality to expect. While many wholesalers do sell factory seconds, you can usually choose to purchase only first-quality garments. When you do, you can be relatively certain of the quality that you will receive. Many of the wholesalers who sell factory seconds take great pride in ensuring that their products only have problems that are so insignificant that they cannot be detected by the naked eye. Choosing these products can be a great way to get high-quality–though not perfect–merchandise at a reasonable price.
Working with a manufacturer to have your own private label clothing produced can be tricky. If you work with a well-known and respected brand, quality should not be a major concern. Doing so can be costly, though. When you opt to work with a less expensive manufacturer, the quality may suffer. To make matters worse, you may have very little idea of what the quality will be like until after you have paid for and received your order. You could end up with a lot of poor-quality garments on your hands that you are unable to sell. 
Control Differences
Having private label clothing manufactured gives you a greater deal of control than buying wholesale clothing. You get to choose fabrics, colors, cuts, styles and more. You can choose to add designs and other features to create garments that customers will not find anywhere other than your store. This can be both good and bad. On the positive side, your garments are unique. On the negative side, however, you run the risk of having products designed that consumers simply don't like. The garments available from wholesalers are tried-and-true styles that you can purchase with confidence and know that customers will love them.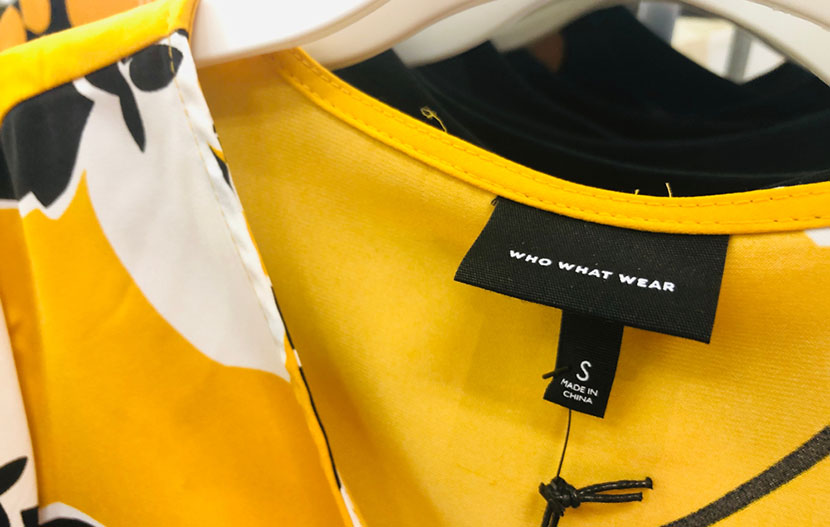 Keep in mind, though, that you can customize wholesale clothing, too. You can have it screen printed, add your own iron-on vinyl decals, embroider it, tie-dye it… The options are virtually limitless. The great thing about customizing wholesale clothing yourself is that you can create pieces that are truly one-of-a-kind. When you add hand embroidery, tie-dye a shirt or even use it to create something entirely new, you are doing something that a large-scale manufacturer cannot. You are infusing individuality into every single piece of clothing you create and stocking your shop with unique creations that customers will love. Customizing clothing on your own takes a considerable amount of time, but it grants you a great deal of control over the quality and appearance of the products you sell. 
Wholesale vs. Private Label Clothing: Which Is Better? 
When it comes to purchasing clothing to sell in your online or brick-and-mortar store, there is no right or wrong answer. Both wholesale and private label clothing have benefits and drawbacks. In the end, it largely comes down to your own personal preferences. When you are just getting started, though, and don't have a lot of money to spend, stocking your shelves with wholesale clothing could be the more cost-effective option. Doing so is also a good way for established businesses to keep their racks and shelves filled with high-quality products and quickly replenish their stock as needed.
Keep in mind, too, that there is nothing wrong with investing in both wholesale and private label apparel. In doing so, you give yourself the ability to sell products from trusted brands to earn money while you work on building your own brand. You can stock up on basics–like plain white t-shirts and wholesale polos in various colors–from wholesale companies and have unique and on-trend items custom-made with your own private label. This is a great way to embrace the best of both worlds and create a firm foundation as a fashion retailer. 
Buying from a wholesaler can also help you make good buying decisions. Nearly every wholesale catalog has a "bestsellers" section that you can use to determine which products are most likely to sell in your shop. This takes some of the guesswork out of launching a retail clothing store and eliminates the risk of having garments designed that no one likes–other than you. 

The Bottom Line
The fashion industry is highly competitive, and if you want to be successful, you need to know how to stock your store with products that your customers will love without spending a fortune. When buying apparel on a budget, both wholesale and private label clothing are valid options. For people who are newer to the industry, however, working with wholesalers tends to be the better choice. Doing so is affordable, easy and enables you to sell products from trusted brands that customers are already familiar with. Wholesale clothing is an excellent choice for established businesses, too. It's a great way to fill your racks with on-trend styles as well as classic wardrobe staples that never go out of style. It also enables you to provide your customers with products from the brands that they already know and trust. 
If you are in the market for wholesale clothing for your business, we can help. At The Adair Group, we carry a wide range of wholesale apparel from top brands for men, women and kids. We strive to sell high-quality products at the lowest prices in the industry, and we would be more than happy to help with your wholesale apparel needs. Browse our selection today or reach out to us if you have any questions or concerns.