What Your Hat Reveals About You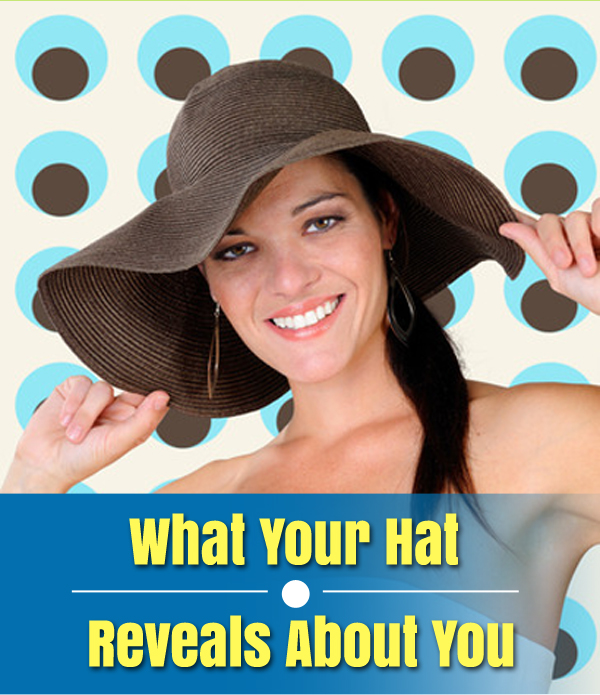 The hat you choose to wear reveals a lot about you. Headwear is not only functional, but a fashionable accessory that characterizes you. It also tells everyone your persona by the type or brand of the hat on your head.
Through the 1800s, hats were a part of every dignified gentleman's attire. A man would never depart from his home without a hat on his head. Hats were a symbol of class and occupation, from bowler hats worn by bankers and stockbrokers, to cloth caps sported by manual laborers.
Up until the 1950s, hats in America represented a symbol of social status, working power, and a showy style for men, particularly in New York City. However, as global tensions increased, the hat trend faded as men traded in their felt fedoras for military helmets.
The hat is undoubtedly the most effective accessory in a well-dressed man's closet. So powerful, it can create an influential or a negative impression. Even though the hat covers a man's head, it reveals his character as well.

Fedora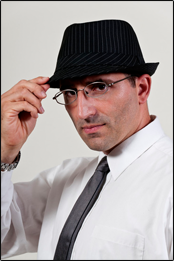 This soft-brimmed felt hat was made popular by American icons, such as Humphrey Bogart and Frank Sinatra. Fedoras are available in a variety of sizes and shapes, with the crown always creased lengthwise. They are typically made of felt, but casual fedoras come in an assortment of materials.
The fedora is also widely accepted as a woman's fashion accessory. Women sporting this style of hat signify they have a strong personality. The timelessness of this hat exudes chic sophistication and enhances any outfit. You make a statement of identifying with the polished and glamorous icons of the silver screen in the 1920s and 1930s.

Beret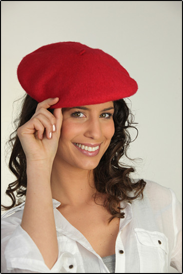 French legend gives recognition to the biblical figure of Noah by creating the beret. The legend asserts that Noah accidentally discovered that when the animals trampled the wool he used to waterproof his ark, it created a tough felt fabric, which he formed into a weatherproof hat.
The beret is now an emblem of the thoughtful and misunderstood poet or the stylish Parisian. Also traditionally worn by the military, this tough aspect is usually forgotten. If you prefer to wear a beret, then you possess a resilient artistic side that needs nurturing, but you also know which direction your life is heading. The beret will always symbolize the flavor of confidence and timeless style.

Flat cap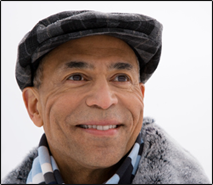 In the sixteenth century, in an effort to save a waning wool trade, legislators passed a law requiring all men (excluding noblemen under six years of age) to wear a woolen cap on Sundays and holidays or they would be fined. This cap became an emblem of the working-class society in the 19th and 20th centuries, and maintains popularity these days with country folk as well as stylish urbanites.

Newsboy cap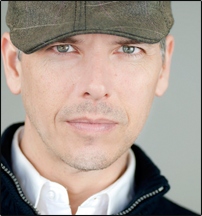 This cap was worn mainly by paperboys at the beginning of the twentieth century. Constructed out of identical fabric as the flat cap, it is sewn together from the top instead of from the back, which provides the rounder body and characteristic sliced-pie appearance. These days, it is generally seen on the heads of horse racing society.
The majority of newsboy caps today are an overlap of a flat cap and the classic newsboy, which has a more round and plump shape and a button in the center. This style seems to say that it is sophisticated and trendy, and somewhat bold.

Beanie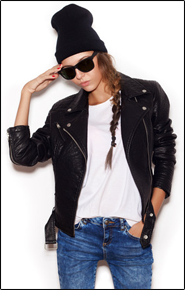 Initially limited to hipsters and youngsters, the beanie is now a conventional staple. However, the way you wear it reveals much about you, and numerous choices to wear a beanie exist. Worn with denim and a tee reveals you are a hipster, and worn with business attire reveals that although you wear semi-formal apparel to work, you prefer to sport a hassle-free impression.
If you wear it pushed back with the hat descending down the back of your neck; you are most likely a thoughtful singer-songwriter personality attempting to discover yourself. On the other hand, if you place your beanie high on the top of your head with most of the hat empty and your ears exposed, the message is your hat functions as a sort of storage area for keepsakes.

Cloche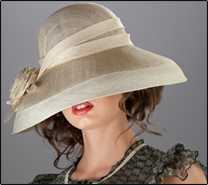 Originating back to the beginning of the 20th century, this hat had numerous personifications. Typically
constructed of felt and worn low on the forehead, it is also found in beaded versions for wearing at night and straw versions for warm weather. If you favor a cloche, you most likely adore vintage and high style fashion, with a fondness for the roaring 20s.

Wide brim floppy hat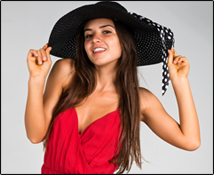 The carefree elegance of this 1970s style will always get you noticed in a crowd. You are a positive person who always smiles, has lots of energy, and has a way of putting others at ease. You are creative, and enjoy fashion and accessories.

Cowboy hat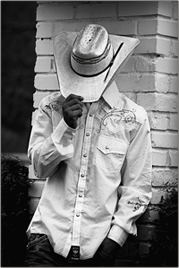 With cowboy hats, your hat tells your story. There is most likely no other item of cowboy attire that is more revealing than a man's hat. Western individuals can look at a cowboy hat and immediately discern whether the wearer is a rancher, bull rider, buckaroo, or stockbroker. Noticing the particular characteristics of the hat, such as its shape, color, material, and wear and tear are instantly processed in one's mind to arrive at a conclusion.
Even if you are not aware, your hat is revealing a tale. Consequently, when you purchase a cowboy hat, know the story you want it to express based on your personality and ambitions.

Westwood Mountain hat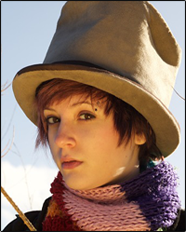 Designed by Vivienne Westwood in the early 1980s, this hat is seemingly Appalachian-inspired. Recently made famous by singer Pharrell Williams, the felt topper has been likened to the Canadian Mountie hat and Smokey Bear's ranger topper.
Men who consider sporting this bold style tend to be decisive and direct in attracting attention, both good and bad.

Baseball cap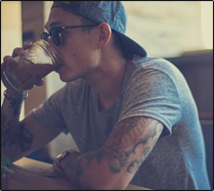 An all-American, casual style with a sporty ambiance, the baseball cap has existed for many years. Originally worn by athletes, it is now prominent in street styles and runways. Whether you prefer to wear your cap in its natural, sporty condition or adorned with decoration, you are a person who understands both being active, as well as the urban maze.
Leaving the price, size, and brand labels on caps has become a popular feature of hip-hop style, as well as the MLB authentic hologram underneath the bill.
In reality, the purpose of baseball players wearing ball caps is so they can block out the sun during the day and stadium lights at night. This is the functional objective of the hat. In former generations, players would bend the bill of the cap in order to obtain more coverage over the corners of their eyes. This style of bending the bill is the way most hats are intended to be worn since they provide more shade over the eyes.
Distinctions exist between a flat bill, curved bill, and a slightly curved bill. The slightly curved bill is typically the most common and most utilized cap bill. You need to have a bend in your cap unless you are wearing sunglasses on the top of your hat and want to have an absolutely smooth and flat surface on which to place them.

Vietnam veteran's cap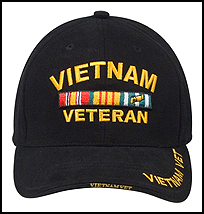 Many Vietnam veterans wear this hat as a means of identifying themselves as someone who went the extra mile to serve their nation. There are some who wear the hat so that others will remember there were some men in this country who made a huge sacrifice.

Kentucky Derby hat
Selecting the perfect Derby hat or bonnet can present a real challenge, but there is a bit of science that helps decide the hat of your choice.
The hat you select essentially communicates clues regarding your personality to others. The act itself of selecting a hat and wearing it to the event basically reveals your true individuality. Wearing an oversized bonnet indicates you want to stand out in the crowd.
Guidelines for Hat Etiquette
Some guidelines regarding hat etiquette should be observed, whenever wearing your hat, by adhering to proper social rules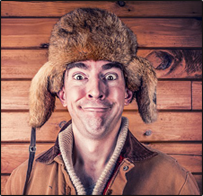 Men should always remove their hats, including baseball caps and casual hats, upon entering a building.Hats should not be worn when inside, with an exception to areas related to public streets, such as corridors, lobbies, and elevators in public buildings. In public buildings, an elevator is deemed a public area, so the hat may be left on the head.
Men must remove their hats during the playing of the National Anthem, during the passing of the American flag, and for funeral processions, outdoor weddings, dedications, and photographs. Removed hats are clutched with the hands in a way so that only the outside of the hats are visible.
Hat tipping is a traditional gesture of politeness, having the same source as a military salute, which originated from the raising of medieval knights' face visors to indicate friendliness.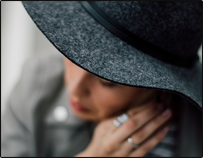 Women do not need to remove their hats when indoors, as often as men, with the exception of rain hats. Dress hats rarely need removal. This rule of protocol grew out of the function of women's hats as ensemble-specific accessories. While men may have many hats to partner with a variety of outfits, women may partner only one hat to an individualoutfit. Similarly, women's hats worn specifically for warmth are to be removed when indoors.
Women may leave hats on during the playing of The National Anthem when indoors, unless the hat is unisex, such as a baseball cap. When wearing such a cap or hat, a woman must adhere to the same guidelines as for men.
Consider Your Personal Style When Buying a Hat
An important consideration in selecting a hat is your personal style. You may try several or many different hats before you find those which are the most comfortable and best fit your style. However, if you are already aware of your personal style, here are some ideas for hat types that may suit your wardrobe well.
Vintage allure: Smaller pillbox varieties, wide brim cloches, fascinators, structured wide brims
Tomboy: Ball caps, newsboy caps, fedoras, bowlers, beanies
Bohemian: Slouchy berets, floppy wide brims, wide brim fedoras
Preppy: Fedoras, structured berets, structured wide brim hats, Bretons, and boaters
Grunge: Beanies, bowlers, slouchy berets, structured rolled wide brims
Consider Your Face Shape
Trying on hat styles you like is the best way to find one that will work with your style and face shape. However, there are some set standards used by hat makers that may help match hat styles with the shape of your face.
Heart and triangular shape: Try on picture hats, wide brim hats, rounded styles, and styles that arch upward and away from your forehead.
Round shape: Look for angular hats, wide brim hats, and cloches that equalize the soft shape of your face with more firm angles.
Long shape: Try hats that reach onto your forehead, such as floppy hats, cloches, or angle wide-brim fedoras over your forehead.
Square shape: Relax the firm angles of your face using rounder styles, and avoid brims that project out from the side of your face.