7 Types of Shirt Printing Methods: A Full Guide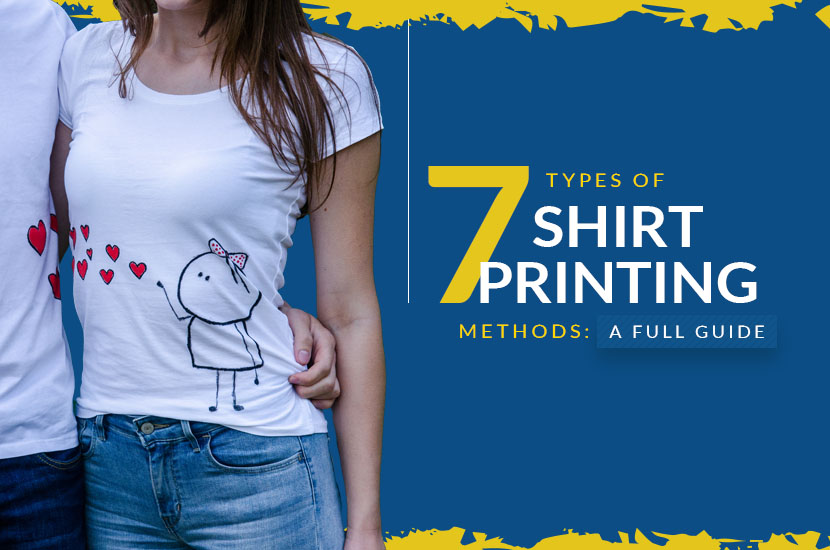 If you want to purchase wholesale shirts for a family function, bridal party or your T-shirt business, you must first decide on the sort of printing to employ. Each printing process has its distinct style and degree of intricacy.
Some printing processes are appropriate for particular fabrics, while others may be suitable for a specific effect. The number of colors in a design will also impact what printing method would be best. With so many options, choosing a printing process becomes challenging!
Digital technology has altered the T-shirt printing field, and many new processes have developed, but conventional printing continues to shine. The Adair Group has plenty of options for your canvas, whether you're looking for white T-shirts for tie-dye, hoodies for screen printing or garments for any other reason.
Browse White T-Shirts for Tie-Dye
1. Screen Printing
This is among the highest-quality T-shirt printing methods available. It allows for a great deal of artistry and creativity. It is also among the world's earliest printing methods and can be done by hand or machine.
The pros prefer this method mainly because of screen printing inks. Screen printing uses thicker inks than those used in conventional T-shirt printing methods, allowing them to last longer and generate brilliant, true-to-life colors. It is critical to use high-quality inks because low-quality inks fade rapidly and can have an odd feel to them.
This method is best suited for large volumes. You may print anywhere from 200 to 500 1-dollar T-shirts using a gallon of screen-printing ink. Exactly how much ink each shirt requires depends on the design size, amount of squeegee pressure used, the number of strokes and the mesh count.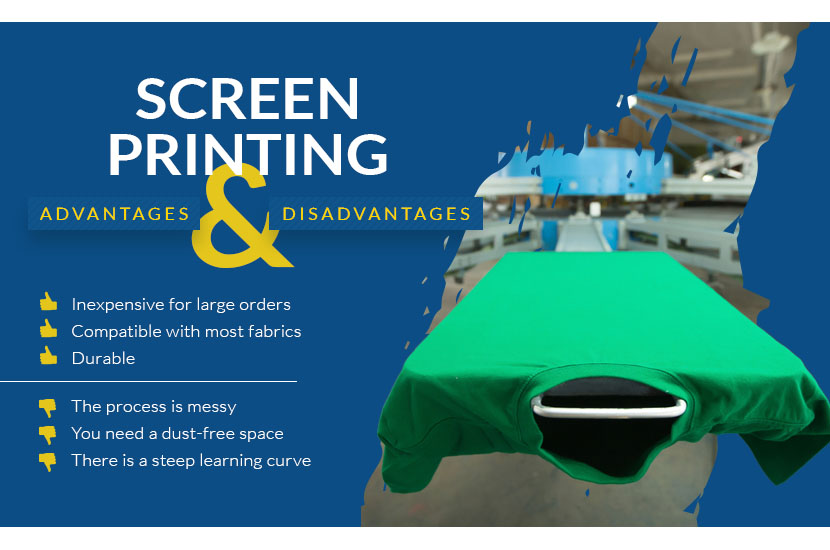 Advantages of Screen Printing
Screen printing is a tried-and-true method. This method is:
Inexpensive for large orders

Compatible with most fabrics

Time-efficient for identical designs

Durable
Disadvantages of Screen Printing
The downsides to screen printing are:
The process is messy

You need a dust-free space

Placement or artwork is limited

There is a steep learning curve
2. Direct to Garments Printing
This is another common method among professionals. It works similarly to office paper printing; you'll need ink and a fabric printer to start. Just like printing on paper, you create your designs on the computer before feeding them to the printer, which prints them on a T-shirt. The only difference between this and paper printing is the use of textiles.
Are you looking to print intricate designs? This is the ideal option. Using computer applications such as Adobe Photoshop, you can create minute details and put them on the T-shirt with high accuracy.
If you choose this method, use a high-quality fabric printer. If you use a low-quality printer, you will most likely get a low-resolution printout with unattractive, spotty patterns.
Advantages of Direct to Garments Printing
Direct garment printing is:
Virtually mess-free

Super-fast, making it ideal for bulk orders

Easy to print complex, multicolored patterns

Space saving
Disadvantages of Direct to Garments Printing
The cons of direct printing are that it:
Is only ideal for cotton T-shirts

Uses expensive equipment

Requires effective handling and maintenance
3. Heat Transfer Vinyl
One of the most common shirt customization methods for pros and home artists is heat transfer vinyl (HTV). This type of vinyl has one side covered with heat-activated glue. You cut out words, logos or designs from the vinyl and then use heat to seal it onto the garment.
While it doesn't actually print the design, many artists use vinyl instead of ink to produce raised, long-lasting images on T-shirts. At-home artists appreciate this approach since they can create vinyl cuts using basic electronic cutting devices like a Cricut. Large-scale professional operations would likely employ massive commercial cutting equipment to make the vinyl designs.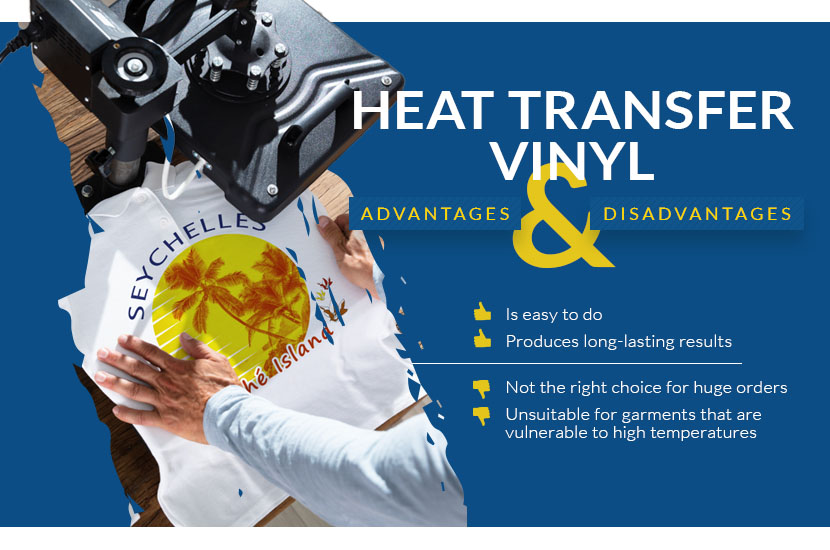 Advantages of Heat Transfer Vinyl
People choose heat transfer vinyl because it:
Is easy to do

Produces long-lasting results
Disadvantages of Heat Transfer Vinyl
The problems with this method are that it is:
Unsuitable for garments that are vulnerable to high temperatures

Not the right choice for huge orders
4. Dye Sublimation Printing
If you've ever encountered a T-shirt with a large, all-over graphic, it was most likely printed with the dye sublimation process. This technique best suits light textiles, especially when printing a large pattern. Although dye sublimation is expensive to do, the finished design is crisp and will leave your customers pleased.
Dye sublimation is the best approach for creating beautiful graphics on polyester T-shirts. It does not work very well with natural fiber fabric.
When you use this method, you're essentially employing a special dye that dries and hardens when it comes into contact with materials such as polyester. You must apply heat and pressure for sublimation to occur.
The nicest part about this strategy is that it results in charming, long-lasting designs. In fact, the ink appears to be a part of the cloth, making it ideal for high-quality, professional effects.
Advantages of Dye Sublimation Printing
Use this method if you want to:
Create breathable prints

Produce high-quality prints that will not crack, peel or fade

Generate super smooth and soft and soft printed garments
Disadvantages of Dye Sublimation Printing
Here are reasons to avoid this method:
It only works on polyester textiles

The process is relatively costly

Creases and folds, such as armpit regions, are difficult to dye
5. Heat Press Printing
This method is a great option if you're just beginning with shirt printing and don't have a lot of orders. It will save you time and resources. Heat printing involves creating graphics on transfer paper. This design is then transferred to the T-shirt through pressure and heat.
Most transfer papers are made of vinyl, which contains an adhesive compound on one side and removable tape on the other. After you've printed your graphic and pressed it onto the T-shirt, you peel the tape away, leaving only the image.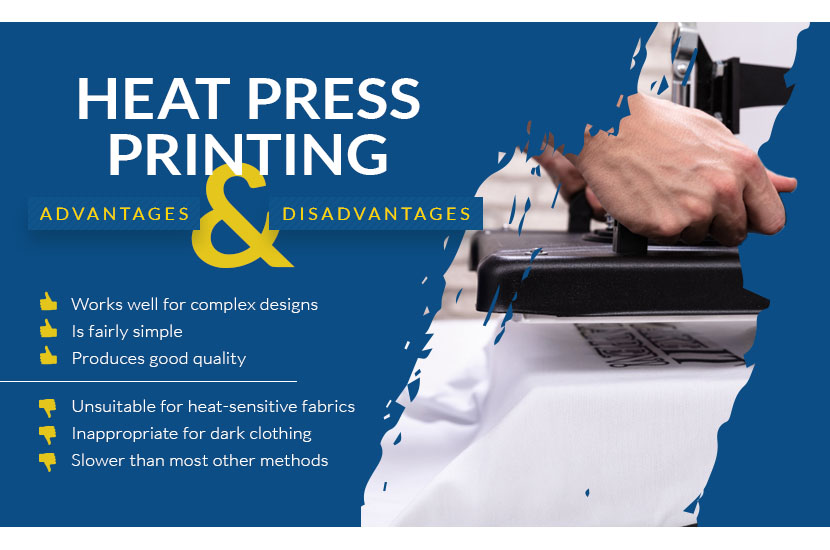 Advantages of Heat Press Printing
The heat press printing method:
Works well for complex designs

Is fairly simple

Produces good quality that is suitable for full-color printing
Disadvantages of Heat Press Printing
On the downside, this method is:
Unsuitable for heat-sensitive fabrics

Inappropriate for dark clothing

Slower than almost all other methods
Save Big With These 1-Dollar T-Shirts
6. Airbrushing
In this day and age, people mostly employ machines for printing on fabric. However, there's no reason to overlook traditional T-shirt printing procedures. Airbrushing is a technique that hobbyists enjoy since it allows them to explore and show their craft. Keep in mind that the ultimate result depends primarily on your abilities.
To color your garments, you can use fabric or spray paint. It is essential to examine your shirt's fabric and determine whether it is suitable for specific colors. If you pick this option, be sure to acquire high-quality paints.
The procedure is simple: You directly apply the color to the garment. After you finish, you must wait for it to dry thoroughly.
Advantages of Airbrushing
You can airbrush your designs if you want:
An inexpensive printing method

Unlimited design options

The pleasure of manually creating your shirt
Disadvantages of Airbrushing
Take note that this method is:
Inappropriate for large quantities

Less durable than with some other methods

A lower design quality
7. Stenciling
This is the simplest type of shirt printing you can perform at home. You can cut a stencil by hand or employ a more sophisticated instrument, such as a Cricut. You then spread the dye over the stencil to create a pattern or logo on the shirt.
Professionals frequently use more complicated stenciling techniques in processes like screen printing. If you only want to produce a few colorful shirts for your family or friends, you can do it at home with simple materials.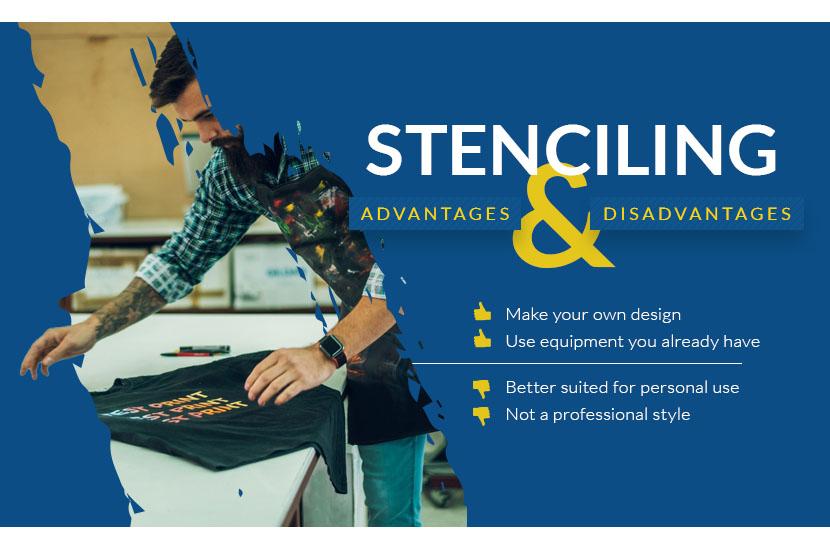 Advantages of Stencil Printing
With stencils, you can:
Make your design as complicated or as basic as you like

Use equipment you probably already have
Disadvantages of Stencil Printing
Unfortunately, stenciling:
Is better suited for personal use

Will not provide a professional style
Factors to Consider When Choosing a T-Shirt Printing Method
Now that you know the different shirt printing methods, you can choose the right one for you. Based on your requirements, you can select a technique that will satisfy your goals while ensuring the highest quality possible. Here are some things that will influence your choice:
Compatibility With Various Fabrics
Not all techniques are appropriate for all types of cloth, and each method has an ideal fabric type. For example, if you've got a thick cotton T-shirt, dye sublimation is inappropriate since it will damage it.
Cost Vs. Production Speed
Printing costs can vary substantially. In general, the faster the printing, the more expensive the equipment. Be sure to balance the cost versus the production speed when looking to get started. If you require hundreds of shirts printed quickly, you don't want to use a slow technique.
Conclusion
T-shirt printing possibilities have expanded thanks to advances in technology. The majority of the processes offer high-quality design reproduction. You may also use your imagination, experimenting with different patterns and colors to achieve your goals.
Check out all of the fabric and color choices of our wholesale hoodies, T-shirts and other items. These may be the most crucial element influencing the outcome. When you're finished with the planning, all you need to do is use one of the methods outlined above and enjoy the results.
Image Credits
Lepusinensis/Shutterstock.com
Z-art/Shutterstock.com
fizkes/Shutterstock.com
Andrey_Popov/Shutterstock.com
Zamrznuti tonovi/Shutterstock.com
kovop58/Shutterstock.com