Tips for Choosing a Collared Shirt That Best Suits Your Face Shape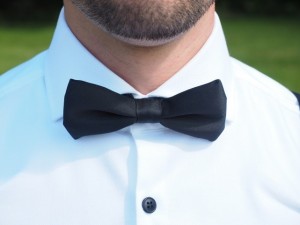 Have you ever worn a collared shirt and felt that it didn't suit you? Couldn't work out why? Well, this is because not every collar is designed in the same way. In fact, there's a great variety of well-known and distinctive collar designs which affect how they are worn and who should wear them. A rule of thumb that everyone should follow includes:
The softer the collar, the more casual it is.
The more structured and stiffer the collar, the more formal the shirt appears.
In today's world, there are a lot of collared shirts to choose from, from formal shirts right down to the polo shirt. If you didn't know already, there's around seven popular shirt collars. We'll show you below:
Classic/Straight/Straight Point Collar
The classic collar design originates from military uniforms. Today it is one of the most common and popular collars which you'll find on most shirts. These types of collars can be worn with or without ties and are suitable for all occasions.
Face Shape: Best suited for a rounded face shape.
Round/Club Collar
The rounded club collar first originated with the English. This style features collar points which offer rounded edges, instead of the distinctive straight design you might see on many formal shirts. Club collar t-shirts are great for a smart casual and formal look.
Face Shape: Best suited for a thin face.
Button Down Collar
You may not have known this, but the button down shirt first originated from polo games. These collars feature two additional buttons that button down the collar points. This collar style is second in popularity to the straight collar. The style is best suited for casual and smart casual occasions. Button down shirts can generally be worn with most suits apart from double breasted suits.
Face Shape: Best suited for all face shapes.
Classic Spread/Wide Spread/English Spread Collar
The English spread collar became popular thanks to English royalty. This collar design features collar points which are spread far apart. Because it's one of the most formal collar designs, a shirt with the English collar is only suitable for formal occasions.
Face Shape: Best suited for a thin face only.
Medium Style Spread Collar
You may have heard of the medium style spread collar. Well, this is a combination of the classic and wide spread collar design. The collar design on this shirt features the collar points not too far apart and not too close together.
Face Shape: Best suited all face shapes.
Cutaway Style Collar
Take a step back in history with the cutaway collar. The cutaway collar first came about in the 18th century. You may notice that this collar design features points which are cut away (hence the name) because of the exceptionally wider space between the two points. Strictly for formal occasions, you wouldn't want to wear this at a birthday.
Face Shape: Best suited for thin faces only.
Soft Attached/Tab-Front/Tab Collar
The tab collar shirt is popular because of the English. You may notice that these collars have a distinctive design which feature hooks, tabs, or snaps that are fastened behind the tie knot. In many areas of the world this collar design isn't a common style that many people wear.
Face Shape: Best suited for thin faces.
How to Choose a Shirt Collar to Suit Your Face Shape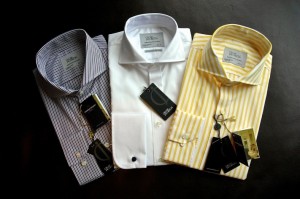 When selecting a style of shirt with a collar design, it must be selected according to your specific face shape. If you're unsure about which collar would best suit you, here's a guide to help you get started:
If you have a narrow/thin face – the wider spread collars are the best.
If your face is rounded – the longer point collars are the best.
Comparing Shirt Collars
Confused about what to wear? Well, there's no need to be. The following is a comparison guide that will help you to choose a shirt that best suits your needs.
| | | | | | |
| --- | --- | --- | --- | --- | --- |
| Name | Face Shape | Can Be Worn With Tie? | Casual | Formal | Smart Casual |
| Tab Collar | Thin | Yes | No | Yes | Yes |
| Cutaway Collar | Thin | Yes | No | Yes | No |
| Medium Spread | All | Yes/No | Yes | Yes | Yes |
| Wide Spread | Thin | Yes | No | Yes | No |
| Button Down | All | Yes/No | Yes | Yes | Yes |
| Round Collar | Thin | Yes | No | Yes | Yes |
| Straight Collar | Round | Yes/No | Yes | Yes | Yes |
Conclusion
Whether you need a shirt for a formal occasion or just for a casual outing, the best thing you can do is to try the shirt on first. Don't worry. Over time, you will become more attuned to which type of collar best suits you. So, what type of collar best suits your face shape?