Tips and Tricks for Making Cheap Uniforms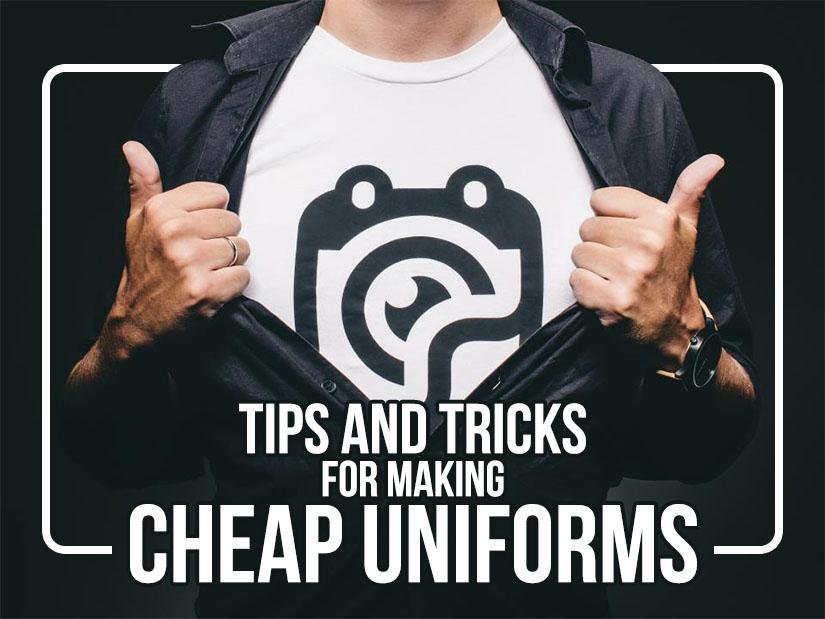 As the owner of a small business, you have a lot of operating expenses to consider, which is why uniforms can become an afterthought. Whether you're running a small coffee shop or a full restaurant, a hotel or a quaint bed and breakfast, your uniforms matter. They bring your team together and give them a sense of purpose and belonging, as well as assure your customers that they're in the presence of professionals who know what needs to be done.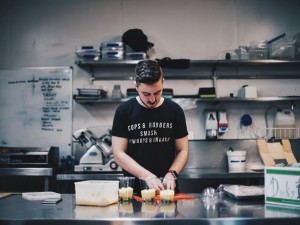 You may be tempted to skip uniforms altogether—it's a great way to save money, right? Do not be tempted to forgo uniforms. This sends a very distinct message to your customers and leaves you with a lot fewer opportunities to brand and advertise.
For example, if you have a delivery service, you want your delivery workers in at least a company t-shirt if not a jacket and hat as well. Why? Well, it helps the people waiting for him or her know who is coming to their door. Beyond that, when neighbors or potential customers see your delivery person, they can at least get a name to search online when they need a home dog-washing service or emergency desserts.
As to brick and mortar stores, it is essential to put your employees and maybe even yourself in at least a basic uniform because it gives your workers a sense of responsibility as well as purpose. Also, there is no confusion for your customers about who works in your restaurant or bed and breakfast, and they won't be whispering "Is she a waitress? Are you sure?" while their stomachs grumble.

Uniforms Set the Scene
So, uniforms are the way to go. They can change our mentalities, set us up for success, and keep us together as a team. Have you ever felt the shift in your demeanor as you dress for work or slip into a pair of shoes you never wear unless you are headed out to work a shift? Then you know how much they can change things.
However, they can be a burden. Choosing a design that helps your employees look good and feel comfortable can be a challenge and then, of course, they have to be paid for. What is a sterling new boss like yourself to do?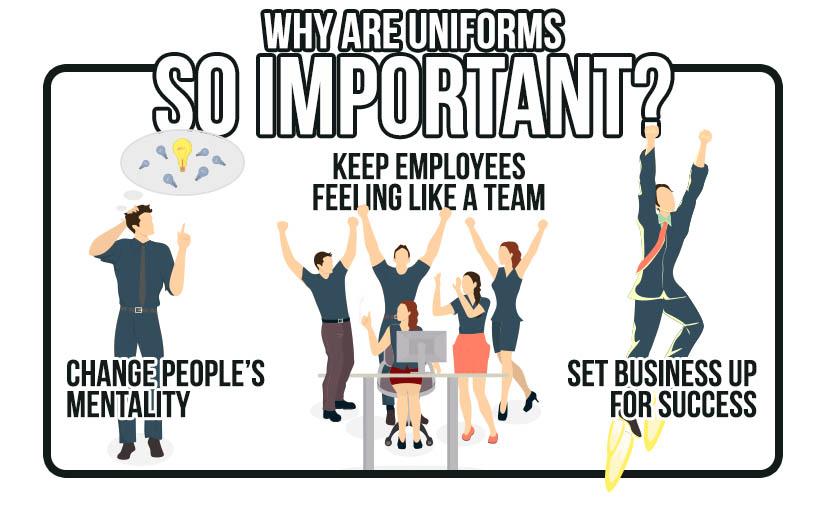 There are plenty of cheap, basic uniforms available to buy from either brick and mortar stores or online, but how can you make your employee's outfits stand out? There are some great ways to personalize your uniforms without spending a lot of money. You can add a personal touch without a lot of stress or strain to your new budget.
The standard uniform isn't just expensive, it's boring. Far too often they're also highly uncomfortable, thanks to the synthetic, easy-to-clean fabrics they're made from. Consider a more casual, easy to wear option. Your staff will have an easier time running to serve your customers, and you will feel your wallet breathe a sigh of relief.
Here are some great ways to approach uniform design for your new and soon-to-be-thriving business:

A Logo Design Contest
You can always hire an artist, do the designing yourself, or just ask a creative friend to help you out with this part, but why not have a contest? It doesn't have to be a massive undertaking—just something to help your employees and maybe even a few potential customers take part in the first steps of your new business.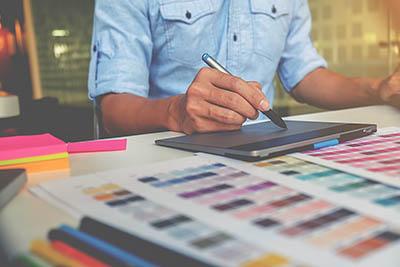 Logos encompass the spirit and mission of a business and a lot of people have great ideas for how to make those ideas into emblems. Take advantage! Not only will you get a ton of ideas at little to no cost to you, you generate interest in your business, help involve the surrounding community, or just give your employees a chance to win something.
Whether you keep your efforts to find a winning logo in-house or reach out to the people you hope will be stopping in at your new store or cafe, this is a great chance to connect with your new hires, learn more about your potential shoppers, and have a great time.
Be sure to offer some kind of incentive—a bonus to the winning employee, a free meal, free coffee for a month—anything that fits your business. This will help your image as a boss and show that you appreciate creative problem-solving and that you aren't afraid to show it. Any employee will appreciate that.
You can even take advantage of high-level artists looking to get some more experience by posting on Design Contest, a site where artists compete to give you the best design possible. Just post your business name, some details about who you are and what you want to convey, and offer a prize. You will also need to draw up a copyrights transfer, but the site will help you with this step.
After your contest is posted, you can sit back and let the entries come in. Many contests are completed in a matter of hours or just a couple of days, so you are all set without much of a time investment on your part.
Once you have your logo, you can try this next fun activity:

Try Screen Printing
Screen printing, once the bastion of giant printing houses full of industry secrets, has returned to the hands of the public, and you can design and print your own logo and image onto low-priced, wholesale tshirts relatively quickly and easily. It takes a little time to set up, and it requires some very unique materials such as a liquid sensitizer, photo emulsion, and a squeegee.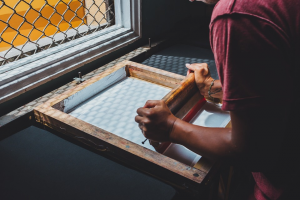 If you know someone who already has some experience printing t-shirts, ask if you can borrow a screen for the prints, as this can be the most labor-intensive thing to make.
Again, ask your friends, relatives, or new employees if anyone is up for designing a logo. Or, you can hire an artist through several freelance websites—whatever option works best for you. If you're artistically inclined or have experience with logos, you can always do it yourself.
Here's the fun part: Get together all the wonderful people who helped you start your business and do the printing as a team. Be sure to let everyone do a couple of practice runs on paper or old shirts that you don't wear anymore; then, once you've got the workflow down, go for it.
The great thing about screen printing is that one screen can print hundreds of shirts. You can even make a design for your customers to buy at your big opening. Here is a video that breaks down the process of screen printing step by step, and which will inspire you to run and print your own screen right away.
If done correctly, screen printing will be able to stand up to plenty of washes and lots of wear and tear. While it might feel like you're putting a photo on a shirt, it's more like a photo. And, speaking of photos:

Put Your Photoshop Expertise to the Test
Have a photo that truly encompasses the heart and soul of your business? You can make it part of your uniform! First, make sure you have the rights to any image you may want to use; it's best if you or an employee capture the image so there are no issues. Then, you can easily upload that picture to your computer and use a more modern, tech-savvy process to make it into a t-shirt design.
You'll start with a digital photo or digital scan of a photo to get started. You need it on your personal computer as well as a photo-editing software such as Photoshop to make it look the way you want. Consider making your design either with a grayscale color pattern or just in one single, solid color. This will make copying the image onto fabric much simpler.
Once you've got your image cropped, centered, and colored correctly, you need to print it out on a transparency sheet, (you can get these at any office supply store or website), and then use that printed image to do a transfer to an emulsion sheet. The process goes on from there and is very similar to the old-fashioned style of screen printing; it's just a bit cleaner and sharper.
Again, here is a great chance to recruit your employees, friends, and family for help. Why not have a photography contest and give a prize or bonus to the winner? You're starting a new business; you want morale to be high. By giving your team the opportunity to do some creative work, you are helping them take ownership in the business and creating an emotional investment. Now, they'll see the business as an important part of their lives and work harder to see it succeed.

Consider Tie-Dye
Is your business more along the lines of a hot dog stand or ice cream store? Do not discount the possibility of a successful uniform with basic tie dye t shirts.
Tie-dye sends a very clear message to your customers: This is a place where it is okay to relax, to be yourself and take a moment away from your normal corporate atmosphere. When you see a product packed in a tie-dye design, you know you are buying something very different than the more expensive, glittery font with a name you can barely pronounce.
The same goes for a tie-dye uniform. Employees dressed in this colorful style will appear much more approachable, fun, kid-friendly, and ready to bring on the smiles. They are a wonderful option for businesses centered on families and kids.
There are lots of different ways to dye your shirts. You can do it with bleach, with basic fabric dyes, and create a some truly unique designs that are a far cry from the typical, seventies heart made of rainbows.
If you want a smoother, more saturated look you want to soak the fabric of the shirt with water before you start. A dry shirt will also work, but you will get a more splattered, splotchy look. Choose a color palette, get on your plastic gloves, find some rubber bands, and you are ready to go.
Before you start, here is a tip: Wear gloves any time you work with fabric dye. The paints meant for fabric are designed to saturated into porous material and will happily make their home deep in your skin. Unless you want muddy, purple hands for the next few days, take a moment to get on your gloves.
To tie-dye, a shirt is just twisted up and held together with the bands. Then, dye is squeezed directly onto the fabric to give it a colorful, explosive look. The shirt is left to set in a plastic bag for several hours, and then rinsed to finish. The final product is a fun and unique burst of color that your employees and customers will love.
You can see more about exactly how to tie-dye, here, in this video.

Stand Out by Fading Away: The Beautiful Ombre Effect
An ombre is just a very pared down tie-dye shirt. Instead of exploding into an array of colors, it tones it down a bit with one hue that gradually gets darker as it approaches the hem or the top of the shirt.
Ombres are a wonderful option if you are opening a spa, a nice café, or just a more laid-back, more quiet space for your customers. Are you dedicated to professional cuddling? An ombre shirt accents that perfectly.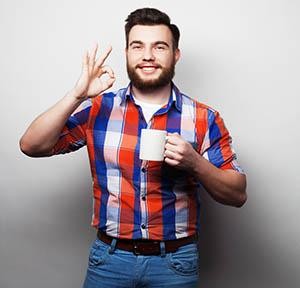 Just like a tie-dye job, you will need some fabric dye but only in one color. You will also need a hanger and some clips to make sure that the shirt you are decorating is spread out completely. Then you will dye the water instead of the shirt directly. An ombre is a labor of love, so do not take this on unless you have the time and energy, as you will be dipping a shirt, then adding more dye to the water and dipping it again, putting in less and less of the fabric for about five or six rounds.
While this is an intense project, the finished product is a unique and lovely one. This basic yet elegant choice can give your business an extra special touch. Also, this is another project that could easily be done with the help of new employees and friends. Everyone can do their own shirt; just make sure to have plenty of materials on hand.
While uniforms can be a handful, they can also be an additional, fun touch and a chance to release your inner artist or crafter in the midst of starting up your dream project. Do not pass up the chance to make the creation of your uniforms fun and inclusive, as this is a great opportunity to bring your team together and promote yourself to people outside of your efforts.
Whatever your business, you can make it shine with a lot of personal touches. Here is hoping that you see yourself in the black before long.