Throwback Thursday: Coolest T-Shirts on '90s TV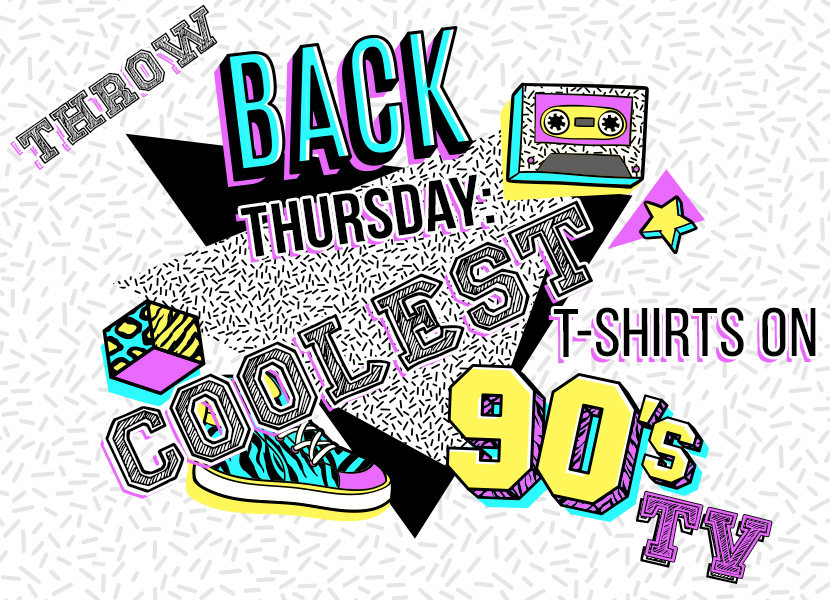 Everywhere you look, the '90s are back. From high-waisted jeans to oversized flannel, and with the '90s sitcoms rebooting left and right, people remember what they loved about this decade. Let's take a look at t-shirts as a unique garment that defined modern fashion, with a special focus on a decade of trendsetting and great TV.
A BRIEF HISTORY OF THE T-SHIRT
Obviously, the t-shirt doesn't belong to any one decade, although the '90s saw some pretty hip manifestations. And while the garment with its recognizable shape was around for most of the twentieth century, it wasn't until the second half of the century that culturally we started to accept it as something other than underwear.
The t-shirt evolved from a 19th-century style of men's underwear called "the union suit," which paired the t-shirt shape on top with shorts or pants on the bottom. As a one-piece flannel, the union suit was great in the winter, when workers needed the extra protection from the cold, but torturous in the summer when there was no way for workers wearing it to cool down without cutting off the bottom half. Many of them did, and thus, the t-shirt shape was born.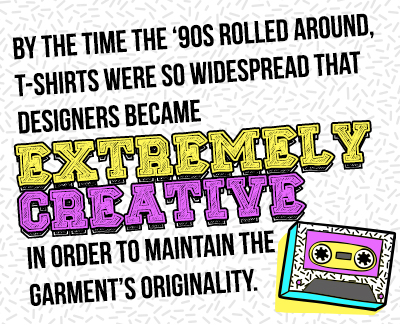 In the early 20th century, underwear companies started advertising t-shirts as "bachelor undershirts," and F. Scott Fitzgerald coined the term "t-shirt" in 1920 when he had a character sporting one in his novel, This Side of Paradise. After World War II, when soldiers coming home brought back their t-shirts and started wearing them as stand-alone pieces rather than undershirts, the t-shirt earned its title as the casual top.
By the time the '90s rolled around, t-shirts were so widespread that designers became extremely creative in order to maintain the garment's originality. TV shows reflected this widespread popularity, and fictional characters became casual fashion icons. Let's look at some of the t-shirts from '90s TV that helped curate the look of the decade.

CLARISSA EXPLAINS IT ALL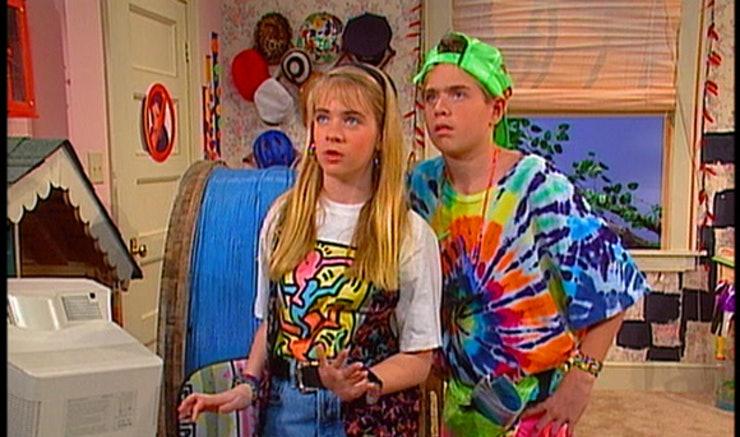 Melissa Joan Hart's breakthrough role as Clarissa Darling came with its fashion perks. Clarissa would address the audience directly as she navigated everyday teen problems that young viewers most likely identified with. She brought style to the screen, with the assistance of her sidekick and best friend Sam, played by Hart's costar, Sean O'Neil.
If you thought tie dye shirts belonged in the '60s, just take a look at the vibrant colors on Clarissa and Sam's t-shirts. The look is unquestionably a product of the '90s.

THE FRESH PRINCE OF BEL-AIR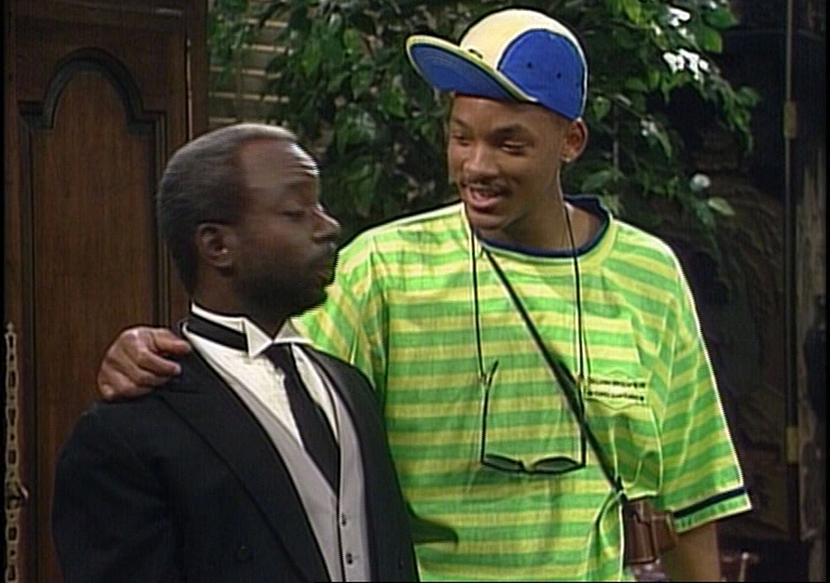 Perhaps one of the most iconic theme songs in television history opened each episode of The Fresh Prince. In this well-loved sitcom, Will Smith played a fictional version of himself, a streetwise teenager from West Philadelphia ("born and raised") whose mother insists he move in with posh relatives in Bel-Air.
And while his attitude often clashed with that of his wealthy aunt and uncle, his style often stole the show. Known for bright colors and wild prints, one of his better-known looks was this electric green striped t-shirt. Paired with sunglasses, Will Smith looked the part of a fun-loving rapper.
The fictionalized version of himself wasn't so far from the truth. He played a well-liked rapper who had gone bankrupt due to poor budgeting skills, and when NBC signed Smith for the part, he was broke, despite his successes as a rapper. Luckily, his sense of humor and style immediately launched his acting career.

SAVED BY THE BELL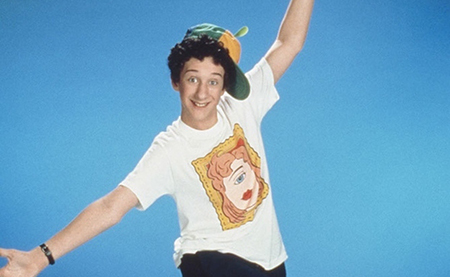 The many movies and spin-off TV shows attest to this early '90s sitcom's success. Following an ensemble cast as they experience the ups and downs of high school, Saved by the Bell could be both hilarious and serious. The show focused on the ringleader of the group of friends, Zack Morris.
However, his best friend Screech, played by Dustin Diamond, often stole the scenes. Though Screech was something of a nerd, his wardrobe didn't lack for originality. His t-shirts often had eye-popping graphic art printed across the front, and when paired with high-top sneakers and his goofy grin, he became the Screech viewers loved.

FRIENDS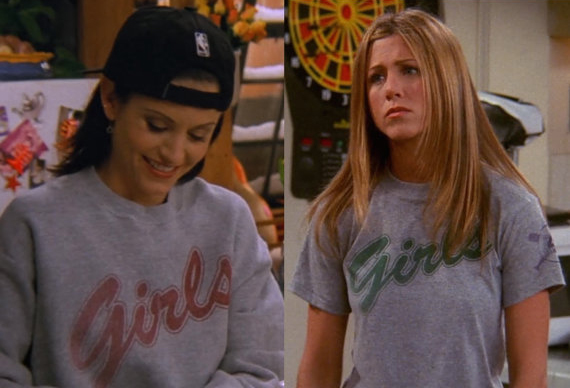 It's hard to think of another show that achieved the cultural status that Friends did. The highly-rated sitcom lasted for ten years, and its 2004 season finale was the most watched television episode of the 2000s. Following the escapades of six twenty-somethings living in Manhattan, Friends was all at once comedic, romantic and sometimes serious.
Though Rachel, played by Jennifer Aniston, is probably best known for her haircut, she and Monica (Courtney Cox) also rocked some great t-shirts. These matching girl-power get-ups show how close the two friends were on the show. The two had been best friends in high school, and while life had put distance between them, they reunited after Rachel left her fiancé. Watching Friends gave every woman both fashion and friendship goals to aspire to.

KENAN & KEL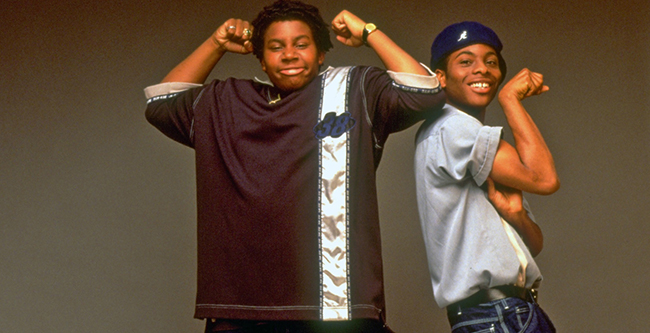 Nineties kids remember how hilarious this show was, and its comedy holds up surprisingly well, considering how young its title actors were. Kenan Thompson and Kel Mitchell, both popular cast members on the earlier '90s show All That, played fictionalized version of themselves.
As two Chicago teens who got into plenty of mischief, Kenan and Kel also showed '90s kids how to dress. The neon-stripe on Kenan's shirt is an attention-grabber, perhaps foreshadowing his long run on Saturday Night Live as a scene-stealer in every sketch. Kel and Kenan were rebellious and hilarious, and they dressed the part. If you're shopping for kids t shirts today, take notes from these two.

BEVERLY HILLS, 90210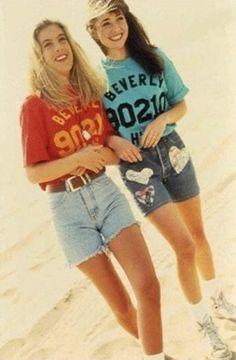 Since this show reached cult status, no zip code is as famous as the eponymous 90210. It was the first of five television shows that rode the original's success. The drama followed the lives of a group of wealthy teens living in Beverly Hills, as they navigated their romantic relationships through high school, college and the adult world.
The show made Shannon Doherty and Tori Spelling, who played Minneapolis native Brenda Walsh and ditzy Donna Martin, some of the most recognizable TV stars in America. And as wealthy teens in Beverly Hills, the girls had an obligation to bring a strong fashion game, and their t-shirts were no exception.
In their t-shirts emblazoned with the show's name, Spelling and Doherty embodied the laid back California beach chic that the rest of the country envies. In combination with the calf-high white socks and sneakers, dark lipstick and high-waisted cut-off shorts, you've got a look that epitomizes the '90s.  

FULL HOUSE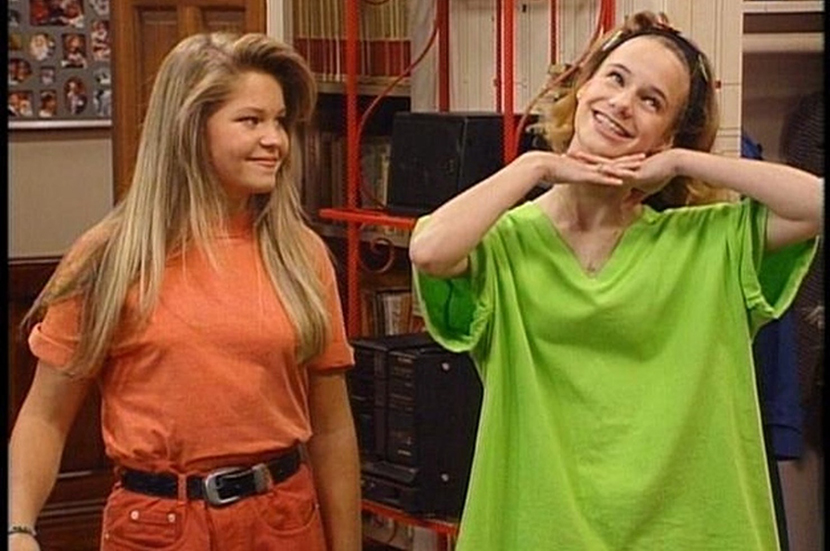 Full House was such a fan favorite that the show was brought back as a Netflix spin-off 11 years after it went off the air. The sitcom tugged at the viewers' heartstrings as the main character, Danny Tanner, played by Bob Saget, sought the help of his brother-in-law and best friend to raise his three daughters after their mother's death. The show propelled the Olsen twins to stardom, as they shared the role of adorable Michelle Tanner.
D.J. Tanner, Danny's oldest daughter, was played by a young Candace Cameron Bure. D.J. was often the most practical and level-headed sister, but her outfits were innovative. Take, for instance, this all orange get-up. Who do you know that would go so daringly monochrome? Tucked into an oversized belt with rolled up sleeves, this t-shirt is utterly, unabashedly '90s.

SISTER, SISTER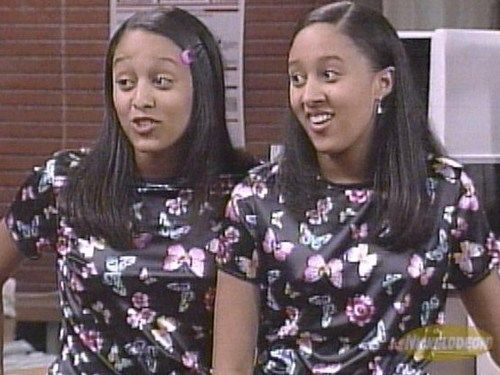 Shakespeare loved to use twins as a comedic device, and that's exactly what Sister, Sister did. Real-life twins Tia and Tamera Mowry played versions of themselves, Tia Landry and Tamera Campbell, who had been separated at birth and found each other again after 14 years. Book smart Tia was from Detroit, and boy-crazy Tamera was from the suburbs.
When their adoptive families moved in with each other, they started going to high school together and experiencing regular teen problems with plenty of jokes along the way. To add to the confusion, the twins often wore similar outfits, like these silky butterfly t-shirts. As it turns out, a good look gets better when you multiply it by two.

FREAKS AND GEEKS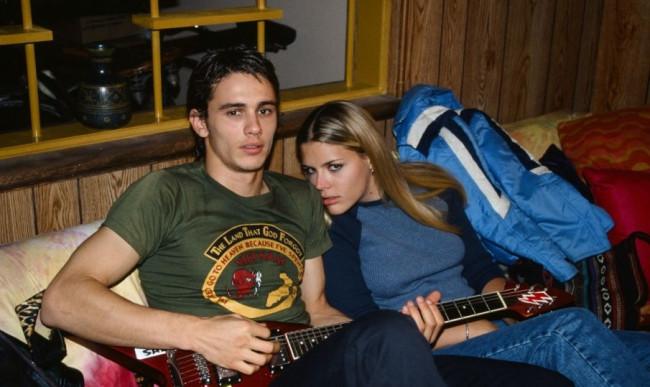 The cult hit has been called one of the greatest shows of all time, even with its rapid cancellation after only 12 episodes had aired. The show centered on Sam and Lindsay Weir, played by John Francis Daley and Linda Cardellini, two siblings who inhabit very different social spheres. Sam and his friends represent the geeks. Lindsey and her band of friends, on the other hand, make up the freaks.
The freaks definitely brought something to the fashion levels of the show. The "it" couple, Kim Kelley and Daniel Desario, played by Busy Philipps and James Franco, exuded punk cool and a don't-care attitude with their fashion choices. Daniel's anti-war t-shirt and Kim's two-tone three-quarter sleeve are simple yet edgy. It's no wonder that Lindsay was in love with Daniel, and it is a tragedy the show was canceled so soon. However, its short life has perhaps contributed to its cult status.

BUFFY THE VAMPIRE SLAYER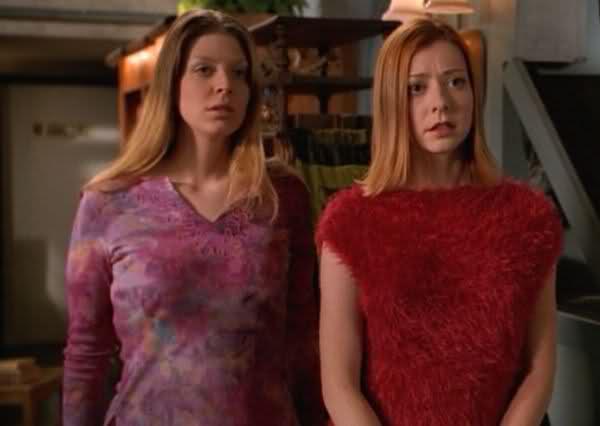 The Buffy the Vampire Slayer fandom really gives other fan communities a run for their money. The show has inspired countless fan fictions, websites, online forums and even unofficial fan-made films. Buffy follows its namesake, Buffy Summers, the role that propelled Sarah Michelle Gellar to stardom, as she answers her calling to become a vampire slayer.
A regular California teen, Buffy is at first reticent to accept her fate as a slayer, but eventually, comes to accept it. With the help of David Boreanaz, who plays Angel, and her circle of friends, Buffy becomes a force to be reckoned with. She and her friends battled the forces of evil, and they looked good doing it, in an uncontestable '90s way.
Buffy's friend, Willow Rosenberg, played by Alyson Hannigan, plays a shy and brainy foil to Buffy's bubbly and unacademic character. And while Willow may be best remembered for her overalls in every color of the rainbow, when she wore this fuzzy red t-shirt, she reminded everyone that Buffy wasn't the only '90s fashion force to be reckoned with in Sunnydale.

Dawson's Creek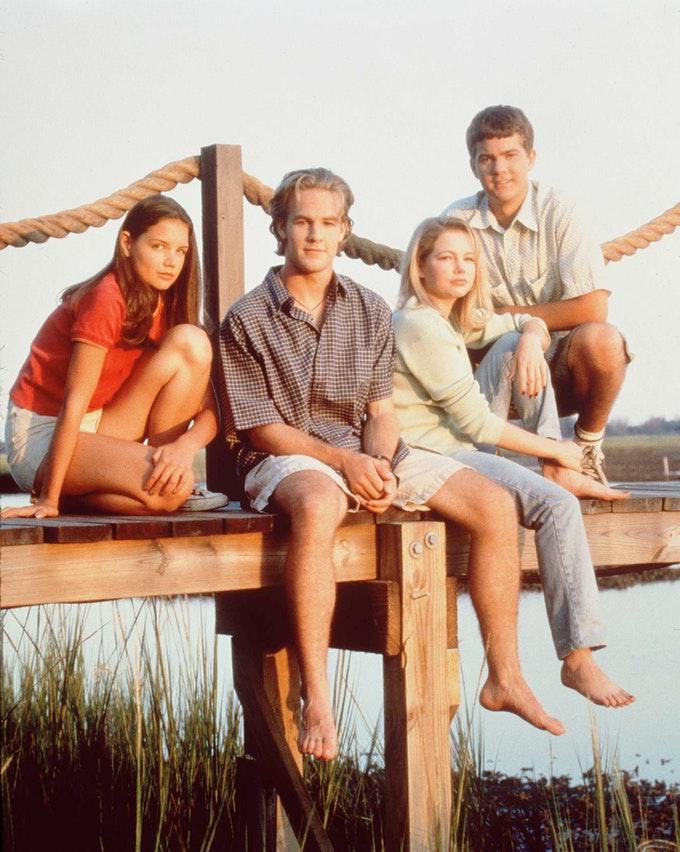 If you want to make a statement, all you really need is some blank t shirts. Katie Holmes proved what a pop of color could do to an outfit when she stood out from the rest of the cast in a bright red t-shirt. Dawson's Creek was the answer to America's obsession with teen TV shows in the late '90s.
Holmes's character, Joey Potter, was the girl next door to the main character Dawson Leery, played by James Van Der Beek. Set in a small town in Massachusetts, Joey's simple, all-American inspired look was something that felt fashionable and simultaneously relatable to viewers hooked on the romantic series.

THAT '70S SHOW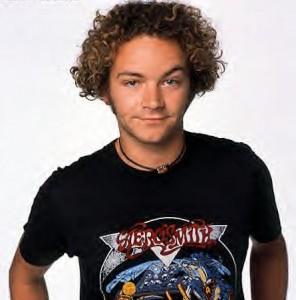 That '70s Show was perfect for adults in the '90s who remembered what it was like to be teenagers in the '70s. The sitcom perfectly captured the ennui of small-town teens finding ways to entertain themselves in Point Place, Wisconsin. With its unforgettable cast of characters, each bringing something different to the comedy, the show ran eight seasons following the romantic, academic and career ups and downs of its ensemble.
And while '70s revivalists will argue all the outfits were killer, Stephen Hyde, played by Danny Masterson, by far surpassed the others with his vintage t-shirt game. A bad boy and a hard rock lover, Hyde owned countless rock 'n roll t-shirts that spoke to '90s punks who were into the classic hits. His outfits made it more jarring when the storyline aligned him romantically with the girly-girl Jackie, played by Mila Kunis. Next to her feathered hair and flowery halter tops, Hyde stuck out like a sore thumb, but that's how his character liked it.
FINAL THOUGHTS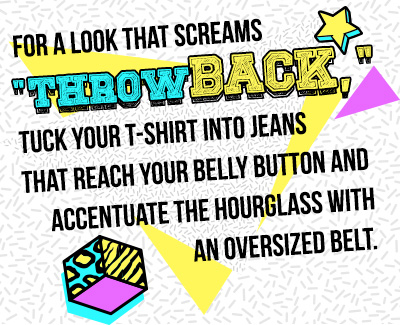 Though the prints and the way you style them has varied dramatically across the decades, the t-shirt's cut and versatility have both remained the same. So, whether you're digging through the racks looking for that great find at a vintage thrift shop or shopping for new ones online, you're bound to find a great t-shirt for your wardrobe if you're keeping your '90s TV fashion icons in mind.
For a look that screams "throwback," tuck your t-shirt into jeans that reach your belly button and accentuate the hourglass with an oversized belt. Or to go with a more punk variation, buy a size too large and make sure there's a statement printed across the front. Whether you're channeling D.J. Tanner or Daniel Desario, you're sure to make an impression.