The Ultimate How-to Guide to Starting a T-Shirt Business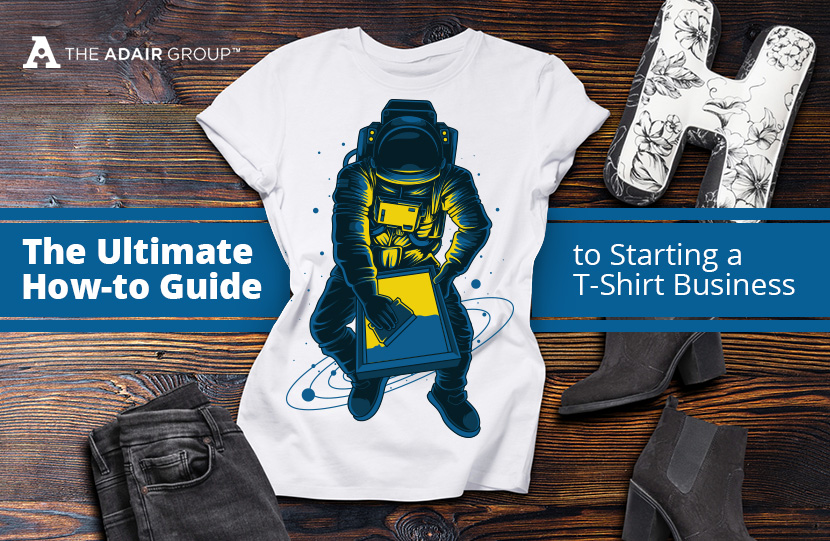 Over the past few years, the t-shirt printing industry has shown substantial and continual growth. The global market for custom t-shirt printing had an estimated value of $3.64 billion, and it is expected to expand at an annual growth rate of 9.7 percent from 2021 until 2028. With such rapid and substantial growth projected over the next few years, there are plenty of business opportunities in the t-shirt industry. 
Whether you are an artist, entrepreneur or just someone who is looking for a way to earn some extra income on the side, starting a t-shirt business could be an excellent way to express your creativity, meet your financial goals and more. Customizing bulk t-shirts is easy, affordable and leaves plenty of room for profit. There are several different customization methods, too, so it's possible for just about anyone to find a technique that suits their interests, skills and budget. 
Shop Wholesale T-Shirts from The Adair Group!
At The Adair Group, we have the bulk wholesale t-shirts you need to start your business. Building a successful business requires careful planning, though. Even if you are only planning on selling t-shirts as a side hustle, starting a business is no small undertaking. Before you dive into your new venture, keep reading to learn how to start a profitable t-shirt business. 
Create a Business Plan
While creating a business plan is not the most enjoyable aspect of starting a business, it is one of the most essential ones. Having a robust business plan is vital to the success of any business. Your plan should include exactly what you plan to sell, where you will get your startup funding and more. It projects the first several years of your business and should, ideally, be a living document that evolves as your company grows.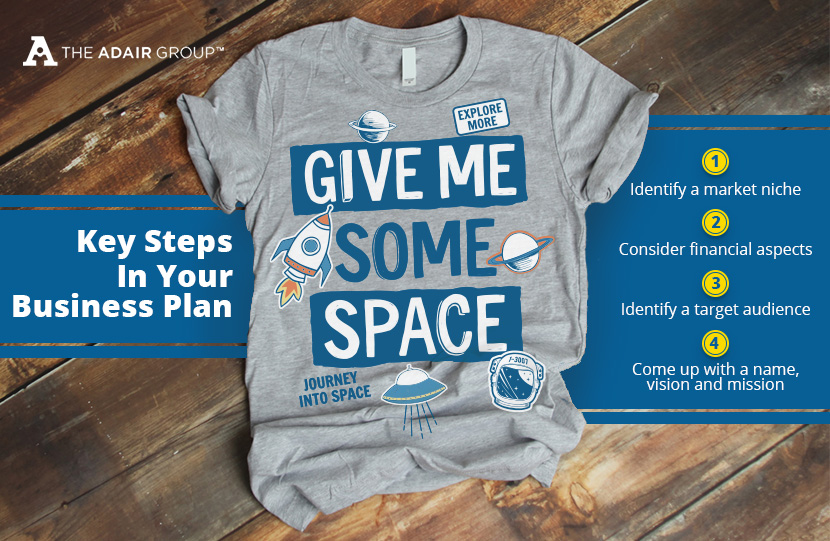 When creating your business plan, you will need to: 
Identify a market niche

Consider financial aspects

Identify a target audience

Come up with a name, vision and mission for your business
The U.S. Small Business Administration (SBA) is an excellent resource when you are in the early stages of starting a business. With the help of the SBA, you can learn how to create an effective business plan that will serve as a roadmap for your new venture. 
Choose an eCommerce Solution
When starting a business in today's marketplace, selling online is usually your best bet. Even if you plan on opening up a physical storefront, having a strong online presence is essential. With consumers increasingly turning to the web to shop for just about everything imaginable and to find stores in their local communities, it just makes sense to bring your biz online. 
With the rise in popularity of online shopping, several vendors have launched eCommerce solutions intended to make selling online easier. While having an online store once required a custom-built website and coding skills (or a relationship with someone who could handle the coding for you), today's simple solutions make it easy for nearly anyone to run an online business. 
There are several options when it comes to eCommerce platforms, but hosted platforms like BigCommerce and Shopify are the most popular. They offer low startup costs, are easy to use and allow you to start selling online in a matter of minutes. Choosing the right eCommerce platform is crucial to the overall success of your business, and it is a decision that should not be taken lightly. Spend some time researching various options and comparing features to determine which one best suits your needs.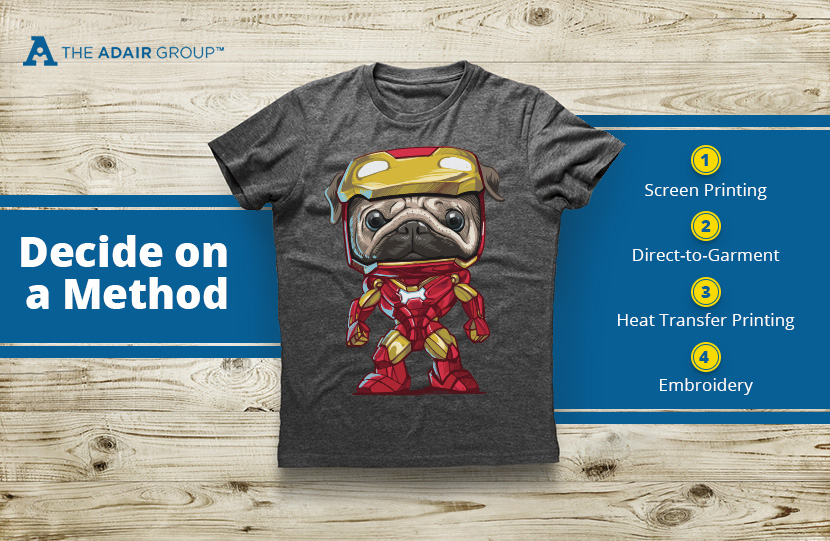 Decide on a Customization Method
Bulk t-shirts can be customized using several techniques. From screen printing and embroidery to direct-to-garment (DTG) and heat transfer printing, the options are numerous. Some folks even create one-of-a-kind garments using fabric paint, dye and other DIY techniques. In most cases, though, the best methods for t-shirt businesses are those that allow you to create several shirts quickly and efficiently. 
The printing method that is best suited for your business depends on several factors. Consider the complexity of your designs and the projected volume of shirts you will be printing. The amount of money you have to invest in your business plays a huge role, too. DTG printing might be a solid option if you have plenty of startup capital. But if you are trying to get started on a budget, screen printing may be better. 
Like every other aspect of your business, deciding on a method to use to customize shirts requires research and careful consideration. Jumping in without proper planning could result in wasting money on the wrong equipment and force you to spend even more.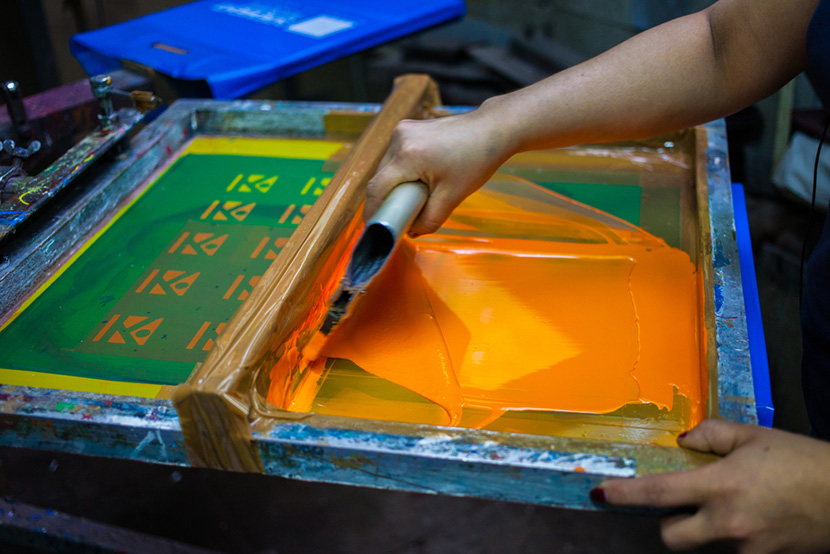 Screen Printing
Screen printing is one of the most popular and well-known methods of customizing bulk t-shirts. Screen-printed designs are durable, and the process is efficient and affordable for larger runs of shirts featuring just a few colors. For smaller runs and designs with more than four or five colors, the process can be costly, time-consuming or both. 
Direct-to-Garment Printing
Direct-to-garment printing, or DTG, is similar to using an inkjet printer to print on paper. The difference, though, is that these specialized printers print on fabric. This technique yields excellent results, and it is a great option when you are printing shirts in smaller quantities. The drawback, though, is that the equipment is expensive and this method isn't the most efficient or cost-effective for large runs. The quality is incredible, though, and DTG printing allows you to create detailed designs in a rainbow of colors. 
Heat Transfer Printing
There are a few options for heat transfer printing. You can use your inkjet printer to print the design on iron-on transfer paper, or you can cut designs out of heat transfer vinyl. Either way, the resulting design or image is transferred to the shirt using a household iron or a heat press. This type of printing is easy for beginners, but it is time-consuming — especially with complex designs. 
Embroidery
Embroidery is used to sew designs and lettering onto t-shirts and other garments. It does not allow for intricate designs, but it is perfect when you need to add a simple emblem or name to a piece of clothing.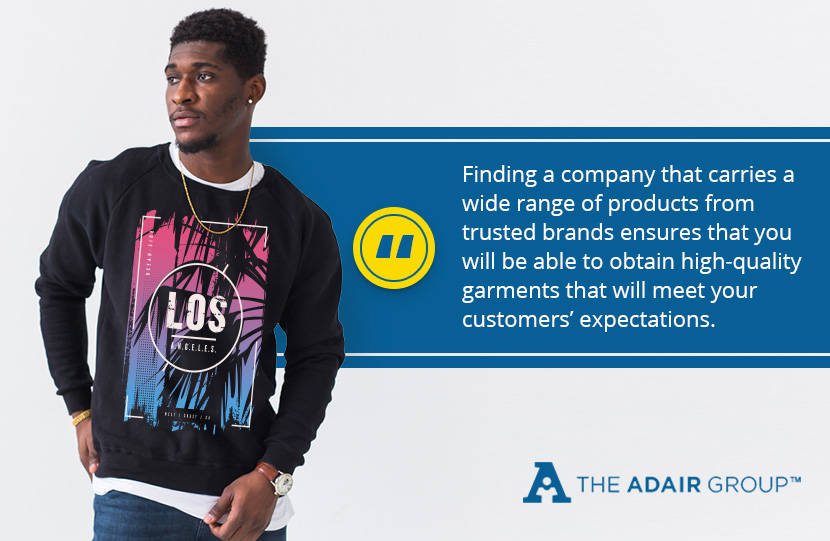 Find a T-Shirt Supplier
Before you can launch your t-shirt printing business, you need to find a supplier for blank t-shirts. Many new business owners make the mistake of buying blank apparel from retail stores only to realize that doing so does not leave much (if any) room for profit. To maximize your profit and ensure that your business makes enough money to keep up with ongoing costs, you need to source shirts from a wholesale supplier. 
Wholesalers — like The Adair Group — stock everything from bulk wholesale t-shirts to tie dye shirts featuring vibrant rainbows of color. A good wholesaler also offers additional blank apparel, such as plain sweatshirts. Finding a company that carries a wide range of products from trusted brands ensures that you will be able to obtain high-quality garments that will meet your customers' expectations. 
Tie Dye Shirts Are Great for Customization!
When researching suppliers, consider how long it will take for your orders to arrive. Ordering from an overseas supplier may save you a few dollars, but will that matter if you have orders that need to be fulfilled and cannot get the blank shirts you need for several weeks (or longer)? Choosing a U.S.-based supplier saves you time while guaranteeing access to quality products from trusted brands. Look for wholesalers that provide exceptional customer service, too, so that you will have someone to turn to if you ever encounter a problem with your order. 
As a family-owned business, The Adair Group has been providing quality blank apparel at affordable prices for more than 50 years. We guarantee the lowest prices on name-brand blank apparel and offer expedient shipping. And unlike other wholesalers, we sell to individuals. We understand that there are a lot of t-shirt suppliers out there and strive to be the best choice for both new and established custom t-shirt business owners. 
Set Up Your Logistics Infrastructure

When a customer orders from your website, they expect to receive their new t-shirts promptly. While you may not be able to keep up with Amazon in terms of fast shipping, there are things you can do to ensure that orders reach your customers quickly. And like every other aspect of your business, there are a few options for getting the job done. 
For small business owners, packing and shipping orders independently is usually the most cost-effective option. When orders come in, you package them yourself (or with the help of your in-house team) and take them to the shipper or arrange for pickup. 
As your business grows, you might want to consider working with a logistics company. If you go this route, you will partner with another company that will handle your warehousing and fulfillment needs. You deliver or ship your products to a third-party logistics (3PL) company, and they take care of orders as they are received. Depending on the size of your business, working with a 3PL logistics company could save you both time and money and make your organization more profitable. 
Launch Your Business
Finally, it's time to start selling some shirts! Take great photos, write appealing descriptions and start listing your custom shirts in your online store. Consider creating social media profiles for your business and sharing photos there, too. Invite friends and family members to check out your online store and share it with others. 
Market Your Products
Once your online store is up and running, you still need to put in some work. Marketing is vital for businesses in all industries, and there are tons of strategies to choose from. We recommend experimenting with several different marketing strategies to determine which ones drive the best results for your business. 
Online marketing strategies, including optimizing your store for search engines, advertising on social media and in search engines and launching email marketing campaigns, are vital for eCommerce businesses. That doesn't mean, though, that you shouldn't embrace traditional marketing methods, too. Word-of-mouth promotion is huge, and encouraging customers to leave reviews and share your brand with others is a great way to expand your audience. Flyers, business cards and other printed materials can help spread the word about your new business, too. 
Be sure to get your custom shirts in the public eye. Wear your t-shirts when you are out and about. Consider setting up a booth at a trade show or event. Sponsor teams and organizations in your area. The options are endless. 
No matter what marketing strategies you try, pay attention to the results. Ask customers where they heard about your business. Once you have spent some time trying out different methods and tracking the results, you should clearly understand which ones drive the best results for your business. 
Conclusion
Starting a t-shirt business is a great way to dive into the profitable custom t-shirt industry. Like any business venture, though, careful planning and a deep understanding of how to start a t-shirt business are required to ensure your success. Following the steps outlined above is a big step in avoiding costly mistakes. Doing so does not guarantee success, though.
Whether you are trying to launch a profitable side hustle to give yourself some extra spending money or you are hoping to make your t-shirt business your full-time job, you need to set yourself apart from your competitors. You also need to be willing to dedicate the time and energy it takes to grow a successful brand. Business ownership offers many benefits, but it requires dedication and passion. If you have those things and are willing to do whatever it takes to reach your goals, you will be well on your way to success in this growing industry. 
Image Credits: 
mdbildes/Shutterstock.com
kixckcore artwork/Shutterstock.com
blessings/Shutterstock.com
Kano07/Shutterstock.com
robert_s/Shutterstock.com
 Onarada/Shutterstock.com
Desizned/Shutterstock.com
rikkyall/Shutterstock.com
Maridav/Shutterstock.com