The Sweatshirt: Friend or Foe?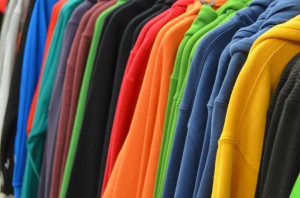 Ah, the beloved sweatshirt. America loves these cozy garments, and we have many endearing terms for it. Whether you call it a hoodie, pullover, sweatshirt, jumper, or jersey, chances are you have at least one that you pull out of the depths of your closet when the temperatures begin to drop. Whether you live in yours or only wear it around the house, there is much to be said about the sweatshirt. Is it a fashion faux pas, or does it have merit in the fashion world? Has it proven itself a universal article of clothing for all ages, or is it strictly for the kids? So, we have decided to scour the depths of the Internet to find the answers to all your hoodie-centered concerns.
Friend (Pros)
Created in the early 20th century, the original cotton jersey hoodie was used to relieve football players from uncomfortable wool jerseys. Soon manual labors jumped on the sweatshirt bandwagon, as it added protection and warmth to their work wardrobe. While it may have originally been designed for workers and athletes, soon the sweatshirt was mainstream, and it's not hard to figure out why.
Their comfort is probably one of their greatest advantages. Sweatshirts have been a long-time favorite of most college students, as they exude the ease and comfort needed when running around campus and studying in the library all night. Whether a child, teen, or adult, sweatshirts will always remain a staple of comfort clothing.
Along with comfort, hoodies provide warmth. The garment is perfect for fall days and winter layering. Wear them alone or with a jacket, scarf, and hat. Either way looks great, and will keep you warm and cozy against any chill. Plus, with the recent rise of street style in the fashion world, there are many bloggers and stars who wear awesome sweatshirts and make it look effortlessly cool with retro sneaker and dark sunglasses.
Lastly, the sweatshirt is universal. Kids love hoodies, and parents appreciate the ease and warmth it gives their children. However, even though kid-approved, they also look great on adults – men and women alike! There is literally a sweatshirt for everyone.
Foe (Cons)
The truth is, it's difficult to find the cons of a sweatshirt. They are easy to slip on, give the wearer loads of comfort, and keep him/her warm. Plus, thanks to the rise of street style, the relaxed look of a hoodie is no longer unacceptable.
That is, unless you plan to go to work or to a fancy dinner party. Here it is folks, the one downside of your favorite sweatshirt – you can't dress it up. Try as you might, there is no way around it. When you sport a sweatshirt, you can't really achieve a professional look. So, you probably need to leave the hoodie at home before heading to the office. Oh, and if you plan on attending holiday parties, you might want to dress up (unless it's an ugly Christmas sweater party!)
The lesson here is to use your common sense. If you are going somewhere with a dress code or to a meeting where you need to impress others, a sweatshirt should not be your go-to option. Remember when Facebook guru Mark Zuckerberg met with Wall Street investors in his hoodie? They were none too pleased, and it caused quite a statement. In the business world, casual wear and suits still reign supreme. Just leave your hoodies for your off days!
Styles
When it comes to sweatshirts, there are many different style options to choose from. When you know the specific term for each style, you are better equipped to pick out the right hoodie for you. Below are the definitions and differences between each style.
As with a t-shirt or sweater, a popular sweatshirt style is the crew neck. Crewnecks are probably the most versatile, as they look great plain, in any color, and with teams and logos plastered on the front. Plus, everyone looks great in this classic style!
Zip sweatshirts refer to the garment that has a full zipper down the front. If you are looking for a garment that is easily layered with others, or you are dealing with temperamental climates, this is your best bet.
When you hear or see the term hoodie, that simply refers to a sweatshirt that has a hood. Hoodies come in the pullover variety, as well as the full zip.