THE ESSENTIAL WHOLESALE APPAREL GLOSSARY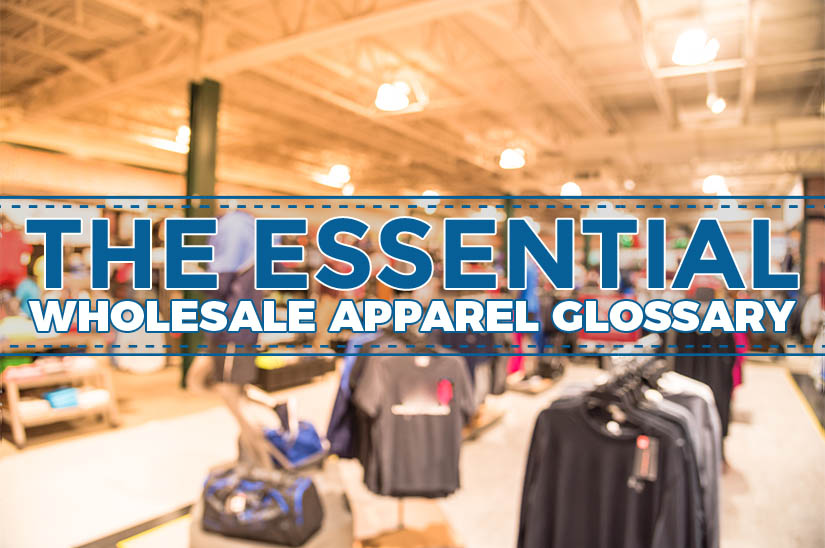 The t-shirt is a staple in everyone's wardrobe. This classic item of clothing provides a blank canvas for entrepreneurs, organizations, and volunteer groups to create their own unique designs. Because of this, the screen printing and embroidery industry has become a booming business.
But, before you create your first product, you must learn the lingo of the industry. So, if you've been thinking about starting your own embroidery or screen printing business, this guide will help teach you everything about the process of choosing the right blank textiles. From preshrunk to ring spun cotton and everything in between, we help to decode all the industry jargon just for you.

WHAT IS SCREEN PRINTING?

Screen printing, which is also known as silk screening, is a popular method for printing graphics onto t-shirts.  In this method, thick inks are applied to the fabric and either lay on top of the shirt (when using plastisol inks) or are absorbed into the fabric. It is the most cost-effective option when printing in bulk and can make for an amazing look.
A thin nylon mesh is stretched tightly over a frame. A negative design is printed onto the screen and placed against the shirt. Once in position, the ink is rolled over the screen. The ink seeps through the design and sets on the t-shirt.

WHAT IS EMBROIDERY?

Embroidery involves stitching embellishments using a needle and either thread or yarn. It can be done by hand or machine, and the designs can be very simple or intricate.

WHY SCREEN PRINT OR EMBROIDER?

Starting your own embroidery or screen printing business can be a lucrative decision. Customized shirts, bags, banners and other items are frequently purchased by schools, businesses, sporting teams, the hospitality industry, and even the medical field.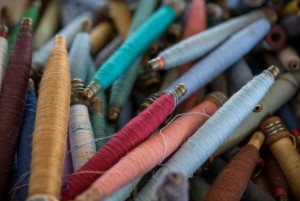 Everyone you meet is a potential customer. Screen printed t-shirts are a great way to increase brand visibility. So, whether a company is giving them away for free at a trade show, selling them, or distributing them to a sports team, volunteers, or employees, screen printed t-shirts are a great method for promoting a brand or getting your message across.
Embroidered apparel is classy and unique whether it appears on a doctor's lab coat or as a company logo on a polo.
Choosing the perfect canvas for your project is paramount. There is a broad range of t-shirt blanks to choose from, which can make the decision intimidating. Some aspects to consider are the fabric quality, t-shirt fit, sizing, and available colors.
Regardless of whether you choose to screen print or embroider, or both, the quality of the product you use must be great. It is important to know what type of fabric you are working with because this can affect your result.
Heavier cotton blends work much better and don't pucker. Pre-wash shirts before working on them because even the best no-shrink clothing can shrink and ruin your design.
The following are the most commonly used terms in the industry. They will help you to understand more about starting and owning your own business.

GLOSSARY OF WHOLESALE APPAREL TERMS

When you first start up in this industry, it is essential to understand the terms associated with all things wholesale. This glossary highlights the most common terms in the wholesale apparel industry:
Absorbency: The ability of the fabric to absorb moisture.
Accessories: Items like scarves and hats, which often can be screen printed and embroidered.
Acetate: Fiber that is man-made and consists of cellulose chains.
Acrylic: A man-made fiber which consists of a long-chain polymer that is synthetic.
Alpaca: Natural fiber from alpaca sheep.
Angora: Natural hair fiber from angora goats or rabbits.
Argyle: Diamond-shaped patterns knitted into fabric.
Bamboo: Natural textile made from bamboo grass.
Basket weave: Resembles the weave used in baskets; a finely woven texture of fabric.
Bemberg: A type of rayon fabric that is used for lining coats and suits.
Birdseye: Fabric that is woven with small diamond patterns, with a dot in the center of each.
Blended Yarns: These are yarns that are made up of more than two fabrics.
Boucle: Knit or woven fabric that has small curls or loops, often used in sweaters.
Burlap: Loosely made, plain-weave fabric that is heavy in weight. Used in decorative items or draperies.
Burn-out: A fabric treated with a chemical process that leaves sheer patches.
Canvas: Fabric of cotton, flax, or hemp that is woven closely and used for sails or tents.
Cashmere: Natural fiber made from the undergrowth of the Kashmir goat. Commonly found in sweaters, coats, dresses, and shawls.
Chalk Cloth: Pliable fabric which is used in tablecloths, posters, or other projects. Chalk cloth can be used like a chalk board.
Chambray: Synthetic or cotton fabrics which are colored and have a white filling.
Chantilly Lace: Lace netting background that has a pattern which is created by embroidering thread or ribbon to make floral designs.
Cheese Cloth: Lightweight, sheer fabric that is often used in flags or banners. It may also be dyed, bleached, or natural color.
Chenille: Soft fabric that is made from silk, cotton, or other manufactured fibers.
Coating: This is a finishing process where a material like rubber, resin, or synthetic compounds covers both sides of the fabric.
Combed Cotton: Short strands are eliminated and fibers are straightened using fine brushes. The result is a stronger, softer, and smoother fabric.
Corduroy: Fabric that is made of cotton or a blend of cotton. Corduroy is constructed into a cut-pile, woven design.
Cotton: This white vegetable fiber has been used to produce fabric for hundreds of years and is very popular in this field of work.
Crocheted: A loose open knit created with a singular hooked needle and yarn of many different types.
Custom-Made: Apparel made to the consumer's specifications.
Damask: Glossy, jacquard fabric that features flat and reversible designs. Commonly used in curtains, tablecloths, and draperies.
Denim: A twill weave cotton fabric made with different colored yarns in the warp and the weft.
Drill: Heavyweight twill woven fabric.
Elasticity: The ability of fiber to return to its original length, shape, or size.
Eyelet: Fabric that has patterned cut-outs around embroidery.
Fabrication: The selection of the right fabric for the apparel.
Fad:  A short-lived fashion statement.
Faux Fur: Artificial fur that is created from synthetic material.
Felt: Non-woven fabric that is created from wool or fur. The fibers are locked into place.
Fibers: The synthetic or natural strands that are used to make yarn.
Flax: Natural fiber that is made from the flax plant and typically used in linen.
Fleece: Synthetic material that stretches across the length of grain.
French Terry Knit: Thin material that is put underneath another piece of material to add color.
Garment Dyed: Garment is dyed after being constructed.
Garment Washed: Garment is washed after construction to cut down on shrinkage.
Gingham: Plain woven fabric made from silk or cotton.
Gossamer: Soft, gauzelike veiling which was originally of silk.
Grosgrain: Firmly woven fabric that has a high warp count.
Heather: A yarn which is spun with pre-dyed fibers. They are blended together to give a certain style and look.
Herringbone: Variation on the twill weave design where the twill is broken or reversed into regular intervals. This produces a zig-zag look.
iKat: Handwoven fabric that is tie-dyed before it is weaved.
Interlining: Padded or stiffening fabric that is sewn to the wrong side of the lining.
Irish Poplin: There are two different types of Irish poplin. One is constructed with silk warp in a plain weave design. The other fabric is a cotton shirting that was also made in Ireland.
Jacquard: Woven fabric that is created by using the jacquard attachment on a loom.
Jersey: The construction of weft knits. This flexible and comfy knit is usually made from a cotton or synthetic blend.
Jute: Bast fiber that is from India. This fiber is usually used in bags, or in binding threads for carpets and rugs.
Khaki: Tan colored warp face twill. Khaki comes from the Eastern portion of India and means earth color.
Knit: A fabric created with interlocking loops of yarn.
Knit de knit: Yarn texturing where yarn is crimped by knitting it into the fabric then heat set onto the fabric. When the yarn is unraveled, the fabric is permanently crinkled.
Lace: Openwork fabric where yarns are twisted around each other to form integral patterns.
Lamé: Woven fabric that uses flat gold or silver metal thread to create a background design in the fabric.
Line: A manufacturer's collection of styles.
Linen: A fabric made from the flax plant. Although the textured weave dries quickly, it wrinkles easily.
Lurex: Fabric that is created from yarn that forms a synthetic film to include a metallic layer. This adds metallic features to the fabrics.
Lycra: DuPont trademark for the spandex fiber. This fiber features shape retention and does not wash away.
Madras: Lightweight cotton fabric that features a checkered, plaid, or striped pattern.
Modal: This slinky-feeling fabric is a form of rayon made from plant fibers.
Natural Fiber: Natural material used to make clothing such as cotton, linen, and wool.
Organic Cotton: This softer and more expensive cotton is treated with minimal fertilizers and pesticides.
Pima: A high-quality long fiber cotton which is grown in Australia, South America, and the United States. It gets softer with wear.
Polyester: This fabric resists shrinking and wrinkles, and it maintains its shape.
Pique: A medium-weight cotton or cotton blend fabric with a pebbly weave.
Preshrunk: Fabric that has already been washed so additional washing will not shrink the garment.
Rayon: A man-made fiber made from trees, cotton, and woody plants.
Rib Knit: A fabric with a ridged pattern with a lot of flexibility.
Ring Spun Cotton: This durable and long-lasting fabric is made by twisting and thinning cotton strands to form a fine but strong soft rope of fibers.
Sample: Sample garment.
Silk: A natural protein fiber which can be woven into cloth.
Synthetic Fiber: Synthetic fabrics are textiles made from man-made rather than natural fibers. Examples include polyester and rayon.
Trend Buying: This is when retailers buy from newer sources to get a new look or style.
Tri-blend: A super soft fabric made from a blend of three materials – cotton, rayon, and polyester.
Weft Knitting: Knitting fabrics in vertical looms.
Weaving: Forming fabric by interweaving or interlacing the yarn on a loom.
Wool: This is a fiber obtained from sheep and other animals.
Yarn: A continuing strand of thread that is made by spinning or twisting fibers.

WHICH FABRIC SHOULD YOU CHOOSE?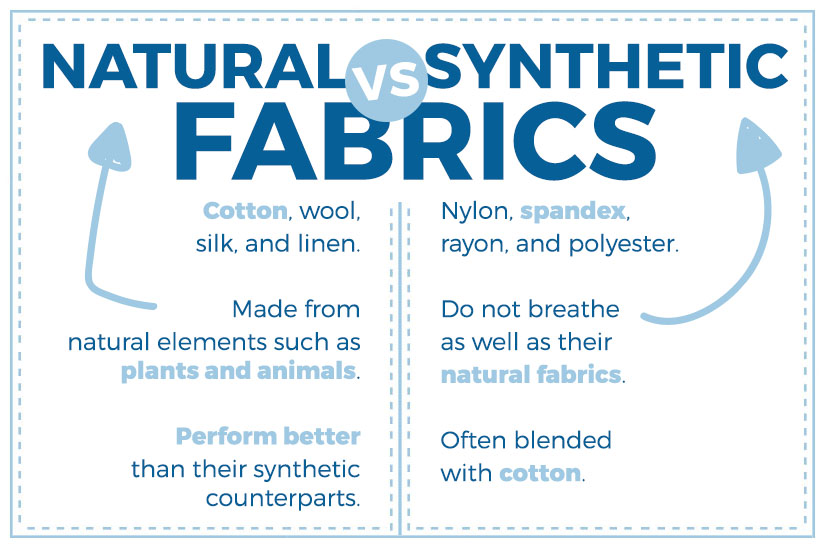 It is important to pay attention to fabrics. A fabric is a screen printer's canvas. Fabrics fall into three main categories: natural, synthetic, and a blend of the two.
Natural Fabrics: The most common are cotton, wool, silk, and linen. These are made from natural elements such as plants and animals. They also perform better than their synthetic counterparts.
Synthetic Fabrics: Nylon, spandex, rayon, and polyester are some of the most common. These types of fabrics don't breathe as well as their natural counterparts, which is why they are often blended with cotton.
Natural fabrics absorb water-based ink better so screen printing on them produces a better result. You can still print on synthetic fabrics, but the result won't be as stunning. Cotton is the most popular choice for printing, but blends work well, too. The rule of thumb is: the higher the cotton content, the better the result.
Thicker material absorbs more ink, resulting in a better image with rich and vibrant colors. Finer fabrics result in a washed-out image because the fabric absorbs less ink.

LET'S TALK ABOUT EMBROIDERY

The fabric you choose should be of a high-quality. Instead of absorption, you will be looking for sturdiness. The tighter the weave, the better-suited the fabric is for embroidery. Not all fabrics can withstand the constant pounding of needles, so choose your fabric wisely depending on the project.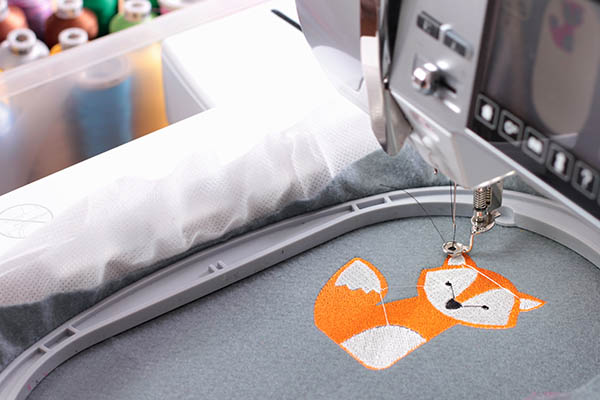 FINAL THOUGHTS

Starting your own business in the embroidery and screen printing industry is an exciting and interesting experience. You have to prepare yourself to work hard for it to be a successful venture. Knowing what you want to accomplish with your business and what you want to produce will help you to make more informed purchasing decisions with your equipment and inventory.
Understanding the terminology in the industry is the first and most important step. It is important to choose the correct fabric for the job, so becoming familiar with textiles and will start you out on the right path.