The Bland Tee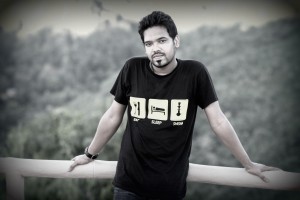 At one time, t-shirts were reserved solely for the army and manual laborers. Now, however, they are a major fashion staple. T-shirts are everywhere, and there are so many options you can choose from –  sports teams, tie dye, comical graphics, and political standpoints and images that are popular in pop culture. However, no other tee reigns supreme like the band tee.
Not only do you feel super cool in band t-shirts, but they are fashionable, and, let's face it: it's pretty awesome when complete strangers compliment you on your musical tastes. They are universal, and a fan of any age or gender is able to easily incorporate a band tee into almost any outfit. Plus, if you get them from the concert, they hold sentimental value. What other t-shirts can do this?
The Rules
While there isn't exactly a set of rules you have to follow to wear a band tee, it does deserve to be worn with attitude. So, here are a few pointers you can use as a guideline to see if you are wearing your t-shirt to its fullest potential.
It always helps to know at least several of the songs, members of the band, and albums if you're going to wear the t-shirt.
Wondering what the difference is between a "vintage" and "retro" shirt? If your band tee is vintage, that means it was made in a different era. If you bought the shirt from a chain retailer, but it has an old look, that's retro.
The more worn in, the better! Band tees are designed to look a little rough around the edges. They get better with time. So, don't be afraid to wash it, tear it, or fray it. The more "edge" and individuality you can add, the better.
It's usually considered overkill to wear a band tee to a concert unless:
You're supporting the opening act.
The t-shirt is more than 15 years old.
You're attending a festival and one of the bands is playing.
Classic Band Tees
Like the iconic white t-shirt, these band tees never go out of style. Below we gave you a short list of some of the most recognizable band logos that have been plastered across any t-shirt. And, if you don't have them already, after reading through these you might want to add them to your collection.
We all know the one. The t-shirt with the simple smiley face with Xs for eyes and a squiggled mouth. Allegedly the face was drawn by front man Kurt Cobain himself, and it was supposedly a play on Axl Rose. What makes the image so perfect is the play between the cheery graphic and the band's somber sound.
The Ramones version of the United States Presidential Seal logo t-shirt has become the declaration of punk. Incredibly enough, the shirt has seen more sales than the band's actual record sales!
The Rolling Stones Sticky Fingers album art was created when Mick Jagger was unhappy with the designs their record label was coming up with. Instead, he found an art student, John Pasche, in London who used his pop-art influences to create the lips and tongue that have been slapped on millions of shirts since.
The simple font in between two red bars was all it took for Eric Haze's design for the legendary rap group. The logo was bold and straightforward, complementing their rap style and the decade. The shirt became a classic, and it has been ripped off many times since its debut. As with the Ramones, the shirt has come to define a genre, rather than just the band.
Horror comics and Mad Magazine inspired the zombie illustration, and it is actually what drove a lot of people to the band. For the album, the drawing was in contrast to a bright yellow cover, which later became the original t-shirt color as well.
In 1977, Gerald Huerta designed a logo for the band's fifth album. It was simple, but, oh, so effective. Nice type and a lightening bolt placed strategically in between the "AC" and the "DC" was all it took. Soon after, it was seen everywhere, from t-shirts to notebooks.
Since the early 80s, the Misfits' black and white skull has been seen in countless magazines and on shirts, and it has been ripped off by so many companies we've lost count. The simple skull was created by Glen Danzig, and the originals were screen printed by hand in his mother's basement.