The Best Ways to Style a Zip-Up Hoodie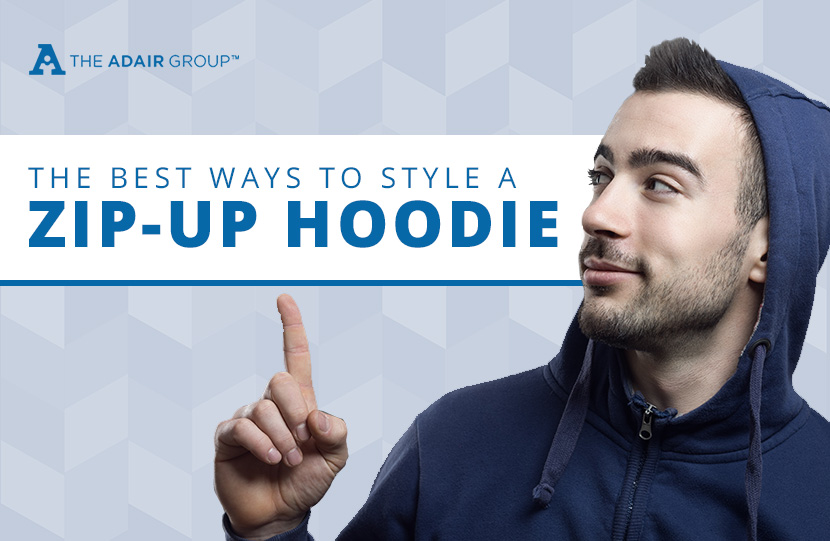 Hooded sweatshirts are wardrobe staples that belong in every closet. Whether you are a guy or a girl, hoodies are fashion must-haves that are perfect for adding a bit of extra warmth to your outfit when it gets chilly. While they never really go out of style, they have been having a huge moment throughout the last few years as streetwear and athleisure looks have reigned supreme in the fashion world.
If you are in the market for new hoodies to add to your wardrobe, zip-up styles are always a solid investment. They bridge the gap between sweatshirts and jackets, and they are ideal for those days when it's a bit too chilly to go out wearing just a t-shirt but too warm to wear a heavier coat. They're great for layering, too, since they are easy to put on and take off. Unlike the pullover variety, your zip-up hoodie won't even mess up your hair when you're putting it on or taking it off.
Though zip-up hoodies are stylish, plenty of people aren't quite sure how to look cool while wearing them. There's no real "wrong" way to rock a zip-up, but there are certain styling techniques that can ensure you look your absolute best while wearing one. Keep reading to discover a few of the best ways to style a zip-up hoodie!
Benefits of Zip-Up Hoodies
Before we really dive into all of the ways in which you can style your favorite zip-up hoodie, let's take a moment to show some appreciation for these versatile garments. The benefits of zippered hoodies are numerous. Here are a few of the many reasons why we think they belong in every wardrobe.
Versatility
In general, hooded sweatshirts are versatile and offer a lot of benefits. Zip-up styles, however, offer a bit more versatility than their pullover counterparts. Since they are easy to put on and take off, they tend to work better for layering–especially on days when you know you'll be needing to shed or add layers as the temperature changes.
These garments are ideal for any time of the year. During the summer months, they're great to have on hand to throw on over your t-shirt and shorts when the sun goes down and the hot day turns into a chilly evening. They work well when you need to add some extra warmth to your look during the winter, too, and they're ideal for those spring and fall days that aren't cold enough for a coat but not warm enough for a t-shirt.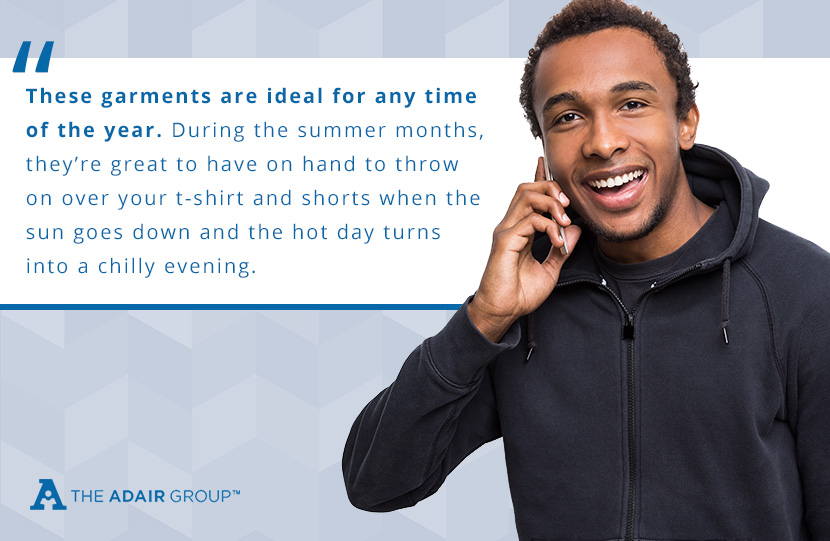 Zip-up hoodies are appropriate for both casual wear and to wear to work, too. Pullover hoodies generally cannot be styled in a way that makes them appropriate for most places of business, but zippered styles definitely can. A zip-up sweatshirt fits the streetwear style and athleisure look flawlessly, but when styled properly, it's just as appropriate for work.
Comfort
Zip-up hooded sweatshirts are incredibly comfortable. Unlike jackets and coats that may feel stiff or bulky, hoodies are soft and move with you. They come in various thicknesses, too, so you can invest in a heavyweight one to snuggle up in when it's super cold outside along with lighter-weight styles that will add a bit of warmth without making you excessively hot.
Because they are so comfortable, hoodies are practical, too. Even if you are just spending most of your day working in front of a computer, it's much easier to do your work while wearing a comfortable garment that moves with you rather than one that restricts your motion or makes you feel like you are bound up.
Styling Your Zip-Up Hooded Sweatshirts
When it comes to styling your zip-ups, the options are really only limited by your own creativity. You can keep things simple by throwing one on over the top of whatever outfit you already planned on wearing, or you can get creative and make the hoodie a focal point of your entire look. It's entirely up to you! Here are a few of our favorite styling tips.
Start with the Right Pieces
If you are going to be shopping for some new clothes, it is important to choose pieces that will work well to create the types of looks you are aiming for. If versatility and the ability to wear your hoodies to work are your top priorities, shop for blank zip-up hoodies as opposed to ones with designs on them. Since they come in a rainbow of colors, you can still use blank hoodies to show off your personality and personal style. The lack of an image, logo or text, however, tends to create a more streamlined, polished look that is more appropriate for offices and other formal settings.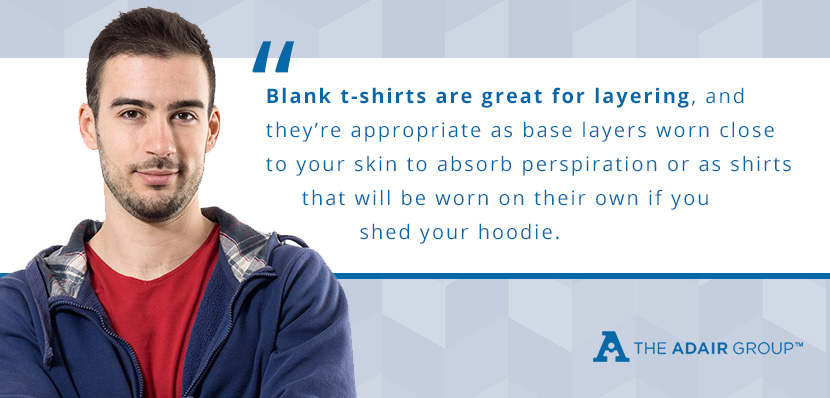 To create stylish layered looks, you need to consider the garments you will be wearing under your hoodie, too. Blank t-shirts are great for layering, and they're appropriate as base layers worn close to your skin to absorb perspiration or as shirts that will be worn on their own if you shed your hoodie.
Make It Work for Work
If you work in an office or another type of establishment where business casual is the go-to dress code, there are a few different ways to style your favorite zip-up hoodie. For starters, it's usually best to choose one in a neutral color–like black or navy blue–if you want to dress it up and make it appropriate for work. Of course, if your boss is okay with more vibrant styles, feel free to wear any color you'd like!
When you're going for a business casual look, wear a light to medium-weight zip-up hoodie that fits close to your body but isn't overly tight. You want it to look streamlined and tailored, not sloppy or like it's too small.
To create a look that's perfect for chilly offices, start with a blank t-shirt. Next, add a button-down flannel shirt and top it off with a zip-up hoodie in a neutral color. If flannel shirts aren't quite your style, a regular button-down dress shirt works well, too.
When it comes to what pants to wear, it all depends on the dress code. If you work in a more relaxed environment, a nice pair of tailored dress jeans is a good option. Otherwise, stick with dress pants or khakis.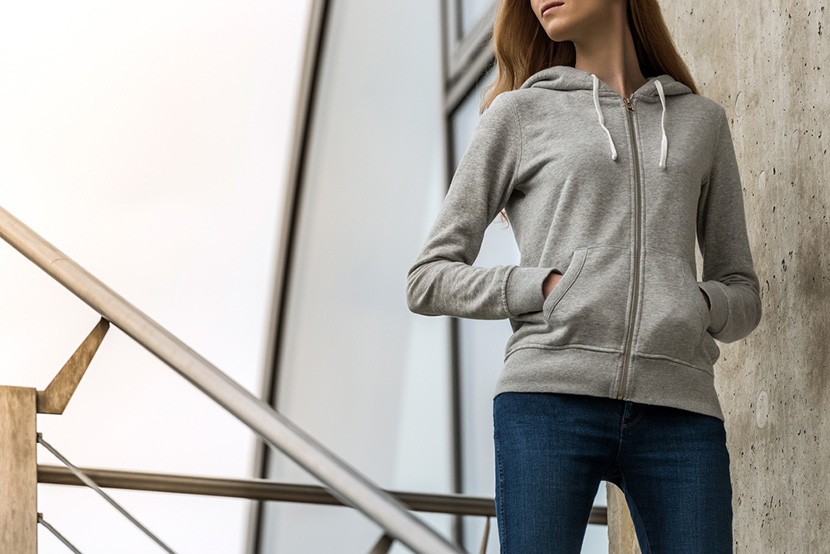 Wear It Under a Jacket
When you think about wearing a hoodie, the first thing that likely comes to mind is wearing it as your outer layer. Zip-up hoodies work really well under some types of jackets, too, though. When worn under a lighter-weight jacket, a hoodie adds some much-needed warmth on a chilly day without adding the bulk of a heavy jacket.
Denim jackets are wardrobe must-haves just like hoodies, and these two staples work really well together. When you need to throw together a quick casual outfit, throw on your favorite t-shirt followed by a zip-up hoodie. Add a denim jacket on top, and you're good to go!
If you want to create a look with more of a "tough" vibe, try swapping out the denim jacket for a leather (or vegan leather) jacket. Wearing a leather jacket over a black hoodie is a perfect way to create a cool casual look that is certain to turn heads. Rocking a hoodie under a bomber jacket is a stylish look for casual occasions, too.
When the chill of winter really sets in, there is nothing wrong with wearing your zip-up hoodie underneath a long coat. If you are putting together an outfit that you can wear to work or out on a date with someone special, something like a long wool pea coat works well. If you're going for a more casual look, an oversized flannel or a long, basic winter coat both would work well.
Create the Perfect Athleisure Look
When it comes to fashion trends, the athleisure is one of the hottest (and most comfortable) around. Whether you are trying to put together a stylish outfit to wear to the gym or you just want to be comfy while spending a Saturday afternoon binging on Netflix, you can't go wrong with a zip-up hoodie. Throw on your favorite sweatpants or joggers, a t-shirt and a matching zippered hoodie and you're good to go.
A zip-up hoodie can be a perfect addition to your yoga attire, too. Whether you are practicing at home or going to a yoga class, start with your favorite yoga pants or leggings. Next, add a fitted t-shirt, tank top or sports bra. Finally, put on your hoodie. For an extra cute look, try going with a cropped zip-up hoodie instead of a full-length one. It's a simple alternation, but it's one that can instantly change your entire look.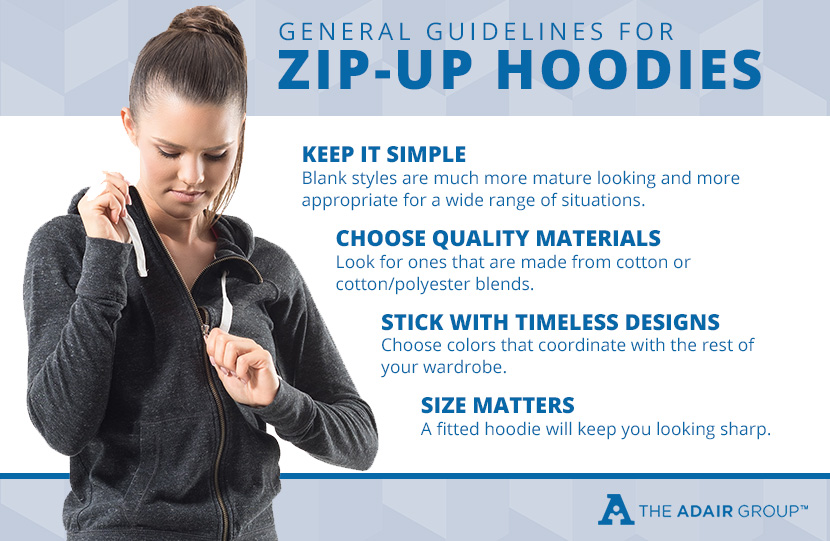 General Guidelines for Wearing Zip-Up Hoodies for All Occasions
By this point, it should be pretty clear that zip-up hoodies are versatile garments that can be made appropriate for virtually any occasion. The tips listed above provide some solid guidance on how to style your hoodies to create specific looks, but there are also some general guidelines that you should keep in mind when shopping for and styling hooded sweatshirts:
Stick with Timeless Designs
Specific trends come and go, but some styles are timeless. Don't waste time (or money) chasing trends when you can invest in basic blank hoodies that will last for several years. Choose colors that coordinate with the rest of your wardrobe, too, to get the most bang for your buck.
Size Matters
It's one thing to wear a huge oversized hoodie when you're curled up on the couch or hanging out with friends. If you are heading to work, though, or are trying to avoid looking sloppy, a fitted hoodie will keep you looking sharp.
Choose Quality Materials
Hoodies can be made from many different fabrics. When you are shopping, look for ones that are made from cotton or cotton/polyester blends. These high-quality materials are comfortable and durable, so you'll love wearing them and won't have to worry about them falling apart after just a few washes.
Keep It Simple
Unless you are going to a game or hanging out on a college campus, university and team logos don't need to be emblazoned across your chest. The same goes for funny pictures or sayings, bold designer logos, band names, etc. If you want to look stylish and put together, choose blank hoodies. Trust us, blank styles are much more mature looking and more appropriate for a wide range of situations.
The Bottom Line
Hooded sweatshirts are wardrobe staples, and everyone should have at least a few of them in their closet. While pullover styles are often regarded as the comfiest options because they're so perfect to snuggle up in, zippered styles offer a higher level of versatility. Zip-up hoodies come in several different weights, colors and styles, so it's easy to find one that is perfect for every preference and occasion. Whether you prefer wearing them when you're running errands or hanging out at home or you are want to create outfits that are perfect for your office's business casual wardrobe, there is no limit to the number of ways in which to wear a zip-up hoodie.
If you are in the market for high-quality zip-up hooded sweatshirts that won't break your budget, trust The Adair Group. We carry hoodies for men and women in several different colors, sizes and styles, and we are sure to have something that you'll love! Check out our full collection of hoodies and other garments, including wholesale hats and t-shirts, today!