The Benefits of Buying Wholesale Apparel from The Adair Group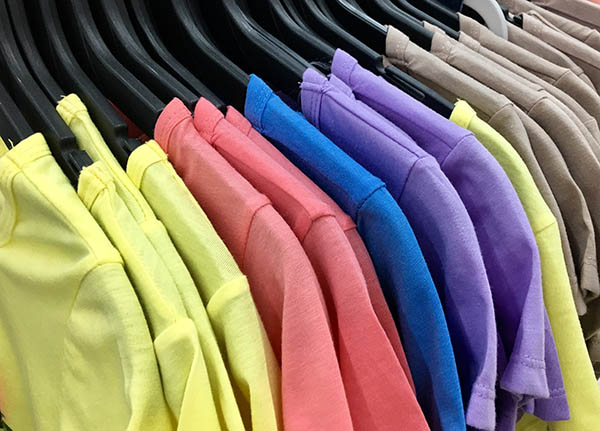 There are hundreds of t-shirt and clothing websites claiming to offer the best stock of cheap t-shirts at the best prices. With so many sites and stores out there, why should you trust The Adair Group with your order?
We Keep Our Promises
Other sites claim to have a huge range of different sizes and styles of wholesale t-shirts in stock ready to ship to you. Unfortunately, most of the time this isn't the case. Most of these sites are just "drop shippers"—virtual stores that wait for orders to come in and then buy from the manufacturer and ship the order to you.
When you get your order, it might end up being what you requested or it might be a totally different size or the wrong color. If that's the case, getting a refund may be difficult because they probably never even saw the shirt you ordered, as it went straight from the manufacturer to you.
At The Adair Group, we only advertise stock we hold in our warehouse. That means if you order a dozen medium polo shirts in navy, then that's exactly what you'll get. We process your order, check for quality, and ship them straight out to you. No time wasted waiting for the manufacturer and no chance of getting the order wrong. Why would you do it any other way?
We Won't Be Beaten on Price
We buy our cheap t-shirts in bulk from a selection of top manufacturers. This means we receive a big discount on the t-shirts, polos, sweatshirts, and other items we carry, and we pass those savings on to you. We sell the same (or better) products as the other stores in the market, but our business model means we can offer a great reduction in price for you, the customer.
We're confident you won't find better deals anywhere else. That's why The Adair Group offers a fantastic best price guarantee where we will refund you the difference if you find our products available anywhere else for a lower price!
Irregulars
The Adair Group is the go-to name for discount t-shirts. We specialize in irregulars, which are t-shirts with slight abnormalities in color or specifications which occur as part of the manufacturing process. Most of these differences are completely un-noticeable, but they mean manufacturers can't sell them as top-quality.
We buy these shirts and then sell them on to you at incredible bargain prices, often as low as one or two dollars per shirt. This means you get your wholesale t-shirts and polos at the best prices on the market. All our irregulars are inspected for quality before shipping so you can rest assured you aren't getting poor-quality products—just great prices!
Variety
The Adair Group offers a huge selection of products, from plain white t-shirts to plain colored shirts, cheap hoodies, hats, underwear, and much more. We stock trusted brands like Gildan t-shirts, Hanes, Delta, and Kajpac, so you know you are getting the best quality at the best prices.
Our t-shirts are perfect for all kinds of uses, whether you're putting on a children's party and want to make matching shirts for everyone, or creating custom shirts for your business or trade show. Our shirts are easy to customize with your own logos, prints, and designs, and our range of colors and sizes means we offer something for every need.
Our plain white shirts are perfect for tie-dying, too, so if you want to try out a cool retro look, pick up some value shirts and give it a go! We also offer a great selection of pre-tie-dyed shirts for kids and adults perfect for parties and gatherings of all kinds.
We Are a Trusted Name
For over 50 years, customers have been relying on The Adair Group for all of their wholesale t-shirt and clothing needs. As a family-run business, we take our reputation seriously, and we want to make sure people continue to trust us in the years to come by supplying only the best quality products at the best value prices.
We are committed to great customer service and want to make your buying experience as easy and friendly as possible. We understand you need your order as soon as possible and make sure your shirts arrive in plenty of time for your event or party. So, whatever you need your shirts, hats, or hoodies for, The Adair Group provides superb quality merchandise at a great price and extraordinary customer service.