The Athlete's Guide to Wholesale Apparel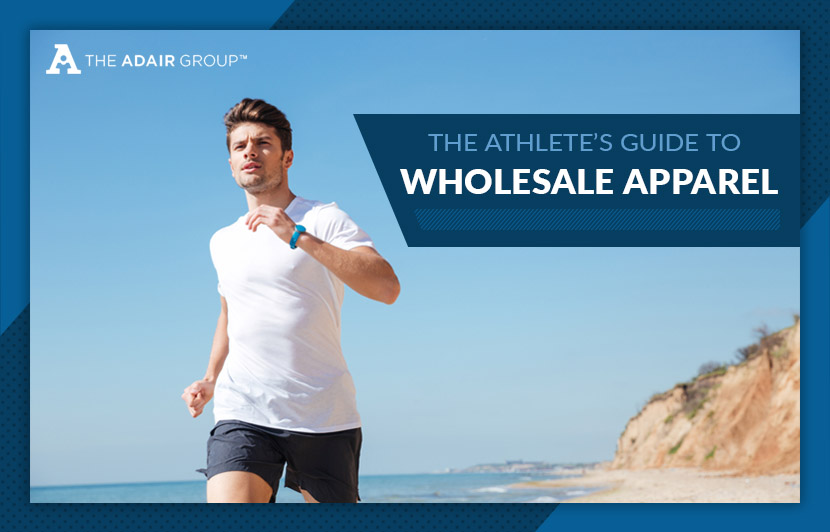 According to experts, the wholesale athletic wear industry is on the rise. Demand is high for gear from brands like Under Armour, Adidas and Nike as well as well-known manufacturers like Jerzees, Hanes, Fruit of the Loom and many, many others. And it's just not retailers who are snatching up wholesale athletic apparel. Team managers, coaches and everyday athletes are cashing in, too. By buying in bulk, they can snag great deals on products from trusted brands and manufacturers. They're also able to outfit entire teams and organizations at a fraction of the cost of retail.
As an athlete, you may have wondered whether shopping for wholesale apparel is right for your needs. You've likely debated whether you could actually save money if you are buying, say, by the dozen rather than purchasing thousands of items at a time. You might have also been curious as to whether you could buy wholesale athletic wear when you don't have a reseller ID or resale license.
Whether you're the football coach at the local high school, teach little kids how to play tee ball or even just someone who enjoys getting out and enjoying a good run or a game of golf, you could benefit from purchasing wholesale athletic apparel. Keep reading to learn more.
Who Can Buy Wholesale Apparel?
It is a common misconception that you can only buy wholesale garments if you are a reseller. Many people also believe that in order to get wholesale pricing, you need to purchase thousands of the same item.
In reality, anyone can buy wholesale gear, and you can get the best prices when buying in quantities of as few as 12. Keep in mind, though, that there are exceptions. If you are trying to score wholesale gear directly from a huge brand like Nike, you will probably need to have a reseller ID, and you'll likely need to buy in pretty large quantities.
If you are shopping for yourself or a local team, though, you can get great deals by ordering from vendors like The Adair Group. We offer industry-leading pricing on wholesale sports gear, and we do not require our buyers to have resale numbers or permits. And since we sell by the dozen, we make it easy to get the athletic apparel you need–even when you don't need huge quantities.
The Growth of the Wholesale Athletic Apparel Market
If you are an athlete, you are already familiar with athletic apparel and what it does. In short, it is designed to ensure comfort and maximize range of motion for the wearer. It is often made from fabrics that regulate temperature and wick moisture away from the wearer's skin.
Athletic wear is broken down into two broad categories. There is the gear that is intended to be worn to the gym and while working out, and there are the garments that are designed for specific activities, such as team sports, running, etc.
Globally, the athletic apparel wholesale market is predicted to experience significant growth. This growth is expected to be driven by growth in eCommerce, a growing middle-class population, economic growth, growth in the youth population and increasing participation in fitness activities and sports.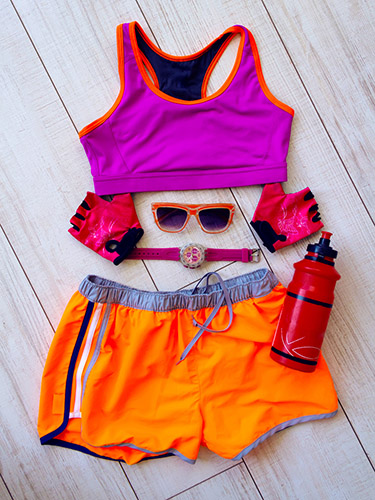 This is all great news for retailers. Even if you don't sell clothing, though, this can be good news because it means that wholesale athletic wear is expected to become increasingly available. There is a high demand for it, so manufacturers will keep making it available. This means that you will be able to find exactly what you need for yourself or your team. In fact, it's likely that, in the coming years, you will have more options than ever before.
Reasons to Choose Wholesale Athletic Apparel
Not sure whether wholesale athletic apparel is right for you? We can help. We have found that there are several benefits to buying in bulk rather than heading to your local sporting goods store and shopping retail. It doesn't matter if you are a dedicated coach, a member of a team or even just someone who enjoys a good workout, there are plenty of reasons to choose wholesale athletic apparel.
Cost Savings
Let's start with the most basic reason to buy wholesale apparel: It's inexpensive. For the cost of purchasing a single t-shirt from your favorite retailer, you may be able to stock up on a dozen of them from a wholesaler. This applies even if you are just purchasing a dozen or so shirts and not thousands. Buying in relatively small bulk quantities can still save you a significant amount of money.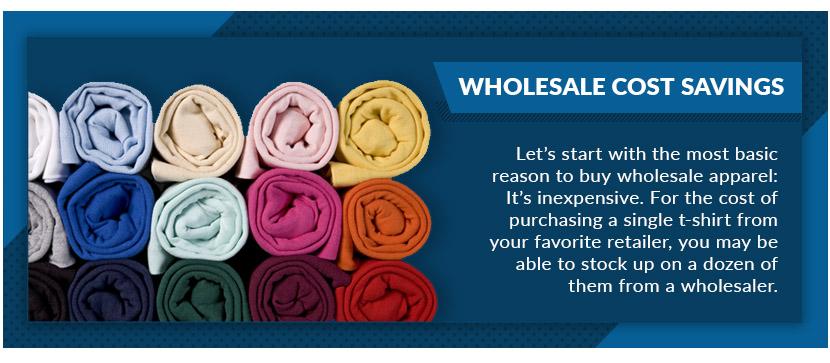 If you are shopping for yourself, this means you can fill your wardrobe with plenty of gear to last you a week or two without needing to do laundry—the environment will thank you. And if you are shopping for a team, you'll be able to outfit everyone at an affordable price. If you require team members to pay for their gear, you can buy wholesale sweatshirts or t-shirts and mark up the price slightly when delivering them to team members to make some extra money for your organization. You could even buy extras and use them as a fundraiser. Even local sports fans love having team apparel to wear, and by purchasing wholesale sweatshirts and t-shirts, you can give them what they want at an affordable price.
Selection
Head to your local sporting goods store in search of a t-shirt in a specific color, and you are likely to leave disappointed. Even the largest stores can only fit so many products on their shelves and racks, and if you are looking for a color that isn't currently in style, you may not be able to find it locally. You may also struggle if you are trying to find a specific size or style.
By ordering wholesale athletic apparel online, you can avoid these problems. Vendors like The Adair Group have warehouses that are filled with apparel in every size, color and style you could possibly imagine. With such a vast selection, it's almost impossible to not find what you are looking for. Retail stores can't compete with the vast quantities that can be stored in warehouses.
Consistency
If you are responsible for outfitting a team, you want everyone to look great. Dressing everyone up in uniforms makes players identifiable, and it creates unity. Your efforts will fall flat, though, if everyone's outfits don't look the same. Buying wholesale means that you can order large quantities of identical products at the same time. This creates a much more unified look than you can achieve when trying to source, say, t-shirts from multiple vendors.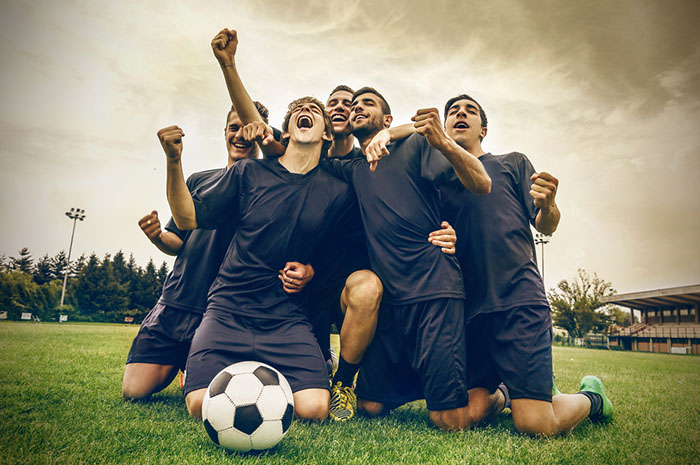 Order t-shirts for your team of tee ball-playing tots or order sweats for your teammates to wear to swim meets. If you and a group of friends are planning on a running a 5K or competing in a marathon together, you could even order matching shirts for everyone in your group to wear. Comradery is a big part of any team sport, and creating unity by outfitting everyone in the same gear is a great place to start.
What to Look for in Wholesale Athletic Apparel
By this point, you have probably decided that you, too, could benefit from investing in wholesale athletic apparel. You may not be entirely sure what to look for, though. Don't worry–we have you covered.
First off, consider your needs. Wholesale apparel comes in many different forms, including t-shirts, sweatshirts, sweat pants, tank tops, polos and even underwear. Before you set out to place an order, consider the types of clothing that are typically worn for your sport of choice. If you are looking for uniforms for a high school golf team, for example, you would probably want to invest in wholesale polos. If you're looking for gear to wear to the gym, you'll likely need t-shirts or tanks. If you want something for your track or swim team to wear to meets, sweats are always an excellent way to go. Having a solid idea of the type of clothing you need is extremely important and will guide your buying decisions.
Consider fabric options, too. Working out or participating in a sport typically involves getting hot and sweaty, so you'll want to choose clothing that wicks away moisture and helps keep wearers cool. Clothing made from 100 percent cotton breathes well and is lightweight, but it isn't necessarily the best option for athletes. Because it's so absorbent, it can get weighed down by your own sweat and leave you feeling sticky and uncomfortable.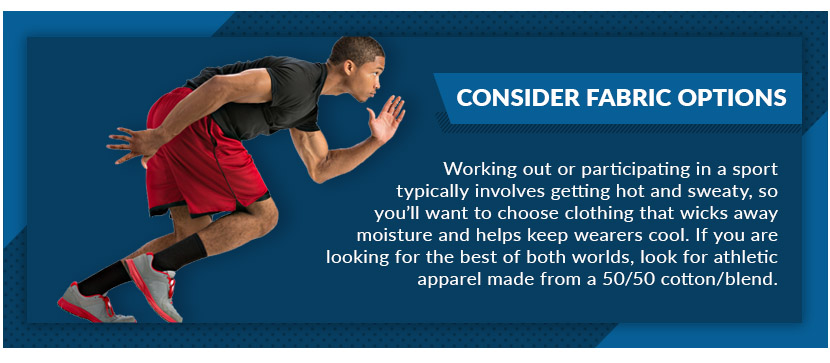 Many athletes wear garments made from 100 percent polyester because it wicks sweat away from the body and allows it to evaporate quickly. This helps you stay dry. Polyester also does not wrinkle, so it looks great when worn. Unfortunately, though, this material doesn't breathe well.
If you are looking for the best of both worlds, look for athletic apparel made from a 50/50 cotton/blend. This fabric has the breathability and softness of cotton and the moisture-wicking and wrinkle-resistant properties of polyester. It's super durable, too. There are also other performance fabrics that are designed specifically for use by athletes. Take some time to check out the options and read some reviews to determine which materials are right for you.
Be mindful of brands. While you don't always need to buy gear from the most expensive brands on the market, it's smart to stick with trusted brands and manufacturers. Companies like Hanes, Anvil and Comfort Colors offer high-quality, affordable products that are ideal for even the most discerning athletes.
Making Wholesale Athletic Apparel Your Own
When you purchase wholesale athletic apparel from a vendor like The Adair Group, the products you buy arrive blank. There are, however, several ways to customize them for yourself or your team. If you are outfitting a team, a local screen-printing company should be able to customize your gear for you at an affordable rate. If you have access to a vinyl cutter, you can also decorate your own shirts.
For informal situations, you can always add your name, a design or a saying to a blank shirt or pair of pants using puffy paint or fabric markers. You can even use inkjet iron-on transfers to customize your wholesale gear. The options are truly limitless. With a bit of creativity, there are all sorts of ways to customize wholesale athletic apparel for a wide range of purposes.
Conclusion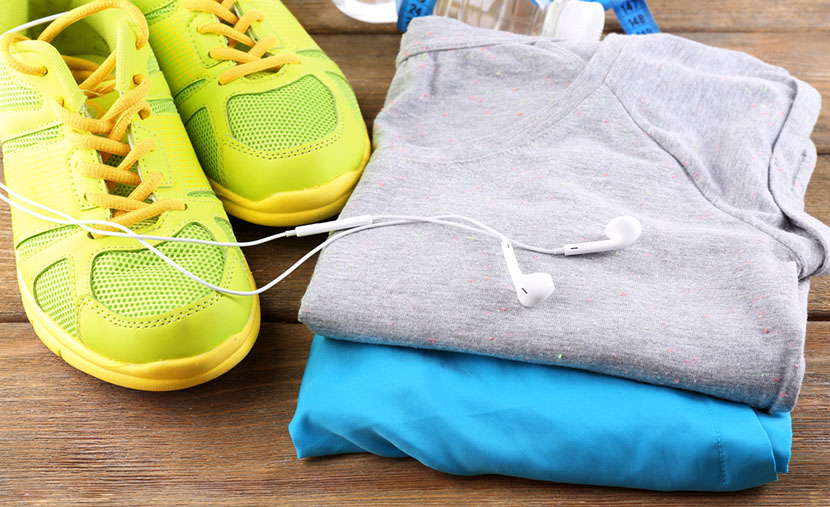 If you are an athlete, investing in wholesale apparel could be a great decision. You can make your own life easier by stocking up on enough gear to get yourself through several days of workouts in between washes. You can also get a great deal on the apparel you need to power up your run or your trip to the gym.
As a coach or someone who is involved in team sports, buying wholesale athletic apparel is a great way to save money on uniforms and keep the entire team looking great. You can even use it as the basis for a fundraiser to earn some extra money for your organization.
At The Adair Group, we have the wholesale athletic apparel you need. We carry a wide range of top-quality products from leading manufacturers, and we proudly stand behind everything we sell. Browse our selection today and please feel free to reach out to us if you have any questions. We look forward to providing for all of your wholesale athletic wear needs!