Sublimation vs. DTG (Direct-to-Garment) Printing
As the owner of a small garment customization business, there are several printing techniques from which to choose. Whether you are just getting started and looking for the most budget-friendly method or you are thinking about investing in new equipment to take your business to the next level, two of the methods you'll need to consider are sublimation and direct-to-garment (DTG) printing. These techniques are quickly growing in popularity and can help you increase production without sacrificing quality.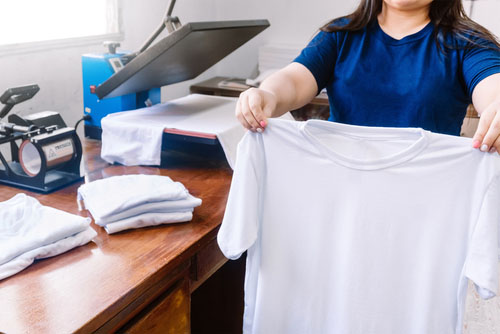 Source: Djavan Rodriguez/Shutterstock.com
Both sublimation and DTG printing offer numerous advantages, but there are some disadvantages you should be aware of, too. Before choosing one for your business of customizing bulk wholesale t-shirts, read this blog post to uncover some helpful information. 
Shop Blank Wholesale T-Shirts for Your Business From The Adair Group
Sublimation Printing
Dye-sublimation printing is a process in which a design is printed on special paper and then transferred onto a shirt or another garment. The image is transferred via a chemical process in which the solid ink bypasses the liquid state and becomes a gas. This process is triggered by applying heat. When the heat is removed, the gas becomes solid again. 
You can only use this printing method to print on polyester and polymer-coated substrates. If you prefer wholesale hats and t-shirts made from natural fibers like cotton, this method might not be suitable for you. 
Sublimation printing allows for incredibly smooth tones and is the best option for photography designs. There is simply no better method for creating realistic results. In this printing method, the ink is fused with the fabric rather than sitting on top. This ensures that the design will last through hundreds of washes without fading. 
This method of customization is excellent for small runs of 20 garments or less. Because the design first needs to be printed on special transfer paper, it is slower than direct-to-garment printing. When you need continuous tone printing and photo-quality artwork, though, there's nothing better than sublimation. 
Direct-to-Garment (DTG) Printing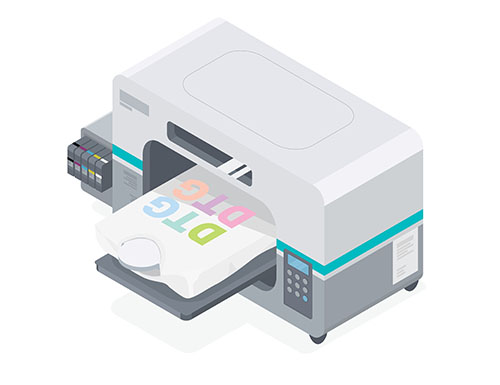 Source: Allahfoto/Shutterstock.com
As the name indicates, direct-to-garment printing involves adding images directly to apparel using a special printer. DTG printing is second only to screen printing in terms of popularity and allows you to create detailed and colorful designs. The process is similar to using a regular inkjet printer to print on paper. However, the difference is that a DTG printer is designed to print directly on t-shirts and other garments using water-based inks that are absorbed by the fabric. 
DTG printed apparel holds up through numerous washings and remains vibrant for years. And speaking of vibrancy… DTG printers allow you to print shirts with designs featuring more than 16 million colors in a single pass. The ink dries almost instantly, too, so there's no need to worry about smudges or smears. 
You can use DTG printing to customize a wide range of natural fibers and blends. You can print on any color, too, so you can even use this method to customize tie dye shirts. As long as the substrate can lie flat, you can customize it using a DTG printer. 
For runs of less than 100 shirts, DTG printing is generally more cost-effective than screen printing. This printing method is fast, too. Instead of taking several hours to set up and prepare to screen print a shirt, you'll be able to print using the DTG method in minutes. 
Which Is Best for Small to Medium-Sized Businesses?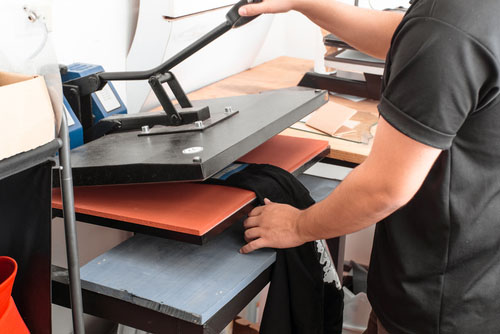 Source: Djavan Rodriguez/Shutterstock.com
When you own a small to medium-sized business, decisions are generally based on the cost of the initial investment and the overall cost-effectiveness of the equipment.  Whether you choose to offer DTG or sublimation printing, you will be able to provide cost-effective services for small runs. Both technologies are relatively affordable, but you will likely need to spend more upfront for a DTG printer than a sublimation printer. 
Learn About Sublimation vs. Screen Printing
Both methods work well for creating high-quality products that will please even your most picky customers. However, keep in mind that sublimation is the better option for printing highly detailed designs and photographs. This method does require more time, though, and you will need to invest in a heat press in addition to your sublimation printer, paper, etc. 
Whether you are thinking about starting a business or expanding your current business, investing in either DTG or sublimation printing equipment would be a solid investment. Consider your business goals and the pros and cons listed above to determine which one is right for you.