Style Notes: How to Wear a Blank Hoodie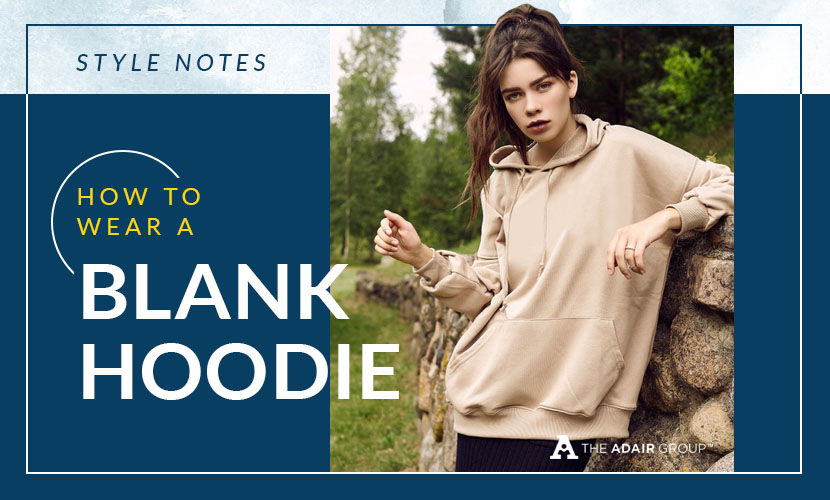 Much like your favorite bulk t-shirts, a blank hoodie is something that never goes out of style. Hooded sweatshirts can be dressed up or dressed down, and they are the perfect option when you are looking for an outer layer on a day when it's too warm for a jacket but too cool to go out in just a tee. Endlessly versatile, blank hooded sweatshirts come in a wide variety of colors, styles and weights, and they are must-have components of athleisure and streetwear. However, the right hoodie will fit into virtually any aesthetic and work for most occasions.
Whether you are looking for something cozy to wear on your weekly grocery run, searching for a stylish but comfortable outer layer for work or seeking the perfect attire for a casual night out, you can never go wrong with a hoodie. And when you buy wholesale hoodies, you can stock up on stylish apparel for every occasion without breaking the bank.
There is really no "wrong" way to style a hooded sweatshirt, but if you want to rock your hoodie, we have a few tips to help you out. Keep reading to learn how to wear a blank hoodie and look your best!
Shop Wholesale Hoodies from The Adair Group!
The History of the Humble Hoodie
Before we dive into the best ways to style your favorite sweatshirt, let's take a moment to discuss its origins. It should come as no surprise that this wardrobe staple was first designed for athletes. In fact, the first hooded sweatshirt was manufactured by Champion Products — the same Champion brand consumers know and love today — all the way back in the 1930s.
The first hooded sweatshirt was designed to help athletes stay warm on cold, rainy days. But since then, it has become a favorite among everyone, from angsty teens to the most fashionable fashionistas.
For a while, hoodies had a bit of a bad reputation, but they have enjoyed a considerable comeback over the last several years. Today, just about everyone has at least one hanging in their closet, but most folks have several. From the hooded bulk sweatshirts you can order from us, here at The Adair Group, to luxury styles from the heavy hitters of the fashion industry — including Versace and Balenciaga — there's a hoodie for every taste and every budget.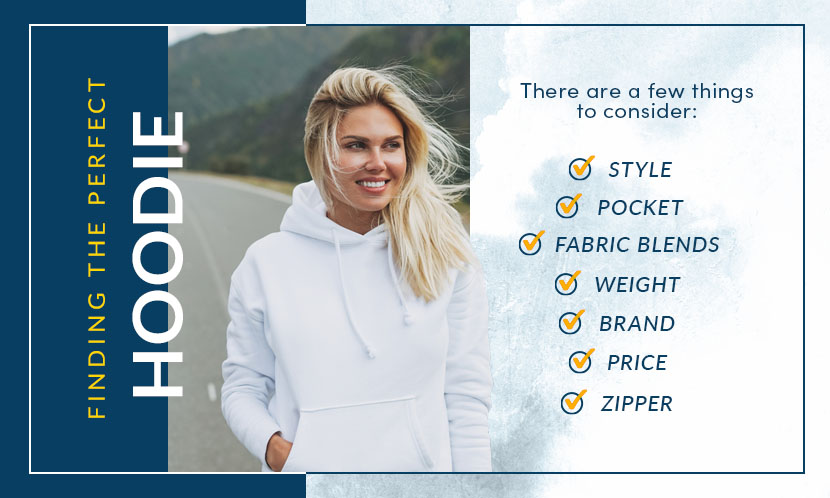 Finding the Perfect Hoodie
You probably already have a hoodie or two hanging in your closet, but when you are trying to give your style a facelift, you might want to invest in some new ones. Or maybe the sweatshirts you own have already seen lots of wear and tear. Whatever the case may be, there's never really a bad reason to shop for new blank hoodies.
Before you click "Add to Cart," there are a few things to consider. First, are you in the market for a pullover hoodie or a zip-up style? Pullovers are the best option when your main goal is to stay comfy and cozy all day long. Plus, they have a kangaroo pocket that's large enough for both of your hands. It's a perfect place to stash your phone, wallet, keys and other valuables and accessories too. All in all, pullover hooded sweatshirts are the quintessential athleisure top, and they're great for the gym, lazy days at home and casual evenings out on the town.
If you are looking for something that's a bit more tailored, the zip-up style may be a better choice. Zippered hoodies often fit closer to the body for a more streamlined appearance. They also pair well with other garments to create outfits that are appropriate for work, date nights and more. Of course, they still work great as casual wear, too, and they're just as comfortable and cozy as their non-zippered counterparts.
Weight is another appropriate consideration. Heavyweight sweatshirts are your best bet when you are looking for something that will keep you nice and toasty on cold winter days. Some heavyweight hoodies are even warm enough to rival jackets in terms of coziness and protection from the elements.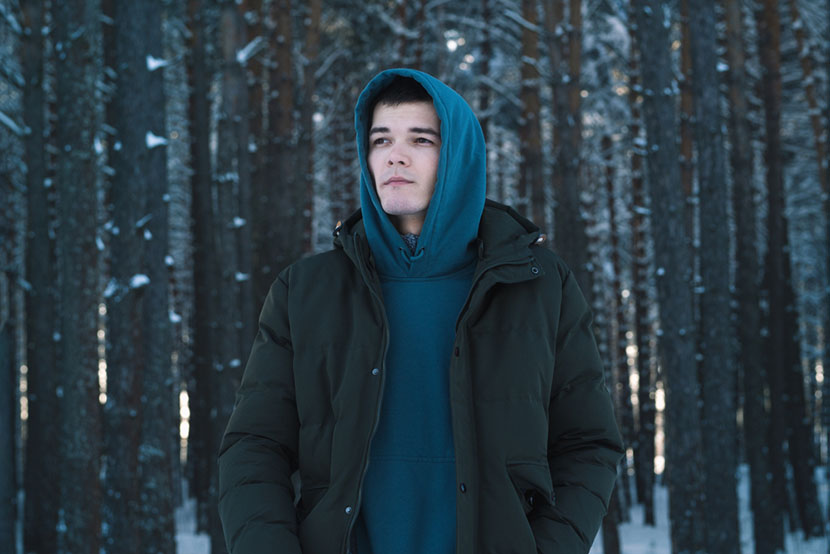 A lightweight hoodie may be a better option if you are in the market for something you can put on to stay warm when the office air conditioner is cranked up just a little too high. Lightweight styles are much less bulky, too, making it easier to create a stylish, streamlined look.
Brand and price shouldn't necessarily be your primary concerns, but both are worth considering. Even if you don't have the disposable income to buy designer hoodies that cost hundreds of dollars, you can still look stylish in sweatshirts from trusted brands like Jerzees, Gildan, Dodge and Alstyle. Products from these brands are of the highest quality and, thanks to their low prices, you can fill your closet with them without blowing your budget.
Pay close attention to fabric blends. Hooded sweatshirts made from cotton and polyester blends are the most comfortable, durable and versatile option. They combine the softness of cotton with the durability and smoothness of polyester to form garments that feel as good as they look.
Hoodies made from 100-percent cotton are cozy, but they are more susceptible to damage and shrinkage. For most applications, cotton/polyester blends are the safest bet. There is one exception, though. Go with cotton if you're thinking about buying wholesale hoodies or white t-shirts for tie dye. Cotton absorbs color better than any other material, so it is the best material for tie dye.
Styling Your Hooded Sweatshirt
Blank hoodies are endlessly stylish. Because they do not feature any logos, text or graphics, they go with just about everything. This makes them appropriate for a wide range of situations, too. Since there's no wrong way to wear a hoodie, you can easily get away with throwing one on over just about any outfit. There are, however, a few ways to elevate your look and establish yourself as someone with good fashion sense.
Layered Looks
Dressing in layers is the perfect solution to days that start chilly and get warm later in the day. It's also an excellent option if you work in a cool office or spend your day in multiple environments. With layers, you can easily remove or add clothing to stay comfortable all day long.
A zip-up hoodie is an ideal outer layer when putting together a versatile layered look. Wear it over a plain t-shirt for a classic, stylish look or pair it with a button-down shirt for a business-casual look that's perfect for the office. For maximum style, go with a neutral-colored hoodie. Black and navy blue are both great options.
If you're going for an edgier look, try wearing a hoodie under a denim jacket. You can also pair a hooded sweatshirt with a parka, peacoat or bomber jacket on those frigid days.
Complete your outfit with a pair of tailored jeans or dress slacks for a polished, sophisticated look. Or keep things casual with your favorite shorts or cargo pants. Experiment with different wardrobe pieces, and you should be able to put together several layered looks for various occasions.
Athleisure Style
The athletic look isn't just for athletes anymore. It's for anyone who wants to stay comfortable all day and look great while doing it! Athleisure has been having a massive moment over the last few years, and this trend doesn't appear to be going anywhere anytime soon. In fact, it seems to be getting bigger and bigger with each passing year.
Today's athleisure looks are much more refined than pairing baggy hoodies with saggy sweatpants, though. When you are trying to put together a look that exudes comfort, confidence and coolness, you don't want a sloppy outfit that looks like you forgot to change out of your workout gear.
Instead, start with a slim-fit, heavyweight hooded sweatshirt. For this look, pullovers and zippered hoodies both work well. The key is choosing one that fits you well rather than hanging off your frame. For bottoms, go with some nice fitted joggers. Keep things simple and monochromatic with an all-black look or spice things up a bit by pairing a brightly colored hoodie with black joggers. Vibrant sneakers are a great way to add a burst of color.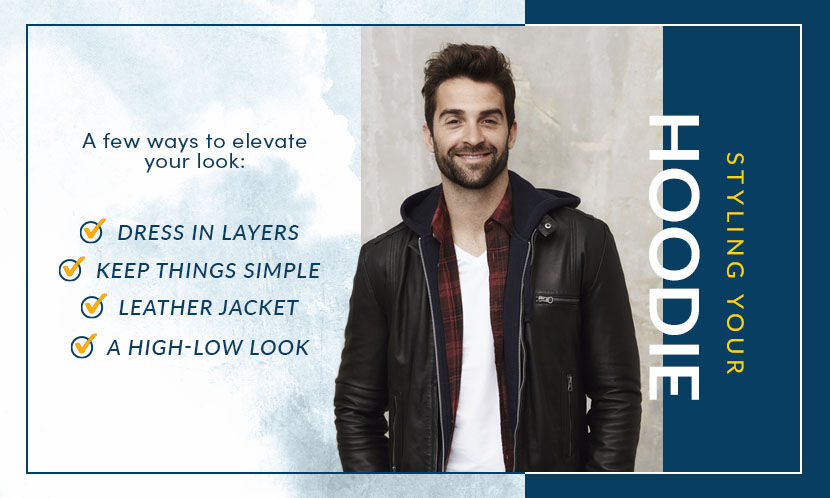 Under a Leather Jacket
It may seem like an unusual pairing, but hoodies and leather jackets go great together. It's a fashion-forward look that works season after season and a great way to show that you really know how to rock a hooded sweatshirt in an edgy, sophisticated way.
Start with a well-fitting zip-up hooded sweatshirt, and then add a black leather jacket. For maximum oomph, wear slim-fitting black or indigo jeans. Leather or suede boots are your best bet when it comes to footwear for this look.
As Part of a High-Low Look
Fashion has shifted more toward streetwear and casual attire in recent years, so it shouldn't come as much of a surprise that people are increasingly combining formal wear with more casual apparel. High-low dressing refers to the trend of mixing and matching casual and formal attire in a manner that makes dress clothes less stuffy and casual wear less relaxed.
Finding the perfect balance is tricky when crafting high-low looks, but a nice blank hoodie is always a good place to start. When you need an outfit that's sharp yet cozy, try pairing a mid-weight hooded sweatshirt with a suit and sneakers (instead of your usual dress shoes). Or, if you're trying to keep things a bit simpler, ditch the suit coat and wear your hoodie with a pair of tailored trousers. If you are feeling especially brave, you could even try wearing bottoms with a print like checks or stripes.
Crafting the perfect high-low look takes practice, and it might feel "wrong" at first. The key is to ensure that even the casual components are of high quality and in good condition. You don't want to pair your dress slacks with a ratty old band hoodie you got while you were still in high school!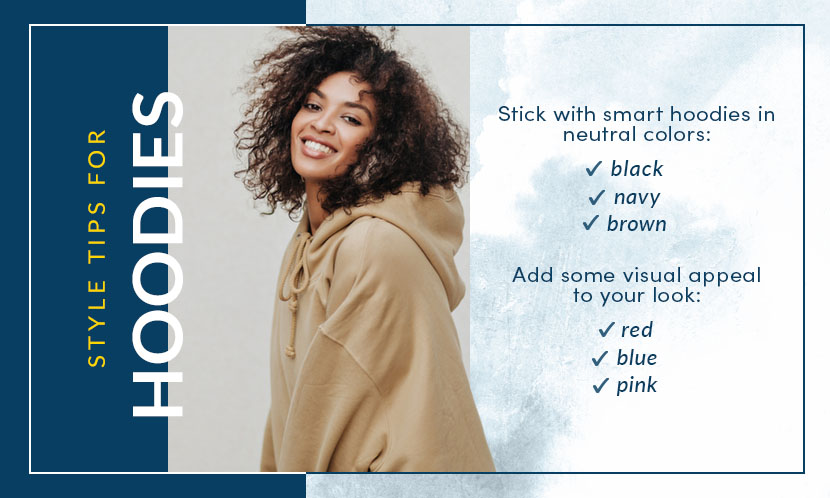 A Few General Tips
Styling your hoodie the right way means not looking like an overgrown adolescent. Unless you're just hanging out at home on the sofa, leave the shirts emblazoned with university emblems, band names, and other graphics in your closet. Instead, stick with smart hoodies in neutral colors like black, navy, blue, gray and brown. When you want to add some visual appeal to your look, red, blue and pink are good options. Just be sure to pair them with more neutral-colored bottoms.
They may be comfy, but oversized hoodies are more sloppy than stylish. Fitted hoodies are much more fashionable and ensure that you'll feel and look great all day long.
Save the faded and holey hoodies for yard work and lazy Saturdays at home. If you're trying to make a fashion statement, we recommend stocking up on new wholesale hoodies. In doing so, you'll be filling your closet with fashion-forward staples without emptying your bank account.
Shop Our Selection of Hooded Sweatshirts, Blank T Shirts and More.
Conclusion
Once you know how to wear a blank hoodie, you can easily transform this humble garment into the basis of a stylish outfit that's suitable for any occasion. Like most looks, it may take some experimentation to get it right. Try pairing your hoodies with tailored denim, dress slacks, trendy jackets and other stylish pieces from your wardrobe to create a look that is completely your own.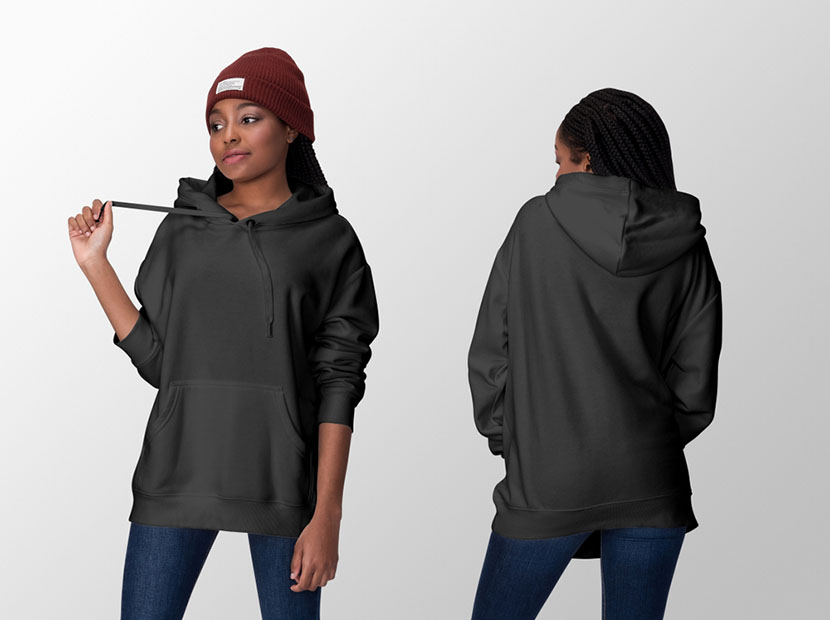 And if you don't have nice, well-fitting hooded sweatshirts, we have you covered! Shop The Adair Group today to find stylish pullover and zip-up hoodies from leading brands like Gildan, Jerzees and more!
Image Credits
the stock company/Shutterstock.com
one AND only/Shutterstock.com
Galina Zhigalova/Shutterstock.com
Look Studio/Shutterstock.com
Alex Volot/Shutterstock.com
Mockup Cloud/Shutterstock.com
PavelKant/Shutterstock.com
WAYHOME studio/Shutterstock.com