So, You're in Charge of the Bachelorette Party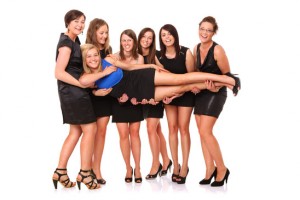 It seemed like a good idea at the time, when your bestie asked you to be her maid of honor. Little did you know the enormity of the challenges that awaited you, not the least of which is the bachelorette party. This milestone celebration is the send-off from the single life to a whole new world, so you have to get it right.
Never fear! The Internet is full of great ideas to get you going – 25 Ways to Throw an Awesome Bachelorette Party, 14 Fun Bachelorette Party Ideas and Themes, 10 New Bachelorette Party Ideas – and the list goes on.
The one thing they all have in common, though, is making your guests recognizable to everyone else and to each other. Here are some winning ideas to make your girls stand out from the crowd, no matter what your venue, theme, or activity.
Hats
Hats are a versatile choice for any bachelorette party. Throwing a beach party? Ventilated trucker hats printed with Bride and Bride's Crew make a cool choice in more ways than one. Neon hats embroidered One last ride for the bride work fabulously for a craft brew pub crawl by bicycle. A structured cap with Bride and Bride's Posse has the versatility of daytime or nighttime partying.
Other options like cowgirl hats, sailor caps, wide-brimmed sunhats, or even captain's hats can also be personalized for your special celebration. If you'd rather go with t-shirts for your unifying concept, but need some sun protection, print your slogans on shirts and leave the hats blank. Your bridesmaids will be able to use them again and again.
T-Shirts
If you're going with the traditional nighttime "get the bride tanked" party, t-shirts are the most popular bachelorette party gear. A simple Google image search will return more bachelorette slogan ideas than you'll know what to do with. Capped sleeved t-shirts, tank tops, and camisoles are the most popular, but, if your bride is having a fall or winter wedding, long sleeves will keep the party heated.
Help us tank her before she drops anchor is a popular choice for tank top tees. Other favorites are Bachelorette party in progress, A night on the town before the gown, and Last fling before the ring. Take the shapes and sizes of the bridesmaids into consideration when you buy your tees, so everyone looks good and feels confident.
Polo Shirts
If your bride is a little less "Put your hands in the air like you just don't care" and more "I'm so fancy, you already know," then bachelorette polo shirts may be a better choice. They're great for farm-to-table brunches, drinks on a sunset sail, post-golf celebrating at the 19th hole, or a wine-tasting tour of the local vineyards.
Collars add just enough formality to keep it classy, but bachelorette slogans like Bride and Bride's Security, Last sail before the veil, Yes, and That's what she said, or Keep Calm, it's a bachelorette party keep it fun. The best part is that they don't have to cost a lot if you buy them wholesale.
Sweatshirts
For the unconventional bride, bachelorette parties are sure to be the best time you've ever had with your girls. You have so many choices – go camping, play paintball, find treasures by geocaching, skydive, bungee jump, hike, take a road trip, go whitewater rafting – oh, the things you'll do!
Sweatshirts will keep the bridesmaids cozy as they race around the woods or huddle around a bonfire. Use the bride's wedding colors, pick safety green, or keep it durable black. Add a sassy saying like Raising hell before the wedding bells, Bridesmaids be crazy, Girls just wanna have fun, or Game Over bachelorette party. You can choose crewneck style to keep it simple, or go with a pullover hoodie or popular zip hoodie.
Glamwear
Of course, there's always the option to go glam. For a night out at the club, wine bar, or martini bar, you'll do your bachelorette party matching differently. Instead of the more casual hats and t-shirts, your crew will break out the little black dresses while the bride wears a contrasting color. You could have everyone wear their favorite cocktail dress, and hand out matching sashes that display your classy maid of honor wit; or give everyone a matching boa, beaded wrist wallet, or other identifying accessory.
No matter which way you go, from classic to unconventional bachelorette party, keep in mind that you are creating a once-in-a-lifetime memory for your bestie bride. No pressure.