What Do I Need to Print T-Shirts at Home? A Checklist
Whether you are trying to give an old t-shirt a second chance at life, you're attempting to promote your brand or you want to emblazon apparel with your own custom artwork, printing t-shirts at home is a good way to get the job done. Printing t-shirts is a relatively simple project, and with the right supplies, it's something that can be done by just about anyone. 
In this blog post, we will go over everything you need to print high-quality blank t-shirts at home. Let's get started! 
A Design
A great t-shirt starts with an awesome design. After all, if you don't have a design in mind, what are you going to print on your t-shirt? This is one of the most fun yet challenging parts of the process. If you're making t-shirts for a business or organization, you need to ensure the design accurately represents your brand. You also need to be careful to avoid creating a design that says the wrong thing. 
Check Out Our Blank T-Shirts So You Can Print at Home
When you're creating clothing for yourself or designing garments to sell, you have a bit more creativity here. Your design can be anything from a piece of your own artwork to a photograph to an abstract design. As long as someone else doesn't own the copyright to the design you would like to print, you're good to go! Whether it's using someone else's design on a shirt or discussing intellectual property infringement and 3D printing, stealing someone else's artwork, design or intellectual property is never okay. 
Make sure the design is of high enough quality to print. It should be relatively large, and it shouldn't be blurry or pixelated. When it comes to printing t-shirts, the sharper the details, the better!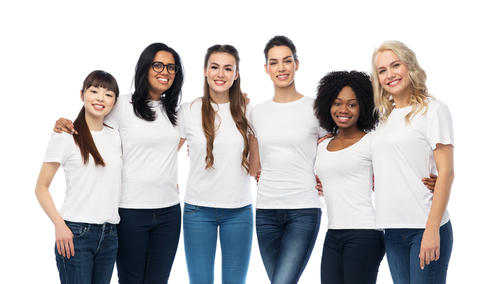 Blank Shirts
When you're planning on printing t-shirts, you–of course–need t-shirts. While you could raid your closet to find plain shirts you no longer wear, shopping online for cheap bulk t-shirts is an easier option. Using brand-new shirts means you don't have to be worried about stains or other types of damage. And if you plan on selling your creations or giving them to other people, you probably shouldn't be using your worn garments. 
Cheap Bulk T-Shirts Make Printing at Home Affordable
Just about any type of shirt can be printed at home. Ones made from cotton are usually your best bet, though. They can withstand high temperatures, and they are easy to work with. If you choose shirts made from a different material, you'll need to devote extra time to learning how to work with them without causing damage. Shirts made from polyester, for example, may melt if you expose them to the same amount of heat as you would use on a cotton shirt. 
A Printing Method
When it comes to printing t-shirts at home, there are a few different options to choose from. Many do-it-yourselfers use inkjet iron-on transfer paper or heat transfer vinyl when creating custom shirts at home. These methods are simple and yield impressive results. 
Screen printing is another option, and if you've ever considered learning how to start a screen printing business, it is a great one to pursue. This method of printing shirts yield high-quality results, and once you get the hang of it, it works really well for customizing large quantities of shirts using the same design. After your initial start-up costs, it can be quite cost-efficient, too. 
Regardless of which printing method you choose, you'll want to make sure you have all of the required supplies prior to getting started. Trust us–few things are worse than getting through a project only to realize you failed to purchase a necessary supply. 
Patience
If you are new to printing t-shirts at home, it might take some practice to get it right. Be patient, and avoid getting upset if your project doesn't turn out flawlessly the first time. We recommend stocking up on t-shirts in bulk before you get started so you have extras to fall back on if you make a mistake.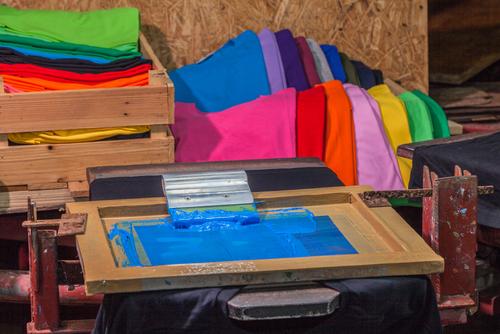 Conclusion
When it comes to printing t-shirts at home, your imagination is really your only limit. But make sure you aren't involved in intellectual property infringement and then have to deal with legality issues. Thanks to the Internet and modern technology, just about anyone can learn various methods of shirt customization and purchase the supplies needed to get the job done at home. While the exact supplies needed varies depending on the type of project, the guidelines presented in this post should serve as a solid jumping-off point to help you get started.