Popular Colors for the Fall Season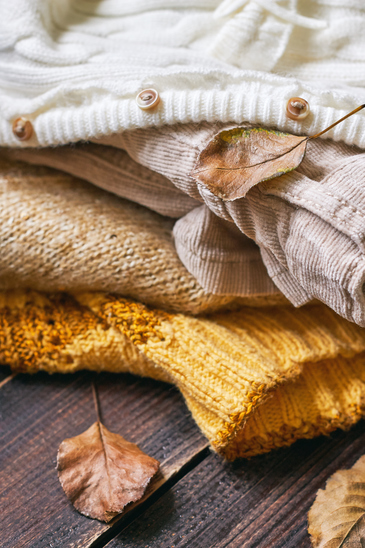 Summer's last breath is slowly fading into autumn's cool whisper. Leaves are rusting and falling, their job as shade completed for the season. Days are shortening, nights are growing longer. Chopped wood for fires during the coldest months is starting to stack up on the side of houses across the U.S. It's time to prepare for the cool and the cold ahead, and your wardrobe is one area where spring and summer colors are no longer hot.
Stay Down to Earth
Fall colors for clothing tend to be earthier in nature. Browns, yellows, oranges, navy—these are just some of the colors that reflect cooler days and nights.
Pantone.com stresses neutral colors. They say, "(Weave) earthy neutrals with a range of bold color statements and patterns to reflect a landscape of hope, fun, fantasy and all things natural. The colors are evocative of a love for nature and a timeless appreciation for warmth and security, which are conveyed through naturally inspired colors that remind us of things that are real and protective."
WeConnectFashion.com says that this fall's colors can be defined in one word: "Terrain," as in "a complete palette of saturated earth tones." They believe that brown will be front and center, once again, as the main color paired with prunes and warm tones like cognac and coppertone. They also note that caramel and toffee are "key to the Terrain palette," while marigold and red rust will deliver a spicy note to your ensemble.
Smooth Terrain
As the name implies, Terrain yields a complete palette of saturated earth tones. This season, brown makes a major comeback, which is reflected not only with roast but also in hues like prune and warmer tones like cognac and coppertone. Both camel and toffee are key to the Terrain palette, positioned as influential outerwear colors. Marigold yellow and red rust add a spice component.
Elle magazine, reporting on fashionable colors for fall 2016, notes that Pantone (considered by many in the fashion world to be the color experts for clothing), is accentuating blues this fall.
Wwd.com notes that "… for the second consecutive season, Pantone has one color forecast for both women and men," further blurring the line between male and female fashions that has been eroding the last few years.
But enough about what the runways say is hip and trendy this fall. What about the 99% of us who just want to wear comfortable clothing that fits the fall season?
Keep Warm
Aura Friedman, colorist at Sally Hershberger's Downtown Salon, says this fall is about warmer, richer tones. Glamour.com believes that "(your) obsession with Starbucks' epic Pumpkin Spice Latte just went to the next level. Nearly every collection featured the muted orange color—and it looked flattering on tons of different skin tones." Who knew that the popular spice would eventually "spice" up fall 2016 clothing styles?
For the average Joe and Jane, colors for fall 2016 styles are, according to Pantone, reflective of "strength, confidence and complexity led by the Blue family and followed by earth tones and exuberant pops of vibrant colors, all of them working well to struggle against the contemporary turbulent life and to bring about a tad more tranquility and optimism around."
What does this mean for us, the average consumer? It means dressing comfortably in shades of browns, blues, oranges, greens, and other earthy shades. It means choosing styles and colors that make you feel seasonal and happy. It means choosing shades that reflect calmness and contentment and you.
In case you need a shortened cheat sheet detailing the top colors for fall 2016, Sonoma Magazine has an easy-to-view, concise guide that gives both the Pantone color and the common color (for those of us who don't have offices on Park Avenue).
For many, fall is the start of the "cozy" time of year, when our world becomes smaller and our adventures happen closer to our homes and our fireplaces. The crisp chill combined with shortened daylight hours is a natural progression, one that heralds the arrival of earthier shades in our clothes and spicier ingredients in our drinks. It's a time to reflect the changing seasons in our food, our drinks, and our clothing. Don't fall for just any colors in your wardrobe this autumn. Choose wisely, and enjoy the season!