How to Use Printable Vinyl for T-Shirts
There are several ways to customize t-shirts. From screen printing and direct-to-garment printing to embroidery, sublimation printing and even fabric markers, the possibilities are virtually limitless. If you are designing shirts for personal use, to give as gifts or for a small business, though, some of these methods may not be time- or cost-effective.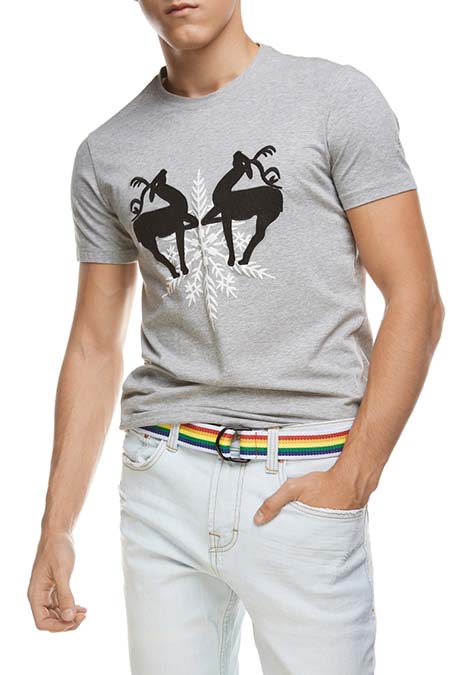 Source: Red Umbrella and Donkey/Shutterstock.com
When you are trying to add a specific design, slogan or anything else to a t-shirt, using printable vinyl is a simple and affordable option. Keep reading to learn how to use printable vinyl t-shirts, and remember: Our blank t-shirts are great for vinyl printing!
What Is Printable Vinyl? 
Printable vinyl is a specialized type of heat transfer vinyl that can be customized using a regular inkjet printer. Regular heat transfer vinyl works great for some designs and text requiring only one color. It isn't so great, though, for more complex designs and photos.
Ready to Get Printing? Order Wholesale T-Shirts at a Low Price Today!
With printable heat transfer vinyl, you can use your regular printer to apply the design of your choice to the vinyl. Then, after cutting, you can use heat to apply the vinyl to a t-shirt. Easy peasy!
How to Use Printable Heat Transfer Vinyl
With this method, it is possible to create beautiful shirts you – or someone else – will be proud to show off. It's important to fully understand the process before you get started, though. It is also vital to choose high-quality printable heat transfer vinyl. Do your homework to choose a good brand before getting started.
Create Your Design
Designs for t-shirts can be drawn by hand and scanned into a computer or created digitally. You can even purchase and download pre-made templates. If you are not creating your own artwork, be mindful of copyright laws. Just because you can print something doesn't mean you can legally print it and apply it to a shirt – especially if you are selling your products.
Print the Design
Before printing the design on vinyl, consider printing out a copy on regular paper. This allows you to see the size and quality and make adjustments as needed. When you're ready to print the actual transfer, load the printable vinyl into your printer, taking care to ensure it is facing the right direction. Read the instructions that came with the vinyl, and adjust your printer settings accordingly.
Cut It Out
Next, load the sheet with the printed design into your vinyl cutter to cut, or trim by hand. Remember, any excess vinyl will be transferred to the shirt, so cut with care!
Heat Up Your Iron or Heat Press
Turn on your iron or heat press, and heat it up to 350 degrees or the temperature specified in the instructions for your printable heat transfer vinyl. Be mindful of where you set up your heat press/iron. Make sure there are no dangling cords – especially if you have children or pets.
Our Blank T-Shirts Are Great Vinyl Printing
Apply the Vinyl to the Shirt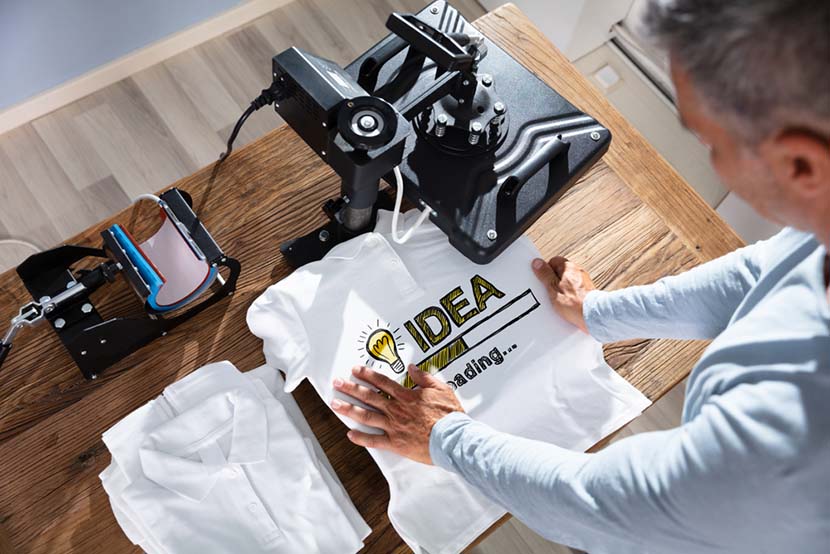 Source: Andrey_Popov/Shutterstock.com
Once your iron or heat press has reached the appropriate temperature, smooth your t-shirt out, and place the printed vinyl in the desired location. Take your time to get the placement just right. Removing vinyl is tricky, so this is something you want to get right the first time!
Next, place the protective sheet included with the vinyl over top of the design. If your vinyl did not come with a protective sheet, a piece of parchment paper works, too. Close the heat press, or use your iron to apply heat and pressure to the design. Check the instructions to determine how long to apply heat.
When the time has elapsed, let the protective sheet or parchment paper cool slightly. Then, carefully lift one corner to make sure the vinyl remains adhered to the shirt. If the design peels up, apply heat for a bit longer and try again.
When the vinyl has fully adhered to the shirt, you're finished.
Uses for Printable Heat Transfer Vinyl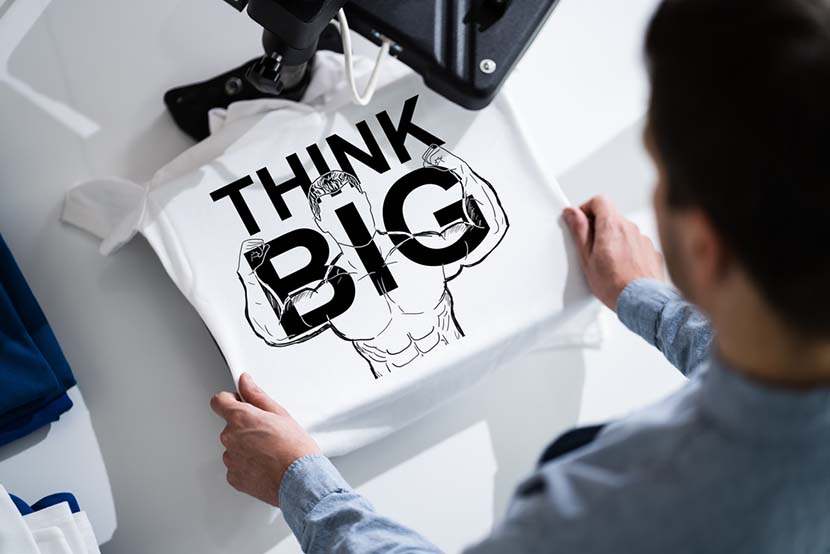 Source: Andrey_Popov/Shutterstock.com
Crafters and small business owners alike love printable heat transfer vinyl because it is so versatile. They can be used to quickly customize shirts for teams or events. Artists use them to put their artwork on apparel, and business owners use them to create simple but professional employee uniforms. If you have a shirt you need to customize, printable vinyl is likely a great way to get the job done.
When you're ready to get started, we have the blank apparel you need right here at The Adair Group. Our blank t-shirts are great for vinyl printing. Shop today to find the shirts you need at prices you can afford!