How to Start a Screen Printing Business: The Ultimate Guide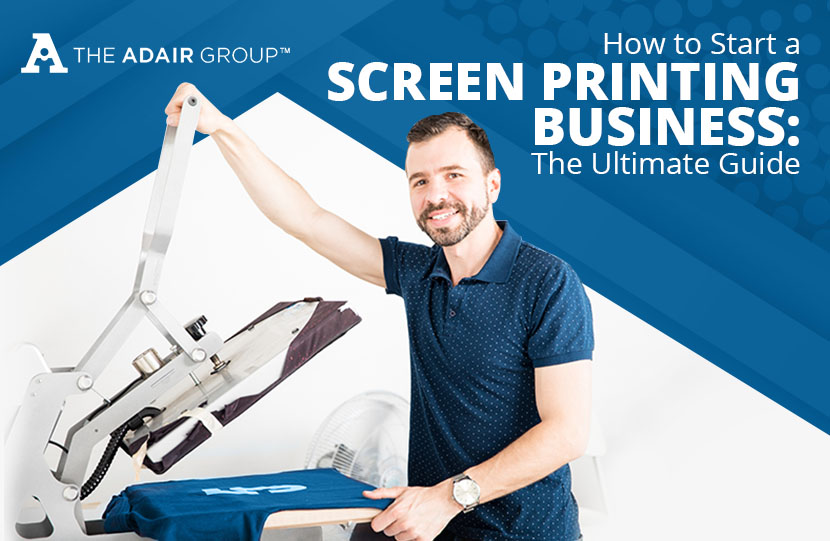 If you've ever dreamed of ditching your regular job in favor of being your own boss, you certainly aren't alone. In fact, as of 2016, 25 million Americans launched or were already running their own businesses. And around the world, there are more than 582 million entrepreneurs. Joining their ranks takes plenty of hard work and dedication, though. Being a business owner isn't for everyone, but for those who have the passion and drive to make it work, it can be incredibly rewarding in many, many ways. 
Whether you are ready to walk away from your current job entirely or you are thinking about starting something on the side to earn some extra cash, there are a lot of options to choose from. It's possible to start a business doing just about anything, but it's important to keep in mind that lack of demand is the most common reason small businesses fail. 
When you want to start your own business and are looking for a relatively safe industry to break into, screen printing is a solid option. Screen printing services are always in demand, and even if there are other printers in your area, you can always cater to a specific niche your competitors don't. As a screen printer, you can also build mutually beneficial relationships with other businesses, organizations, etc. to ensure you always have orders coming in.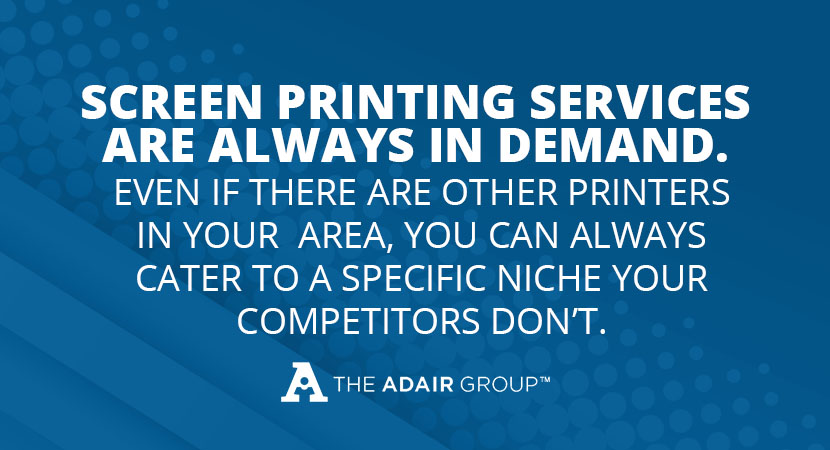 The best part? 
Starting this type of business is easier than you might think. Keep reading to learn how to start a screen printing business! 
Start with a Plan
No matter what type of business you're starting, you need to have a plan. Even if it's not a formal business plan, you need to, at the very least, come up with a detailed plan outlining your startup and operational costs, what niche you'll be targeting and what your ideal customer looks like and what supplies and materials you'll need to invest in.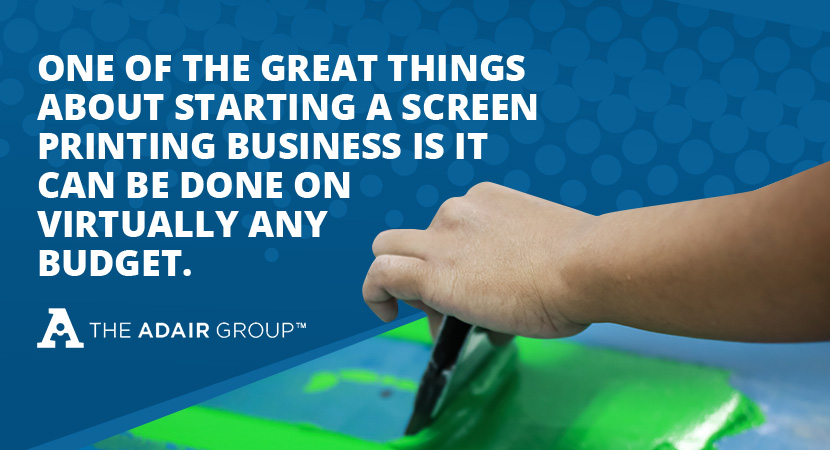 One of the great things about starting a screen printing business is that it's something that can be done on virtually any budget. If funds are tight and you're looking to start small, it's possible to get the basics for less than $500. If you're looking to launch a full-service screen printing company and plan on investing in high-quality automated equipment and leasing a space, you can usually get the job done for around $15,000 or less. And while $15,000 is a hefty sum of money, it's significantly less than the startup costs associated with many other types of businesses. 
Keep in mind, after you are up and running, you'll still need to continually purchase blank garments to customize, silk screens, ink and other daily supplies. If you're leasing a space rather than working from home, you'll also need to think about rent and utilities.
Consider who you'll be targeting. Are you going to offer custom screen printing services for large businesses or are you planning on screen printing your own artwork onto t-shirts to sell? Thinking about offering wholesale t-shirt printing for resellers? Or do you, perhaps, have another idea? Whatever the case may be, do your homework to find a niche where there is demand. 
Browse Our Collection of Bulk Wholesale T-Shirts
Take Care of the Legalities
Once you have a plan of action, taking care of legal issues is your best next step. If you fail to operate your business legally, you could face some major, potentially business-destroying problems later on. While it certainly isn't the most fun or exciting part of starting a business, addressing the legal stuff early on is highly recommended. 
Start by forming a legal entity, such as an LLC. This protects you from being held personally liable if your business is sued. Familiarize yourself with the different types of business structures and choose the one that's right for you. If you're not sure, consult with an attorney. 
From there, you'll want to register for taxes. Again, it's not a whole lot of fun, but neither is an angry letter from the IRS when they find out you haven't been paying your fair share. To register for taxes, you'll need to apply for an EIN. This will then allow you to register for state and federal taxes. 
Next, obtain the proper licenses and paperwork. The requirements vary from state to state and even from city to city, so you'll need to do some research to determine exactly what you need to do. 
Consider your business insurance needs. Investing in insurance is highly recommended for all business owners, and if you hire employees, purchasing workers' compensation insurance may be a legal requirement. 
Finally, open up a business bank account and credit card. In addition to protecting your personal assets, having separate accounts for your business makes it much easier to track your income and expenses and makes accounting much easier. 
Establish Your Brand
Your brand is your business's face to the world. It's what your company stands for and how it is perceived by the public. While your brand may begin with a logo and a color scheme for your website, it's much more than that. It encompasses your products, services and values. A good brand is very much a living thing that changes and evolves over time. 
Building a strong brand in the beginning is a crucial step in building awareness of your business and making it recognizable. Over time, it becomes virtually everything your business is known for. Establishing, growing and maintaining your brand is something that should always be at the forefront of your mind.
Invest in Supplies and Materials
At this point, you are ready to start shopping for everything you need to get your business off the ground. This step can be a lot of fun, but it can also be pretty stressful. Before you spend a single cent, make sure you have a detailed list of everything you need to get started and a budget. At the very least, you're going to need screen printing equipment, of course, and blank apparel on which to print.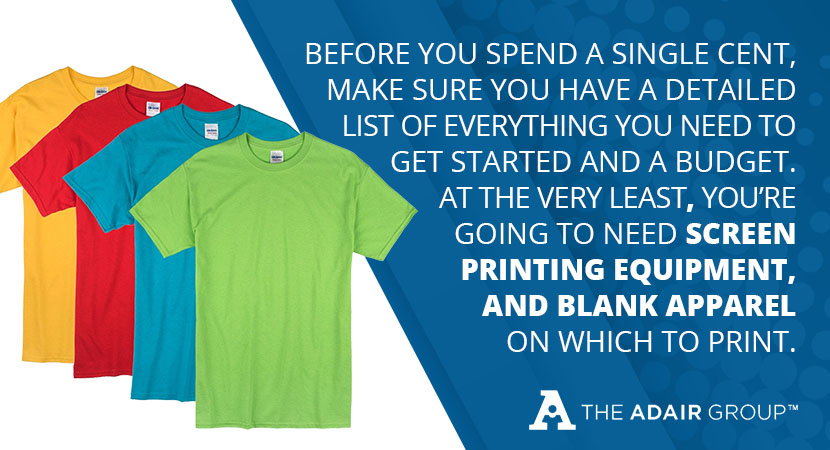 While you may offer a number of screen printed products, it's likely custom t-shirts will make up a large portion of your business. For this reason, it's crucial to score the best possible prices on blank t-shirts. Rather than buying in individual quantities, look for bulk wholesale t-shirts. Doing so will save you a bundle of cash and ensure the highest possible profit margin on your products. 
Check Out Our Assortment of Quality Blank T-Shirts
When you're shopping for materials, consider offering some unique products in addition to the ones likely to be your bestsellers. Something as simple as having plain long sleeve shirts to customize in addition to the usual short sleeve offerings could set you apart from your competitors. Keep in mind that it's possible to screen print on almost anything, so there's no need to limit yourself to apparel. 
Start Marketing Your Business
By now, you should have just about everything you need to get started. If you plan on actually selling products to your customers, though, you're going to need to start marketing. Working with a professional marketing agency is always a solid option, but not everyone's budget allows for such expenses–especially in the beginning. Fortunately, there are plenty of ways to market your company on your own without spending a fortune.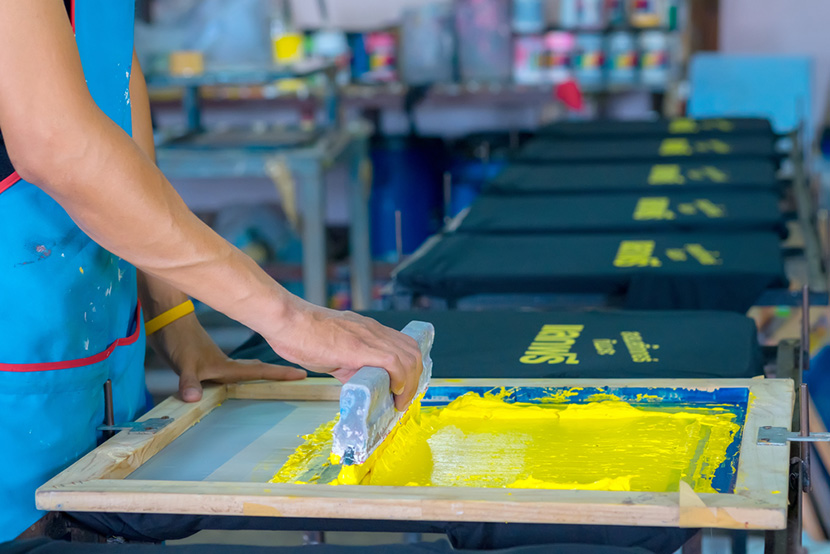 In today's market, the internet is always the best place to start. At the very least, you'll need to have a strong presence on social media and a professional-looking website. Even if you plan on opening up a physical location where you'll sell your products, having a solid online presence ensures potential customers will be able to find you. 
Once you've set up your social media profiles, share content regularly. Now is a great time to let people know who you are and what your business is all about. It's also a great time to show "behind the scenes" glances of how the process of launching your business is going or provide sneak peeks of the products you'll be selling. Engage with your followers to start building relationships with them. Consider investing in some paid advertisements, too. It's possible to advertise on social media on nearly any budget and doing so is a great way to build awareness of your up-and-coming business. 
Use your website as a means of showcasing your products and services and building an email list. Encourage prospective customers to sign up by offering a small discount on their first purchase once your business officially launches. Once they've enrolled, you can send updates, promotions and more directly to their inbox. 
Think about embracing some traditional advertising methods, too. Traditional newspaper and radio ads are still highly beneficial if you plan on selling your products locally. Sending out home mailers or setting up a booth at a local event can help as well. As always, consider your target audience and how its members would most like to be marketed to. 
Start building relationships with other businesses and organizations. You may be able to find other people who are willing to promote your business in exchange for you promoting theirs. Or you might find business owners who would be open to advertising your services in exchange for you providing them with some free hats or shirts. Get creative! In many instances, the most unique business partnerships turn out to be the ones that are the most lucrative. Of course, you can also generate awareness of your products and services by simply volunteering to print new shirts for a local team or organization and including your logo.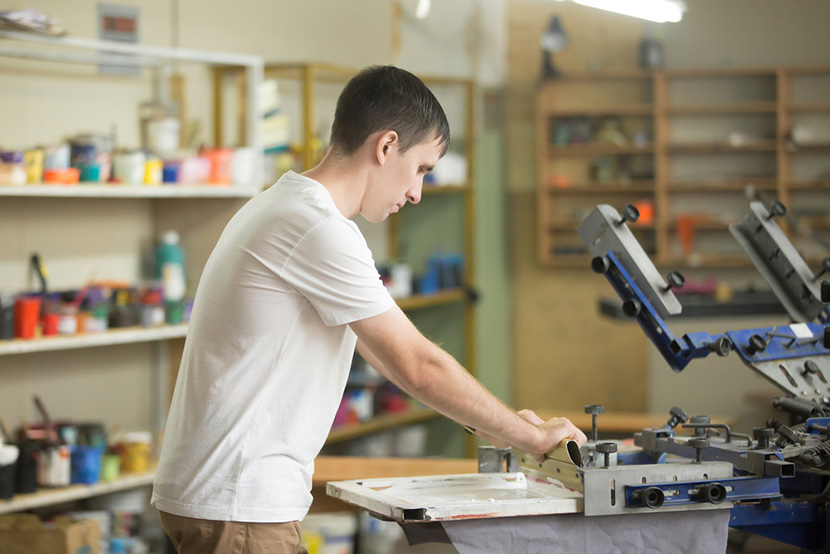 Launch and Keep Your Customers Coming Back for More
If you've followed our advice up to this point, you should now be ready to officially launch your business. You should have all the supplies and materials you need, a strong web presence and a following of people with whom you've already built relationships. Now, you need to take all the time and effort you've put into your business so far and turn it into a profit. 
Whether you are opening a physical location or launching an online business, create some hype around your grand opening. If you're opening a storefront, schedule a weekend event where customers can see your new shop, check out your products and learn more about your business. Offer some sort of freebie to entice people to come in. Even if you're just offering cookies and coffee or a hot dog and a soda, people love free stuff! If your budget allows, you could also give away promotional merchandise or hand out valuable coupons. 
If you're launching an online business, create hype on social media by planning an event for the moment the site goes live. Offer a special incentive for the first few customers or offer a discount on all orders placed within a certain period of time, such as your first day, weekend or even month. Think about offering some sort of referral incentive. Something as simple as providing a 10 percent discount to anyone who refers 10 other customers could turn out to be quite lucrative!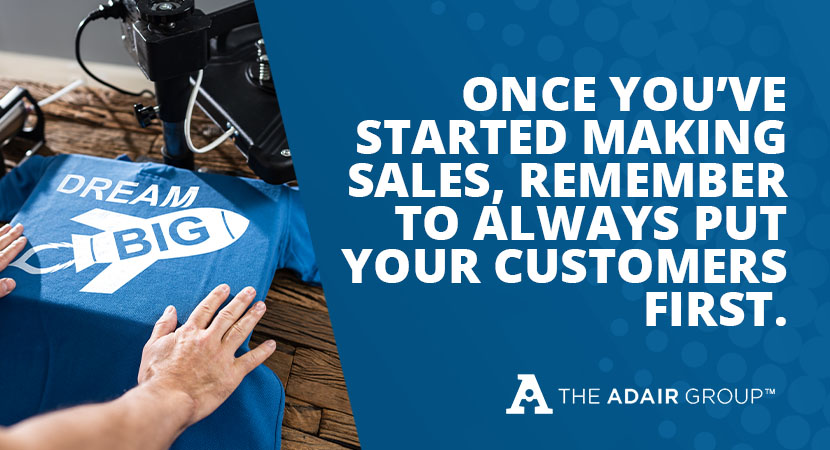 Once you've started making sales, remember to always put your customers first. Treat them with kindness and respect, and do everything you can to make their experience a positive one. Even when dealing with challenging customers, provide the best customer service you possibly can. Word of mouth and online reviews can make or break your screen printing, so you may need to swallow your pride at times and do what it takes to keep your buyers happy. It might be frustrating in the moment, but in the long run, it's definitely worth it. 
Wrapping Up
Starting a screen printing business doesn't have to be difficult, and it's something that can be done on even a limited budget. When you follow the suggestions listed above and rely on The Adair Group for blank apparel and accessories, you can start a lucrative business and experience the joys of being your own boss.