How to Make Graphic T-Shirts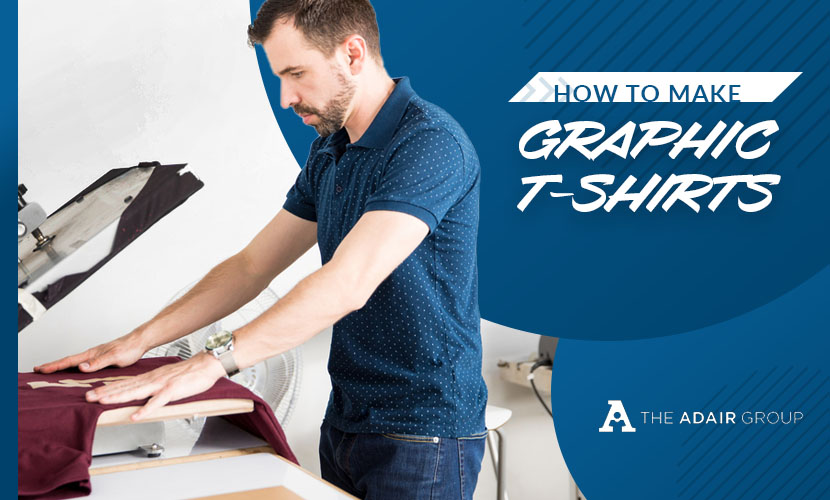 Whether you are thinking about picking up a new hobby or are trying to start a business, customizing wholesale t-shirts is always a great option. There are a lot of different t-shirt printing methods and techniques, though. And it's important to note some techniques are better suited to certain materials than others. 
Additionally, the best and most cost-effective means of printing varies depending upon the number of shirts you are customizing. You also need to consider how many colors your designs will likely include and how detailed the artwork will be.
Browse Our Collection and Turn Blank T-Shirts into Graphic Tees 
There are, clearly, a lot of things that must be taken into consideration. The good news, though, is choosing a printing technique is the most difficult step. Once you have that part figured out, learning how to make graphic t-shirts is pretty straightforward. Let's take a close look at some of the most common t-shirt printing methods so you can determine which one will best suit your needs. And when you're ready, browse our collection and turn blank t-shirts into graphic tees!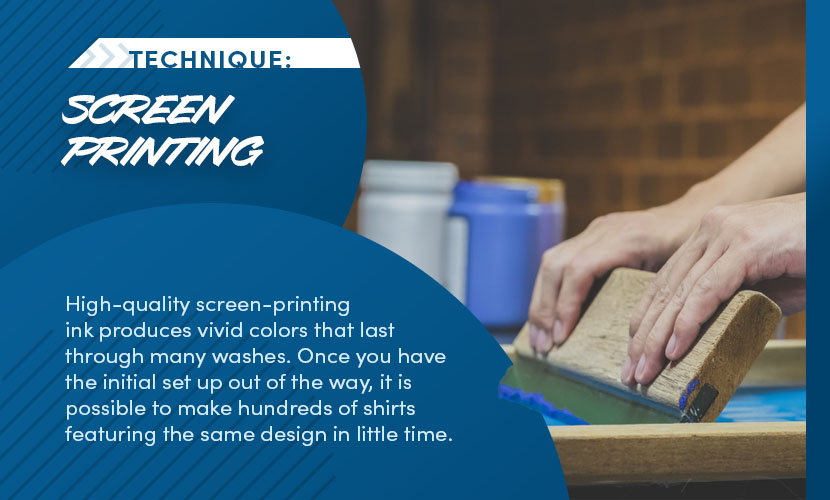 Screen Printing
When it comes to garment customization, screen printing is one of the most common and well-known techniques. It is also an extremely versatile method and works well for printing large quantities of shirts. In fact, once you've mastered screen printing, you can customize hundreds of blank t-shirts quickly and at a very low cost per piece. It can be done both by hand and by machine, so it is possible to get started on virtually any budget.
High-quality screen-printing ink produces vivid colors and designs that last through many, many washes. And once you have the initial set up out of the way, it is possible to make hundreds of shirts featuring the same design in very little time. While cotton is the best fabric for screen printing, it is possible to use this method to customize garments made from nearly any material. It's just a matter of using the right ink for the material.
Mastered the Graphic Tee? Try It on Some Plain Hoodies!
\The primary disadvantage of screen printing is it is not efficient – in terms of time or money – for printing small batches. Creating a screen takes a significant amount of time – especially for complex designs. Also, printing designs with more than one color requires making separate screens for each color, allowing one color to dry before adding the next, etc. Bear in mind, too, the process gets pretty messy. If you plan on designing shirts at home, be prepared for ink spills and splatters.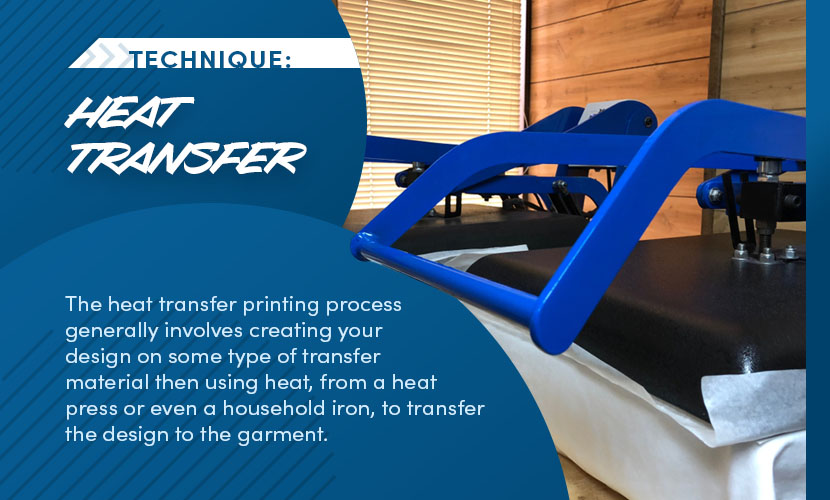 Heat Transfer Printing
Heat transfer printing is exactly what it sounds like: adding a design to a garment using heat. There are a few different techniques, but the process generally involves creating your design on some type of transfer material then using heat, from a heat press or even a household iron, to transfer the design to the garment.
If you're trying to figure out how to print t-shirts at home with an iron, you will likely want to use heat transfer vinyl or iron-on inkjet transfer paper. To use heat transfer vinyl, you cut the design out of specially made vinyl using a vinyl cutter. This method works best for simple, single-color projects like adding a name or basic design to a shirt. For more detailed images and photos, you can print the design on inkjet transfer paper using a regular printer, and then iron it onto the shirt or another garment.
Whether you are using iron-on transfer paper or heat transfer vinyl, you will need to spend time carefully cutting out the design. With iron-on transfer paper, this normally needs to be done entirely by hand using a craft knife and/or scissors. Heat transfer vinyl is usually cut with the aid of a vinyl cutter.
Keep in mind, though, you will still need to manually "weed" the vinyl to remove bits – like the insides of letters – you do not want to transfer to the garment. Depending on the complexity of the design, this can take a lot of time. For this reason, this technique isn't one of the best options if you plan on making graphic tees in large quantities.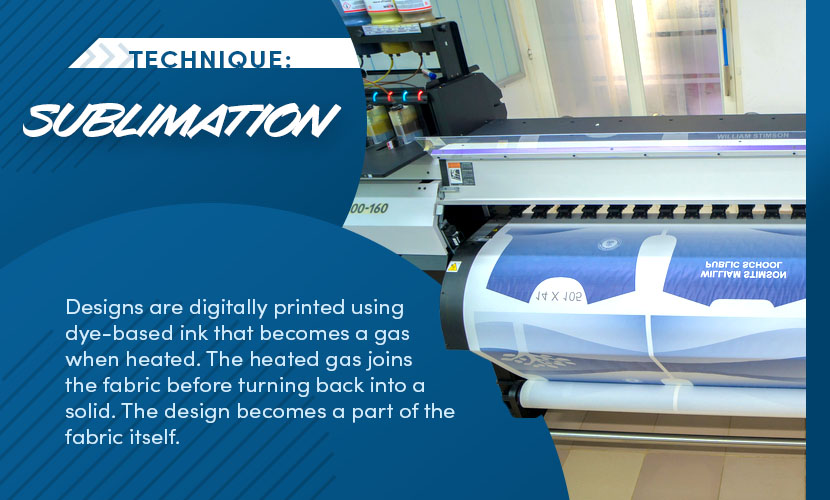 Sublimation Printing
Sublimation printing is a variation of heat transfer printing and currently one of the more popular techniques for customizing apparel. A digital printing method, it has steadily been gaining popularity in recent years. Designs are digitally printed using specialized printers and dye-based ink that becomes a gas when heated. The combination of pressure, heat and time causes the ink to transform to gas and join the fabric before turning back into a solid.
As a result, the design becomes a part of the fabric itself rather than being printed or stuck onto the surface of the material. This, of course, results in superior durability and graphics that will last as long as the fabric itself.
Another perk of sublimation printing is it works great for all-over printing. While screen printing and other methods work well for adding designs to the front or back of a shirt, sublimation allows designers to express themselves all over an entire shirt. If you think of yourself as an artist and want to make graphic t-shirts as unique as you, getting started in sublimation could be a great way to go.
Like any other method, though, sublimation printing is not without its drawbacks. This technique works best on polyester and poly-blend shirts. The higher the polyester content, the more vibrant the print. Any folds or creased areas will remain unprinted, too. The technology behind sublimation printing has become more accessible in recent years, but you should still plan to invest a pretty considerable amount of cash to get started with this technique.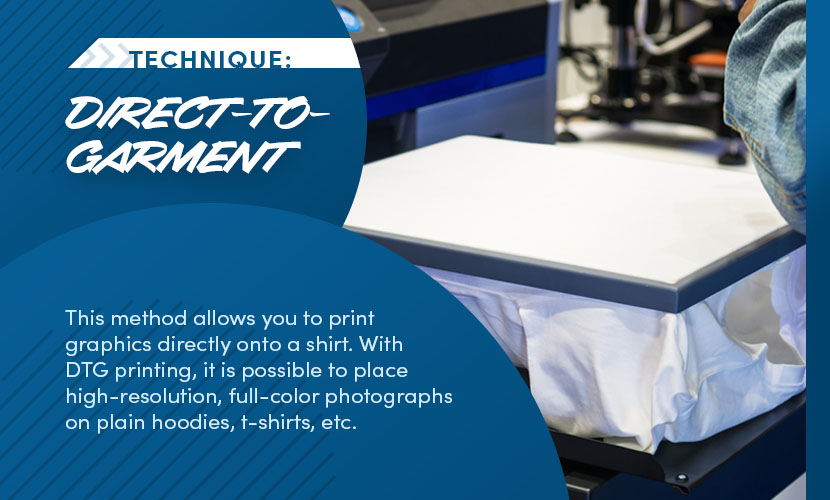 Direct-to-Garment Printing
Direct-To-Garment, or DTG, printing is another method that has gained a considerable amount of traction in recent years. As the name suggests, this method allows you to print graphics and text directly onto a shirt. Think of it like your regular inkjet printer, but instead of printing on paper, it prints on t-shirts.
With DTG printing, it is possible to place high-resolution, full-color photographs on plain hoodies, t-shirts, etc. This method also works well for other designs too detailed or complex to work well with screen printing and other techniques. DTG printing machines are capable of producing virtually any color and capturing even the finest of details.
The downside to this method is getting started requires a hefty investment. They also require periodic maintenance and are designed to work best for printing on shirts made from 100 percent cotton. Other materials can be used, but are not always as popular. Once you've overcome these issues, though, using this method to customize shirts is easy. All you need to do is load a blank t-shirt into the machine and click print. Because the process is so fast and easy, this method is great for printing single shirts or small batches featuring the same design.
Choosing the Method That Best Suits Your Needs
Now that you have a general understanding of some of the most common garment customization methods and how they work, it's time to figure out which one best suits your needs. One of the primary factors to consider is how much garment customization you plan on doing. If you are thinking about making graphic t-shirts once in a while to give as gifts or even to sell as part of a small side hustle, your needs will be much different than if you plan on starting a full-scale garment customization business.
As a hobbyist or someone who wants to start small with a minimal upfront investment, screen printing and heat transfer printing are your best options. With heat transfer printing, you can get started with as little as an inkjet printer, iron-on transfer paper, a pair of scissors and some bulk shirts.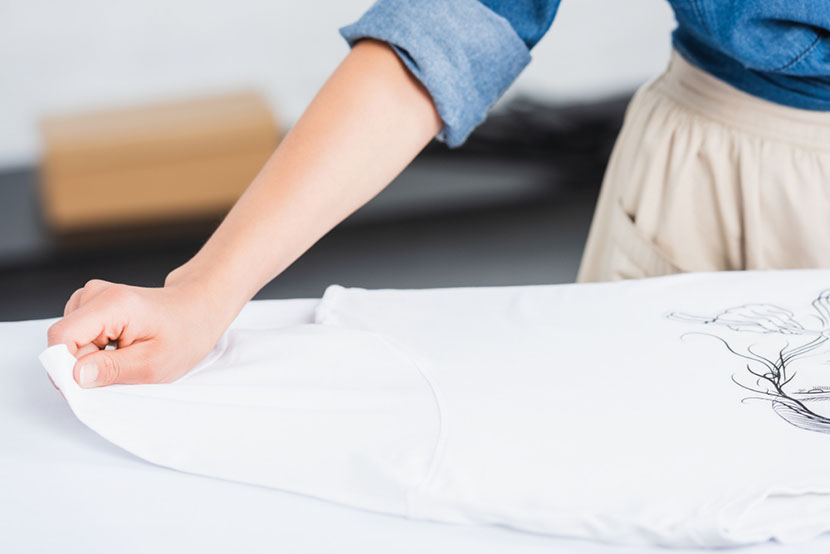 Screen printing requires a bit more equipment, but it is still possible to get started without breaking the bank. If you plan to start small and scale up over time, screen printing is likely your best option. With this method, you can purchase additional – and better – supplies and equipment over time. You'll also be able to keep up with increased demand, as your business grows, because of the speedy nature of screen printing.
If you plan on jumping in with both feet and starting a full-scale business, screen printing is still a solid option. In this case, though, you will want to invest in good equipment upfront. You may also want to consider other techniques like sublimation or direct-to-garment printing. With enough capital to invest in the necessary equipment and technology, you can dive into all sorts of fun and creative projects.
Branching Out
Something else you may want to consider is whether you want to exclusively customize apparel or if you would like to branch out into other products. Screen printing and sublimation printing both enable you to customize everything from crop tops to coffee cups. As a result, these methods are well worth considering if you want to make more than just graphic t-shirts.
Keep in mind, there are plenty of businesses offering multiple types of printing services. If you are launching a full-service print shop or garment customization business, you may want to think about utilizing more than one technique. For shops focused primarily on selling custom t-shirts and hoodies, for example, it might make sense to offer both screen printing and DTG printing. The screen printing side of your business can handle the simple bulk orders while the DTG printing side can handle smaller batches and more detailed designs.
Getting Started
Once you've decided which printing method – or methods – to use, the next step is purchasing your equipment and supplies and setting up shop. This could mean setting up some basic screen printing supplies in your basement, or it could mean leasing a massive space for your up-and-coming business.
Whether you're a hobbyist or a business owner, it's smart to stock up on extra supplies in the beginning. This ensures you will have plenty of materials to work with – even if you make mistakes. At The Adair Group, we have a wide selection of affordable blank apparel perfect for beginners and experienced customizers alike. When you shop our collection of wholesale tees, you can get the blank garments you need without spending a fortune. This leaves plenty of room for profit while making it easy to keep extra shirts on hand in case of mistakes.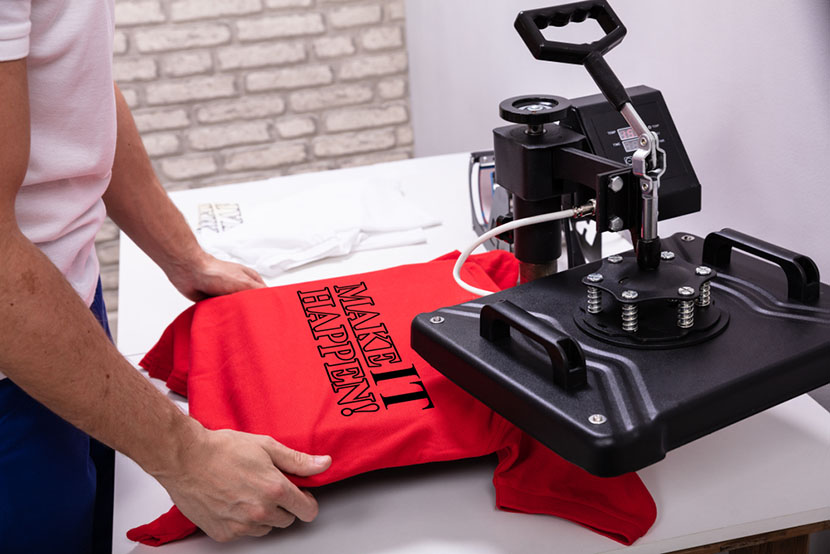 The Bottom Line
Graphic tees never go out of style. They are purchased and worn for multiple occasions, and just about everyone has at least a few of them hanging in their closet or tucked away in a dresser drawer. Whether you are thinking about starting a business, looking for new ways to express your creativity or just seeking an enjoyable hobby, learning how to make graphic t-shirts is always a solid option.
Because there are so many methods of getting the job done, it's possible to find a technique well-suited to any skill level, budget and interest. While it may be tricky to decide which method best suits your needs, finding the right one is the best way to ensure the long-term success of your endeavor.
In the beginning, be prepared to do a lot of trial and error. Customizing t-shirts isn't hard, but you should expect to do several practice runs prior to perfecting your technique and creating shirts ready to sell or give as gifts. And once you've mastered the graphic tree? Try it on some plain hoodies!
Depending on what method you choose, you may even be able to move on to customizing hats, tote bags, household linens or even drinkware. With the right techniques and products, the options are virtually limitless. And, here at The Adair Group, we have the wholesale t-shirts and apparel you need for your next project. Shop now to get started.
Image Credits
RAKSASIN/shutterstock.com
antoniodiaz/shutterstock.com
socrates471/shutterstock.com
Yes I Shoot models/shutterstock.com
Andrey_Popov/shutterstock.com
Dong Nhat Huy/shutterstock.com
LightField Studios/shutterstock.com