How to Do Sublimation – The Ultimate Guide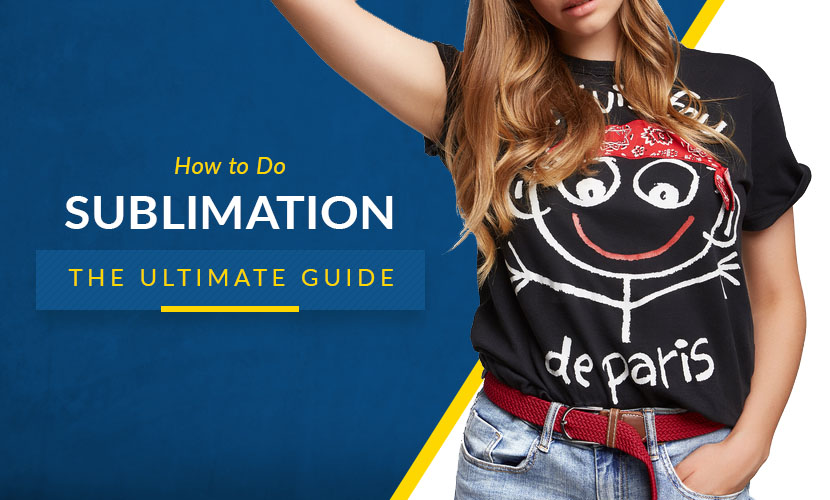 When it comes to garment customization, there are a lot of different methods and techniques. From iron-on transfers to screen printing, the job of adding images or text to fabric is done in several ways. One method becoming increasingly popular, however, is sublimation.
Whether you are customizing blank hoodies to resell or making gifts for friends and loved ones, sublimation is a quick way to add designs to many different types of fabric. And, thanks to recent technological advancements, sublimation printers have become more affordable and accessible than ever before. Despite the complicated-sounding name, the process is pretty easy, too.
Our Blank Hoodies Ensure You Can Turn a Profit on Your Customized Sweatshirts
If you are curious about the process and would like to learn how to do sublimation for profit or for fun, you've come to the right place! Keep reading to learn what sublimation printing is and how to do it.
What Is Sublimation?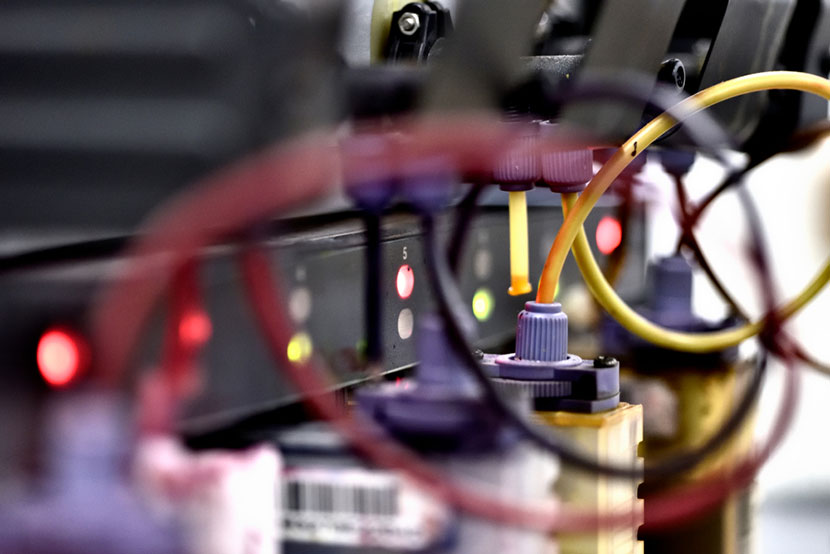 Before we dive into the process, let's take a look at what, exactly, sublimation is. To put it simply, it is a printing process that fuses a design into fabric using heat and ink. Unlike other garment customization methods, it allows for seam-to-seam customization. This means it can be used to decorate an entire garment rather than just a smaller area. 
While heat is used in other printing methods, the difference with sublimation printing is the heat essentially embeds the ink into the fabric. In other methods, the design lies on top of the fabric rather than being embedded in it. Embedding the ink in the fabric results in a permanent design less prone to fading. Sublimation prints also will not crack, peel, etc. The design becomes a part of the fabric and will move and stretch with it rather than becoming damaged. 
How Sublimation Printing Works
Sublimation printing may sound complicated, but it is a lot simpler than you probably think. Designs for sublimation printing are created digitally using programs like Photoshop. They are then printed on a chemically coated piece of paper using sublimation ink. This can be done using a sublimation printer or, in some cases, an inkjet printer that has been converted to support sublimation printing.
Once printed, the design is placed on a t-shirt, sweatshirt, etc. When heat and pressure are applied, the design is transferred onto the polymers in the material. This occurs on a molecular level and means the design will never come off. When exposed to heat, the ink becomes a gas that bonds with the fabric. This results in a vibrant, full-color design that can stretch from seam to seam.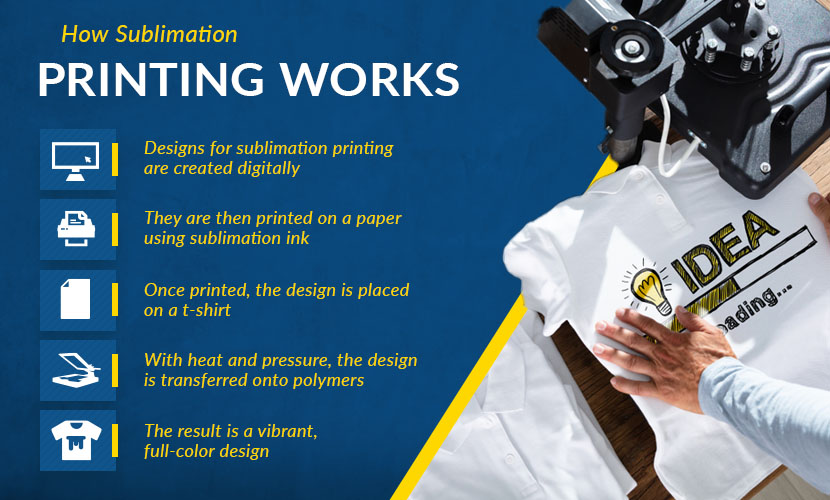 Wholesale T-Shirts Are Inexpensive and Great for Sublimation
Though the way sublimation printing works relies on science, the process isn't nearly as complicated as it seems. Getting started is also relatively affordable, making this type of garment customization accessible to hobbyists and small business owners. 
Pros and Cons of Sublimation
Sublimation offers a greater degree of freedom than other methods. You can easily create vibrant designs that cover an entire shirt, and you can achieve a level of detail that isn't possible with screen printing, heat transfer vinyl, etc. 
When it comes to detail, the only limitation in terms of quality is the printer itself. As long as your printer is capable of creating high-quality, detailed output, you can add intricate designs and photo-realistic images to fabric using sublimation. The possibilities are virtually endless, and the longevity of the design is a huge perk. The garment itself will wear out long before the design fades away, cracks, or peels. 
The cost benefits are pretty great, too. Getting started in sublimation is affordable, and the process allows for cost-effectiveness when printing smaller batches. It is faster than using things like heat transfer vinyl or iron-on transfer paper to customize apparel, and it is an ideal middle ground in terms of cost and speed of production for small- to medium-sized orders. 
The benefits of sublimation are numerous, but there are some cons you should be aware of, too. The primary drawback is not all materials are suitable for sublimation. The process only works properly on fabrics with a significant polymer content. Garments made from 100 percent polyester and polyester blends work best, which can be a substantial downside for those who prefer working with natural fabrics. There are products out there intended to coat cotton—and other natural fibers—to make them suitable for sublimation, but their effectiveness tends to be less-than-consistent.  
A design used in sublimation is only as good as the printer used to create it, too. If your printer is not capable of outputting vibrant colors and sharp details, the overall quality of your printed garments will suffer. 
Getting Started
If you would like to try your hand at sublimation, you will need to invest in some supplies. The first thing you will need is a printer. You can either invest in a sublimation printer or convert your current inkjet printer to support sublimation.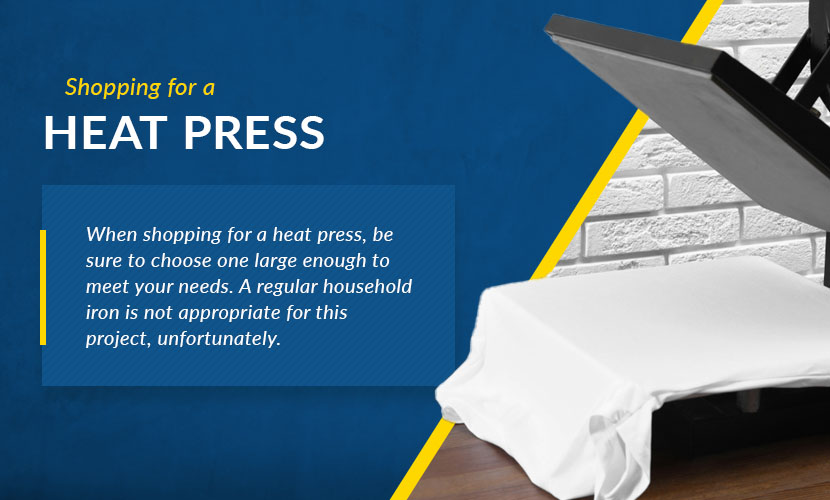 If you are thinking about converting an existing printer, it is important to note not all inkjet printers will work for sublimation. Most HP printers, for example, cannot be used for this purpose. Fortunately, sublimation printers have become more affordable in recent years, meaning you won't have to break the bank if your current printer doesn't support sublimation. 
You will also need sublimation ink, sublimation paper, a heat press, and design software. There are several different types of sublimation ink and paper out there, so it is important to do some research to determine which products are best for you. When shopping for a heat press, be sure to choose one large enough to meet your needs. A regular household iron is not appropriate for this project, unfortunately. Your trusty iron simply is not capable of providing the consistent temperature and pressure needed to yield high-quality sublimation printed garments. 
You may also want to pick up a lint roller to remove any lint or debris that might be on a shirt prior to sublimating it. Using a lint roller isn't essential, but it is a simple step that can improve the quality of your prints. Even if you can't see any lint, there could be tiny particles that will prevent the ink from properly fusing with the fabric. 
Finally, you need shirts to customize. For beginners, we recommend plain t-shirts. Wholesale t-shirts are great for sublimation because they are affordable enough to practice on. They also leave plenty of room for profit if you plan on selling your creations.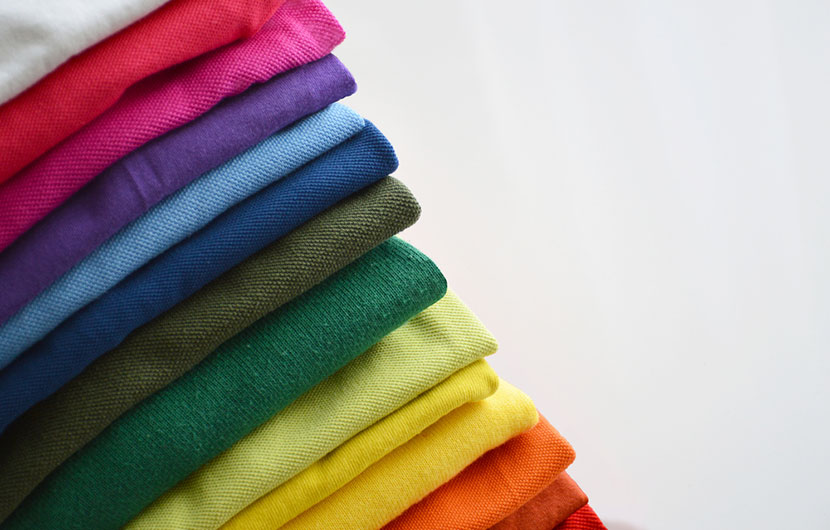 When shopping for shirts to use, pay close attention to the fabric content. Because the sublimation process works by binding ink with the polymers present in the fabric, you need to choose shirts made from a material with a sufficiently high polymer content. Fabrics that work well include nylon, polyester, and spandex. Shirts made from a blend of cotton and polyester work well, too, as long as they have a polyester content of at least 50 percent. 
Surface modification of cotton fabrics for sublimation printing does make printing on 100 percent cotton possible, but this process is beyond the scope of this article and does not always yield consistent results. 
Keep in mind, too, regular sublimation only works on light-colored garments. White works best, but light colors and pastels work, too. If you want to customize a black or dark-colored shirt, you will need to use a method like screen printing, in which the design lies on the surface of the fabric rather than becoming fused with it. There is a process known as flock sublimation that makes it possible to sublimate on darker colors, but it isn't the same as the sublimation process discussed here. 
Creating Your First Design
Once you have all of the necessary supplies and equipment, you are ready to create your first design. The first step is creating your design. You can do this using Adobe Photoshop or virtually any other design software you prefer. Make sure the design is large enough and created at a high enough resolution to yield a high-quality print. You may want to consider printing the design on regular printer paper to evaluate the quality before using sublimation paper.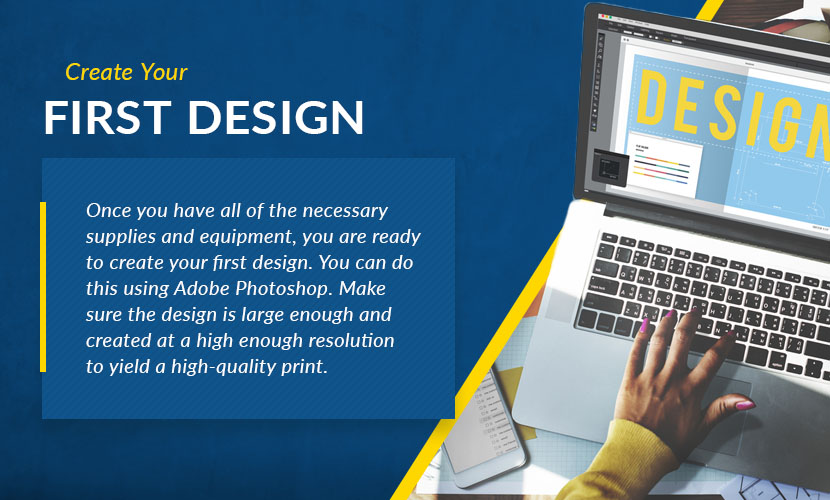 When you are happy with how the design looks, mirror it. Then, load your printer up with sublimation paper and ink. Check the packaging for your sublimation paper to see if the manufacturer recommends certain print settings. Once you have chosen the proper settings, print out the design. The printed design should appear backward; as if you were looking at it in a mirror. If it is facing the correct direction, go back into your design software, mirror the image, and reprint. Designs must be mirrored to look correct once applied to the substrate.
Applying the Design to Your Shirt
Put your shirt on the heat press, making sure it is smoothed out and free from creases. You may want to press it quickly to remove any wrinkles prior to adding the design. Place the design on the shirt in the desired location. Take your time to ensure it is straight and lined up properly. Once you apply heat, the design will be permanent, so it is vital to get the placement right the first time. 
Check the instructions on your transfer paper to determine the recommended pressing temperature and time, and then carefully press the design onto the shirt. Let cool for a few moments, and then carefully remove the transfer paper. 
Congratulations! You just customized your first shirt using sublimation. 
Products Can Be Customized with Sublimation 
T-shirts are a great place to start when you are learning how to do sublimation, but they certainly are not the only garments that can be customized in this way. Once you've mastered the tee, try it on blank hoodies to create garments as cozy as they are stylish. It's even possible to buy polo shirts wholesale and customize them for a team, business, or organization using sublimation. As long as the fabric has a high enough polymer content, it is appropriate for sublimation.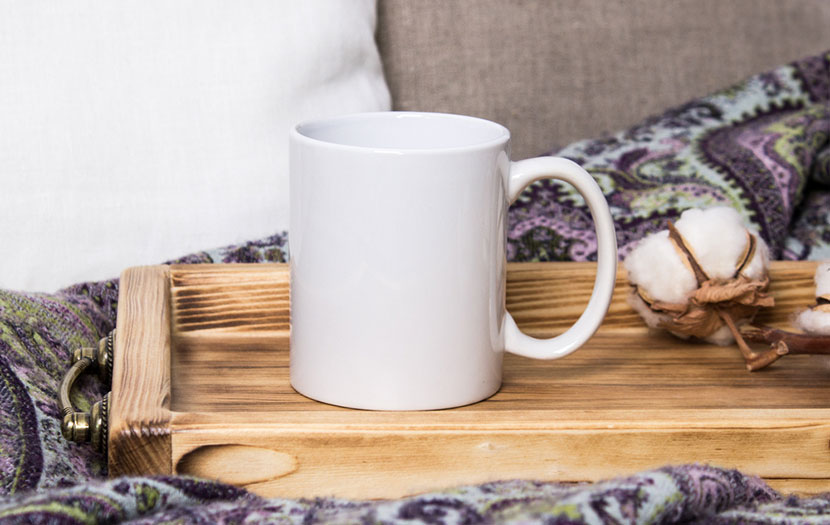 There's no need to limit yourself to apparel, though. Sublimation is a fun way to decorate tapestries, bed linens, pet bandanas, tote bags, and other products, too! It is even possible to sublimate on certain types of ceramic and aluminum that have been coated in a material that can accept sublimation ink. This means you can customize things like tumblers, mugs and bottles. When shopping for blanks, look for products advertised as being "sublimation ready." This is especially important when searching for non-fabric blanks to decorate. 
Conclusion
When it comes to garment customization, sublimation is quickly becoming one of the most popular techniques. It is possible to get started for less than $1,000—even if you need to purchase a printer—and the process is quick and cost-effective for single prints and small- to medium-sized batches. 
Compared to other methods, sublimation provides superior quality and unparalleled durability, too. Designs added to fabric using this method withstand the test of time and are not prone to cracking, peeling, stretching, or fading. The design will likely remain crisp and vibrant until the fabric itself begins to deteriorate. 
Whether you are looking for a way to customize garments to give as gifts, to outfit your team, or to resell, sublimation is an excellent option. The process is easy to learn and, once you have the hang of it, you can customize so much more than just t-shirts.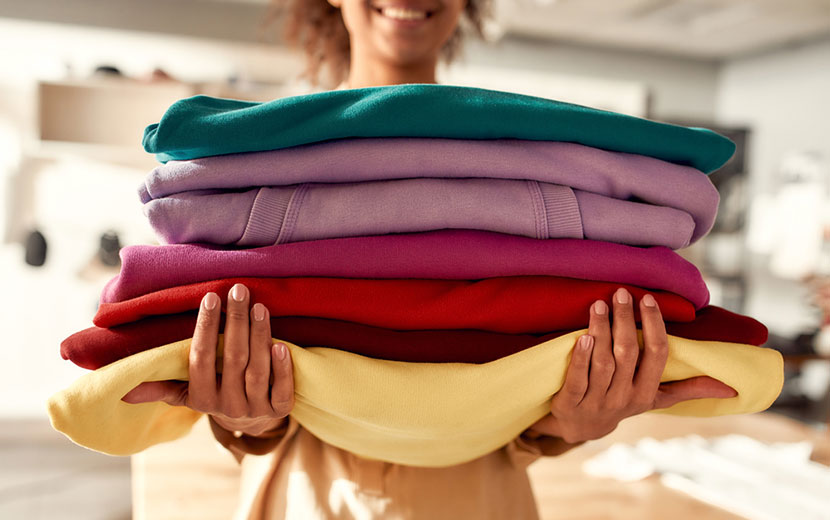 At The Adair Group, we have a huge selection of garments perfect for any sublimation project. From wholesale sweatshirts and t-shirts to hoodies and hats, we have garments and accessories affordable and perfect for this project. Check out our website today to find the supplies you need to get started!
Image Credits
Joanna Grzybowska/Shutterstock.com
BAZA Production/Shutterstock.com
MaddyZ/Shutterstock.com
Patrick Thomas/Shutterstock.com
Sergei4n8p/Shutterstock.com
New Africa/Shutterstock.com
Rawpixel.com/Shutterstock.com
Red Umbrella and Donkey/Shutterstock.com
Andrey_Popov/Shutterstock.com
Kapreski/Shutterstock.com