How to Create Fashion-Forward Looks Using a White T Shirt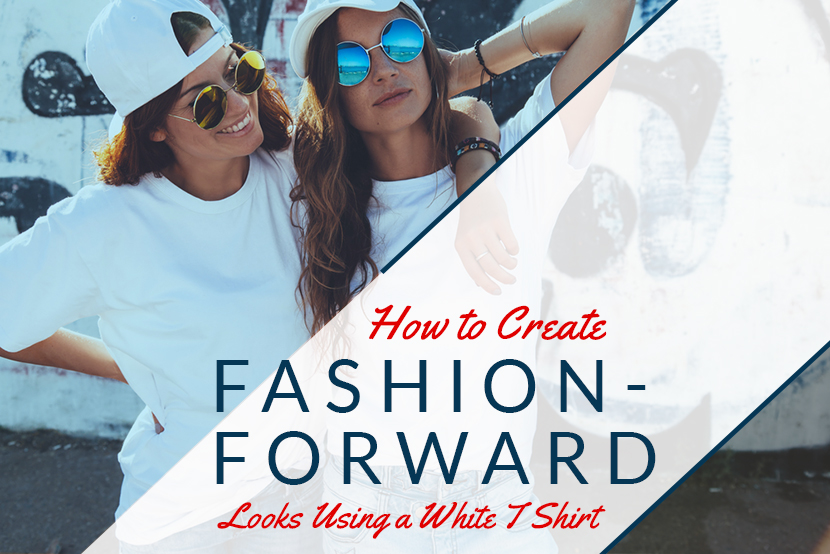 Ah, the classic white t shirt, a fashion staple. You can dress it up or dress it down, and it can be worn with almost anything, and it will always look cool and feel comfortable. Whether you pick the standard round neck, a curve hugging V-neck or a softly relaxed fit, there is a white t shirt for everybody and (almost) every occasion.
The tried and trusted partnership of blue jeans with a white t shirt is a daily go-to, but to create a more fashion forward look, all you need to do is change up one or two elements of this basic ensemble to create fresh new styles for your 2018 wardrobe.
ADD A BELT

One of the easiest and most cost-effective ways to update your plain white tee is to add a belt. Here are four great belt ideas:
1. Parachute Belt
Sporty parachute belts were all over the catwalks this season. Wear it over your t shirt in a contrasting color and pair with colored skinny jeans or even an on trend mini skirt.
2. Go West
Western-inspired outfits are currently being featured by Versace, and the cowgirl trend is a perfect update for a standard jeans and t shirt combo. Add a western-style belt with a gold buckle, and you're ready to ride.
Want to go further? Fringe details are big this season and are a trend to watch. Nasty Gal's leopard moto jacket features the fringe detail, alongside animal print. Add a fringed sweater, jacket or some fringed boots to your outfit for an extra hit of frontier fashion.
3. Double Up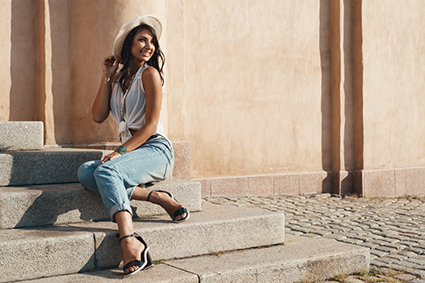 If one belt is good, then two is better! Or, remember those watches with the super-long straps you wrapped round and round your wrist? Do the same with a belt by buying one that is much too large, and wrapping it around your waist twice for a fresh new take.
4. Belt Bag
Belt bags were showcased this season by Gucci and Balenciaga, among others. Choose one with fringes or wear more than one. Hang them on your waist at the front or diagonally across your t shirt for a fast style update.
5. Chunky Belt
The catwalks are all about the 1980s this season, and nothing says the 80s as clearly as a chunky belt over a baggy top. Wear it with an oversized white t shirt, and anything else you like.
SWITCH TO A SKIRT

Park the jeans and pull out a skirt to pair with your pristine white tee for spring and summer. Here are some ways to rock it.
1. Max Chic
Wear your loose fit tee untucked with a maxi skirt and gladiator sandals for a relaxed summery vibe. Add a vintage denim jacket, a dangly necklace or two and a cool pair of sunglasses for a little shot of effortless boho cool.
2. Micro Mini
Hemlines are heading upwards again, so make sure your legs are ready to see the sun. Pair the new boxy micro minis with a relaxed fit slash-neck t shirt. Add sparkly flats or understated sneakers, along with a long cardigan for a casual nod to the look, without going to risqué.
3. Pencil Sharp
Opt for a fitted t shirt and tuck it into a smart below-the-knee pencil skirt to create a sleek silhouette. Add a tailored blazer, and you'll be ready for business. Avoid the power suit impact of a matching skirt and jacket by adding socks and high-heeled sandals for a quirkier take. The right jewelry is imperative to pull off this look. Aim for understated and classy rather than blingy, and you'll be on the right track.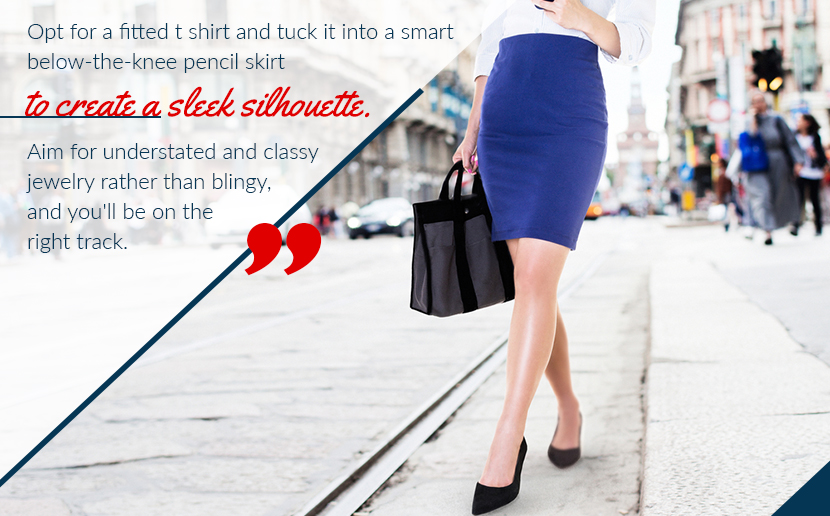 When you're off-duty, try pairing your t shirt with an on-trend checked pencil skirt and a runway-favorite lightweight raincoat.
4. Peplum It
Oversized peplum sleeves and skirts are everywhere at the moment, but drama like this needs a quieter supporting cast. Pair an outrageous peplum skirt in a vibrant, saturated color with your favorite fitted t shirt and a statement necklace and earrings for an hourglass silhouette with added pizzazz.
5. Stars and Stripes
Designers were in a patriotic mood at New York Fashion Week with Raf Simons and Calvin Klein, among several others who were showing collections based on the stars and stripes. Pick up the trend with a blue and red striped skirt, fashion-forward red patent slip-on wedges and a bright white t shirt.
6. Tulle
At the Milan fashion shows, tulle skirts were on show everywhere, while in London, pastel hues took center stage. Combine a softly draped tulle skirt in an ice-cream pastel or a dusky petal shade with a simple t shirt and denim jacket. Add sports socks and sneakers or buckle boots for a look that is truly catwalk-inspired.
7. Lavender and Lilac
Sugared almond servings of lavender and lilac are already in the shops, and the hot new shade is set to quickly replace millennial pink. Team a lilac suspender skirt with a plain white t shirt and on-trend pastel buckle shoes for a burst of spring feeling.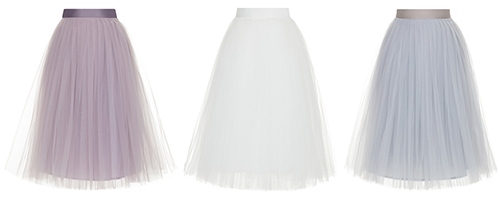 THE BOTTOM LINE

If you can bear to tear yourself away from the classic combo of a white t shirt and blue jeans, there are plenty of other options for your bottom half that will look just as good.
1. Wet-Look is Back
Get ready for wet-look leather, because it is well and truly back this season, and this time it's not just black but red, aqua, purple and other fabulous shades.
Try pairing a patent red micro-mini with a fitted white t shirt and transparent heels to be bang on-trend.
Or have some fun by going for the full-on greaser look with wet-look leather trousers, a classic white t shirt and a matching wet-look bomber jacket. Add scarlet lipstick and plenty of attitude.
2. All White
Evoke the spirit of a Caribbean summer by accessorizing your stand by t shirt with white linen cutoffs and a pair of on trend sequined flip flops. You'll almost be able to hear the surf and feel the sand between your toes.
3. Day to Night
Skinny black pants go with a plain white t shirt like peanut butter goes with jelly. Start with a neat jacket and court shoes for work. Swap the courts for peep-toes, add a sparkly shrug, dangly earrings and lipstick, and you're ready to discover the nightlife.
4. Rip Them Up
Skinny black ripped jeans may still make our grandmothers scratch their heads, but this is one trend that has shown it has major staying power. Match your ripped jeans with your classic white t shirt, some buckled ankle boots and shades for some understated cool.
5. Go Wide
Wide leg palazzo pants are a great summer staple. Choose a pair with some sparkly sequins to update the look. Add your fitted white t shirt, a skinny belt and some platform sandals, and you'll be cool and comfortable on even the hottest days.
6. Fancy Pants
Bejeweled and decorated jeans, sometimes paired with evening wear, will be coming to a store near you soon if the designers have their way. The essence of the trend is the juxtaposition of pairing day and casual wear with traditional evening-wear fabrics and sparkles. Get a jump on the trend by sewing sequins onto blue jeans and matching with a plain t shirt and a sparkling tuxedo vest.
7. Back to Blue Jeans
If you really must have your blue jeans, pick up on the 1980s trend this season and tuck high waisted pale blue denim into slouchy white ankle boots and pair with a baggy white t shirt.
TOP SHOTS

Just adding a twist to your top half can transform your outfit from plain to punchy. Try these simple additions to dial up the impact.
1. Layer it With Color
Layering is a trend that is here to stay and is a great choice for a laid-back, slightly edgy look, paired with boyfriend shorts or cut-offs for hot summer days. Try layering a colored camisole or two over your t shirt for a simple way to change up your style. Alternatively, throw out your mother's outdated underwear rules and wear a thin white tee over a brightly-colored bra for don't-care impact served with extra sass.
2. Faithful Flannel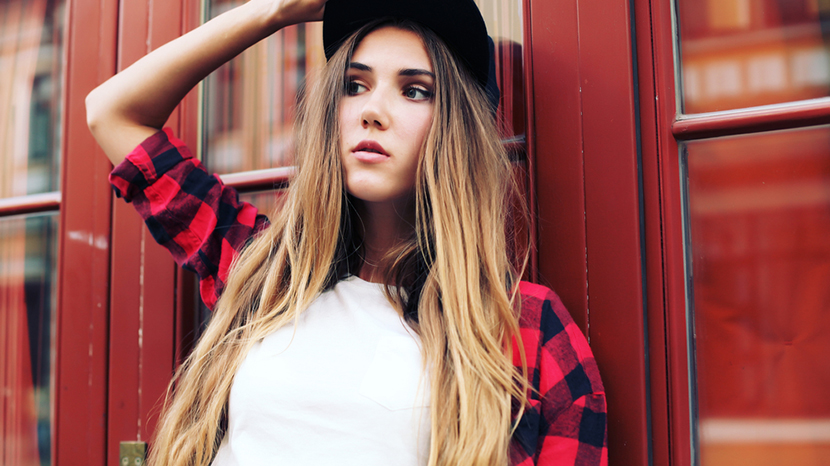 Beloved of high school seniors and college students everywhere, an oversized flannel shirt worn over a t shirt paired with jeans and boots is a classic go-to for good reason. It works equally well with the shirt tied around your waist or tied to the side. This practical, casual style never dates — and, after all, who doesn't want to reminisce about their high school days?
3. Wrap it Up
Slip a long neutral cardigan over your t shirt and jeans, add nude heels and a matching shoulder bag, and pop some sun glasses casually on your head, and you'll find you've nailed a favorite off-duty celebrity style. Add hair extensions for an authentic copy-cat look.
4. Kimono Coverage
Instead of a cardigan or jacket, switch it up with a kimono worn over a plain white shirt. Choose '60s style florals and sheer fabrics for the hippest way to go.
5. Bomber Jackets
With the return of all things 1980s, comes the bomber jacket. Try a sequined version over a plain t shirt with skinny jeans and sparkly Cinderella shoes for a look that will last you from day to night.
DRESS IT UP

Adding a t shirt can be a fun new way to wear a beloved dress, or a problem-solver when your dress wants to show just a bit too much of you.
1. Mind the Gap
If that diaphanous little wrap-dress at the back of your closet is begging for an outing but it leaves you feeling a little too exposed, add a simple white t shirt underneath, and the problem is instantly solved. Add some white cutoffs and tie the dress loosely, and you'll look beachy and relaxed, rather than worried about your modesty.
2. Strappy Happy
Strappy sundresses are pretty and always popular for summer, and Gucci showed them this year with super-feminine sequins and sparkles, while Dolce & Gabbana, Alessandra Rich and Erdem explored a more floral motif with modern tea dresses. Showing that much skin isn't always practical for school or work, and adding a t shirt underneath or on top can make them appropriate for more situations. Pair with sandals or wedges to up the girlie factor, or wear alongside ankle boots and a denim jacket to toughen it up.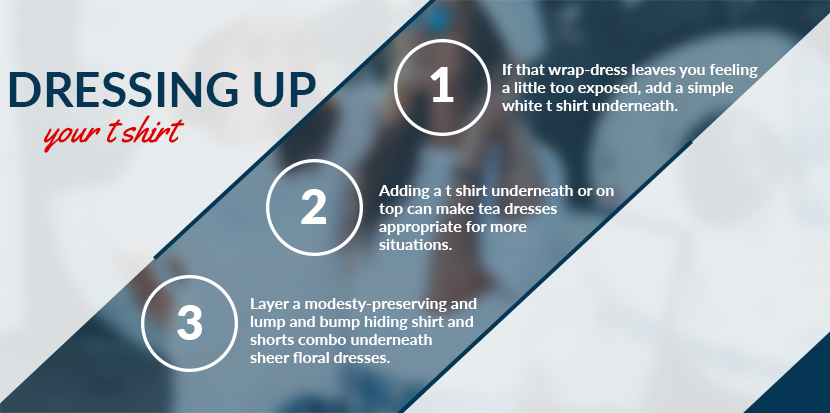 3. Sheer Perfection
It may be fine for models to wear oh-so-pretty totally sheer floral dresses with their underwear on display. However, the rest of us mere mortals can take a tip from Emilia Wickstead and layer a modesty-preserving and lump and bump hiding shirt and shorts combo underneath.
WORK READY

1. Utility Clothes
Prada, Sportmax and Gabriele Colangelo all showed utilitarian designs at Milan fashion week.  Coveralls, jumpsuits, pants and jackets all featured multiple pockets, belts and zips. Make the trend work for you by layering a plain t shirt with slouchy utility pants or flight suit inspired jumpsuits. Add belts and strappy sandals for the perfect mix of pretty and boyish. Keep your hair simple to match the style.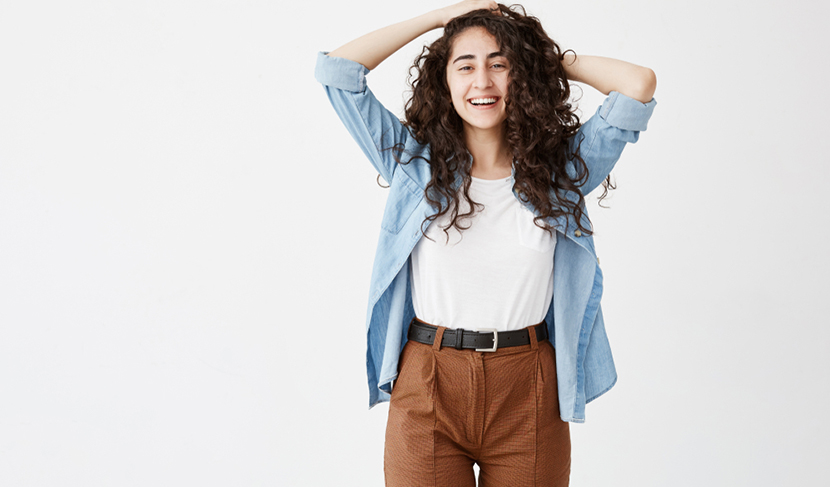 2. Trouser Suits
Perfect for work and a staple of the catwalk, trouser suits are the go-to work option for spring and summer. If you're feeling brave, patterned velvet trouser suits like Chloe's horse-motif version in tan, represent the playful extreme of this trend. Alternatively, choose wide pants and a tailored jacket in a saturated color and team with flats and a plain t shirt. Add a fisherman's net bag, and you'll be in with the fashionable set.
3. Workday Plaids
Heritage checks and plaids are a strong direction this season. In fact, Fendi devoted their whole show to the pattern. Add a casual touch to the grown-up suiting by opting for a fashion-forward shorts-suit over your plain white t shirt and add some bling with your jewelry.
Alternatively, mix a plaid jacket with a plain t shirt and a floral skirt, plus socks and sneakers to combine three key trends for summer.
4. Work Safe Spring Brights
Pick a fresh spring color and invest in some well-cut ankle-grazers. Partner with your white t shirt. Trench coats are the top layer of the season, so invest in a lightweight version in a matching color for an up-to-the-minute spring wardrobe option for work. Strappy sandals and a matching clutch will create a youthful and polished impression.