Get The Most Out Of Your Bulk T Shirts With These 12 Pawfect DIY Dog Costumes for Halloween
Halloween is one of the best times of the year. We all get to celebrate our favorite celebrities or characters, become a villain for the night and eat way too much junk food. Don't leave your dog out of all the fun — let Fido come to the party with a great dog costume. Unfortunately for most of us, a specialized dog costume, while cute, is not in our budget. What are thrifty dog owners to do?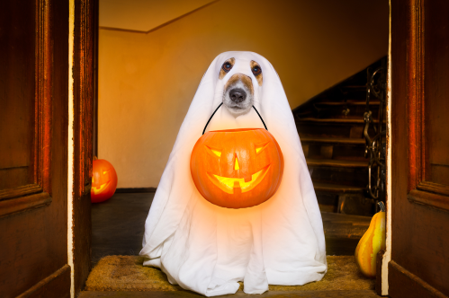 You don't have to spend a lot of money on a costume. You can make a cheap and easy one at home with some basic supplies like fabric, scissors, a glue gun and a set of bulk t shirts or baby onesies. Here are some wonderful ways to make a great dog costume this year.
1. A Perfect Pineapple
A yellow t-shirt is an excellent foundation for a fun, colorful costume. Turn your best friend into a delicious fruit with this adorable tutorial about how to create a pineapple. The best part has to be the tall green headpiece to crown that tiny head of your sweet little darling.
2. One-Horned Dog
This adorable unicorn costume for a small dog is such an obvious choice you'll hate that you didn't think of it first. Your dog is a magical part of your life, so give it a costume that screams fantasy land. The tutorial suggests white fabric, but a blank white t shirt would work perfectly. The beautiful tail made from multi-colored yarn is the icing on this dreamy, dog costume cake.
3. First Dog on the Moon
This look is a great one for any dog that has expressed an interest in scientific research. Suit your little friend up in a silver vest made from a car shade. Turn your aluminum water bottles into a jetpack and then add some orange and yellow felt flames to show your dog is bound for the stars.
4. Flower Power Pug
You know your little pug is beautiful, but not everyone around you seems to see it. So, help them out with this pink felt dog collar that lets your dog's inner flower come out into the world. This one does require a little sewing, but it's not that big of an undertaking. All you have to do is cut the petals from pink felt and then add them to a new collar. This piece is so cute you won't need anything else, but if you want, you could pair it with a dog shirt or sweater. Have fun accepting compliments on your adorable costume.
5. Little Ladybug Dog
If your four-legged friend always brings you luck, return the favor with this sweet ladybug costume. This is more cutting than sewing, and the whole thing is made from red and black felt with some fun pom poms on the antennae. All you have to make is a basic harness, and then add some nice wings to the top.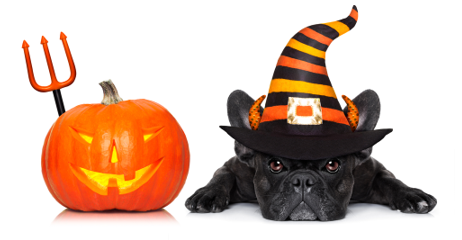 6. My Monster
Want a cuddly green monster for Halloween? This no-sew project is for you. Take some ping pong balls, draw on some eyes with a marker and some felt to create this fantastic headpiece that can be worn anytime. It photographs beautifully and comes together so fast that it won't cause any undue stress during this fun holiday. Get plenty of selfies with your little monster this year.
7. Fly, My Pretty!
Your dog is a known entertainer, so give him or her a truly standout costume and help them embrace their dark side with this bat costume. You will need some fleece, some wire and a few minutes of sewing. If your costume is something dark like a witch or a devil, then this little bat will go perfectly with your look. When your tiny darling devours someone's shoes or bag of candy, it will look so much cuter, thanks to this getup.
8. Get Jiff-y
The Huffington Post did an entire write up on Jiff, the tiny Pomeranian who has mastered Halloween. Most of his looks are dressed up kids t shirts, but he wears them so well. His Captain America look is impressive. Our personal favorite is the garden gnome. Does it get any cuter? Good boy, Jiff.
9. Up and Away
This costume is not for beginners. A tutorial is not available, but this amazing picture is a stunner. Someone sewed a quilted house for this sweet pooch and then attached an entire bouquet of balloons to the top to recreate the iconic film, "Up," in which a house flies with the help of balloons. It's so gorgeous and cute at the same time; it couldn't be left out.
10. A Living Piñata
If you are a ninja with your glue gun and live to create colorful felt projects, this is the perfect dog costume for you. It's fun, festive and unique. You will need some serious cutting time, though, as it's made entirely of felt strips to replicate the paper texture of a piñata, but it's worth it. HGTV's blog posted the project along with two bonus costumes — a flower and a bumblebee. This link will lead you to all three no-sew projects.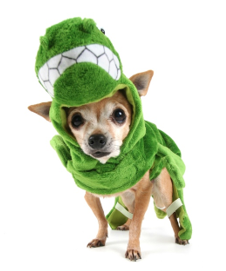 11. Dino Dog
These fun hoodies come together fast and easy and, best of all, are great for the whole winter. Start with a homemade or store-bought dog hoodie, then add the spikes and the tail. You've brought the dinosaurs back to life and made your little dog even more fabulous. Keep your little friend warm and generate some beautiful memories this Halloween.
12. Dem Dog Bones
Celebrate your dog's love of bones by painting him or her as a skeleton. This quick tutorial gives you some useful tips on how to distract your pooch and keep them happy, while you gently paint your dog's fur with glow-in-the-dark paint. Be careful which paint you choose; the author of this post points out that she used organic, vegetable-based paint to keep her pet safe. In the light, you have a fun, happy skeleton, and in the dark, you have a terrifying ghost. Be sure to visit lots of houses this Halloween; everyone will want to pet this furry skeleton. However, you decide to celebrate this year, be safe, have fun and take plenty of pictures.