From the Course to the Conference Room: How to Style a Men's Polo
Few men's garments are as versatile as the polo shirt. Polos are equally appropriate for the golf course, the conference room or even a night on the town, and they come in numerous materials and a rainbow of colors to suit any taste. Every man should have a few well-fitting polos and know how to style them appropriately for various situations. Keep reading to discover some helpful advice on how to style a men's polo!

Start with the Right Size
Polos fall in the middle between t-shirts and dress shirts. They're perfect for situations that are laid back enough to not require formal attire but formal enough for situations where you need to look nice. One way to entirely miss the mark, though, is by wearing one that doesn't fit properly. When you wear a polo, the bottom hem should reach your hips but not extend any lower than halfway down your back pockets.
It should be long enough to be tucked in but short enough to be worn untucked without looking sloppy. The sleeves should reach to about the middle of your bicep. Overall, a polo should be fitted but not overly tight. It should sit close to your body and be tighter around your arms and chest and looser around your mid-section. Even if you have defined muscles, there should be room for you to fit a couple of fingers between the sleeve and your arm.
Choose the Right Material
There are a few different fabric options for polos and it's important to choose the right one for your intended application. Performance polos, for example, are usually made from polyester or other synthetic materials and are designed to wick moisture away from the body. These come in a rainbow of vibrant colors, and they are more appropriate for the golf course than the conference room. Polos made from 100 percent cotton are often recommended for business casual attire. They come in two distinct varieties–jersey knit and pique. The original polos featured pique cotton, which is knitted in a woven pattern to create a textured surface. The sleeves usually end in a ribbed cuff that fits snugly to the arm and, overall, the shirt is well-structured. Today, it remains the fabric of choice for more professional and formal settings.
Jersey knit polos are the most common variety, though. Made from the same type of fabric that is used in t-shirt manufacturing, jersey polos are soft, smooth and stretchy. They are lighter in weight than pique polos and tend to feature a relaxed drape that is more appropriate for casual situations. Unlike pique polos, jersey polos usually have sleeves that end with simple hems rather than fitted cuffs.
Pair a Bold Color with a Nice Pair of Jeans
A polo shirt in a bold color is a great way to spruce up your favorite jeans. Wear it untucked for a casual look or tuck it in for a look that is more appropriate for "business casual" situations. They work well with khakis, too, for situations in which jeans are not acceptable.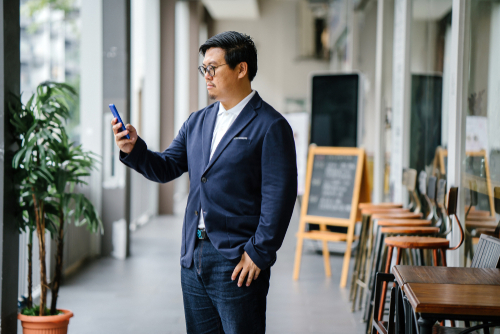 Wear a Polo with a Jacket
Who says you have to wear dress shirts under jackets? Polo shirts look great, too! Choose a polo in a neutral color that fits close to your body. Wear it tucked in with dress pants and a jacket for a look that is smart and professional but not overly formal. You can also spice up your look by pairing a brightly colored polo with a dark-colored jacket.
How Not to Wear a Polo
There are a lot of great ways to wear a polo. These versatile shirts look great with jeans, khakis and even suit jackets, but there are definitely ways that they should not be worn. For starters, undershirts should not be worn with polos. These tops are designed to be worn as base layers or single layers and an undershirt just adds unnecessary bulk. Also, don't layer your polos.
The trend of "popping" the collar on polos has, for the most part, stayed in past–but it's worth mentioning that you shouldn't do it. Popped collars were once cool among high school kids, but they are absolutely not appropriate for adults in any situation. Lastly, don't leave all of the buttons undone. While it isn't always necessary to button your shirt all the way up, you should at least fasten the bottom one. Leaving your shirt completely unbuttoned looks sloppy, so don't do it.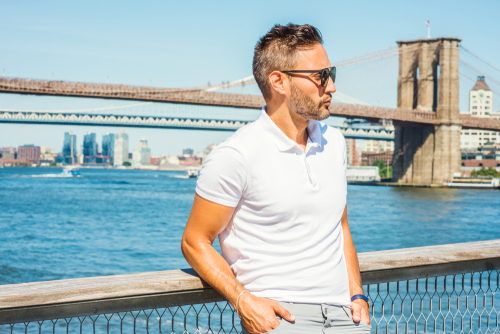 Closing Thoughts
Every guy should have several polos in their closet. These fashion-forward staples are perfect for a wide variety of situations. When you know how to style them, they can be some of the most versatile garments in your closet.