Different Types of Fabric for T-Shirts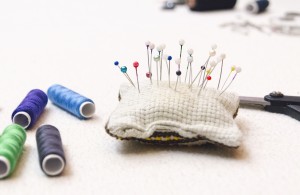 There are a lot of different factors that people consider when designing t-shirts for whatever reason. You need to consider the design itself, and then how and where you will print the t-shirts, but one of the most overlooked factors that people need to consider is the t-shirt itself.
There are a lot of different types of t-shirts out there that you can use to print your designs. Each one is going to have different pros and cons, and it doesn't mean that one is necessarily better than the other. You just have to make sure you pick the one that is better for what you are doing.
The fabric of the shirt is going to play a big part in not only printing, but the wear itself. Some are going to hold ink better, and others will last longer. Knowing the difference will help you pick the one that suits your project best.
Cotton
The most common type of fabric used to make t-shirts is cotton, but it is important to mention that there are different types of cotton out there for use.
Combed cotton is made from eliminating short strands and then straightening the fibers by fine brushes. Not only does this make the fabric softer and smoother, but also stronger, which is good for printing on.
Organic cotton is usually softer and more comfortable, but also more expensive than regular treated cotton. This is made from cotton grown with minimal fertilizers and pesticides.
Pima cotton is considered to be the highest quality cotton that you can get. It is made from extra-long fibers, which makes the shirt extremely soft and durable. This cotton is going to resist pilling, fading, and stretching. Supima is going to be the same type of cotton as pima, but refers to cotton grown specifically in the United States.
Slub cotton is a variety of cotton that appears to have slight lumps in the fabric. These lumps are due to the process prior to weaving the cotton, where the cotton is twisted, creating irregular twists. This unique fabric creates a light and airy t-shirt that does not cling to the body. Also, slub cotton is good because the fabric naturally looks textured, so there is no need to iron it.
Other
Linen is another popular fabric that is used for t-shirts. Linen comes from the flax plant and has a textured weave. Linen is a very popular choice for summer wear because the fabric is lightweight and breathable. It also is moisture wicking and dries quickly. The only down side to a linen shirt is that it does wrinkle easily, and ironing is a must.
Polyester is another fabric used for t-shirts that has a lot of advantages. Like linen, polyester is very quick drying and doesn't mildew. But, unlike linen, it doesn't require ironing and is easy to machine wash. It also does very well maintaining its shape and doesn't stretch. It is often seen in athletic apparel.
Another fabric that is found in athletic wear is rayon, which was created as a more affordable alternative to silk. Rayon is a manmade fiber that is created from trees, cotton, and plants. The end result is a silky, breathable fabric that drapes easily, dyes well, and is extremely absorbent. However, it is not suited for prolonged wear and tends to wrinkle very easy.
Lycra is a popular term that is thrown around and used loosely, but it is a brand name for the material Spandex. Spandex is normally an additive of t-shirts that is used to give them a little more give. Again, this is often found in athletic wear because it allows for easy movement.
Modal is a form of rayon made from beechwood plant fibers, and it is extremely soft and breathable. In addition to this, it is cool to the touch and dries quickly, which makes it perfect for wearing in the summer. It also is shrink resistant and does not pill quickly, in contrast to regular rayon.
One last important note: Many t-shirts are not going to be made out of just one of these fabrics. Often they are a combination of two or three materials. When you combine different fabrics, you get the best quality from each.  For example, a very popular type is a cotton and polyester blend. It is light and cool from the cotton fibers, but also has the strength and wrinkle resistance of polyester.