Black T-Shirts vs. Plain White T-Shirts: A Complete Style Guide
Though t-shirts come in a never-ending rainbow of colors, two options stand out above the crowd: black and white. White t-shirts may be the timeless, classic and original, but black t-shirts have proven to be a winning wardrobe staple as well. Whether worn on their own or layered under other garments, these ubiquitous pieces of apparel provide endless comfort, style and versatility. While stocking up on other colors is always a great idea when you want to breathe some new life into your wardrobe, having plenty of white and black tees ensures that you will be ready for any occasion. 
The humble t-shirt is a classic, and it's something that belongs in every closet. It's a wardrobe essential that can be dressed up or dressed down to make it appropriate for virtually any occasion and situation. Whether you're going to work, out on a date or even hitting the gym, a simple tee can serve as the perfect top for any event. 
If you are like most people, you might not give your t-shirts a whole lot of thought. While you probably wear t-shirts regularly, you may have never given much consideration to how to style them or what you need to do to create the perfect look using your favorite black or white shirt. In this style guide, we'll dive into some of the dos and don'ts to help you better understand how to rock the t-shirts in your closet. 
Benefits of T-Shirts
Before we dive into the specific benefits of each color and when each is most appropriate, let's take a moment to examine the general benefits of t-shirts. While countless styles have come and gone over the years, the simple t-shirt has been around for more than a century. Named for the T shape that is formed by the body and attached sleeves, these shirts were originally made from wool or silk and used exclusively as undergarments. 
Around the turn of the 20th century, the U.S. Navy started using t-shirts for sailors as undershirts, and other branches of the military quickly followed. Though intended to be worn underneath uniforms, soldiers and sailors working in sweltering hot climates began removing their uniform tops and working in their t-shirts and uniform trousers. By the 1940s and '50s, tees were commonly being worn as outer garments, especially by boys and young men. 
Today, t-shirts are still commonly worn as both under and outer garments. You might wear yours underneath your work shirt to absorb perspiration, or you might wear it on its own with a pair of jeans. You may even pair it with a nice pair of slacks and a sport coat to create a look that's appropriate for work. However you wear them, there is a strong likelihood that you wear t-shirts regularly for several reasons. 
For starters, t-shirts offer versatility that is beyond compare. What other type of top could you wear to work, on a date, running errands, hanging out at home or out with friends?  
This type of shirt is extremely affordable, too, regardless of what your budget looks like. Sure, there are high-end tees that cost hundreds – even thousands – of dollars, but the typical t-shirt will set you back less than $20. And when you buy wholesale t-shirts, it's possible to get them for as little as $1 each. It doesn't get much cheaper than that!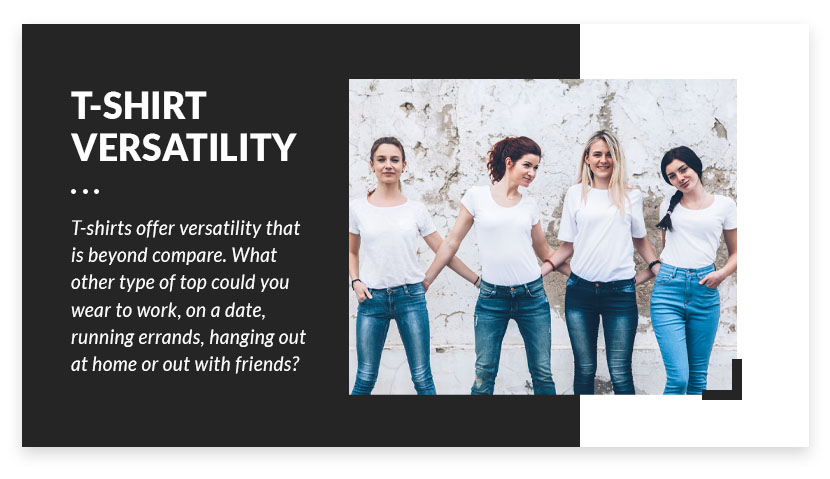 The versatility of tees lends to their affordability, too. Instead of needing to buy individual shirts for every outfit in your wardrobe, you can mix and match just a couple of t-shirts with other garments to create many, many outfits. And when you have both black and white t-shirts in your closet, you can totally change up your look without breaking the bank. What's not to love? 
T-shirts go with anything, too. Whether paired with jeans, sweats, shorts, dress slacks or even a skirt, the humble t-shirt pairs nicely with all of the bottoms in your closet and can be used to create any type of style you desire. When you fill your closet with t-shirts, it's almost impossible to mess up your look. This is, of course, a huge benefit for anyone who does not have a strong fashion sense. 
White T-Shirts
When you think about the classic t-shirt, a white crewneck tee is probably the first thing that comes to mind. Plain white tees are the most basic of the basic, but they are an important component in any wardrobe.
While often worn as undergarments, white t-shirts can stand on their own and be worn in numerous ways. Since they are so basic, they are generally best for casual situations. If you're hanging out with friends, picking up groceries or going for a run, a simple white tee is a solid option. 
Keep in mind, though, the boxy crewneck style isn't the only white t-shirt in existence. There are also V-neck styles and shirts that are more fitted throughout the body to create a flattering silhouette. In our guide to t-shirt necklines, you can learn more about crew, V and other necklines to discover which style is best for various occasions and situations. Generally, the crewneck style is best for casual situations while a V-neck works well when you want to dress things up a bit.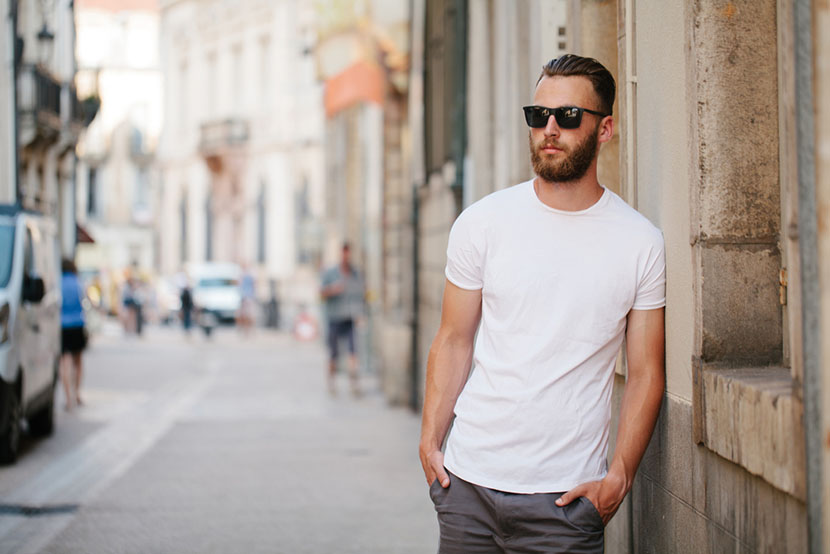 Styling a Plain White Tee 
When it comes to styling a plain white tee, the options are limitless. For a simple and casual yet totally put-together look, try wearing a white tee underneath an open button-down shirt and dark jeans. This look is effortless to put together, but wearing a t-shirt under an open shirt creates a tailored yet casual finished style. 
You can create another timeless look by ditching the button-down shirt and replacing it with a black leather jacket. With this outfit, you'll ooze James Dean-esque coolness and turn heads everywhere you go. Of course, you can always ditch the "real" leather in favor of more eco- and animal-friendly vegan leather.
If you're going for a laid-back look, try wearing your white t-shirt with sweatpants or joggers. Throw a zip-up hoodie on over top if you're in need of some extra warmth. This look takes just seconds to put together and, thanks to the popularity of the athleisure look, is appropriate in a wide range of casual settings. You can, of course, wear this look to the gym or when you go out for a walk. It also works when you're enjoying a casual brunch with friends. 
Black T-Shirts
You can wear a black t-shirt anywhere you would wear a white t-shirt. The perk, though, is that a crisp black tee instantly dresses up your look and makes it a bit more appropriate for formal situations. By swapping your plain white tee for a black one, you can instantly make your grocery store outfit completely appropriate for a casual date or even a lunch meeting. 
In general, black tends to be more flattering, too. If you feel self-conscious about how you look in a white or light-colored shirt, you may find that you are more comfy when wearing black. Keep in mind, however, that black absorbs heat. If you are going out for a jog, playing a game of basketball with friends or engaging in any other activity on a warm, sunny day, you're going to get hotter while wearing black than you would while wearing white. 
When you are shopping for a black t-shirt, there are many options from which to choose. There are, of course, different necklines and fits to choose from. Sleeve length is something that varies, too. If you aren't in the market for the standard short-sleeved tee, there are also long-sleeved tees and tank tops to choose from. Both black and white t-shirts offer a lot of versatility in terms of style and fit.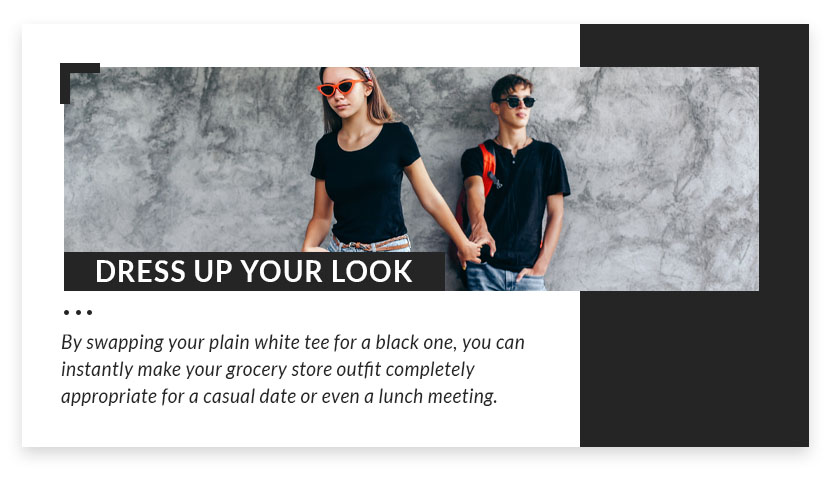 Styling a Black T-Shirt
When it comes to styling a black t-shirt, the sky's the limit. While white tees tend to look best when they're worn under something else, it's easy to rock a black tee both as a layering piece and on its own. If you are trying to create an outfit that's appropriate to wear to work, try wearing a V-neck black t-shirt under a black suit. You can also wear one under a black blazer with a pair of dark, tailored jeans. 
If you're going for a simple, casual look, throw on a black t-shirt with a pair of jeans and you're good to go. To dress up this style a bit, try adding a belt or lacing up your most stylish sneaks. A pair of aviator sunglasses is always a good addition, too. Black tees work with joggers, sweatpants and shorts, too.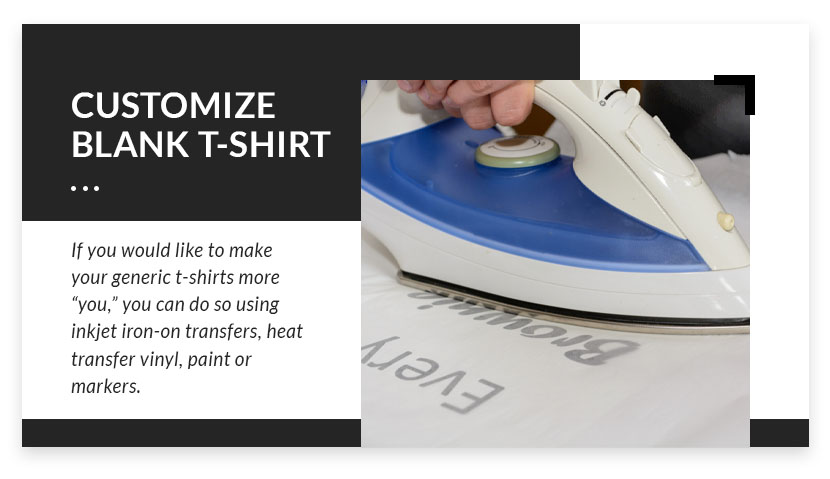 When choosing the perfect black t-shirts for your wardrobe, fit matters. If you are trying to put together sleek, work-appropriate outfits, go with tops that are fitted through the body rather than baggy ones. A bit of tailoring goes a long way when it comes to ensuring that your outfit doesn't look sloppy. 
Additional T-Shirt Style Tips and Outfit Ideas
Black and white t-shirts are classic wardrobe staples that can be worn in countless ways. They are versatile pieces that can be dressed up or down, making them perfect for a variety of occasions. The following style tips and outfit ideas for black and white t-shirts can help you stand out wherever you go:
For a

casual look

, pair a basic

cotton t-shirt

with

skinny jeans

and

ankle boots

. Add a

denim jacket

or

cardigan

for an extra layer. This

combo

is perfect for running errands or meeting friends for brunch.

For a

 business casual

outfit, tuck a white

crewneck t-shirt

into a

midi skirt

or

chinos

. Add a cardigan or blazer for a polished look. Complete the outfit with

booties

or heels for a chic and professional look.

For a

minimalist

style, wear a black or white t-shirt with

mom jeans

and sneakers. This is an effortless and stylish pairing, perfect for a day out running errands or relaxing with friends.

For a fun and edgy look, wear a

graphic tee

with

ripped jeans

and a denim jacket or a

mini skirt

. This outfit is perfect for a concert or night out on the town.

For a dressier look, pair a

basic t-shirt

with a

pencil skirt

and heels. Add a statement necklace or earrings for extra glam.

For a trendy look, wear a black t-shirt with

overalls

and ankle boots. This combo is perfect for a weekend brunch or festival.
Black and white t-shirts are versatile pieces that can be paired with various bottoms and layers to create countless outfits. They are perfect for those who love a minimalist aesthetic or those who love to experiment with different styles.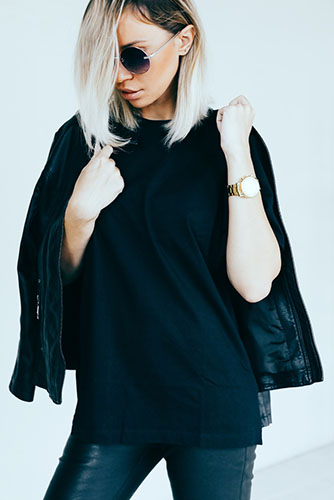 Taking Tees to the Next Level
There are all sorts of great ways to wear and style plain t-shirts. Whether you're working with kids' t-shirts or adult tees, there are many ways to customize blank t-shirts and other apparel. 
If you would like to make your generic t-shirts more "you," you can do so using inkjet iron-on transfers, heat transfer vinyl, paint or markers. The options are virtually limitless. With a bit of creativity and patience, anyone can transform blank t-shirts into one-of-a-kind creations that anyone would be proud to show off. You can add your favorite saying, a picture of your favorite animal, a beloved family member or pet's photo and just about anything else you can think of. 
T-shirts can also be transformed by tie dyeing them or cutting them up and using them to create other garments. Tie dyeing a black or white t-shirt can create a fun and unique look. There are many tie-dye techniques, from traditional spirals to more abstract designs. After tie dyeing, you can wear the t-shirt as is, or cut up to create a crop top, tank top or headband. 
For example, by cutting off the sleeves and neckline of a black t-shirt, you can create a simple and stylish tank top. You can also cut off the bottom of a white t-shirt and add a waistband to create a cute and comfortable t-shirt dress.
Another way to transform a black or white t-shirt is by embellishing it with embroidery, patches or studs. Add embroidery to the collar of a white t-shirt for a unique and personalized look. You can also add patches to a white or black t-shirt to create a punk or grunge-inspired look.
Customizing t-shirts is a fun project, and there are methods that are appropriate for all ages. If you would like to use white and black t-shirts as your wardrobe staples but you want to create a one-of-a-kind style, customizing your own t-shirts is a great option. 
Conclusion
Whether you need to put together outfits for work, you're trying to figure out what to wear on a date or you need casual clothes for lounging around the house, plain black and white t-shirts are perfect for any occasion. By simply mixing and matching them with other articles of clothing, you can create stylish outfits that are perfect for any occasion. And if you'd like to take your basic tees to the next level, there are all sorts of options out there for customizing blank apparel and making it truly your own. 
At The Adair Group, we have the blank tees you need to fill your wardrobe. Whether you're shopping for crewneck, V-neck, boxy or fitted t-shirts, we have you covered! Check out our full collection today to find the perfect white and black t-shirts that are appropriate for any occasion.