Best Weight T-shirt for Every Craft Project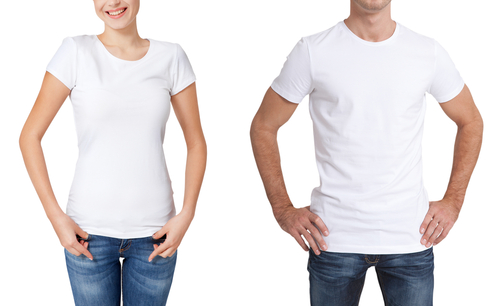 A plain t-shirt is the perfect blank canvas for any crafter's imagination. From screen printing to embroidery, customized t-shirts are a great way to express your style, and can also become a lucrative business opportunity.
However, before you can break out the fabric paint and order a bunch of wholesale t shirts, there are some factors you need to consider. Things such as size and style often impact a crafter's t-shirt selection, but a little known and often overlooked element that is equally important to the success of a project is the weight of the t-shirt.
The weight of a t-shirt is determined by the blend of fibers, for example, whether it is 100 percent cotton, or a cotton-polyester blend, rayon or spandex, as well as the density of the weave of the material. In the U.S, the fabric weight is measured in ounces per square inch, with lightweight t-shirts ranging from 3 – 5 oz., while heavier t-shirts usually weigh around 5.4 – 6.1 oz.
The weight directly affects the durability and drape of a garment and may impact the longevity of your designs. What's more, different crafting techniques are better suited to different fabric weights to achieve the best results. So, to help you select the right t-shirt for your crafting needs, here are the best t-shirt weights for every craft.
Tie-Dyeing
Tie-dyeing is a great way to create unique patterns on garments, and t-shirts are the perfect place to begin. Use t-shirts that are at least 60 percent cotton to ensure the dye takes, otherwise you may not achieve the pattern or color saturation you are after.
The great thing about tie-dyeing is that the process is easy and forgiving, which means you can use almost any weight of t-shirt. However, if you are a beginner, then it is best to use lightweight t-shirts up to 4.5 oz., because they are easier to handle.
Dip Dyeing
Dip dyeing is a variation on tie-dyeing that is in vogue. The ombré trend has been seen in hair, clothing and accessories for the past several seasons, and shows no signs of disappearing.
The process is done by partially immersing fabric in dye, rather than tying the whole garment. The result is a stunning contrast between the shirt's original color and the dyed section; the process creates an ombré effect.
One of the challenges of dip dyeing is achieving the stark contrast without the dye bleeding into the rest of the shirt. Using a medium-weight shirt around 4.5 – 5.2 oz. that has a high percentage of cotton fiber will help the dye to take more effectively.
Screen Printing
Screen printing involves pressing a single-colored dye at a time through a permeable screen over a stencil to build up an image gradually. For the dye to take correctly, and avoid bleeding outside the stencil, a tight weave is the best option.
However, since the dyes aren't heavy (depending on the size of the print), a lightweight t-shirt or lightweight hoodie up to 4.5 oz. would be ideal. This also caters best to customer demands, who often prefer soft, lightweight fabrics due to the feel and drape of the body.
Embroidery
For embroidery, the weight of t-shirt depends on the size and position of the design. If the design is small and located on a pocket or sleeve, for example, then you can choose a lighter weight t-shirt. But, as one of the crafts that requires heavier embellishing materials, a heavyweight 5.4 – 6.1 oz. cotton t-shirt would be the most suitable option, and you may need to add a cutaway on the back to reinforce and hold the design.
Alternatively, you could use a plain polo shirt where the slightly more open weave will hold the design better and is made from heavier cotton, which will stop the weight of the design from dragging down the material and causing the shirt to pucker.
Beading
For a variation on traditional embroidery, beading plain t-shirts can turn an unadorned garment into a stunning, chic addition to your wardrobe. You can add subtle shimmer with a few gemstone beads or sequins around the collar, or sew larger intricate designs all over the shirt. However, you will need differently weighted t-shirts, depending on the amount of beading to your design needs.
More beading will need a heavyweight shirt of around 5.4oz. to prevent the shirt from becoming misshapen, while light- to medium-weight t-shirts are suitable for minimal beading.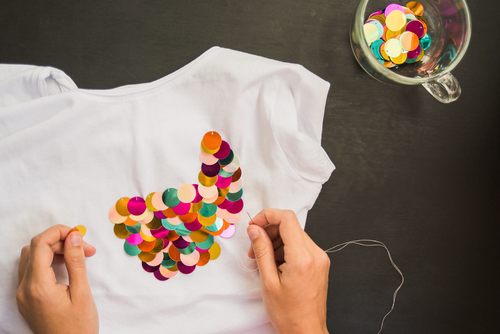 Heat Press
Heat pressing covers a range of different materials applied to t-shirts and other objects using a heated panel that applies uniform heat in a similar way to an iron-on transfer. The materials used to create the images include cut vinyl, sublimated ink images and even embroidered appliques and rhinestones. This method is not only a great piece of technology for crafters, but can also be used for creating garments on a larger commercial scale.
Due to the nature of the materials used for heat transfers, most heat pressing companies suggest a heavier-weight t-shirt between 5.4 – 6.1 oz., depending on the fiber blend that you require. A heavier shirt will hold its shape better after the transfer, and it's more durable.
Final Thoughts
No matter how you choose to decorate your t-shirt, ensuring you select the right weight wholesale cotton t shirt, in addition to material and style, will help you to achieve better results with every project.