Your Guide to the Best – and Worst – Fabrics for Tie Dye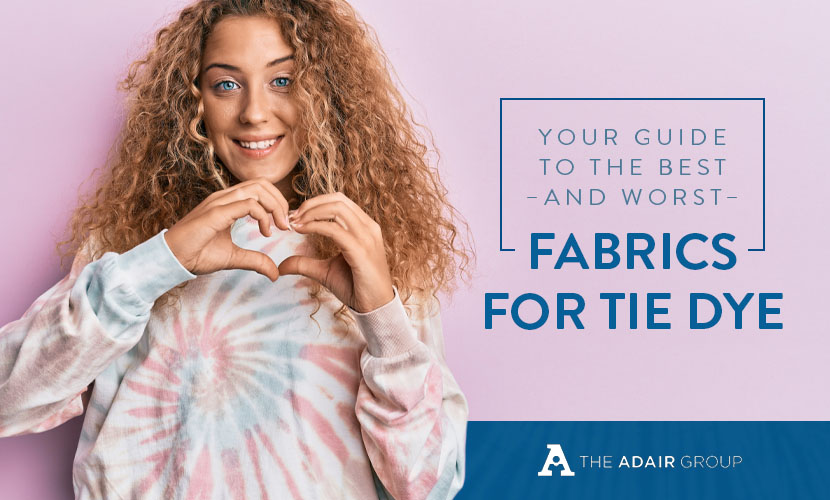 Tie dyeing shirts is a fun summertime project that never goes out of style. With countless color combos to choose from, you could make hundreds of shirts and not have any that look exactly alike. And that is only part of the fun! Whether you are making shirts for yourself or designing them to sell or give as gifts, making tie-dyed shirts is a fun and carefree way to express your creativity and brighten up your – or someone else's – wardrobe. 
Before you stock up on wholesale t-shirts and fabric dye, though, it is important to understand the variations that occur as a result of tie dyeing differing types of fabric. Different natural and synthetic fibers react differently to the tie dyeing process, and some are better suited to the job than others. Understanding these differences is the key to choosing the best fabrics for tie dye.
Whether you are trying to make vibrant designs that will turn heads everywhere you go, subtle pastel patterns, or something in between, the shirt you use is just as important as the dye. In this guide to the best – and worst – fabrics for tie dye, you will find everything you need to know about choosing shirts for your next project.
Remember, though, that this guide is somewhat subjective. The "best" and "worst" fabrics may vary depending on what you are making and what sort of design you are trying to create. A fabric that is great for beginners, for example, may not be the best choice for a skilled artist who is looking to create vibrant, detailed designs. With that in mind, let's get started!
Natural Fabrics
When it comes to creating the brightest and most vibrant tie dye color combos, natural fabrics – like cotton – are the way to go. Still, some options work better than others, and there are even a few that don't work well at all. Each fabric type yields different results. It is crucial to take these things into consideration if you do not want to waste time and dye on garments that will not meet your expectations.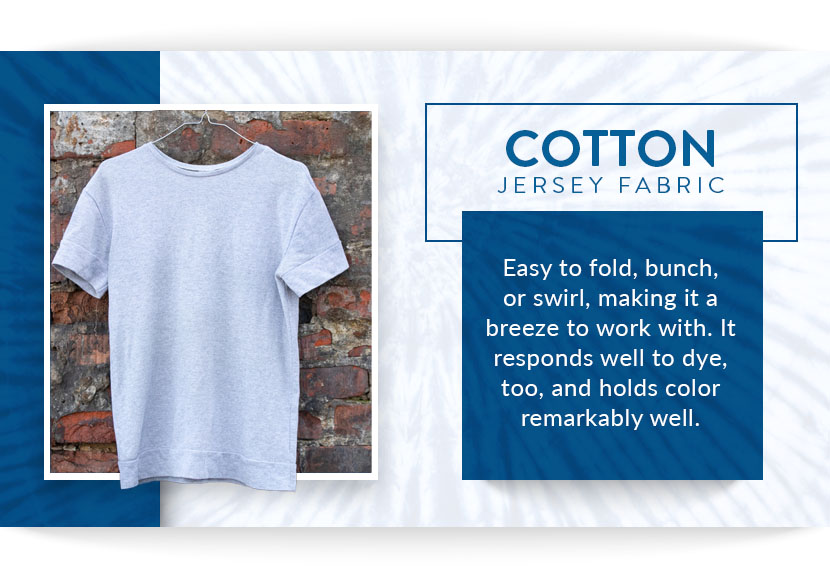 Cotton Jersey
Cotton jersey is the fabric most frequently used in tie dye shirts, and for good reason. It is easy to fold, bunch, or swirl, making it a breeze to work with. It responds well to dye, too, and holds color remarkably well. The dye is absorbed quickly. With proper laundering, tie-dyed cotton shirts remain vibrant for years.
Learn How to Wash Tie Dye Shirts to Make Them Last
Cotton Muslin
Cotton muslin isn't widely used for making final shirts. It is, however, frequently used to make sample garments because of its affordability. It is sometimes used for making things like tie dyed tapestries and wall hangings, too.
Like cotton jersey, cotton muslin holds dye well. It holds a lot of detail, too, which comes in handy when working on complex patterns and designs.
Cotton/Hemp Blends
Shirts made from a blend of cotton and hemp work well for tie dyeing. The fabric is soft, and it holds dye well. It is important to note, though, that this type of fabric is heathered, which affects the final look. If you don't like the speckled look, this fabric is not one that you likely want to use for your tie dye projects.
Denim
Because it is made of cotton, denim works well for tie dye. If you are thinking about going this route, though, make sure you are buying real denim. Many manufacturers of jeans and jean jackets use materials other than real denim, so be careful. Real denim is 100 percent cotton.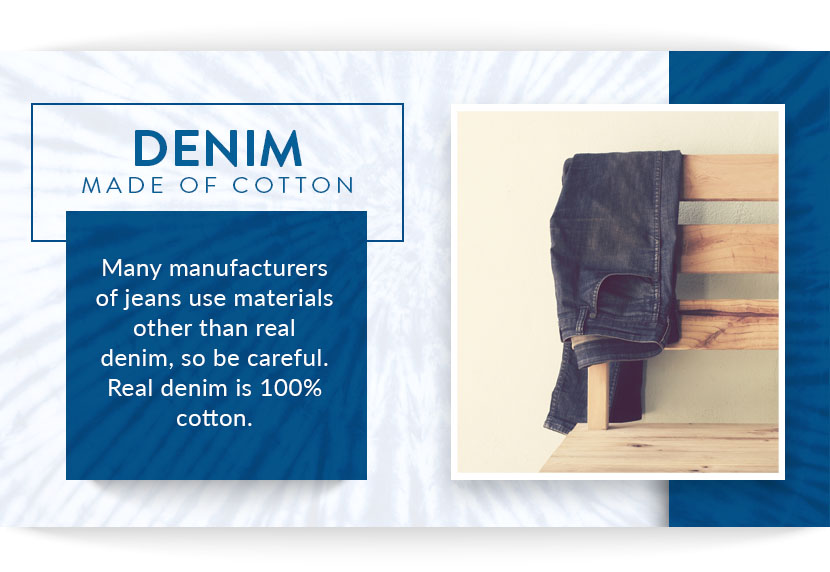 There are a few different options for tie dyeing denim. If you are customizing dark wash jeans, bleach is a more appropriate option than colored dyes. White or light-colored denim is a better choice if you are trying to create a colorful look.
Because it is stiffer than, say, a t-shirt, denim may not be your best bet for detailed designs. It can be challenging to fold and secure, so it works best for simple designs.
Rayon
Also known as viscose, rayon is natural cellulose fiber made from wood pulp. Though it is manmade, it is classified as a natural fiber because of its cellulose content. It feels and dyes much like cotton, making it a great option for making tie dyed shirts.
Any dye that works on cotton works on rayon. However, they tend to appear much more vibrant on rayon. This is important to keep in mind if you are trying to lighter or pastel colors. In addition, rayon is easy to damage when wet. It should never be washed with heavier fabrics and is best suited to handwashing. Extreme care must be taken to avoid damage when twisting and tying garments made from this material.
Bamboo
Bamboo is similar to rayon. In fact, most bamboo clothing and fabric is a type of rayon that is made from bamboo pulp rather than wood pulp. Very little bamboo fabric is made from spinning the fibers of the bamboo plant.
In either case, bamboo can be dyed using the same method you would use to dye rayon. Expect excellent color absorption and vibrance. Bamboo is a bit more durable than rayon, so it is less susceptible to damage when wet. It still needs to be handled with care, though, and should be washed using the gentle cycle.
Wool and Wool Blends
Wool is a common natural fiber, but it is not one of the best options for tie dye. Rougher textured wool may absorb the dye better than a smooth blend, but do not expect vibrant results.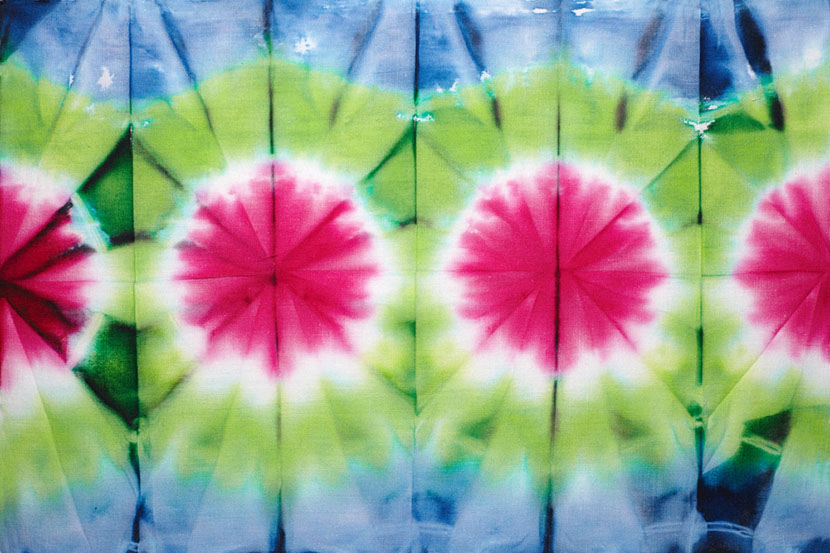 Silk 
Silk responds to dye surprisingly well. It absorbs color easily, and the fine fibers allow the fabric to capture even the most intricate details. Working with silk is not cheap, but if you are looking to create tie dyed shirts or accessories with stunning detail, you simply can't beat it.
Synthetic Fabrics
While shirts made from 100 percent cotton are regarded as the best option for tie dyeing, you do not need to completely rule out man-made synthetic fibers. It is important to note, though, that how the dye reacts with synthetic fibers varies significantly. If you are thinking about giving it a shot, here is what you need to know about working with a few common synthetic materials.
Polyester
Polyester can be tie dyed, but it does not absorb color nearly as well as cotton. Because of this, creating vibrant tie dye color combos is nearly impossible on polyester. If you want to give it a try, you will need to use dispersible dyes and boiling water. You might need to use a color intensifier or dye carrier, too. And, once you achieve the desired look, you will need to know how to wash tie dye shirts to avoid fading. If you are up for the challenge, find out how to tie dye polyester.
Faux Fur
Faux fur may be fun to work with, but it is not a whole lot of fun to attempt to dye. The thickness of the material makes it difficult to wrap and tie, and strings/rubber bands tend to get tangled up in the fur. The long strands also do not react well to water, so you have to be extremely careful to prevent the project from turning into a matted mess.
The strands can absorb color surprisingly well. Unfortunately, they are not resistant to fading. Even if you get lucky enough to create a beautiful design, it will likely wash out way sooner than you would like.
Nylon
Nylon is one of the few synthetic fabrics that is known to absorb color well. Keep in mind, though, that not all dye types are appropriate for this project. Acid dyes work best for creating vibrant colors that match the product's packaging. All-purpose dyes work, too. While they are easier to work with than acid dyes, though, they typically do not provide as vibrant results.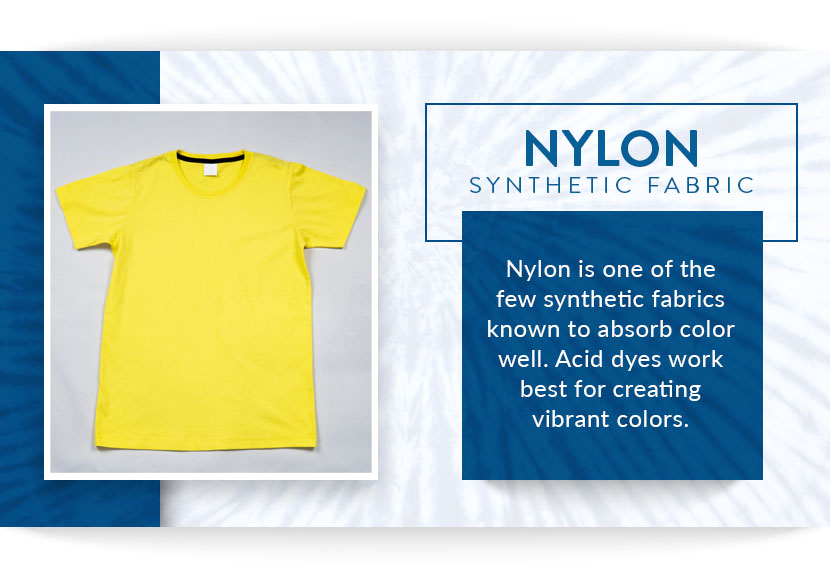 If you are thinking about tie dyeing nylon, it is best to experiment with a few pieces you will not mind ruining. It takes some experimentation to get a feel for how the material will react to the dye. Once you have mastered the process, though, nylon is one of the better synthetic fabrics to tie dye.
Craft Felt
If you are thinking about tie dyeing craft felt to use in a project, you might want to reconsider. While the materials from which felt is made may vary, one thing remains the same: This type of fabric does not work well for tie dyeing. Getting felt wet alters its texture. Plus, a lot of the color washes away when you rinse the dye out.
Natural/Synthetic Blends
A lot of garments are not made from 100 percent natural or synthetic fibers. Instead, they contain both. Blends are designed to create a fabric that offers the benefits of different types of fiber. Cotton/polyester blends, for example, combine the comfort of cotton with the durability and wrinkle resistance of polyester. Some of these blends work well for tie dyeing, too.
Cotton/Polyester Blend
While the results will not be as vibrant as they would be on a garment made from 100 percent cotton, cotton/polyester blends do work well for tie dye. Bear in mind, though, that the results can be a bit unpredictable. For the best outcome, use shirts that contain at least 50 percent cotton. Using a color intensifier helps, too.
Tri-Blends
Tri-blend shirts are made from three types of fiber – cotton, polyester, and rayon. They are extremely comfortable, and they work rather well for tie dye. Since cotton and rayon are both natural fibers that absorb color well, they are easier to work with than regular cotton/polyester blends.
The Bottom Line: Which Fabric Is Best for Tie Dye? 
While many types of fabric can be tie dyed, cotton reigns supreme as the best choice. It absorbs the dye well without the need for a color intensifier or the use of special dyes or boiling water. When making tie dye shirts at home, starting with plain cotton tees is, by far, the easiest and safest option.
There are, however, other options that work well, too. Cotton/polyester blends and tri-blends do a solid job of absorbing color and are not as prone to shrinkage as 100 percent cotton. Bamboo and rayon, though a bit more difficult to work with, yield impressive results as well.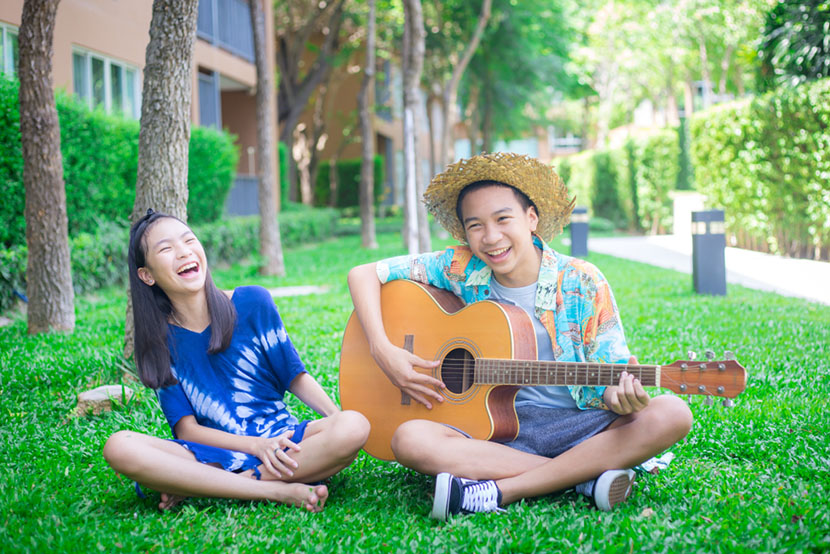 When it comes to making tie dyed apparel and accessories, some fabrics are better suited to certain projects than others. Consider your desired vibrancy as well as the supplies you have available to you to determine which option best suits your needs.
Keep in mind, too, that tie dyeing some fabrics can be dangerous. Dyeing garments at high temperatures, for example, is much riskier than squeezing room temperature dye out of a bottle. Some types of dye are more dangerous to work with, too. Always read the manufacturer's instructions and warnings, and be careful. It is never worth hurting yourself to make an awesome shirt!
At The Adair Group, we have plain white shirts that are perfect for tie dyeing. If you are feeling overwhelmed by all of the different fabric types, though, we also have premade tie dyed shirts.
Browse Our Pre-Make Wholesale Tie Dye T-Shirts
When you buy tie dye t-shirts wholesale, you can get the high-quality garments you need without the time or expense involved in dyeing them yourself. You can also avoid the frustration of throwing away shirts that did not turn out as you had hoped.
Whether you are drying shirts yourself or would rather go the easy route and buy pre-made tie dyed shirts, we have you covered! Shop today to find a full selection of blank and tie dyed shirts from leading manufacturers at competitive wholesale prices.
Image Credits
Kijja P44/shutterstock.com
Viktoriia Kotliarchuk/shutterstock.com
Krakenimages.com/shutterstock.com
TRIPLE_S/shutterstock.com
AnirutKhattirat/shutterstock.com
VLADIMIR VK/shutterstock.com
Fun house studio/shutterstock.com