5 Best Blank Hoodies for Printing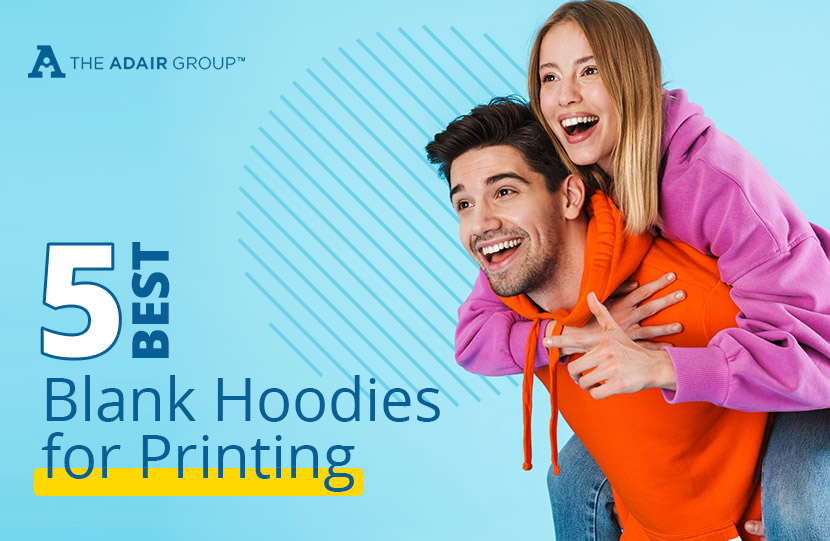 With so many different options to choose from, finding the best hoodies for printing can be tricky. There are several things to consider, including your target audience, preferred printing method, and intended design. And, of course, quality and affordability should always be at the top of your list of considerations. Selecting the right blank apparel is a big undertaking because it directly impacts the overall success and profitability of the entire project. When you are in the garment customization business, not just any plain shirt will do! 
Here at The Adair Group, we stock a large assortment of wholesale hoodies for men, women and kids, and we think they are all pretty great. However, we recognize that some brands, styles and fabrics are better suited to specific applications than others. That's why we decided to put together this list featuring the best blank hoodies for printing. Whether you are screen printing these tops, adding heat transfer vinyl or even using a direct-to-garment printing technique, these products offer the perfect blend of quality, style, functionality and affordability. Keep reading to discover a few of our top picks. 
We Have the Wholesale Hoodies You Need for Printing
1. Gildan
Gildan has long been a leader in the wholesale blank apparel market, and it offers a vast collection of casualwear essentials in an array of styles, colors and sizes. Whether you are shopping for men, women or kids, Gildan has something to meet your needs. 
The Gildan G185 pullover hoodie is one of our top sellers — and for good reason! Made of a blend of 50% cotton and 50% polyester, it is a perfect choice for screen printers. This blend feels lovely against the skin and stands up to the rigors of daily wear, making it a popular choice among consumers. At 8 oz., it is a comfortable midweight sweatshirt that is excellent for year-round wear.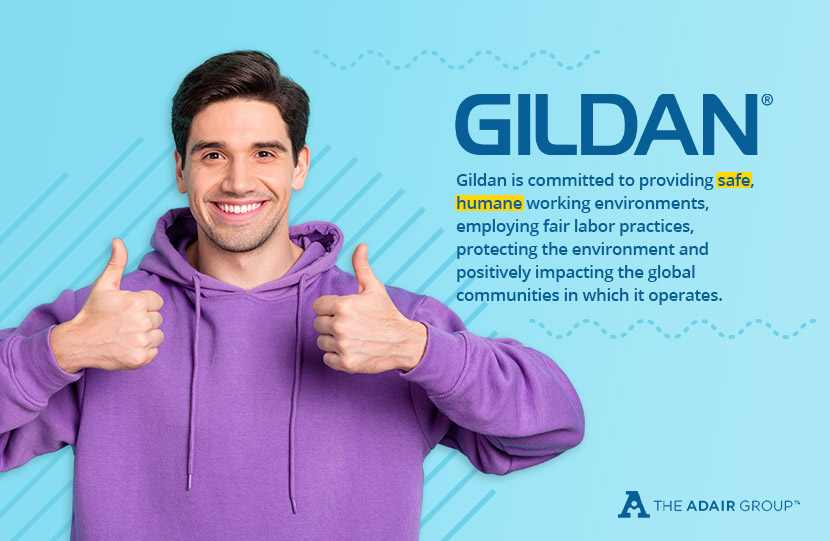 Gildan is also an excellent brand choice if you are looking for a company that is committed to manufacturing ethical and sustainable apparel. It is committed to providing safe, humane working environments, employing fair labor practices, protecting the environment and positively impacting the global communities in which it operates. Choosing Gildan hooded sweatshirts (and other blank apparel) means supporting a brand that cares about its people and the planet. 
2. JERZEES
Much like Gildan, JERZEES is a household name that countless consumers love. It has been a leader in the blank apparel industry and offers a wide range of comfortable and stylish products for adults and kids. 
Products like the JERZEES Vintage Blue Adult Pullover Hood are made using a comfy blend of 50% cotton and 50% polyester. And, with a weight of 8 oz., it is another hooded sweatshirt that's perfect for layering and wearing throughout the year. It features a smooth surface that is excellent for screen printing and works well for other customization methods too. 
A member of the Fruit of the Loom family of brands, JERZEES takes social responsibility and environmental protection seriously. The company's Code of Conduct sets industry-leading standards for human rights in its facilities throughout the world. It takes a firm stance against human trafficking and modern slavery and works to enrich the communities in which it does business. JERZEES also strives to be environmentally conscious and has a record of reducing water use, waste and greenhouse gas emissions. In doing so, it seeks to minimize the environmental impact of its operations.
3. Dodger
Dodger may not have the same level of brand recognition as JERZEES or Gildan, but it is still a great option when you are looking for quality bulk sweatshirts for printing. Dodger Industries has been in the wholesale athletic apparel game since 1940 and has been a part of The Greene Company brand family since 2011. Its core product lineup includes bulk t-shirts, athletic shorts, jerseys and, of course, hooded sweatshirts. 
Dodger hoodies come in several colors and feature a blend of 80% cotton and 20% polyester. They are some of our best sellers because they are comfortable, durable and pill resistant. Their smooth surface is excellent for printing, and their 8 oz. weight makes them a great mid-weight option. 
The Greene Company maintains four product lines — Dodger, Kiddy Kats, Garland and B&E Sport — and is headquartered in Martinsville, Virginia. Its products are currently manufactured in Pakistan, China and Honduras.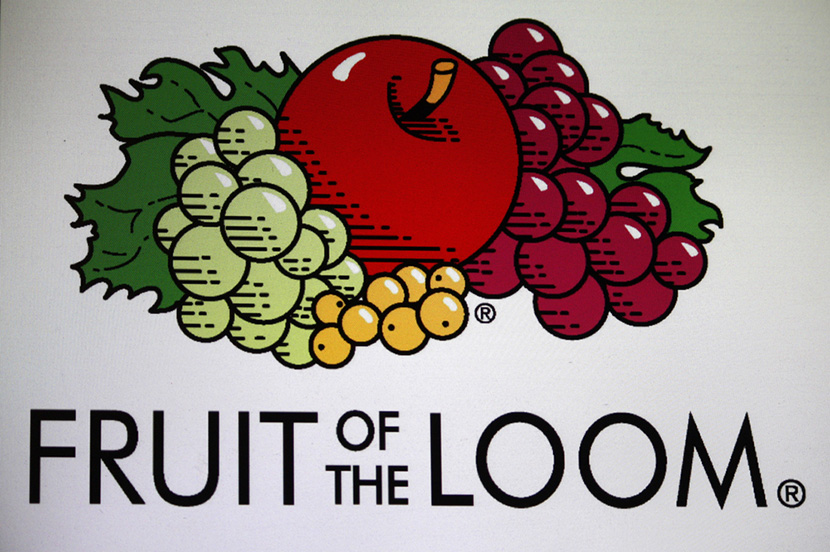 4. Fruit of the Loom
Fruit of the Loom is one of the oldest and most recognizable names in the fashion world. The brand has been around since 1851 and remains an industry leader. By offering top-quality products at affordable prices, the company quickly became a favorite among consumers. Today, Fruit of the Loom manufactures everything from white t-shirts for tie dye to hooded sweatshirts to socks and underwear. If you are looking to fill your racks with top-notch products from a brand just about everyone knows and loves, you can't go wrong with Fruit of the Loom. 
With hooded sweatshirts in several colors, styles and weights, you can find something that is right for any customer. And whether you are designing hoodies for men, women or kids, you are sure to find exactly what you need when you choose this trusted brand. 
When it comes to sustainability and social responsibility, you can feel good using Fruit of the Loom products. It takes caring for its global workforce seriously and has implemented industry-leading standards for environmental protection. It achieved "zero waste to landfill" in 2018 and 2019 and is on track to be using 100% sustainable cotton by 2025. 
5. Hanes
Another leader in the wholesale blank apparel industry, Hanes has been manufacturing high-quality clothing since 1900. It is the leading basic apparel brand in the United States and has become well known for setting new standards for design, social responsibility and sustainability. 
Hanes sweatshirts come in a variety of sizes and profiles for men, women and kids, and they are available in a rainbow of colors. Whether you are in the market for heavyweight sweats that are perfect for those cold winter days or need something a bit lighter, there is something to meet your needs. And, in addition to pullover hoodies, there are zip-up styles as well as pullover crewneck sweatshirts. There is truly something that's right for everyone. 
In 2021, HanesBrands was one of only two apparel manufacturers named one of the World's Most Ethical Companies. It also earned a spot on Barron's 100 Most Sustainable Companies list for the third year in a row. With a commitment to making the world a "more comfortable, livable and inclusive place," Hanes takes sustainability and human rights seriously. It manufactures more than 70% of its own apparel, which better allows it to adhere to the strictest sustainability and labor standards. 
Choosing the Best Hoodies for Your Printing Needs
The brands above are a great starting point when you are in the market for top-quality blank hoodies for printing. However, there are still several things to keep in mind when narrowing down product catalogs to find the hooded sweatshirt best suited to your printing needs.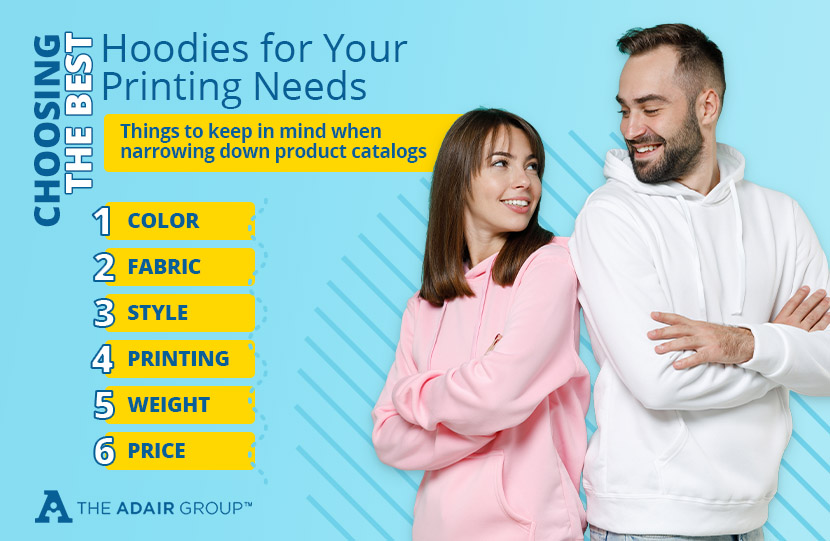 Color
For starters, think about color. Depending on the design you intend to print, the hoodie's color could play a huge role in the overall quality of the finished product. Some designs — like simple text or numbers — show up relatively well on just about any color substrate. But if you are working with a more intricate design or one that features several colors, you will need to be more mindful of your hoodies' color. 
When it comes to keeping things simple, black and white are always good options. Pastels work well, too, because all but the lightest designs show up on them. And if you are designing hoodies for situations where high visibility is a priority, you can never go wrong with safety green. 
Fabric Composition
Many hoodies are made using a blend of cotton and polyester. This blend works well because it combines the comfort and softness of cotton with the smooth surface, durability and wrinkle-resistance of polyester. Hoodies made from cotton/poly blends wick moisture away from the skin and are resistant to tears while remaining breathable. 
50/50 blends of cotton and polyester are the most common option, but other ratios are available, too. In general, the higher the percentage of cotton, the thicker and softer the fabric. Hoodies with higher percentages of polyester are usually lighter in weight, smoother and less breathable. 
Style
Fleece apparel comes in many styles. While pullover hooded sweatshirts are one of the most popular options, they certainly are not the only ones. There are also zip-up hoodies and pullover crewneck and V-neck sweatshirts. And each of these styles has tops with various fits. Slim, tapered hoodies are ideal for ladies, while men often prefer looser fits. When trying to decide which style (or styles) to purchase, consider your target audience and their preferences. If your budget allows, offering multiple styles is the best way to appeal to the largest possible audience. 
Printing Method
There are several different ways to customize a hooded sweatshirt or t-shirt, and the method you choose plays a huge role in what type of hoodies you should buy. For example, if you plan to use the dye sublimation process, you'll need polyester sweatshirts because sublimation does not work on natural fibers. And if you are a screen printer, you'll likely want to use cotton/poly blend hoodies because they have a smooth surface that works well in this process. Cotton hooded sweatshirts are the best option for direct-to-garment printing. 
Shop Blank T-Shirts from The Adair Group!
If you haven't already decided on a printing method, do your homework. Research various techniques to learn more about the various processes and their costs. Consider the type of artwork you plan to put on your hoodies, too, as certain methods are more appropriate for some designs than others. For example, screen printing is not a good choice if you plan on adding photo-realistic images to shirts, and direct-to-garment isn't a cost-effective means of adding simple text and numbers to apparel.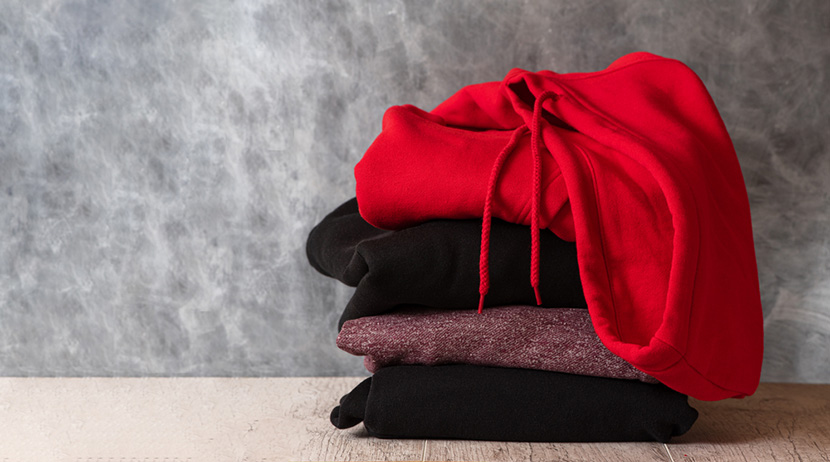 Weight
Hooded sweatshirts come in weights ranging from 6.5 oz. to 10 oz., with 8 oz. being the most common. If you are customizing hoodies that will likely be worn during the winter months or as outerwear, heavier weights are your best bet. But if you're creating hoodies to layer or wear throughout the years, lighter weights are better. Of course, mid-weight hooded sweatshirts offer the greatest versatility and are an excellent option when you don't want to stock a wide range of weights. 
Price
In an ideal world, money would be no object when it comes to purchasing blank hoodies to print and resell. Unfortunately, in the real world, business owners need to adhere to strict budgets to ensure profitability. When shopping for blank apparel, look for products that offer a good balance of quality and affordability. If you are just getting started, consider your anticipated selling price, too, and choose products that will allow you to turn a decent profit.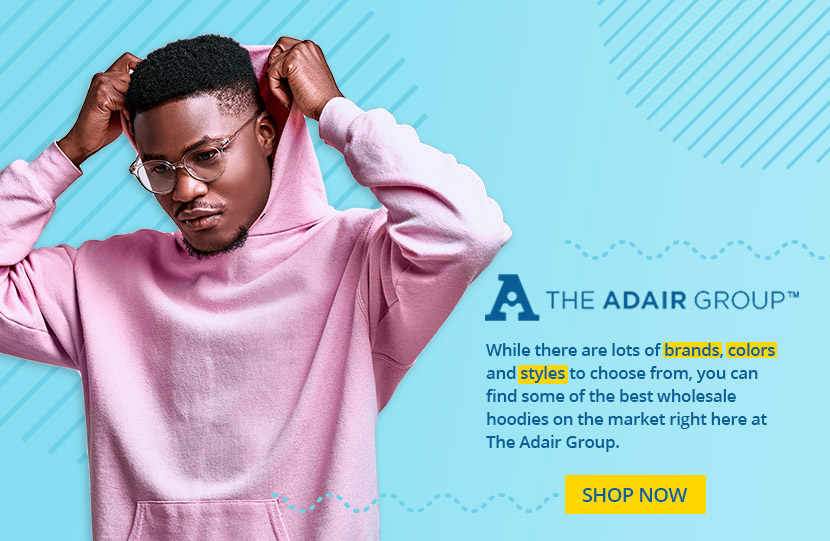 Conclusion
Finding the right hoodies for printing does not have to be complicated or overwhelming. While there are lots of brands, colors and styles to choose from, you can find some of the best wholesale hoodies on the market right here at The Adair Group. Browse our full selection today to find blank hooded sweatshirts that will be perfect for your next project. And, remember, we also stock a wide range of blank t-shirts, polos and other blank apparel from leading manufacturers. 
Image Credits: 
Volodymyr Zakharov/Shutterstock.com
ViDI Studio/Shutterstock.com
360b/Shutterstock.com
Harbucks/Shutterstock.com
Roman Samborskyi/Shutterstock.com
Dean Drobot/Shutterstock.com