8 Benefits of Team-Designed Event T-Shirts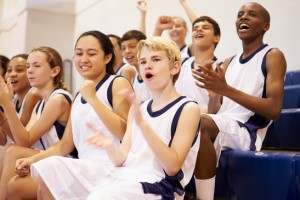 Teamwork is an important part of any organization. Team-building events have to be carefully crafted so they generate excitement, creativity, and participation; even a little good-natured competition will help teams bond and work together. Enhance the teamwork dynamic in your company by designing an event that promotes both creativity and teamwork, like a t-shirt design contest.
Teams are essential in the workplace. They're organized around job tasks, projects, decision-making, event planning, and more, so you would think most employees would be expert team members. However, do not confuse the word team with teamwork. Unfortunately, staff who work on teams often operate as individuals that contribute a portion of work to the whole and wait until everyone has added their part to completion. Teamwork, on the other hand, encourages people to work together to achieve one goal, and it is a skill that should be cultivated in the workplace.
Put Teamwork to the Test
Go ahead. See what your employees can do on their teams. When they are not on a project, see how well they work together by unleashing their creative and organizational skills. Ask your employees to create a powerful, wearable message to focus on your organization, and its shared values and goals, by providing plain t-shirts for each participant. With a blank canvas, teams need to develop a design that promotes their team, their company, or the company's products and services.
Each team must design a common t-shirt that showcases their ideas with humor, artistic skill, or memorable motifs. Time is of the essence in this exercise, and teams must work with one another to collaborate and generate an idea that can be designed with all the skills and strengths on their team.
Why Teamwork?
Effective teamwork creates a positive work environment for employees, and benefits the company as a whole in the following ways:
When people work together in an atmosphere that promotes accountability and teamwork, they put aside personal grievances and politics in favor of focusing on the task at hand.
Good teams are productive teams. These types of groups commit to a common purpose where each member stays respectfully and attentively involved until the objective is complete.

More Effective Performance
The author of The Wisdom of Teams, Jon Katzenbach, said, "There is virtually no environment in which teams—if done right—can't have a measurable impact on the performance of an organization."
When people are reluctant to express their feeling and be honest, it breeds suspicion and distrust on a team. Encouraging open discourse and the ability to share with one another allows ideas to flow more freely and teams to become more effective.
Despite occasional conflict, on a healthy team members trust one another. This leads to consistent cooperation and participation, which is fundamental to working on a team.
It is easy to get bogged down in a project at the expense of interaction with others. However, people enjoy working together, and teamwork satisfies a need for socialization.
Working together helps people grow as they learn from each other and develop important skills. When people are exposed to and cultivate skills that they do not naturally possess, they become better equipped to face new challenges and assignments in the future.
Creates a Sense of Fulfillment
A team needs to have goals in order to accomplish a task. By working together toward a common goal, members of a team are provided with a sense of purpose that is motivating and fulfilling.
In fact, being able to work as a team has been shown to improve problem solving, heighten creativity, and maximize the use of resources. With all these benefits to teamwork, why not make it a regular practice in your organization to encourage this skill? In fact, don't just promote this skill. Make it a living, breathing mission within your organization by hosting workshops where teams get to design and wear t-shirts that identify them as a team.
Once you have designed these shirts, don't forget to use them! Create regular events where teams are encouraged to wear their self-designed shirts and participate in competitions. Foster an atmosphere where members of a team really feel like they are contributing and are a part of something. Encouraging this attitude will not only help the individuals within the workplace, but it will also help your company as a whole grow and become a better place to work.