7 Wholesale Apparel Basics to Get Your Wardrobe Started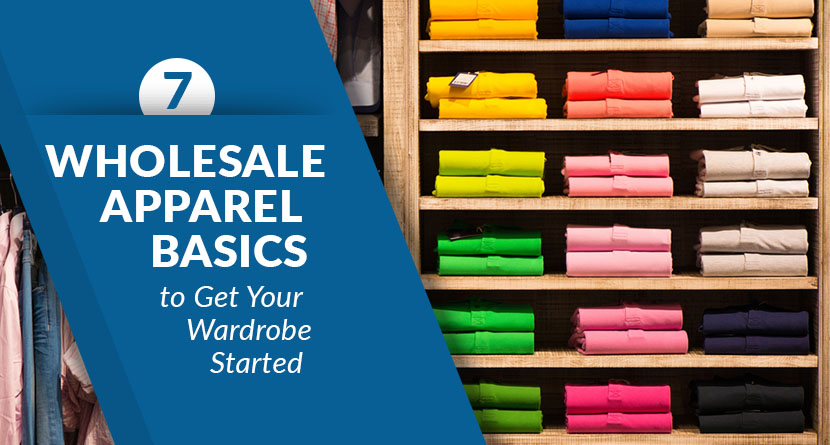 There are several reasons why you might want to buy a new wardrobe. Perhaps you've lost a significant amount of weight or landed a new job. Or maybe you want to give your closet a fresh start with new clothing after moving into a new home. You could even just be giving yourself a much-needed fashion update or refreshing the wardrobes of your entire family. No matter what your reason for building a new wardrobe, shopping for wholesale apparel is a great way to stock up on the basics.
While wholesale apparel may make you think commercial and retail more than your own wardrobe, it is actually a great way to fill your closet with basics like t-shirts, sweatshirts, etc. Minimum order quantities are much smaller than you may think, and you can even obtain wholesale pricing on certain individual items—if you know where to shop. And when you choose wholesale instead of retail, you can get the basics you need at a great price and have money left over to spend on trendy statement pieces to complete your outfits.
If you are trying to fill a closet with new apparel, here are a few must-have wholesale apparel basics to get your wardrobe started!
WHITE T-SHIRTS
Let's start with the most basic of the basics: The humble white t-shirt. When you're thinking about building a brand-new wardrobe, it probably isn't the first thing that comes to mind. It is, however, one of those garments that everyone should have in their dresser, preferably in multiples. Even if you are not someone who typically wears white often, keep in mind that these fashion staples work well as layering pieces. They can be worn to work under dress shirts or uniforms to help keep your workwear cleaner. They are also great to wear under sweaters and other clothing when you need some extra warmth.
While white t-shirts are undeniably plain, don't mistake them for boring. There are multiple styles and fits to choose from, including the classic crewneck and V-neck fitted t-shirts for women. When you purchase white t-shirts in bulk, they cost just a few dollars each, so it's easy to invest in plenty to wear as undershirts or on their own.
COLORFUL TEES
If you want to add a bit more color to your wardrobe, colored t-shirts are must-haves. They come in just about every color you can imagine, and there are various styles for men, women and kids. Colorful t-shirts can be styled in countless ways. A vibrant fitted tee is a perfect way to add a pop of color under a blazer or a suit jacket. It is also a great option for layering underneath a button-down shirt worn open.
Of course, colorful tees are also perfect on their own as everyday casual wear. Pair one with a pair of jeans or athletic pants when hanging out at home, enjoying lunch out with friends or heading to the gym. They can also be dressed up by pairing them with skirts or dress pants. Like plain white tees, they can also, of course, be worn as base layers to help you stay warm in cold weather and to wick away moisture.

If you are trying to build a wardrobe for a child, colorful tees are absolute necessities. They're the perfect option for wearing to school, playing in the backyard, etc. Unfortunately, kids are messy and they tend to destroy clothing quickly. Instead of paying a fortune for t-shirts just to have them ruined within a few weeks, buy wholesale tees. When you purchase at least 12, the price comes out to less than $2 per shirt, so when your kids inevitably destroy them, you aren't out much. And buying in bulk means you'll have plenty of spares in the closet when one needs to be replaced.
TANK TOPS AND CAMISOLES

Whether you wear them on their own on hot summer days or you prefer layering them under other shirts, everyone needs tank tops and/or camisoles. These sleeveless shirts aren't thought about often, but they play an important role in the wardrobes of many men and women. Available in basics like black and white that are content to be tucked away as undergarments as well as showstopping colors that demand to be seen like pink and green, these shirts can help you stay cool and comfortable year-round.
POLOS

Does the dress code for your place of work call for business casual attire? If so, you can't go wrong by stocking up on polo shirts. The classic polo has been a wardrobe staple for decades, and it's a versatile type of shirt that everyone should have in their closet. When paired with a nice pair of khakis or dress pants, it is perfect for the conference room. In more laid-back offices, a polo works well when paired with a tailored pair of jeans, too.
Polos aren't just for work, though. They work great for play, too! For starters, they are ideal for the golf course. Since most country clubs have strict dress codes, it's important to choose the right apparel before heading out on the links. A well-made polo is generally an acceptable option for both men and women.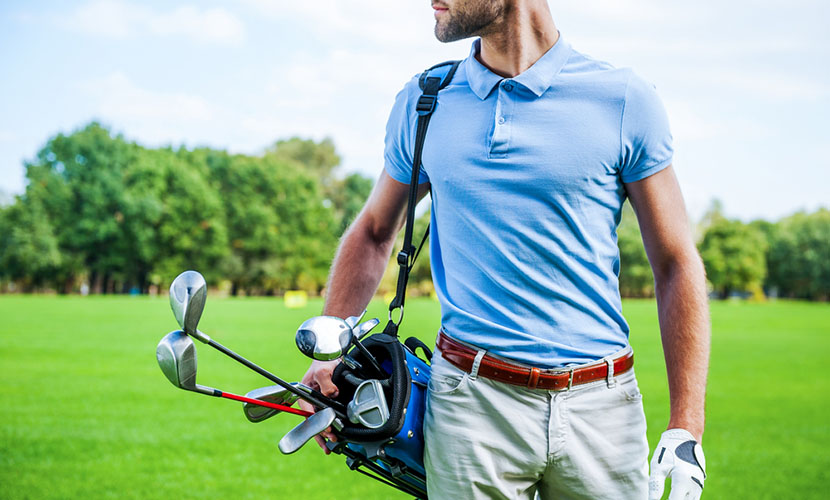 The right polo is also a great option for playing tennis, working out or wearing casually. These shirts are as comfortable as regular t-shirts but have a slightly dressier appearance that makes them appropriate for just about any occasion.
CREWNECK SWEATSHIRTS

Crewneck sweatshirts are another one of those fashion staples that can be dressed up or dressed down. Wear one with your favorite jeans or yoga pants while lounging around the house or doing yard work. Layer one over a button-down shirt for an extra layer of warmth in a chilly office. You can even embrace the "lampshading" trend by wearing an oversized sweatshirt sans pants with a pair of thigh high boots. There's really no wrong way to wear a crewneck sweatshirt.
Like t-shirts and polos, sweatshirts come in all sorts of fashion-forward colors. Basic black and white are great to wear to work, but more vibrant hues work well for making a statement. Whichever option you prefer, you should always have a few of these staples in your closet.
HOODED SWEATSHIRTS

When it's too cold for a t-shirt but too warm for a coat, a hooded sweatshirt is the perfect garment to cozy up in. Available in both pullover and zip-up styles, hoodies are must-haves for men, women and kids of all ages. When you shop at retail stores, they can be quite expensive–even for plain ones. Buying them from a clothing wholesaler like The Adair Group, however, allows you to stock up on several without spending a fortune.

Hooded sweatshirts come in multiple colors and are available for men, women and kids. Many adult hoodies feature unisex sizing that is appropriate for both genders. This makes these wardrobe staples great for the entire family.  
UNDERWEAR

We can't talk about wardrobe basics without mentioning underwear. Whether you prefer boxers or briefs, why spend more on these rarely seen essentials than you have to? Instead of paying retail prices, save yourself a significant amount of money by stocking up on wholesale underwear.
CHOOSING THE RIGHT COLORS
Before you start ordering wholesale apparel to fill your wardrobe, carefully consider your color options. Basics are available in standard colors like black and white and, often, in more colorful hues. When you buy in bulk, you most often receive an assortment of colors if you do not select basic black, white or gray. This is great if you are looking to fill your closet with a rainbow of colors, but it may not be the best option when you are trying to invest in several pieces that work well together.
Creating a capsule wardrobe is a popular technique for filling a closet methodically and without excess. With this method, you purchase pieces that coordinate with each other to create multiple outfits. Building a capsule wardrobe is a great way to save money because it prevents you from having to buy multiple pieces that only work in specific outfits. If you are going with this approach, it is probably best to stick with neutrals when ordering your wardrobe basics. When most of your basic clothing is black or white, you can easily mix and match it with other items in your wardrobe.
STYLING YOUR BASIC APPAREL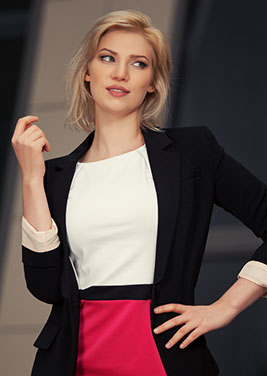 Having a lot of basic apparel in your closet doesn't mean that your outfits have to be basic. For starters, plain tees and other staples can be customized in countless ways. Use a few of your white t-shirts to create one-of-a-kind tie-dyed creations or customize them with vinyl graphics. You can also elevate even the most basic apparel with embroidery and countless other customization methods.
To create eye-catching looks, use the money you saved on basics to invest in stylish pieces. Things like high-quality jeans, blazers and dress pants belong in every wardrobe, and they can instantly dress up even the simplest items in your closet. Even something as basic as a crisp white t-shirt looks amazing when paired with a nice pair of tailored jeans.
The right shoes and accessories make a big difference, too. In fact, they can change the entire look and feel of an outfit. Make sure you have some nice ones to go with the basics and the other clothing wardrobe to easily create outfits that transform from day to night with ease.
BE SMART ABOUT FADS
Clothing trends and fads come and go. While some things, like t-shirts and pencil skirts, never truly go out of style, other trends become untrendy within a matter of weeks. The basic wardrobe staples listed above are things that are always in and will never end up shoved to the back of your closet out of embarrassment.
When shopping for clothing to pair with your basics, be mindful of trends. There is nothing wrong with buying stylish garments. If you are working on building a wardrobe that you plan on wearing for several years, though, you may want to reconsider that trendy t-shirt you've been drooling over. Be careful when choosing shoes, too. Shoes tend to be quite expensive, so when you're shopping on a budget, it's never smart to choose ones that will likely be out of style next season.
CONCLUSION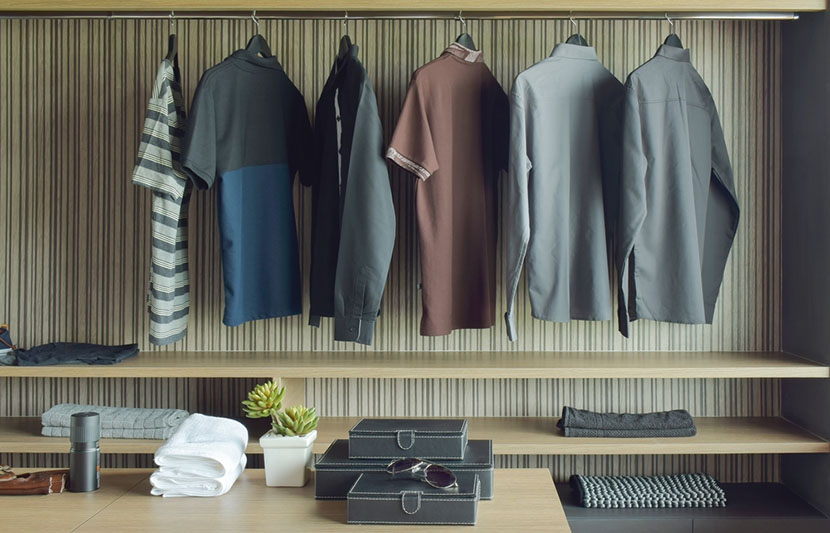 Building a new wardrobe for yourself or for a loved one is fun, but it can be tricky. When you are starting from scratch and need everything, knowing exactly what to buy isn't easy. And it becomes even more difficult when you are working with a limited budget.
Start by stocking up on basics like t-shirts, polos and sweatshirts. These items can be purchased wholesale, which makes it much easier to stock up on multiples without breaking the bank. Choose things like black and white t-shirts and tank tops that work well with all outfits. Colored wholesale apparel is a great way to make your wardrobe more vibrant, but think carefully about what colors you will actually wear and which ones will work well with the other garments in your closet.
At The Adair Group, we offer wholesale apparel in a wide range of styles and colors for men, women and kids. Whether you are building a wardrobe for yourself, a loved one or your entire family, we have the basics you need to get started. Browse our selection today and feel free to reach out to us if you have any questions.