4 Things to Consider When Choosing a Polo Shirt for Your Company Logo
Most people believe that the polo shirt was made for the purpose of playing polo. Surprisingly, the origins of this sport shirt lie in the tennis court. In the year 1929, the French tennis sensation Rene Lacoste came up with a short sleeved shirt that had a pique knit collar and a buttoned placket. Soon enough, the polo players began wearing this shirt on and off the field. They may not have invented the garment, but they were the ones who made it globally popular.
Today, polo shirts are used both on and off the field. It is worn on the golf course, in the board room, and even at parties. Businesses in particular have found this shirt to be quite an effective branding tool. This is why so many companies are putting their logos on polo shirts and handing them out to employees, clients, partners and vendors.
Selecting the right polo shirt for your company logo is not exactly an easy task to pull off. This is particularly true for individuals who are not fashion conscious and have little to no experience with textiles. To make matters easy for you, here are four things you need to take into consideration when choosing a polo shirt for your company:

1) The Fabric


The very first polo shirts were made completely with cotton. This fabric is still quite popular, although there are a lot of other materials in use today. For example, the cotton/poly blends sell better than the 100% cotton polo shirts. This material is wrinkle resistant and is unlikely to shrink after a wash. You also have polo shirts that are made with nothing other than polyester. These polo shirts have moisture-wicking properties that make them great in sweaty situations.
Besides the fabric content, you need to think about the texture of the fabric as well. For example, you have jersey, pique, and performance polo shirts, each of which has different characteristics and properties. Pique is the original polo shirt, while jersey is a more casual choice. Performance polo is great for athletic settings.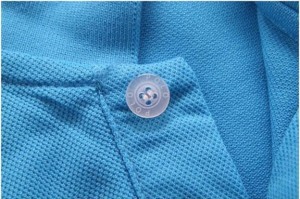 2) The Brand


When you are putting your logo on a polo shirt, you should select a product that has been manufactured by a recognizable brand. People you give the polo shirt to will appreciate the gift more if they notice that it has been manufactured by a well known brand. Buying from a brand will also give you some much needed quality assurance. There is no point in embarrassing yourself and your company by embroidering the logo on a low quality product. A company polo shirt must be a high quality garment. Never compromise with the value and quality of a product that is being used as a branding or marketing tool. Some of the leading names that produce high quality polo shirts include Gildan, Anvil, Camden Creek and Jerzees.

3) The Color
Polo shirts are known to be solid color sport shirts. In other words, they have a singular color from top to bottom. Since you will be using the polo shirts in a corporate setting, it is advisable for you to go with the singular color and avoid unnecessary color combinations. Besides, your company logo is going to bring in variety to the color profile of the polo shirt. The color of your polo shirt should resemble or complement the color of your company's brand theme. If you don't have a brand theme yet, then you can use the polo shirt to set a brand theme for your company. Your prospective clients would be impressed if you can select a color that has an underlying meaning to it.


4) The Design


Last, but not least, you need to consider the design or the decoration method that has been used to imprint the logo on your polo shirt. The best and the most conventional option is to go for embroidery on the left chest area. This is something that has been in practice since the days of the original polo shirt. Embroidery is preferred because it is durable and gives off a polished, neat look. For a less traditional look, one could opt for screen printing or laser etching.