4 Stylish Tips on What to Wear with Your Black T-Shirt
It's easy to think a t-shirt is way too basic to make any sort of fashion statement. While nearly everyone has several tees in their wardrobe, t-shirts may not be the first garment they reach for when trying to put together a stylish outfit for work or a night on the town. Sure, you probably wear your favorite tees when hanging out at home or picking up groceries, but they might not be your favorite option when you're trying to show off your personal style.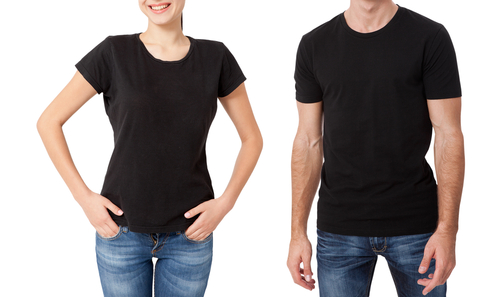 The humble t-shirt is truly one of the most underrated garments hanging in most people's closets. Black t-shirts are especially useful when you're trying to add a slick and stylish aesthetic to your personal look. If you play your cards right, some of the most basic garments in your wardrobe can have the biggest impact on your overall look. Keep reading to discover some stylish tips on what to wear with your black t-shirt.
Start with the Right Tee
Before you start mixing and matching the clothes in your closet to create looks that are totally "you," it's important to make sure you have the right black t-shirts. When you're trying to be fashion-forward, you need tees that are a deep, dark black – not ones that have faded to more of a navy blue or gray due to repeated washings. You also need tees that fit properly. They shouldn't be overly snug, nor should they be baggy. They should fit close to your body in a way that's flattering but not too revealing.
For guys, the bottom hem should extend roughly two inches past the belt to the mid-fly. If you're shopping for black t-shirts for women, styles that hit at or below the hip are generally your best bet. Regardless of which gender you are, the sleeves shouldn't be overly tight around your biceps. They should fit closely, but there should be plenty of room to slip a finger or two between the fabric and your skin.
Necklines make a difference, too. Crewneck styles are generally better for casual situations while V-necks work best when you are trying to look a bit more dressed up. Learn more about various necklines and how they can impact your overall look in our guide to t-shirt necklines.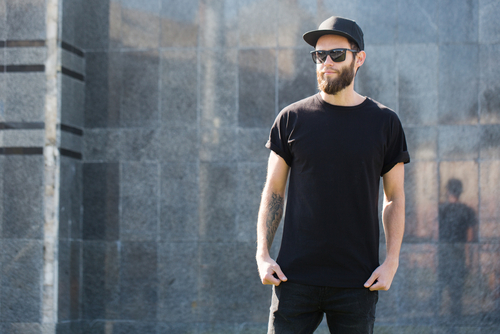 Blackout Your Style
Trying to create an eye-catching look that's totally sleek and stylish? Try the minimalistic "blackout" look. Embrace the simplicity of your favorite black t-shirt by pairing it with a black jacket, black jeans and black shoes. Hanging out with friends? Try wearing a black leather (or faux leather) jacket. If you're heading to work or taking someone special out on a date, wear a black sport coat. You can, of course, also rock a black t-shirt under a black suit for a total polished and put-together look.
Ladies can embrace the blackout look by wearing a black tee with a black cardigan and jeans or a black skirt. It's hard to mess up this particular style. Just make sure that all of your pieces are the same "shade" of black and that none are faded.
Rock Your Athleisure Look
Whether you're going for a jog, heading to the gym, hanging out with friends, picking up groceries or lounging around at home, you can't go wrong with the athleisure look. Wear your favorite black t-shirt with a pair of cozy sweatpants or joggers and a zip-up hoodie for a look that's both comfortable and stylish. In warmer weather, you can also ditch the sweatpants or joggers in favor of a pair of athletic shorts.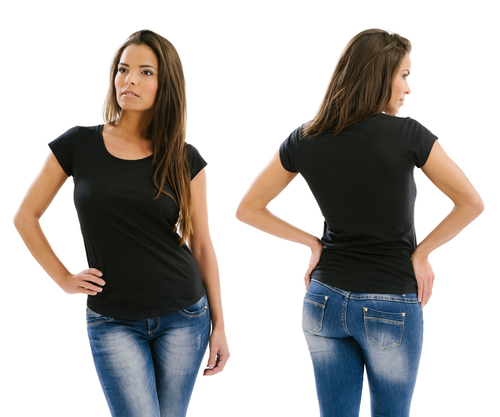 Wear a Black Tee with Jeans
Pairing a black t-shirt with jeans may be simplistic, but it's one of the best ways to create stylish outfits. Rather than wearing black jeans as advised above, though, try pairing your well-fitting black t-shirt with a pair of dark indigo wash jeans to create the ultimate casual look. You can even try wearing a black tee with white jeans to create a look that shows off some contrast.
Conclusion
Whether you're a guy or a girl, black t-shirts definitely belong in your wardrobe. They're versatile enough to wear for any occasion and can easily be dressed up or dressed down to meet your needs. Feel free to experiment with the garments in your closet to create stylish looks that are uniquely "you." And if you need more black t-shirts, we have you covered with affordable wholesale options!