4 Reasons Why Wholesale Hoodies Are Perfect Company Swag Items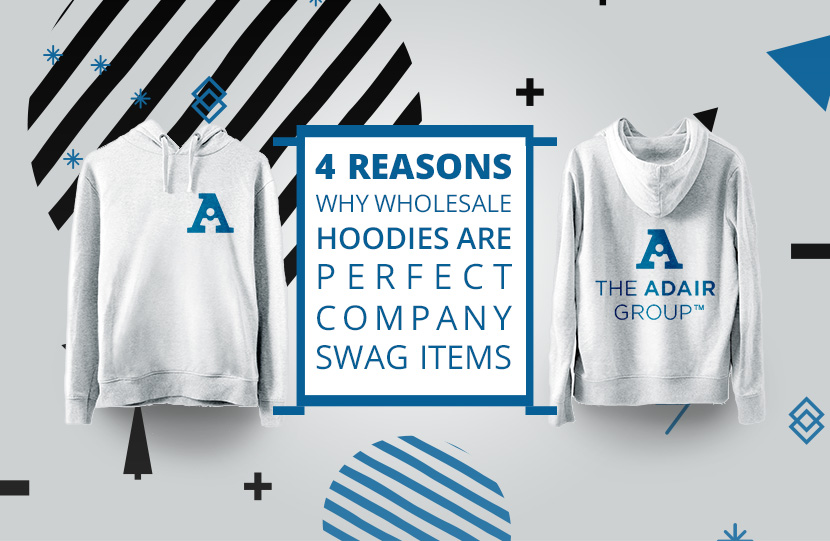 Promotional merchandise, or "swag," is everywhere, and it comes in several forms. From pens and keychains to backpacks and umbrellas, just about anything can be customized and emblazoned with a company logo. Using promotional goodies to promote your brand is nothing new. It's a technique that just about every business uses in some form or another.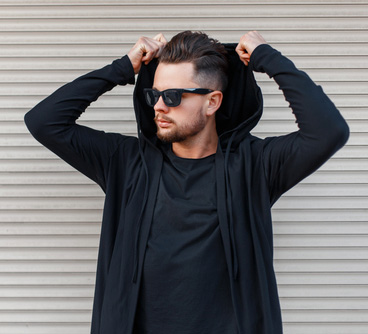 While customizable promotional items are abundantly available, they aren't all created equal. When you want to showcase your business in a positive light, you shouldn't be handing out swag that is essentially junk. Cheap pens that won't write and keychains that no one needs won't do much to increase brand awareness and have customers banging down your doors. Instead, you need to invest in high-quality products that people will actually use.
Whether you are looking for the perfect swag for your new employees, you are running a contest or you are in the market for gifts to hand out to your best clients, there is one type of promotional item that is a step above the rest: the hoodie.
Everyone loves hoodies. They're warm and comfortable, and let's face it – a hoodie is a lot nicer than a keychain or a frisbee! Wholesale hoodies are perfect company swag items for a number of reasons. Here are just a few of the many reasons why they may be ideal for your next promotion.
Why Swag Is So Important to Your Business
Before we delve into all the reasons why hoodies are the perfect company swag, it's important to understand why swag is so important in the first place. While you may think of it just as something a little extra to offer to your prospects, customers or employees, when used correctly, it can actually form the cornerstone of a smart and successful brand strategy. Any good brand strategy takes several factors into consideration, including customer loyalty, employee involvement and even emotion. Swag is one of the few things that successfully hits all of those marks.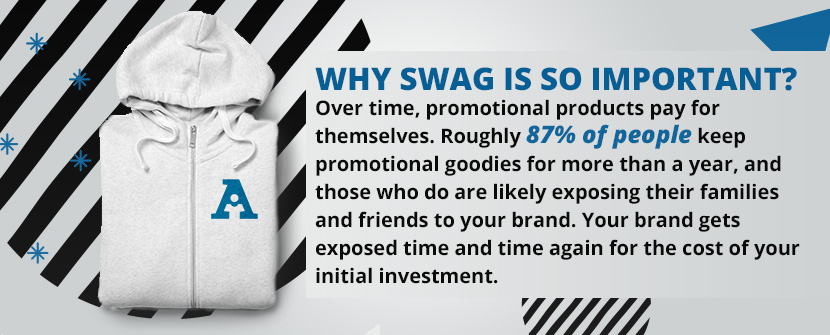 For starters, swag increases awareness of your brand. It also helps create positive impressions of a business – even when someone hasn't actually worked with the business. Let's say you hand out high-quality travel mugs that keep coffee warm all day long. Even if your company doesn't offer products or services even remotely related to coffee, that high-quality cup is going to help a customer or even a prospective client form a positive opinion of your brand. If your coffee cup is their favorite one, they're likely to think highly of you and come to trust your brand even if they haven't done business with you yet.
Over time, promotional products pay for themselves. Roughly 87% of people keep promotional goodies for more than a year, and those who do are likely exposing their families and friends to your brand. Your brand gets exposed time and time again for the cost of your initial investment.

High Perceived Value
We know what you're thinking: "Why would I want to spend the money to hand out hoodies when there are so many cheaper options?" The answer: It's all about value. When you really want to make a big impression, do you really think you're going to succeed with a keychain that's going to end up in a junk drawer? While often appreciated, these items don't have the "wow" factor. They don't have a lot of perceived value, and in many cases, they are never even used.
Give a prospective client a hoodie, though, and they will feel like you are giving them something of value. While it's important to stick to your budget when purchasing swag, think about the perceived value you are presenting. Anyone who has ever purchased a hoodie knows that they aren't exactly the most inexpensive type of attire. When receiving one as a gift, they will see it as something that your company devoted significant financial resources to, and the perceived value of a hoodie is much greater than that of a smaller item.
Hooded sweatshirts make impressive gifts, and they are functional. Just about everyone wears them, and when a current or prospective client is wearing a sweatshirt emblazoned with your logo, they'll think about your brand as soon as they put it on, and they'll spread awareness of your brand to everyone they meet while wearing it, which brings us to our next point.

On-Going Advertising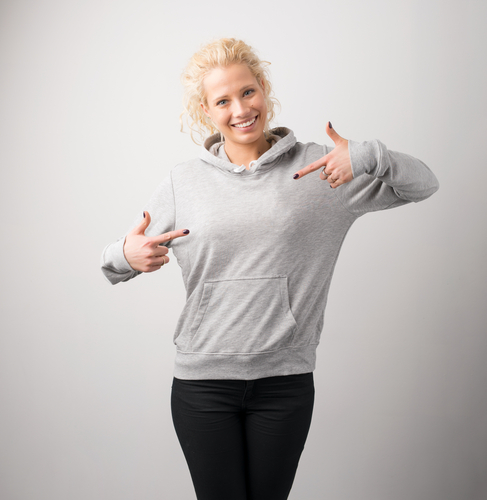 If someone were to actually use a keychain with your logo on it, how many other people do you think would actually see it? Probably not many. Sure, the person you give it to might notice it every time they grab their keys, but your brand's message is unlikely to be spread much further.
Now, think about how many impressions could be made by someone wearing your hoodie at a busy mall or even at a huge event like a concert. It's possible that hundreds of people could see your brand over the course of a single day. While the initial investment when buying wholesale hoodies is considerably larger than the investment needed to buy smaller items like keychains or pens, the potential for more exposure greatly outweighs the cost.
When someone is wearing a hoodie emblazoned with your company's logo or slogan, that person essentially becomes a walking billboard for your brand. And since hoodies are durable clothing items that can last through countless washings, you could have people walking around advertising your business for years, all thanks to a single investment.

Desirable Prizes for Contests and Giveaways
Contests and giveaways are great ways of building your follower base and finding new prospects. In order for your promotion to be successful, though, you need to be offering something that customers actually want. You probably won't have many people sign up for a social media giveaway if the grand prize is something small like a paperweight. If you're giving away a warm, comfy hoodie, though, you're a lot more likely to get peoples' attention.
As mentioned previously, a hooded sweatshirt has a much higher perceived value than a smaller promotional material. Because people see it as more valuable, they are more likely to be willing to complete an action – such as liking your Facebook page, submitting their email address, etc. – in exchange for a chance to win one. Despite their higher value, buying wholesale hoodies is more affordable than many business owners realize. Sure, you could buy several plastic keychains for the cost of one hoodie, but which one do you think prospective customers will be more likely to enter a giveaway to win?
If your business attends trade shows or other events, using hoodies as a giveaway item at your booth or table is also a good way to set yourself apart from your competitors. Tote bags have become the item of choice at trade shows recently. They're useful because they provide a means of carrying around other goodies and they can be used later as grocery bags, but how many totes does one really need? Not every company offers awesome swag like hoodies, so yours will definitely stand apart from your prospects' ever-growing tote bag collection.  

Ideal Staff Attire
When you think about company swag, your mind probably first goes to the goodies you hand out to current and prospective clients and the promotional materials you use for giveaways and events. Don't forget, though, the importance of providing your team with some nice company swag. Even if you don't have a specific dress code, things like hoodies work well to create some unity among your team.
Whether you offer them up as an incentive for new employees or an end-of-year reward, a gift for reaching a certain milestone with the company or another occasion, hoodies are always appreciated. And in addition to wearing them to work, your employees will likely wear them in their personal time, too. This helps spread awareness of your brand even when your employees are off the clock.
Everyone loves getting free stuff, and your employees are no exception. Swag feels like a special "thank you," and it seems even more special when they receive something awesome – like a hoodie. Giving your team members gifts makes them feel more appreciated, and employees who feel appreciated are happy and more productive. And of course, happy, productive employees help you and your company make money. Investing in nice swag for your staff boosts morale, and in doing so, it can help boost profits. It's a win-win!
Things to Consider When Ordering Wholesale Hoodies to Use as Company Swag
So, you've decided that hoodies would be the perfect swag for your business. Awesome! Now there are a few important things to consider before placing an order. If you want your hoodies to have the maximum impact, you need to make sure they are of the highest quality. Ideally, you should look for medium- or heavy-weight hooded sweatshirts. They hold up better that lighter-weight styles, and they have the important high perceived value.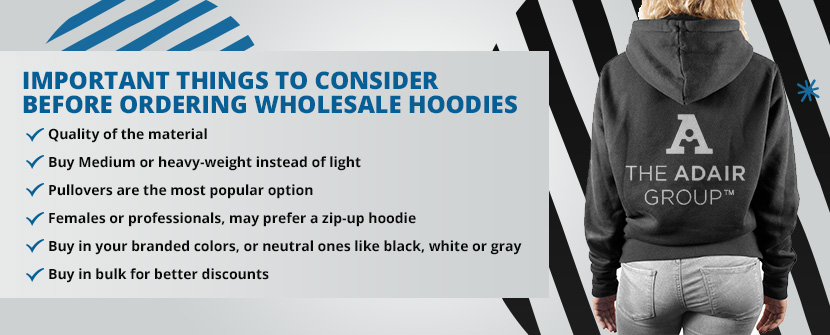 Think about your target audience. Pullover hooded sweatshirts are the most popular option, but zip-up hoodies are more appropriate if you want products with more streamlined, flattering shapes. If your target audience is primarily female or more professional in nature, a zip-up hoodie may be better received than a baggy pullover. When it comes to choosing a color (or colors), think about your company's colors. If your brand is recognized for being red, white, and blue, it probably wouldn't make sense to use sweatshirts that are safety green! When using hooded sweatshirts as promotional items, neutral colors like black, white or gray tend to work well. They come in numerous colors, though, so you may also be able to find one that is perfectly suited to your unique brand.
When you're in the market for blank hoodies to use for promotional purposes, the more you buy, the more you will likely save. Many wholesalers offer lower per-piece prices for larger quantities. You'll also likely save more on shipping when you place one large order rather than several smaller ones.
Conclusion
Wholesale hoodies are the perfect investment when you need company swag for several reasons. Whether you are buying them to give to employees, customers, prospects or even contest winners, their high perceived value makes them more appealing than many lower-priced items. They are also ideal because they are popular wardrobe staples that will likely be worn frequently and serve as walking advertisements for years to come. A strong brand strategy is essential for any business, and the right company swag can act as the perfect cornerstone for your campaign.