How to Design T-Shirts: 7 Easy Ways to Customize a Shirt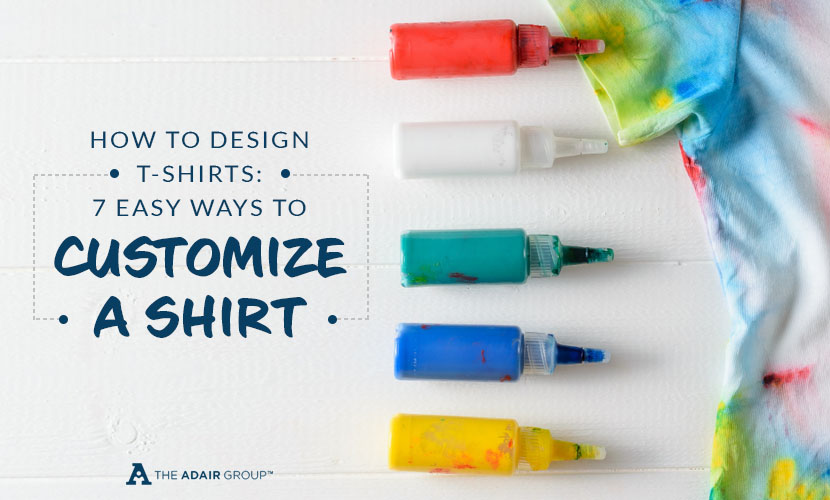 There are all sorts of reasons why you might want to customize a shirt. Maybe you are thinking about buying cheap bulk t-shirts, customizing them and then reselling them. Or perhaps you have a bunch of old tees in your closet that are stained, ripped or otherwise in desperate need of a second life. You might even be thinking about customizing shirts to use as promotional items for your business, organization or event. 
Whatever the case may be, there are just as many ways to customize a shirt as there are reasons for wanting to customize one in the first place. The best part? You don't have to have any special skills to create eye-catching apparel you'll love showing off, giving as gifts or selling. Whether you're starting a business, building awareness of a brand or organization or just trying to breathe new life into those old shirts you can't quite bear to get rid of, keep reading to discover a few easy ways to customize a shirt. 
1. Take Your Top from Drab to Fab with Tie-Dye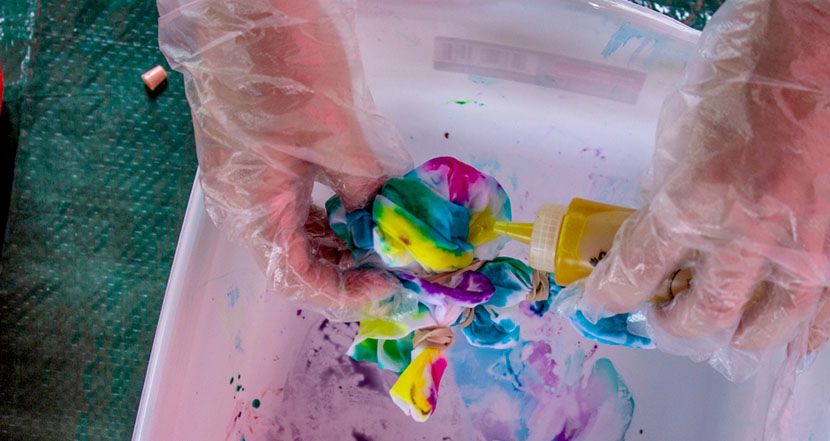 Tie-dyeing clothing is one of those timeless projects that never goes out of style. It's an easy, albeit messy, project people of all ages and skill levels can enjoy, and it's a great way to transform a white or pastel shirt into a one-of-a-kind work of art. Whether you start with new white shirts you purchased specifically for the project or you use an old shirt that has a few stains you're trying to hide, this project is one of the best and easiest ways to customize shirts.  
Blank T-Shirts Are Perfect, Affordable Options for Customization
If you're thinking about trying to tackle this technique, there are a few things you should know. Shirts made from 100 percent cotton are your best bet as they tend to absorb the dye best. Cotton/polyester blends and other fabrics can be tie-dyed, but you should expect the results to be less vibrant. Also, there is really no "wrong" way to tie-dye. Keep things simple by creating a random design or get fancy and use your rubber bands or string to create specific patterns. There are all sorts of different tie-dye techniques to try. 
With some blank shirts and a tie-dye kit, it's possible to create a never-ending assortment of designs. Did you know, though, you can even use bleach to tie-dye? When you start with a black or dark-colored t-shirt, adding bleach creates a unique reverse tie-dye effect. You can show it off as is or you can add dye to the bleached sections for an eye-popping effect. When it comes to creating unique tie-dyed clothing, your imagination is the only limit. With so many possibilities, it's no wonder this trend keeps coming back in style! 
After you've created your masterpiece, make sure you know how to wash a tie-dye shirt. It isn't difficult, but knowing the right technique helps ensure your shirt will last for years to come. 
2. Try Your Hand at Embroidery
Embroidery is a craft that has existed in some form for as long as humans have been producing fabric. Believed to have originated in China and the Near East, embroidery has become a common and preferred method of customizing apparel around the world. Its popularity in the fashion industry waxes and wanes, but it is currently very "in." 
To try this trend for yourself, all you need is a needle and some embroidery floss. Learning how to hand embroider on t-shirts is fairly simple, and it's quite relaxing and rewarding. This option works well if you are just trying to breathe some new life into your old tees. It even works great for covering up stains and mending holes! If you're customizing apparel to sell, though, you may want to consider machine embroidery. With certain sewing machines, you can easily embroider even the most intricate designs in a fraction of the time it would take to do so by hand. Using digital embroidery techniques for smart clothing is another option if you're thinking about diving into the world of high-tech smart clothing. 
You Can Customize Kids' Plain T-Shirts, Too!
3. Get Crafty with Paints and Markers
When it comes to customizing clothing, you don't have to be fancy. In fact, with fabric paints and markers and a bit of patience, you can create just about any design imaginable on a shirt (or any other type of apparel!). 
Fabric paints and markers come in a few different varieties. While most are formulated to be permanent, there are washable options. If you're designing clothing and are looking for long-term results, go with permanent. If, however, you're looking for a way to create custom clothing you can wash and re-customize, washable fabric paints/markers are an excellent choice. The washable variety is fun for kids, too, as it allows them to create their own one-of-a-kind clothing over and over. 
When working with fabric paints and markers, be sure to read the instructions carefully. In addition to letting you know whether they are permanent or washable, the instructions will provide guidance on what types of fabric the product works with. The instructions should also let you know the appropriate laundering instructions.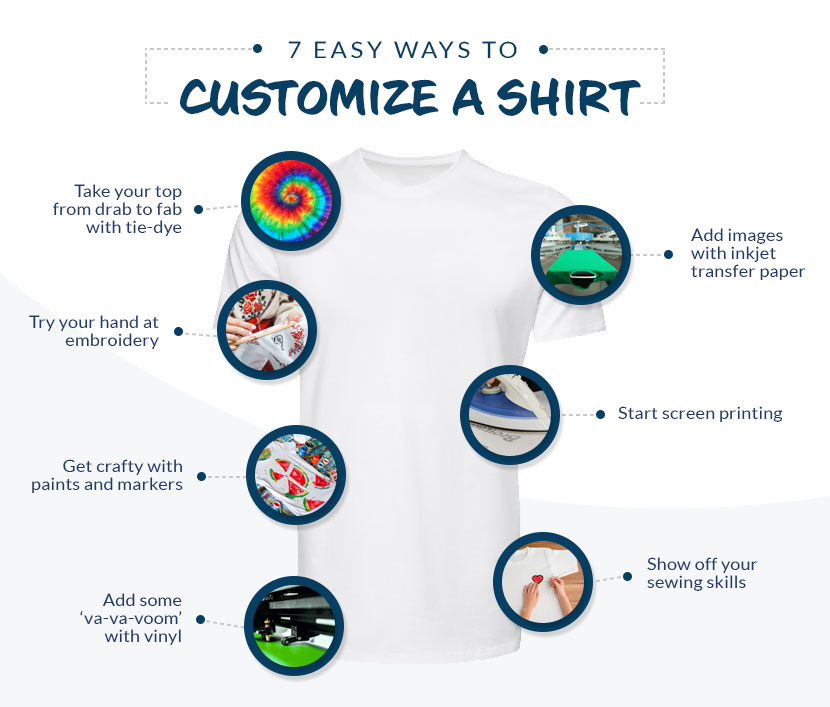 4. Add Some 'Va-Va-Voom' with Vinyl
If you have access to a vinyl cutter, the sky's the limit when it comes to apparel customization. While these machines were primarily only marketed to business owners, small desktop models have become increasingly common in the crafting world. Industrial vinyl cutters can cost thousands of dollars, but there are plenty of budget-friendly models for crafting and home use you can pick up for less than $200. 
Heat transfer vinyl comes in every color of the rainbow. You can even find patterned and textured varieties and vinyl coated in glitter. These products can be applied to shirts using a heat press or even your regular old iron. You can cut out words, shapes, numbers…virtually anything you can imagine. If you're feeling really crafty, you can even create layered designs using vinyl in different colors. 
Even if you don't have a vinyl cutter, you can still use this method to customize t-shirts. Instead of loading your design into software and having a machine print it, though, you'll need to cut it out by hand using scissors or a craft knife. This method is undeniably more challenging than using a cutting machine, but with patience, it can still yield some pretty impressive results. 
5. Add Images with Inkjet Transfer Paper
When you want to add photos or complex graphic designs to shirts, using inkjet transfer paper is an excellent option. All you need to do is load it up in your inkjet printer, choose the appropriate settings, print, cut out your design and apply it to the shirt using a regular household iron. 
One of the best things about this method of customization is that it works on all colors of blank t-shirts. You just have to be sure to purchase the right paper since there are different products for white/light-colored shirts and darker ones. 
If you are going to try this method, keep in mind you need to be careful to cut the design out neatly. Any of the background you fail to remove will show up on the finished shirt. Depending on what type of inkjet transfer paper you use, it may show up as white or it might look like a semi-transparent film surrounding the image. In either case, it seriously detracts from your overall design. When using inkjet transfer paper, it's best to stick to simple shapes you can easily cut out using scissors. For more complex designs, you'll need a craft knife and lots of patience. 
6. Start Screen Printing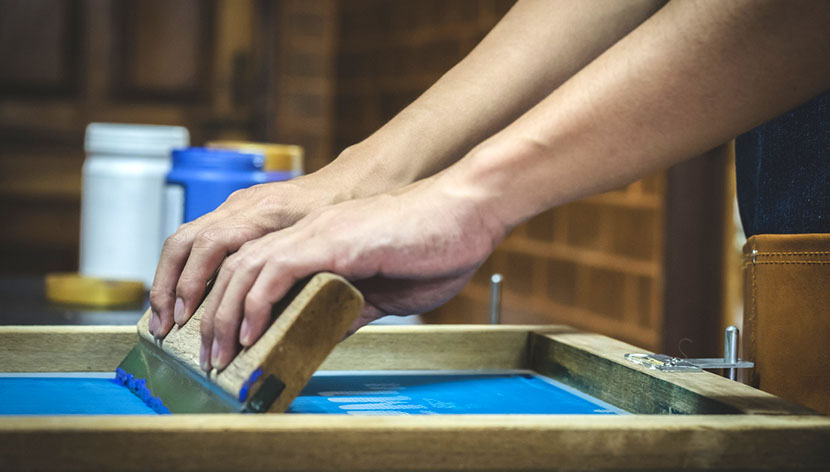 Screen printing is one of those things that sounds complex, but really isn't. While businesses that offer professional screen printing services invest in fancy equipment that speeds up their process and guarantees consistent results, you can start screen printing at home with a minimal budget and some basic supplies. When you're first starting out, the only things you really need are screen printing ink, aluminum screens, a photo emulsion kit for screen printing, a palette knife, squeegees in multiple sizes and adults' or kids' plain t-shirts. 
As a beginner, it's best to stick to printing with a single color. As you become more confident in your abilities, though, you can start creating designs using multiple colors. Each color needs to be added separately in layers, however, so getting fancy does take significantly more time than creating simple, single-color designs. 
There are plenty of tips for screen printing on cotton shirts to help you master this craft. Once you have a solid grasp of the basics, you may even want to consider upgrading to some of the fancy equipment we mentioned earlier–if you are customizing clothing for business purposes. As your business grows, switching to more high-tech screen printing equipment can save you a significant amount of time and make it easier for you to keep up with demand.
7. Show Off Your Sewing Skills
Who says the only way to customize a shirt is by adding a design to it? If you have even basic sewing skills, you can transform a regular t-shirt into all sorts of fun things. Upcycling clothing is a lot of fun, and it's a great way to give those old t-shirts in your closet a second life. You could sew an old t-shirt into a dress, use it to make fun accessories–like headbands or bracelets–or even dress it up by stitching on some beads or sequins. If you are handy with a needle and thread, the options are virtually limitless!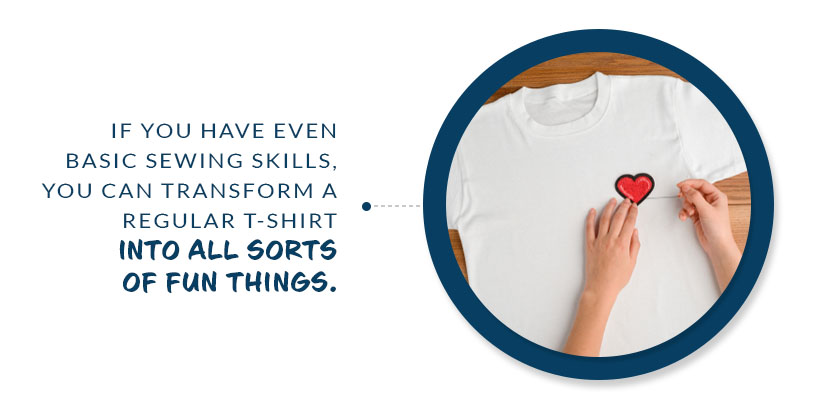 With countless garments ending up in landfills each year, brushing up on your sewing skills and learning how to customize shirts by upcycling them into something brand new is great for the environment, too. Whether you are breathing new life into your own clothing or you're upcycling clothing to resell in a boutique or even give as gifts, these projects can keep used clothing out of the trash while allowing you to flex your creative muscles and design one-of-a-kind clothing. 
The Bottom Line
Regardless of why you're thinking about customizing shirts, there are countless ways to get the job done. The seven methods listed above are just a few of the many ways you can transform a plain shirt into something brand new. 
Keep in mind, though, if you're looking for the ultimate easy way to customize a shirt, there is no shame in turning to the pros. After you've purchased the shirts you plan on using for the project, feel free to consult with a professional screen printer in your area or stop by an embroidery shop. You could even find someone who works with vinyl and find out if they would be able to create decals for you to apply to your shirts if you don't have access to your own vinyl cutter or would like to save yourself some time and effort.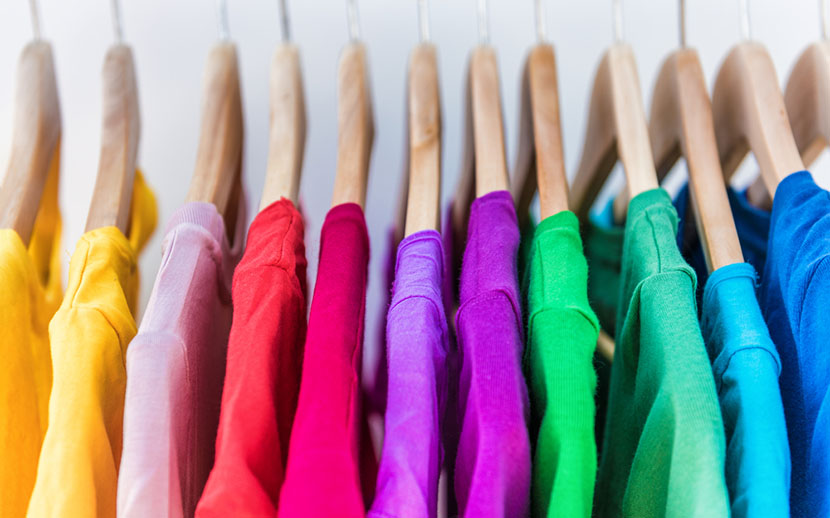 T-shirts are wardrobe staples everyone has in their closet. Whether you're customizing your old tees or creating new shirts to fill up other people's closets, the tips listed above will help you get started. Above all else, remember to be creative and have fun with it! The versatility of the humble t-shirt is one of the factors that has made it such a timeless wardrobe staple, so it's easy to create designs perfect for any occasion or application. Whether you're tie-dyeing tees in the backyard with your little ones, screen printing shirts for your employees or using vinyl to add your designs to shirts you plan on selling online or in your retail shop, remember to relax and enjoy the process.