6 Things You Can Do with $1 T-Shirts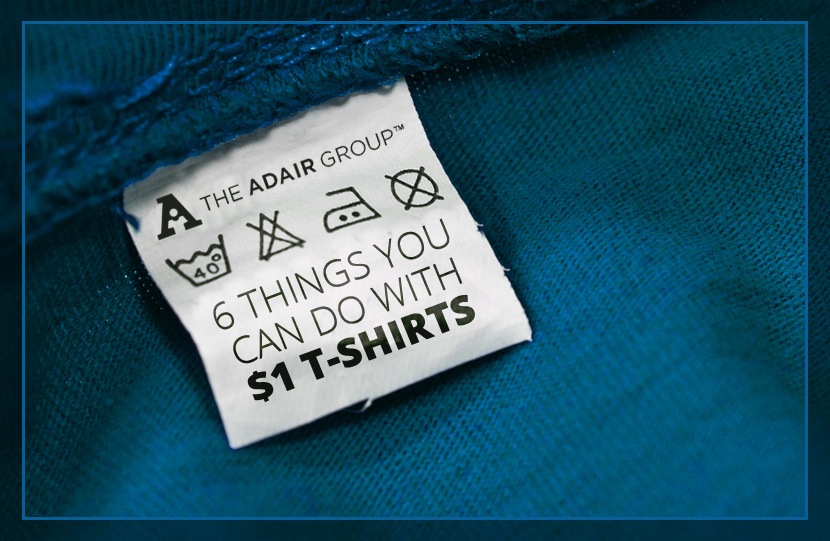 There isn't a whole lot that you can get for a dollar these days. You can download a single song on iTunes, grab a small cup of coffee at a fast-food joint or pick up a $1 scratch-off lottery ticket in hopes of winning some extra spending money. 
What you may not realize, though, is that with The Adair Group, you can buy a brand-new shirt for a buck. Our selection of dollar t-shirts includes a few different options, too. There are plain and colored t-shirts for men, women and kids, as well as polos. The options change frequently, so there is always something new to check out. Our $1 shirts are sold by the dozen and are made from 100 percent cotton. These shirts are perfect to wear as they are, or you can customize them in several different ways. And since they come from top brands like Anvil and Gildan, you can rest assured knowing that you will receive high-quality products! 
At The Adair Group, we provide wholesale shirts to everyone from business owners who are looking for affordable staff uniforms, church groups and other organizations, sports teams and even parents who are in need of affordable apparel for themselves and their kids. 
If you are intrigued by the idea of purchasing dollar t-shirts but you aren't sure about buying at least 12 shirts at the same time, we understand. That's why we've put together this list of things you can do with $1 t-shirts. Keep reading to discover some awesome ideas! 

Wear Them as They Are
Let's start out with the simplest option. These shirts are plain, but that doesn't mean that you have to do anything "special" in order to wear them. Plain white t-shirts, for example, are an iconic fashion staple. They can be worn on their own with jeans or shorts, or they can be paired with a jacket or blazer. Basic t-shirts made from 100 percent cotton have a place in everyone's closet. They're comfortable, durable and fashionable. Wear them to the gym, while you're out with friends or even as sleep shirts. The options are unlimited. 
Simple cotton shirts also make exceptional undershirts. Wear one under your uniform to keep your work shirt a little bit cleaner and cut down on how frequently you need to wash it. If you are going on a hike, wear a close-fitting one to help wick moisture away from your body. During cold weather, wearing a t-shirt as a base layer adds extra warmth and can help you beat the chill.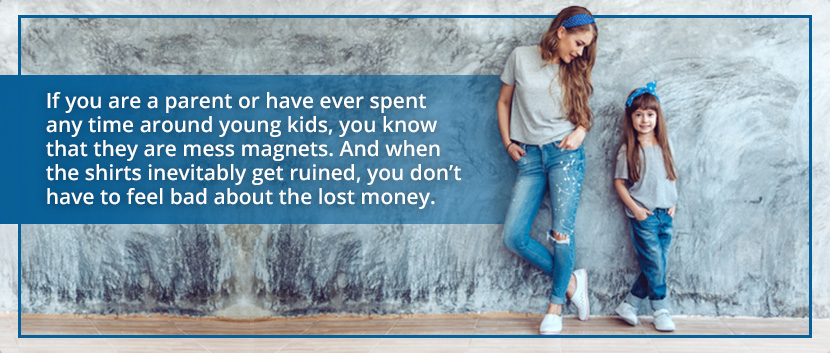 Shirts that only cost around $1 are great for kids, too. If you are a parent or have ever spent any time around young kids, you know that they are mess magnets. When you are able to stock up on inexpensive shirts, your kids can wear them straight out of the box. And when the shirts inevitably get ruined, you don't have to feel bad about the lost money. Plus, buying cheap shirts by the dozen means you'll be able to buy enough to actually make it through a few days without doing laundry! 

Use Them for Crafts
When you think about craft supplies, t-shirts may not be the first things to come to mind. They serve as the foundation for all sorts of different projects, though. For starters, plain white t-shirts are must-haves for tie-dyeing. Cotton shirts soak up the dye the best, too, so our dollar shirts are the perfect option. Whether you are trying to come up with a project to keep your kids occupied on a rainy summer afternoon or you want to throw the coolest birthday party on the block, tie-dyeing is always a hit. Learning how to tie-dye and create all sorts of amazing designs is super easy, too!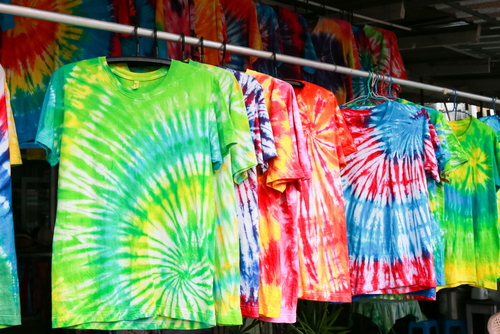 The humble t-shirt can also be transformed into all sorts of other things. An oversized tee can be cut apart and transformed into a fashionable crop top and skirt. A boxy tee can also be turned into a tank that would be perfect for your daily workout. Other things that you can make using basic t-shirts include braided belts, fringe skirts, tote bags, necklaces and even rugs.  
Plus, you can use t-shirts when working on other projects. If you don't have an apron for your little one to wear while they are finger painting, for example, you can throw an oversized t-shirt on over their regular clothes. When you only pay a dollar for a shirt, you don't really mind if it ends up getting covered in paint! And, of course, if you are feeling extra crafty, there actually are tutorials for turning tees into aprons. 

Outfit Your Team
Whether you coach little league, run a business or head an organization, purchasing dollar shirts is a great way to outfit your entire team without breaking the bank. Order shirts in colors that coordinate with your organization, team or business's logo or color scheme, or choose basic colors like black or white. Once you receive them, you can have them customized with your logo, slogan, etc.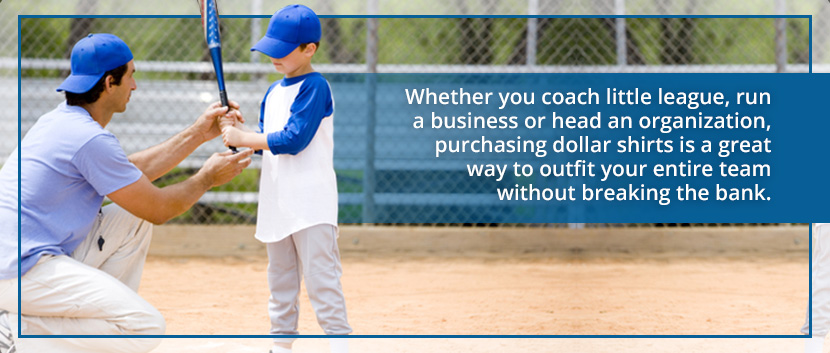 There are plenty of ways to have your plain shirts customized. Chances are, there is a shop in your area that offers screen printing or embroidery services. Contact them to learn exactly what services they offer and how they can transform your plain shirts into awesome apparel for your team. When you are providing your own shirts, these services are usually pretty affordable. 
If you don't want to have your shirts customized professionally, there are plenty of do-it-yourself methods. Inkjet iron-on transfer sheets are always a popular choice. All you have to do is create your design on your computer and print it on special inkjet iron-on transfer paper. After it has dried, cut out the design and affix it to a shirt using a regular iron. You can also make iron-on transfers with a vinyl cutter. This method allows you to create precise designs and create shirts that look like they are professionally made. 
Customization doesn't have to be fancy. If you want to outfit your church youth group, a sports team with young players or people belonging to another type of organization where perfection isn't a must, consider making designing the shirts a group activity. Get everyone together and provide fabric markers or paints. Encourage everyone to create designs that they love and will enjoy showing off. This can be a great teambuilding exercise, and it's a fun way to create apparel that actually means something. 

Start a Business 
The t-shirt customization business is huge. That's why there are screen printing and embroidery shops in just about every town. Even if there is already a business in your area that offers this type of service, you can still use inexpensive t-shirts to launch your own brand.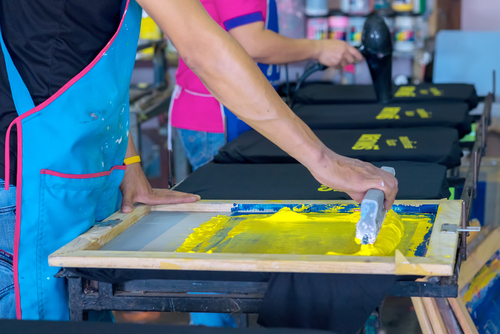 First, decide how you would like to customize your shirts. You can do screen printing, custom embroidery or vinyl decals. You could even start a business that offers hand tie-dyed shirts. There's also nothing wrong with offering a few different types of services. Next, figure out if you want to customize shirts for teams, schools, businesses, etc. or if you want to create your own unique line of branded clothing. Offering personalization services is always a good money-maker, but emblazing clothing with your own custom designs can be rather profitable, too. Decide on what interests you most and go from there. 
When you are first starting out, order $1 shirts in a wide range of sizes. If you are working with a very limited budget, consider only using black or white t-shirts to start. This is generally more affordable than trying to make sure you have several different colors in different sizes. Most of our colored dollar t-shirts are sold with three random colors per dozen. You don't know exactly what colors you will receive, so getting the exact ones you need can be tricky. They're a great option, though, when you want to get a large variety of colors and don't mind which ones you have. Some colors are sold individually, but the options change frequently. 
Once you have your shirts and the supplies you need to start customizing them, get to work! Advertise your business online and you likely won't have any trouble finding customers. When you are first building your business, setting up at local vendor fairs and events is a great way to connect with potential customers, too. 

Rock Your Next Costume Party
Whether it's Halloween, a themed birthday party or any other event where a costume is part of the dress code, you can set yourself apart from other party-goers by making your own costume rather than picking one up from a retail store. The best part? You don't even need to know how to sew to make an amazing costume. There are plenty of options that use a simple t-shirt as the base, so as long as you have a few on hand, you already have the main part of your costume covered. 
You can attach green or purple balloons to a black or white t-shirt to dress yourself up as a bunch of grapes. Or, you can attach clear and white balloon "bubbles" to a white t-shirt to dress up as a bar of soap. You can also use a tie-dyed tee as the foundation of a hippie costume, transform a long tank top into a glamorous flapper dress or use green and red t-shirts to dress up yourself and your significant other or BFF as Mario and Luigi. When it comes to using t-shirts to make costumes, your imagination is really the only limit! The web is filled with all sorts of ideas for costumes made from t-shirts.

Clean Up
T-shirts aren't just great to wear. The soft, absorbent cotton material is great to use for cleaning up around your house, too. For starters, you can cut up plain t-shirts into rag-sized squares and use them just about anywhere in your house. If you use cleaning wipes but are sick of the waste, you can make those out of t-shirts, too. Cut your shirts into rectangles and then fill up a large glass jar with water, castile soap and your favorite essential oil (peppermint oil or lavender oil are good choices). If you don't have essential oils, a bit of lemon juice works, too. Shake up the jar to ensure that everything is well-mixed. Finally, add your rags to the jar. Invert it a few times to make sure the rags soak up the solution. Replace the lid tightly.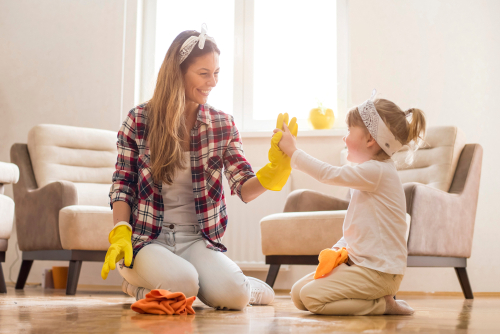 When you need to clean up spills, reach for one of these reusable wipes instead of the disposable kind. When you're done, throw the rags in the wash. They can be used time and time again. Even if they become a bit stained, they'll still work great for cleaning! These wipes are much more environmentally friendly than the disposable kind–and they smell amazing. 
T-shirts can also be used to make replacement pads for Swiffers, mop heads and more. Because cotton is so soft, it won't scratch delicate surfaces and works great on electronics. It's also super absorbent, making it a good choice for wet cleanups. 
Conclusion
Whether you are looking for the perfect rainy day activity, trying to come up with more eco-friendly solutions, starting a business or just trying to stock up on more clothes so that you can go longer between doing loads of laundry, one dollar t-shirts from The Adair Group are a great investment. There are countless ways to use these high-quality shirts, and since they are so inexpensive, you don't have to be overly concerned if something goes wrong. 
Check out our current selection of $1 t-shirts today and feel free to reach out to us if you have any questions!