Love Your Tie-Dye Shirt? Here are 7 More Things You Can Dye to Match
Tie-dye is one of those things that never truly goes out of style, but it's seeing an even bigger revival this year. From runway models to popular celebrities to the local high school kids, everyone is wearing tie-dye this summer. This fun fashion trend has been popular in the U.S. for several decades — and, notably, since festival-goers and artists made it mainstream in the 1960s. While t-shirts featuring brightly colored spirals are by far the most common type of tie-dyed apparel, this simple technique can be used to add some color to all sorts of things.
If you love your tie-dye shirt and you're feeling creative, here are a few more things that you can dye to match.
Hoodies
Even during the summer, the temperature in the evening can be too chilly for just a t-shirt. If you want to stay warm and show off your style, consider making yourself a tie-dyed hoodie. Whether you prefer pullover or zip-up hooded sweatshirts, tie-dyeing is the perfect way to transform a plain top into a work of art.
When you're dying a hooded sweatshirt, remember to apply more dye than you would use on a t-shirt. Since they're made from a thicker material, it takes more dye to ensure that they reach a deep, vibrant color.
Blankets
If you'd rather curl up under a blanket or you want to make your bedroom match your wardrobe, tie-dye a blanket. You can use the vibrant dyes in a kit to create spirals and other patterns that are bold and beautiful. If you'd like something a bit more subtle, try using food-based dyes to create dreamy, ethereal patterns.
You can tie-dye your sheets and pillowcases, too. This is a great way to upcycle white sheets that have gotten stained or discolored and is much more environmentally friendly than throwing them away.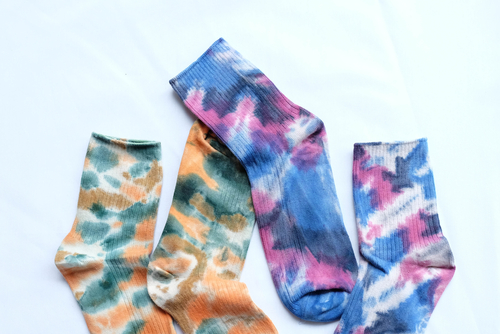 Socks and Underwear
Why should shirts get all the love? Give your socks and undies a pop of color by tie-dyeing them, too. A brightly colored pair of tie-dyed knee socks would look great with a pair of shorts. You could even tie-dye your undershirts and enjoy having your own little secret color under your work outfit.
Jeans
Do you have an old pair of jeans that is in desperate need of a facelift? Turn them into a one-of-a-kind masterpiece by tie-dyeing them using bleach. Gather random sections and secure in place using rubber bands. Apply bleach to each section, being careful not to spill it on anything else. Let sit until the color has faded. Remove the bands and wash. This technique works well for denim jackets, too!
Of course, if you have a pair of white jeans, you can dye them vibrant colors. Denim is a bit harder to work with because it's a stiffer and thicker material, but with a bit of patience, you can create some really amazing looks!
Dresses and Skirts
Give tie-dye a stylish upgrade by using it to create custom skirts and dresses. Use bright colors for a bold look or use pastels for a more subtle style. Check out different techniques and choose one that will enable you to create the perfect look.
Kids' Clothes
Who says tie-dye is just for grown-ups? If you want to create adorable, photo-ready matching outfits for you and your little ones, tie-dye is the way to go! If you already have a tie-dye shirt that you love, dye t-shirts or onesies for your kids to match. It's a great way to make everyone look totally awesome. Plus, it's a fun project that the entire family can enjoy on a sunny summer day.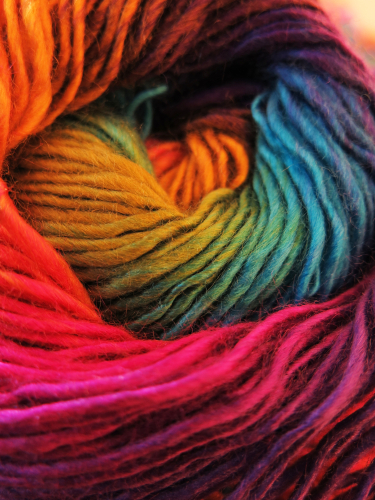 Yarn
If you are feeling extra creative and want to knit or crochet your own clothing or accessories, why not tie-dye your yarn? Cotton yarn is easy to color using a regular tie-dye kit. It readily soaks up color and, since plain cotton yarn is way cheaper than hand-dyed yarn, it's a cost-effective method of creating your own one-of-a-kind skeins at a great price.
Once you've dyed and dried your yarn, you can use it in all sorts of knitting and crochet projects. And since crochet is super in this summer, you can embrace two trends in one!
Conclusion
Tie-dye is one of the hottest trends of the year, and there are all sorts of ways to incorporate it into your own wardrobe. Whether you invest in premade tie-dye shirts—like the ones we sell here at The Adair Group—or you design your own tie-dye creations, a little effort is all it takes to be on trend all summer long!